Brilliance of the Seas Live Blog – Day 2 - Sea Day
In:
Today was our first sea day as we sail to Grand Cayman.  I didn't have any set plans today other than relaxing poolside.  No idea why, but I woke up before the sunrise this morning.  Since I was up I decided to get a run in at the gym.  The Brilliance has a really nice fitness center, with a lot of equipment.  They did have clipboards lined up to sign up for classes, but I noticed many were full.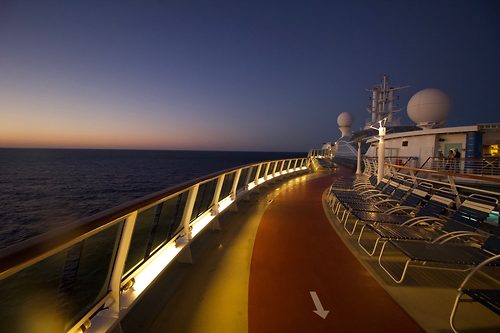 After my run I noticed the sun was just starting to come up so I rushed to the room to grab my camera.  This is a must for at least one morning of the cruise, seeing the sunrise is pretty incredible at sea.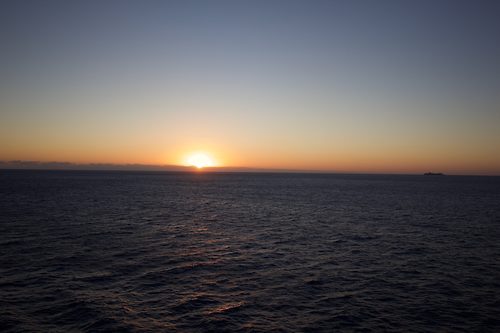 At 7:30AM I decided to make my first visit to the Windjammer.  It wasn't very busy at all, since I guess majority of the ship was sleeping in, it is vacation after all.  I saw they had an omelet station, so I got a made-to-order omelet.  It wasn't noticeable for those not looking for it, so be sure to ask if you don't see it.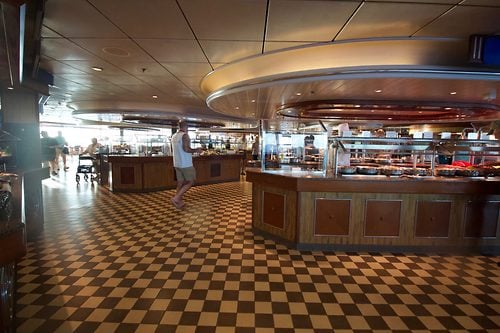 I wanted to eat outside on the aft sitting area, since it was such a nice morning.  If you go out the side doors you will see plenty of seating in the aft of the ship.  This was pretty amazing to be eating breakfast with the view of our wake.  I just sat here for a while taking in the views.  It made me even that much more excited for my aft balcony on the next cruise. 
I did walk through Rita's the former mexican resturant on board.  I have a feeling this will be removed next month during the dry dock.  For now they only serve drinks in the afternoon, even a $40 jumbo margarita. 
After breakfast I wanted to grab a pool chair because I saw many already be reserved.  I noticed the pool attendants putting time stamp on people's chairs, with a note saying they will be removed in 30 minutes.  Great job by Royal Caribbean ensuring all guests will have a seat out by the pool.  
I just relaxed and read my book until noon by the pool.  This was when I noticed how many college spring breakers were on board.  To my surprise they were just enjoying some sun like everyone else.  Cruising this time of year for a while now, it's pretty common to see the spring breakers on board.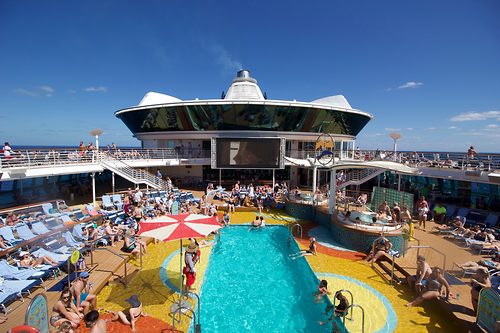 For lunch I went back to Park Café, I guess everyone read my day 1 blog post, because it was packed! Many people couldn't get tables to eat, so I rushed to eat to give up mine.  I went with a large salad today, I asked him to put double lettuce since I wasn't getting a roast beef sandwich today.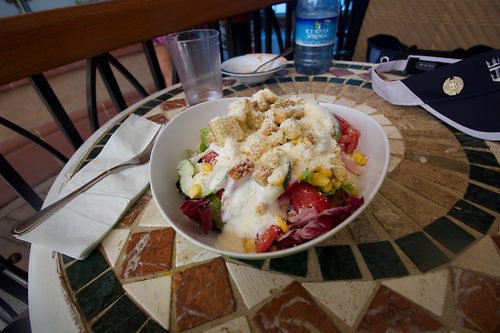 Most of the afternoon I just walked around the ship, did a little casino time and happy to report I'm up $5.00! I was going to attend an event at the pub to learn about beer but it was $30 + 18%, and you only got to sample a few beers, so I passed.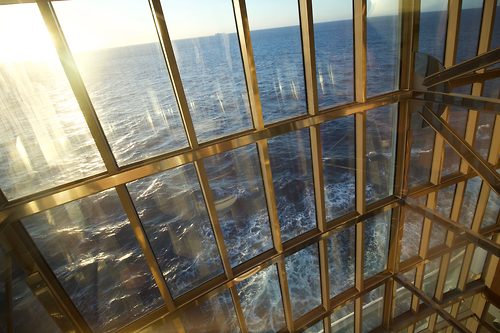 Tonight I made it to the Concierge lounge right before 5PM, because last night was so busy I wanted to get a seat.  How funny, because only 7-10 people showed up tonight.  I like that they have a bar with seating in the lounge, I got to make new friends in the lounge and have fun with the bartender.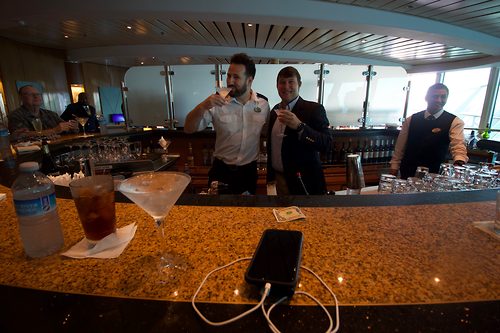 Tonight was formal night so I only stayed in the lounge for an hour and I wanted to get out and explore the ship some.  They has some nice formal music playing in the centrum beside the R Bar.   Since it was the captains party they were also handing out free champagne! This is from 7:45PM-8:15PM, so make sure you don't miss this. 
Dinner this evening was in Chops Grill with my BOGO, but the cover charge is $35 without.  They were busy tonight since it was formal night, but I'll say my service was really slow.  I noticed my waiter had so many tables and was doing everything he could to keep up. 
I ordered the mushroom soup, crab cake, and the NY Strip.  The soup was outstanding, maybe the best soup at sea!  The steak was good, I asked for red wine sauce and he put another on it by mistake, so I just went with it.  I skipped dessert; honestly I was just ready to leave.  I had them open a bottle of wine for me and I took it over to Giovanni's after for them to hold for me until the next night. 
I ended up going to the nightclub on deck 13, they were playing 80's & 90's music for an hour.  I really enjoyed hearing the old tunes, but when it switched to current pop music I decided to call it a night.