Brilliance of the Seas Live Blog - Day 2 - Sea Day
In:
Welcome to our second day onboard Royal Caribbean's Brilliance of the Seas and it is our first sea day!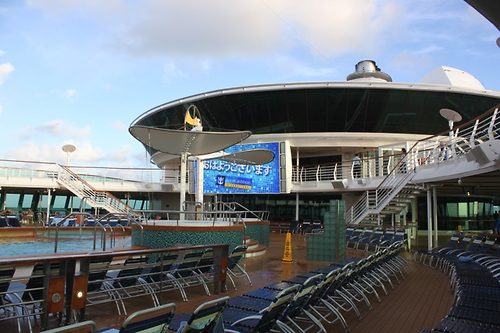 We were very tired last night but nonetheless, I still wanted to wake up early and get a start to our day, so at about 7am, we got up and were on our way!
Breakfast brought us to the Windjammer, which had the usual Royal Caribbean breakfast.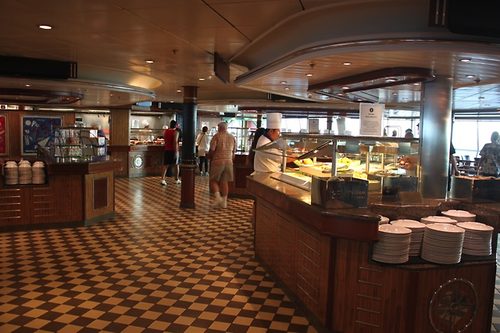 As always, if you want eggs, you have to go to the omelet station for the "good stuff".  I had my usual egg white omelet and we enjoyed our breakfast on the outdoor Windjammer seating at the aft of the ship.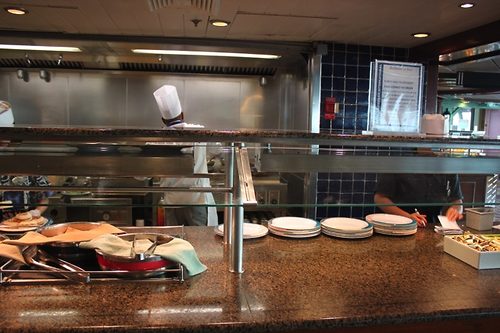 The outdoor seating is a great feature of the Radiance class.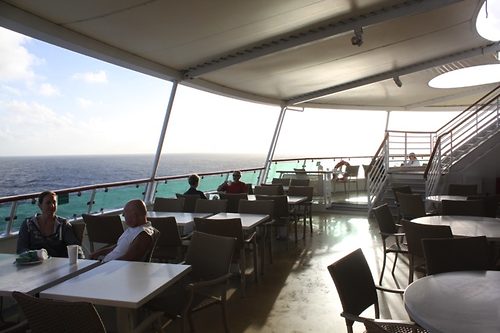 We started off today with a lot of "motion in the ocean."  Since last night, there had been quite a bit of motion and the Captain indicated we were encountering waves 2-4 meters (6-12 feet).  
To quote George Costanza from "Seinfeld," the seas were angry, my friend.  This would set the tone for our day (that's called foreshadowing!).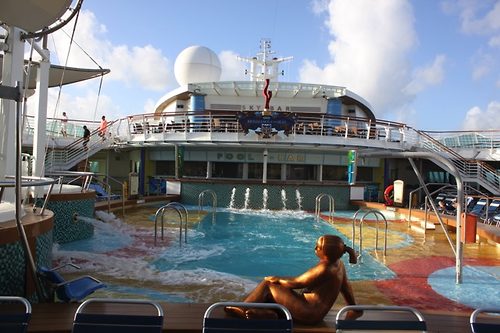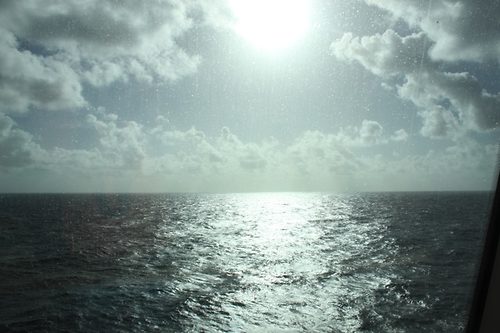 We stopped by the Vitality Spa to get my wife a massage.  Massages are her cruise tradition and I am happy to buy them for her because she puts up with all of my blogging.
While she went off to get her massage, I amused myself with some morning drinks.  In this case, a Bloody Mary, from the Solarium Bar.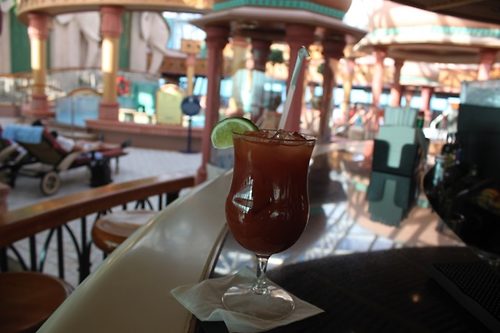 I am always in search for a good, non-mix Bloody Mary but have yet to find one on Brilliance of the Seas.  Any suggestions?
I did some more exploring of the ship, lost a little money in the casino, and then decided to try my skill at morning trivia.
Trivia is a great daily activity on Royal Caribbean ships and the morning trivia was a potpourri of questions.  We did not win but I met some new friends and had a great time in the process.
My wife finished up her massage by this time, and reported it was as good as she remembered.
We then opted to stop by the NextCruise office to "research" some possible options.  Let me just say I walked away happy.
Of interest, the NextCruise office is open on debarkation day, which was a surprise to me.
For lunch, we opted to try out Giovanni's Table.  I was not planning on eating here on this cruise, but for lunch the cost is only $15 per person and it is hard to beat that value.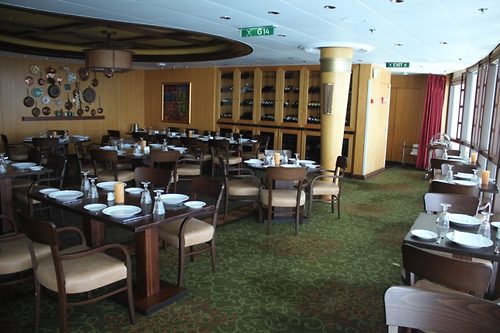 Once again, I will share my full review in an upcoming post but overall I liked Giovanni's Table but did not love it.  Essentially, it is not my favorite restaurant, although I will admit the menu favors those that enjoy shellfish (I do not).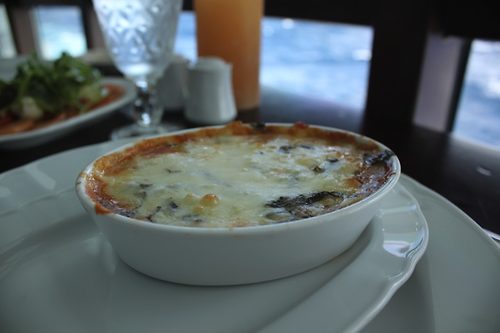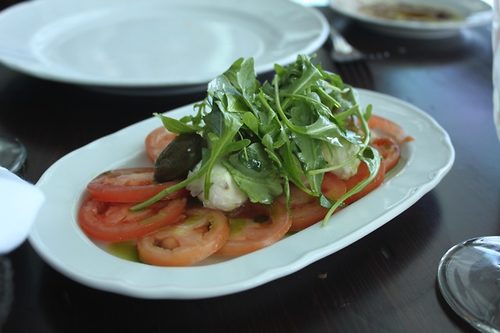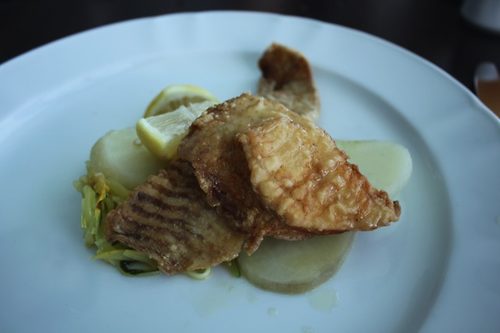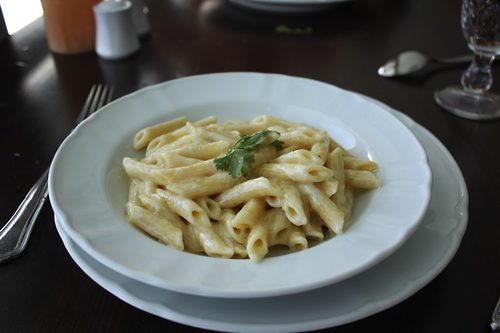 By this point, it was about 1pm and the ocean waves were really getting strong.  My wife left lunch half way through to return to the stateroom because she was not feeling well.
The crew had already put out the sick bags, which is never a good sign.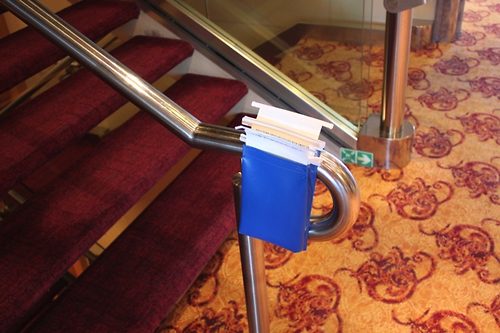 Frankly, I do not know why the ocean was so rocky, given there was no sign of a storm and it was sunny.  
With my wife in the room trying to sleep off the effects of the motion, I headed up the Solarium.
Royal Caribbean had closed the pool due to the motion, which was something I had expected.  I do believe this was the worst motion I have encountered to date on any cruise.  It was not horrible but the ship was definitely moving.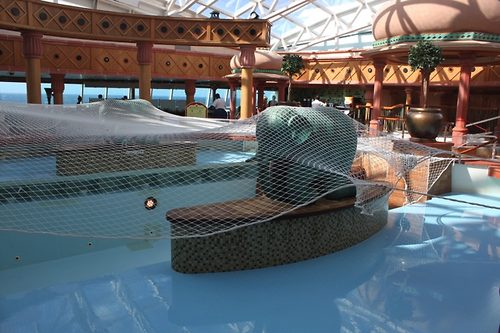 I was starting to feel tired (perhaps that 7am start to my day  was not a great idea), so I did something I love to do on a cruise: I took an afternoon nap by the pool!
Fast forward a few hours later and I woke up at about 3:30.  Oh well, time well spent!
My wife was feeling better by this point, so we decided to head to the Schooner Bar for TV theme song trivia!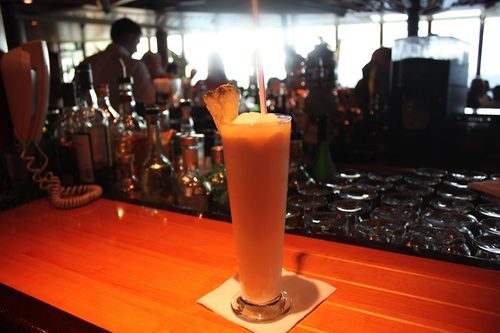 We joined another team and lost, but it was a fun time.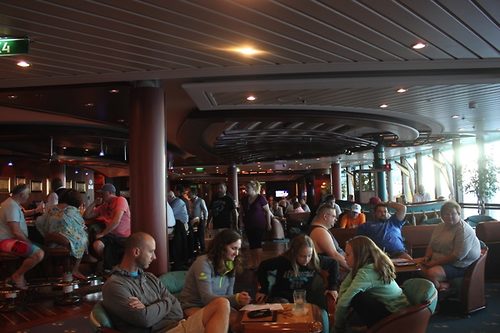 I have to say, the trivia games are just a great activity because you really get into it, even if you have no idea what the answers are.  My suggestion is ask to join a team and meet new friends!
With trivia done, we walked back to our stateroom with a quick stop to enjoy the afternoon sun.  Sea days are quite beautiful!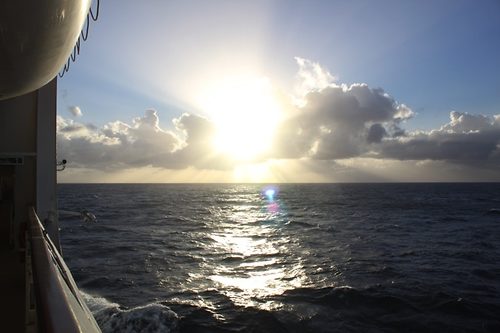 I went up to the helicopter pad to see the sunet better, but unfortunately the clouds prevented us from seeing the full effect.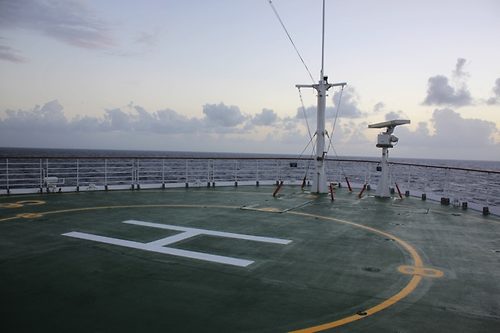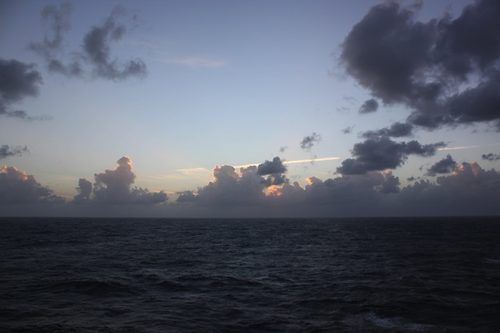 Tonight is our formal night, so it was time to get back to the room to get ready for dinner.  
After getting dressed for dinner, we went to Izumi for another go at "pre-dinner".  I cannot help myself!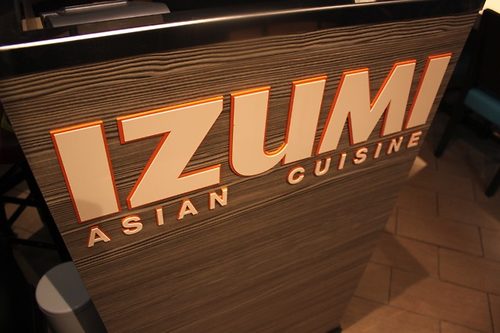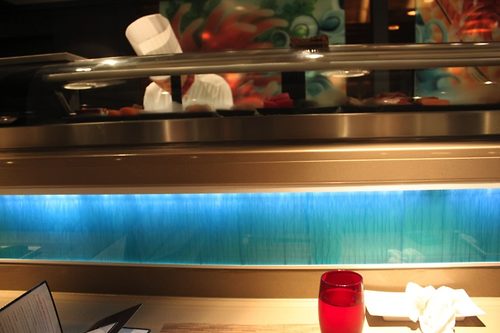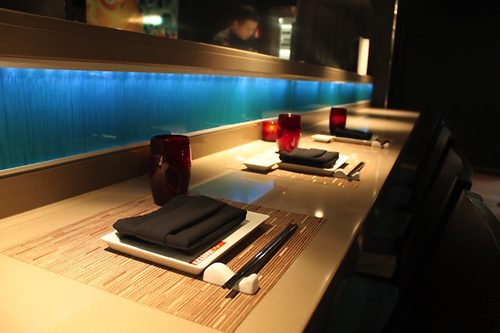 I went for the DX Sushi Combo this time and it was a great selection of different sushi rolls.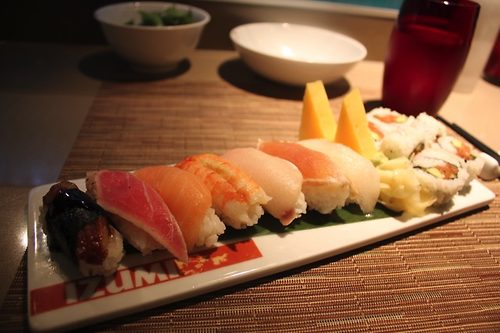 An interesting change to Izumi on Brilliance of the Seas is that the miso soup costs $2 here, whereas on all other Izumis I have been to, miso soup was complimentary.
Granted, the miso soup served here is quite large. Probably the largest bowl of miso soup I have ever had.
I decided to head down to deck 4 at hang out at the R-Bar.  There was live music playing as well as the Captain's Toast.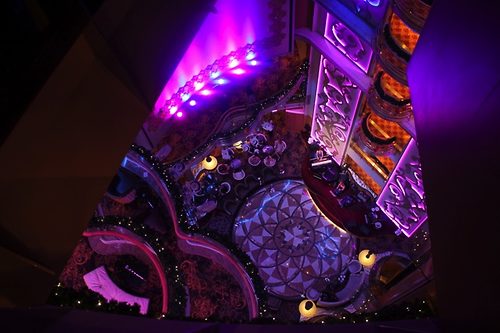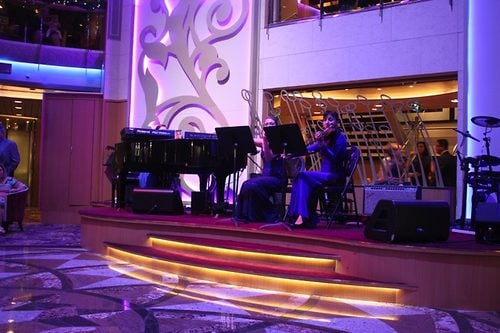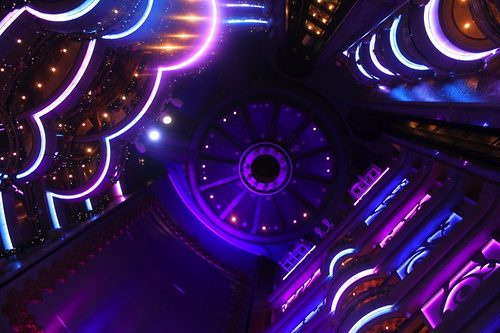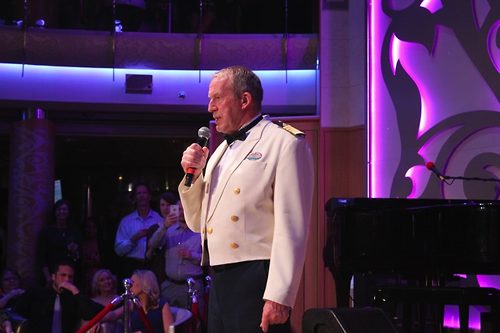 I am such a sucker for live music on Royal Caribbean cruises.  I think it is not only quite beautiful, but really entertaining and it is something I seek out every cruise.
Dinner in the main dining room was formal night and I enjoyed my selections.
Following dinner, my wife went to see the show in the theater that is all about Michael Buble music.  I opted to take in live guitar music in the King & Country Pub.  To each, their own!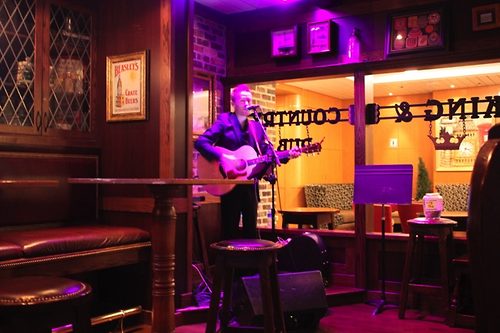 I found this stowaway in our stateroom.  Love the towel animals!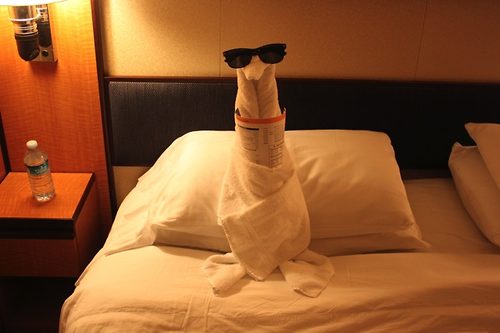 Tomorrow is Cozumel and after our day of rocking seas, I think we are all looking forward to some time on land.
Stray observations
I meant to to do this on yesterday's post, so here are a few random observations and such to share that did not fit into the regular narrative.
We went to Chops Grille yesterday about making a reservation for formal night but they told us they were totally booked.  We decided to book it on the last night instead, although I have my doubts that we could not have shown up tonight at 6pm and been seated.  
Speaking of specialty restaurants, Giovanni's Table for lunch was pretty empty.  We were among 4 tables for the time we were there.
The motion today on the ship I think is the worst I have ever encountered.  On our Quantum of the Seas cruise earlier this year we had rough seas, but do not think it was as bad as this.
The best way to deal with sea sickness? Bonine and a nap.
Quote of the day comes from the NextCruise officer, "You are Emerald status but have the knowledge of a Diamond Plus".  That is quite a compliment!
Busiest spot on the ship? R-Bar. That is because it is at the base of the Centrum, where so many activities take place.
Questions? Comments? Suggestions? Share them all in our comments!
Live Blog Index
Day 3 - Cozumel
Day 4 - Sea Day