Brilliance of the Seas Live Blog – Day 9 – Sea Day
In:
My final day on board Brilliance of the Seas was a sea day, as we head back to Tampa, Florida. Today was the first day all cruise I slept in, I think all those early mornings finally caught up with me.
I went down to the solarium to relax, while my girlfriend went to the spa. She received the 50-minute hot stones massage. The cost after the 20% Diamond Plus discount was $130 + 18%. Not the cheapest massage, but it sure did make her happy. Of course, she mentioned the upsell at the end of the treatment, but she kindly said no thanks.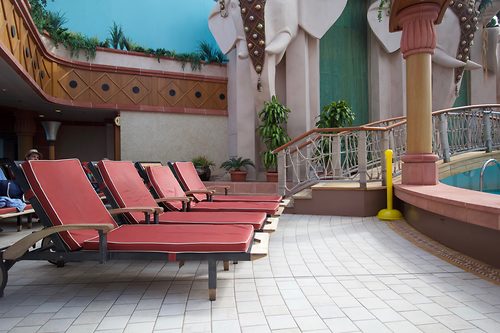 I was relaxing in the solarium and noticed how many chairs were open. Since 1/3 of the ship is spring breakers and they don't hangout in here, you could almost always find a chair. We grabbed some breakfast from the Windjammer and just ate it poolside.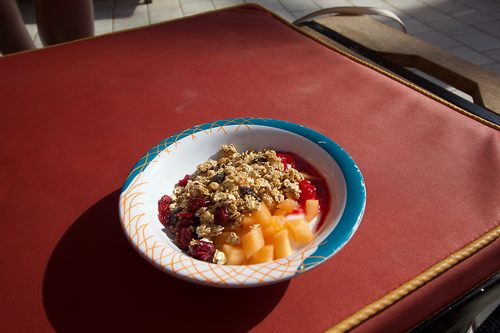 For lunch we had our one last meal at Park Café. I tried the corn salad and didn't think it was very good. But the salad and roast beef sandwich were wonderful. After lunch it was time to get some packing done in the cabin, it so much more fun unpacking!
While walking through the main pool, I saw the Cruise Director Mike had a trivia game going on around March Madness. I've never seen this played on the pool deck, but I noticed almost everyone was playing.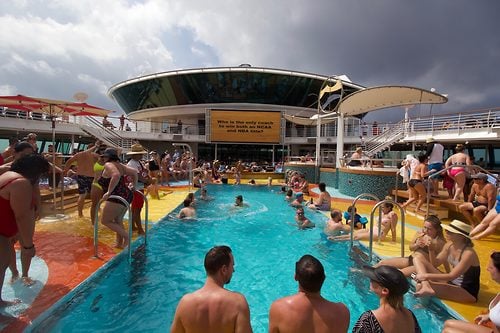 They also had the same 50% off shirts & bags sale. I heard a lady tell her husband, "but it's 50% off, we have to buy it!"
After the uneventful packing up the room, we headed down to vintages to enjoy some wine. We had one bottle in our room we hadn't opened, so I thought let's go enjoy it on the lounge.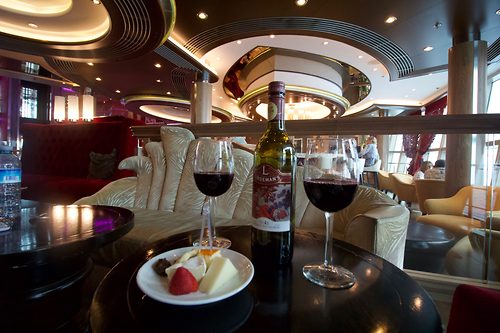 Since it's our own bottle we didn't have to pay any fee to enjoy it, but I did tip the server a few dollars for getting us wine glasses and a cheese plate.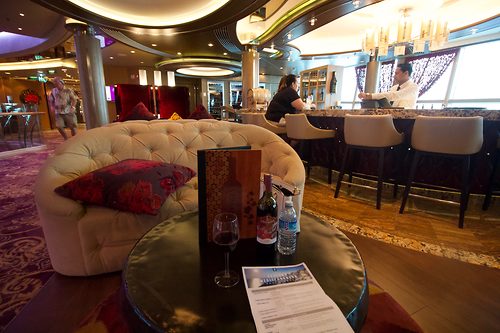 Dinner tonight was in the Windjammer; I wanted to dine here since I hadn't tried their dinner all week. When we walked in, I thought wow I've never seen this place so empty!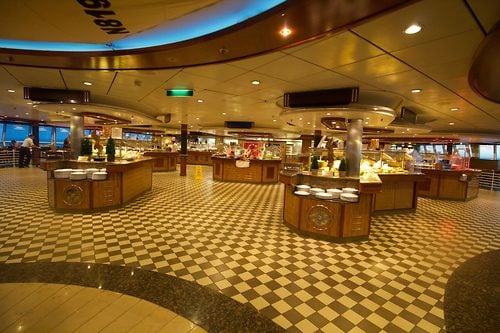 They had the same lamb shank they serve in the main dining room the last night. I also found some grilled and fried fish, so I got them both.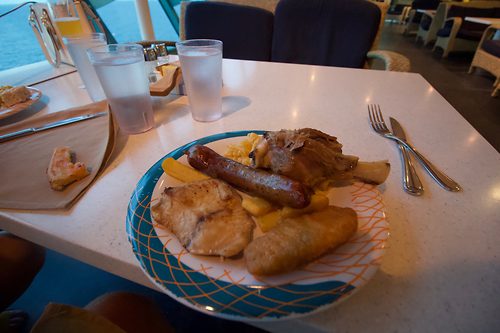 The meal was enjoyable; I really liked that fact that I could look around at everything before deciding. For our dessert I just made a little sampler plate and we got to enjoy everything. When you can't pick just one, get them all!
After dinner we walked around saying our goodbyes to all our favorite staff on board. I saw they were playing some kind of game in the centrum; I couldn't really make out what it was. We ended getting to bed a little early, since we both have work tomorrow morning.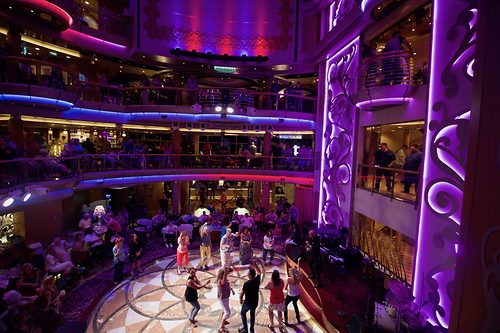 Overall it was an outstanding cruise, I loved being able to stay on board for the back to back. Brilliance was in good shape, but did have a few signs of wear. However, after her transatlantic to Europe next month, she will go under a dry dock. I tried to get some information about any changes to the ship, but was unable to get any confirmed information.
I hope you enjoyed this 9-day live blog; I had a lot of fun sharing my vacation with you. My next cruise is in 6 weeks on board Adventure of the Seas. I'll be taking her from San Juan to New Jersey, so see you soon!