Brilliance of the Seas Live Blog – Day 7 – Sea Day
In:
Today was our first of two sea days this sailing. I woke up at 6AM and took advantage of some quite time in the Diamond Lounge. If you were ever wondering when I spend the time to write everything for the live blog, it's in the early morning hours.
Last night we placed the room service card outside our door for the continental breakfast. They have the option to order eggs, omelets, and bacon for a $7.95 upcharge.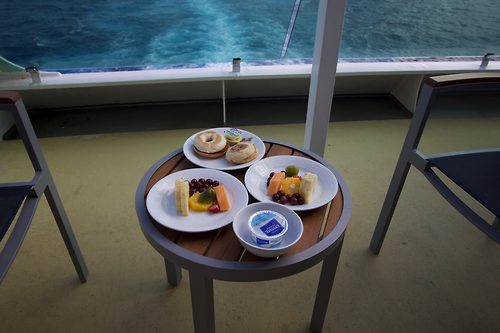 But we just stuck to the basic items like toast, fruit plate, granola, and yogurt. They have 30-minute windows for the delivery time; we picked 8:30AM to 9:00AM. Right at 8:30AM they called the room and said our food was on the way. The breakfast was nothing special, but it was enjoy food to hold us over for the morning.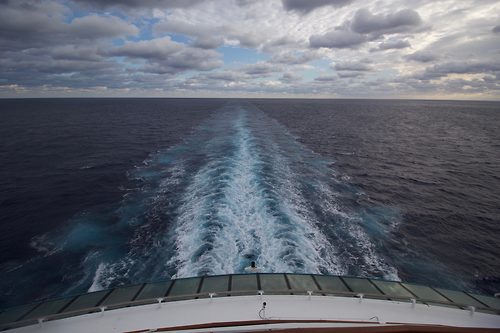 After enjoying breakfast on our balcony we headed down to the pool deck. Today was still kind of chilly and overcast so we headed to the warm solarium. I noticed while walking forward the pool attendants marking unoccupied chairs again. They seem to be all over this on Brilliance, let's just hope they keep it up.
The Solarium was nice and relaxing all morning. We did try to get into the hot tub, but it stayed full the whole morning.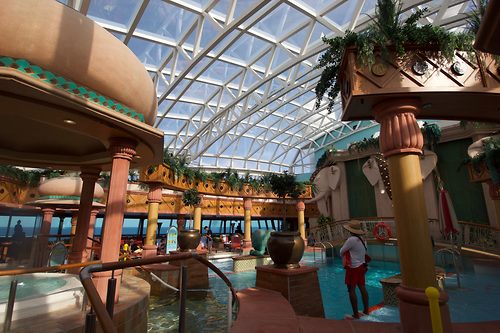 Lunch we headed to the Windjammer, I needed a break from Park Café. We went right at noon and it was packed! People were looking for tables, so we ate as fast as possible to help someone else out. I would recommend coming at 11:30AM or closer to 1PM to avoid the rush.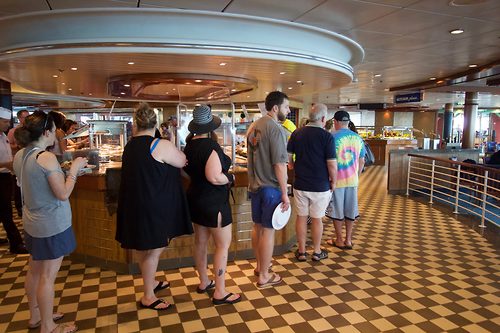 We had some nachos, they had a whole section where you could build them yourself. I might have gone up for more they were so good!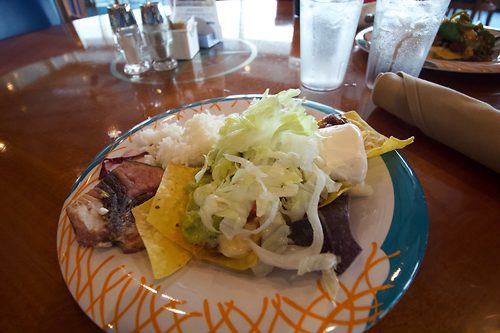 On the pool deck they had the $10 sale going on and 50% off shirts. This seems to happen every sea day. If you are looking for some good Royal Caribbean gear, this is good place to pick some up.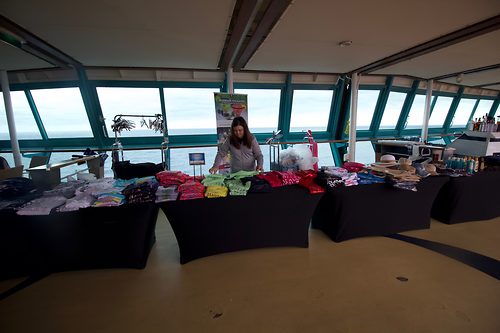 This afternoon we decided to enjoy some relaxing balcony time and our first beverage of the day. The pool deck was starting to get a little wild with all the college spring breakers. Also, so I could work on the live blog some as we are getting off the ship at 8AM tomorrow.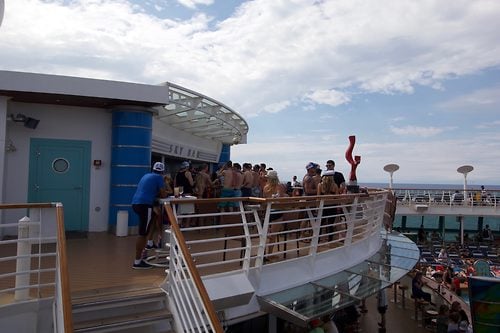 Around 3PM I went up to the concierge lounge for an afternoon coffee. Since I've mentioned this lounge a few times in my live blog, I thought I'd take some photos for the blog. They have some great outside seating, lounge seating, and the bar.
Tonight was formal night but we had planned to start our evening with room service brought to our room for dinner. The cost for room service is a flat fee of $7.95 + 18%. So if you are ordering for one or ten it's the same fee. In the name of research we ordered a little more than we could eat.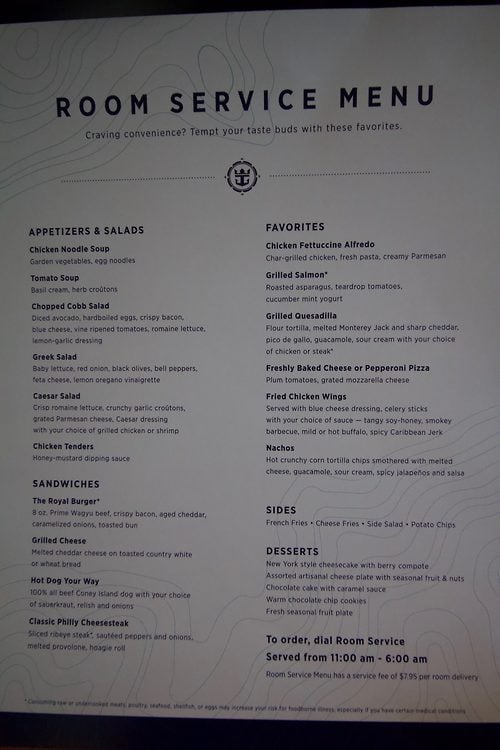 A few of my favorites were the wings, Philly cheesesteak and cheesecake. The main course was the salmon and I really enjoyed it, very fresh and tender. I also liked being able to get through dinner in less than a half hour. We had the whole night ahead of us to do whatever we wanted. I would order room service again if I needed a fast dinner.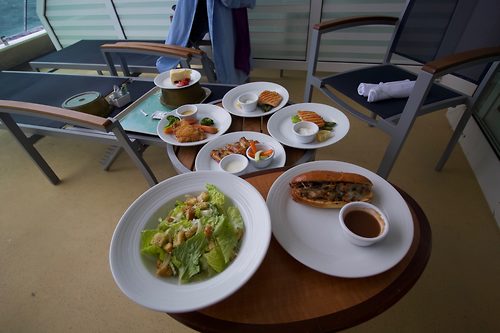 Most of the evening we spent down at the R Bar for the captain's reception. They had a band playing for a little over an hour before the reception. People were up dancing and enjoying themselves. I used my three diamond drinks while sitting here, so no extra cost on drinks without the drink package.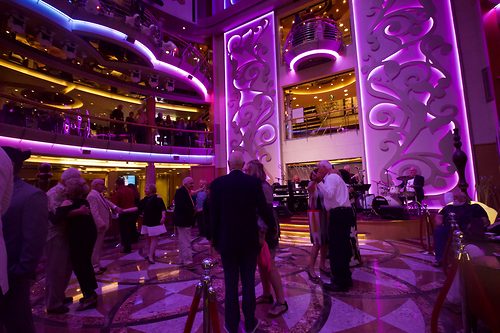 The captain came on for about 5 minutes to introduce the officers and say a few words and the event was over. I asked someone about all the dancers they had out last cruise and they were confused also why that didn't happen. No big deal, I just thought it ended very fast.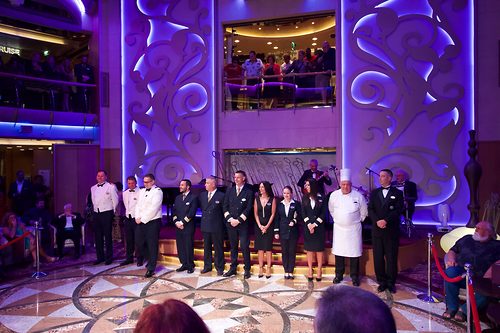 We jumped around to Vintages and to listen to some music at the schooner bar. I tend to like to jump around and see different venues. Around 10:30PM we did the ever so long walk back to our cabin and get ready for bed. We are breaking records on our steps this cruise, so I'll take it!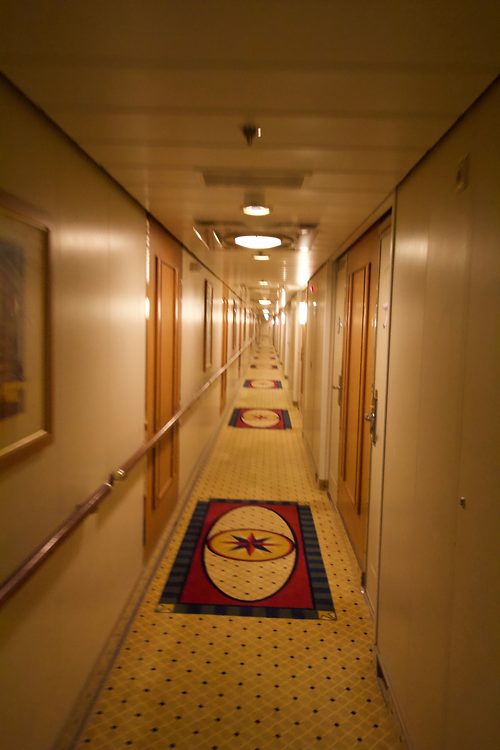 Tomorrow is going to be a long day in Cozumel, Mexico and we wanted a good nights sleep. I'm excited to share all the new things I'm doing in Cozumel tomorrow!