In:
Embarkation day is here and it never ceases to amaze me how excited I get for the first day of my cruise!
Yesterday afternoon we drove down to Gainesville, Florida to help cut down on the distance to the cruise.  We chose Gainesville because it was around half way to Tampa (it was really about two-thirds of the way there) and it would be less expensive than staying in Tampa.
We got to our hotel, the Hampton Inn, without incident.  We chose the Hampton Inn because it was the top rated hotel on TripAdvisor in Gainesville.
The hotel room was clean, felt new and well maintained.  What else can you ask for in a one-night hotel?
As per usual, I slept poorly but got more sleep than I thought.  At 6:45am our alarm went off and we got ready to go!
We had breakfast at Waffle House and then hit the road for an easy two-hour drive to Port of Tampa.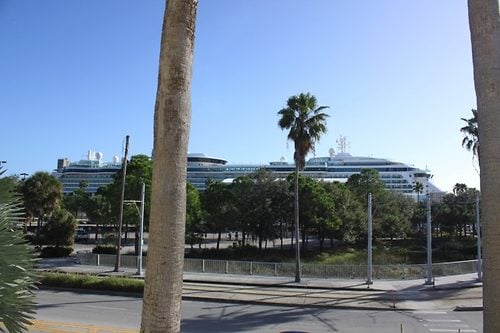 We gassed up the car in Tampa and then parked the car across the street from the port.  It is the official parking garage and costs $15 per day.
I suggest dropping off all luggage at the pier first and then driving across the street to park.  This eliminates having to lug around the luggage down an elevator and across the street.
The check-in process at the port was very simple.  In fact, I would say it was the quickest and easiest of check-ins on non-Quantum class ships!
Also, I felt the cruise terminal in Tampa was the most aesthetically pleasing terminal I have ever been in on a Royal Caribbean cruise.  It did not feel like a giant warehouse and I really enjoyed the embarkation process here.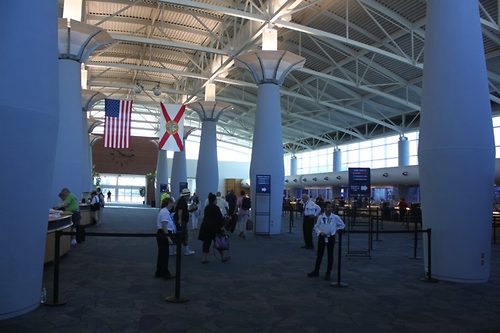 Of interest, Royal Caribbean was selling the unlimited drink packages in the cruise terminal.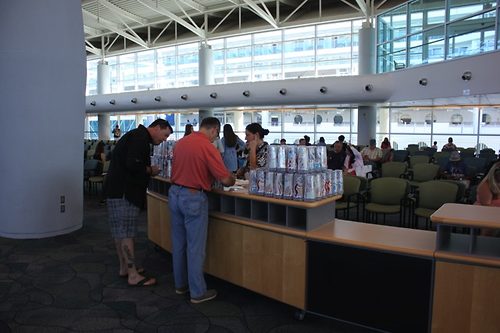 We arrived at the terminal at about 9:45am, and by 10:30am, they called our boarding group.  Not bad!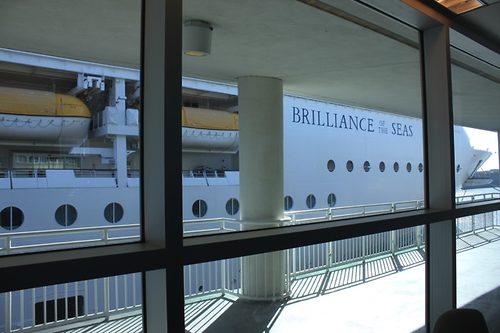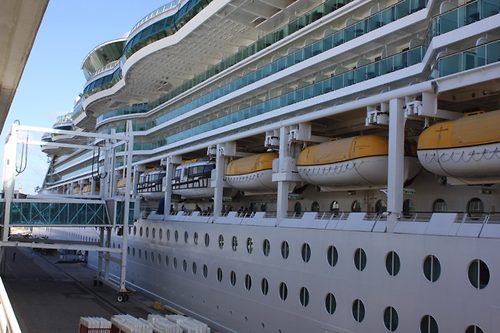 Once onboard, the Windjammer was not open yet, so we did what any self-respecting Royal Caribbean cruiser would do….we went to the bar!
We bought the Premium unlimited alcohol package for this cruise to try out, so we grabbed our first drink at the Pool Bar.  First drink of the cruise: lava flow!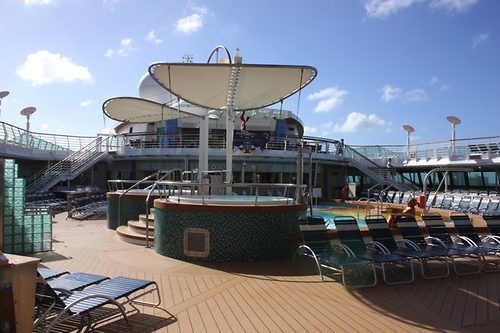 Lunch at the Windjammer was exactly what embarkation lunch is usually like, and I loved it!  Great selection of foods from around the world, and I naturally gravitated towards the curry onboard (potato curry).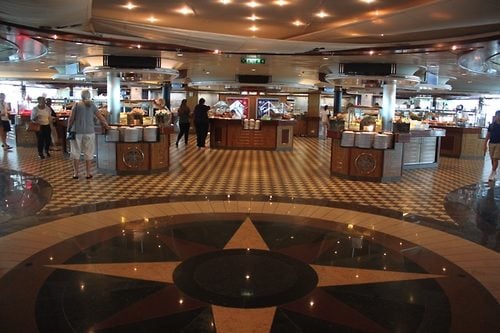 Following lunch, we took a tour of the Vitality Spa.  We have not booked anything yet but my wife will be getting a massage.
Speaking of the spa, there is the thermal spa pass and the ultimate spa pass.  The thermal spa pass includes access to the heated chairs, steam room, rainforest shower and another room that I forgot.  You get unlimited access to all rooms for the duration of your cruise.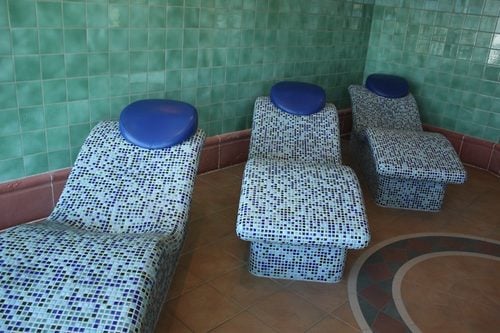 The ultimate spa pass includes everything with the thermal spa pass, plus a rasul room treatment.  The rasul treatment is essentially a couple's exfoliation, shower and facial.  Or at least, that is what I remembered from it.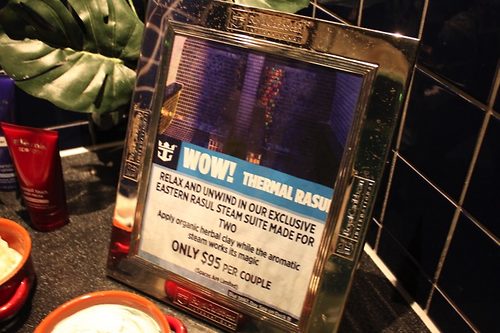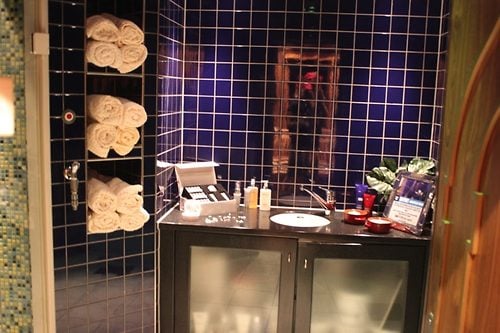 We spent the next few hours exploring Brilliance of the Seas.  I also took the opportunity to book "pre-dinner" at Izumi for 6pm tonight.  YOLO!
We checked out our table at the main dining room and we are at a large table.  I am looking forward to meeting some new folks onboard!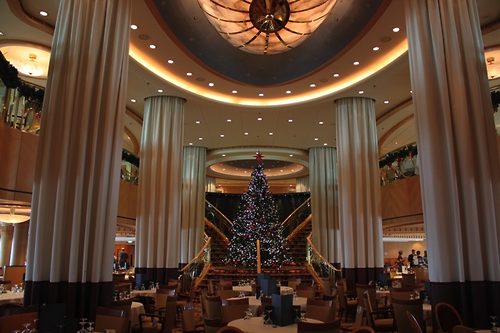 We also noticed there was quite a bit of Christmas decorations onboard the ship.  I was expecting decorations to be added perhaps tomorrow, but already the decorations have come to Brilliance of the Seas.  Perhaps there will be more decorations as the cruise progresses?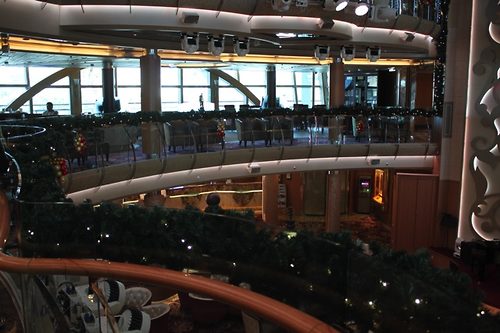 Our stateroom was ready a few minutes after 1pm and we booked an interior stateroom.  In fact, all of our luggage was already waiting for us when we got there!
Our stateroom is nothing fancy, but for my wife and me it is perfectly fine.  We prefer in this kind of a cruise to save money on a stateroom and spend that money somewhere onboard.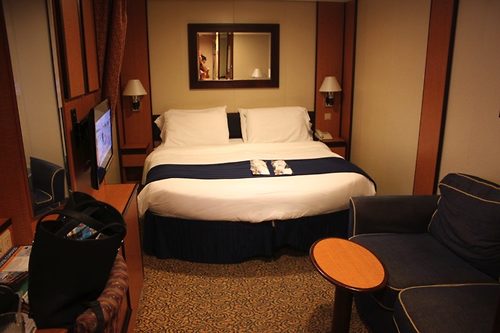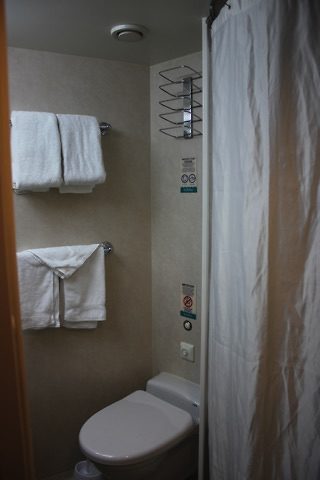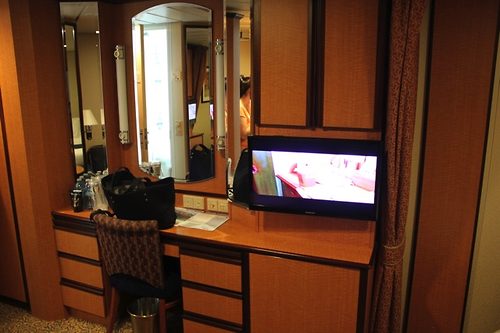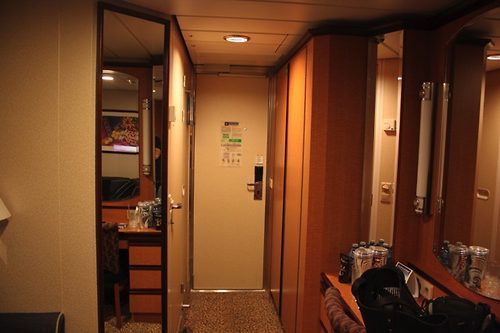 Much of the afternoon was spent exploring the ship.  We had an early muster (3:15pm), so we did the muster drill on deck 5 and when it was complete, enjoyed sailaway from a comfortable chair in the Solarium.
Having just spent the afternoon onboard, Brilliance of the Seas already strikes me a ship that offers a lot in a small(er) package.  Just because she does not have the size of an Oasis or Freedom class ship, does not mean there is not a lot to do onboard.
I do think Brilliance of the Seas, and her sister Radiance class ships, do favor those that are looking for relaxation just as much as activities.  I can already see us spending a lot of time up on the pool deck with a cold drink in our hand.  That does not make for lively blog posts, but it still a lot of fun!  
Following sailaway, it was back to the stateroom to get dressed for the evening.  
I know some folks do not love getting dressed up on a cruise, but we really enjoy it.  When else do you get to dress up nicely other than weddings and funerals? Plus getting dressed up makes for great photos!
We decided to get ready for dinner a little early and as my wife was getting ready, I walked out to the outside deck on deck 5 and witnessed a wonderful sunset sea.  Unfortunately, I  forgot  my camera's memory card in the room so I do not have photos to share (smooth!).  Trust me when I say it was quite beautiful.
We headed up to Deck 12 to check out the ship passing under the Sunshine Skyway bridge and it looked like we were not going to make it….but we did.  Very fun experience.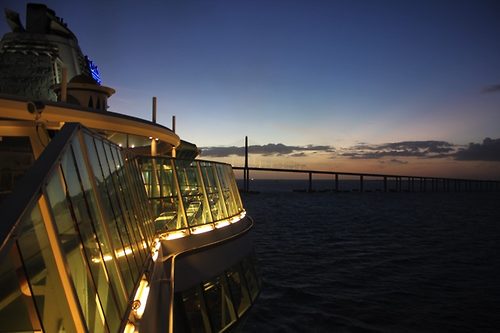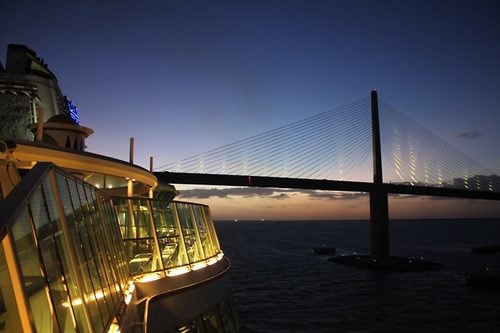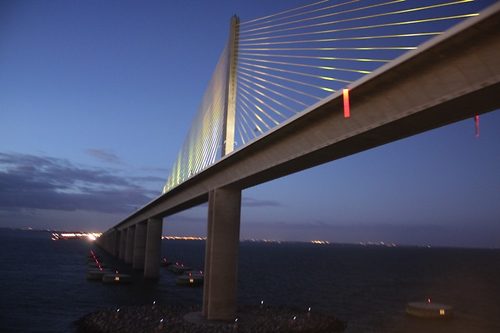 We had "pre-dinner" at Izumi tonight, which is located on Deck 12 where the old Seaview Café used to be.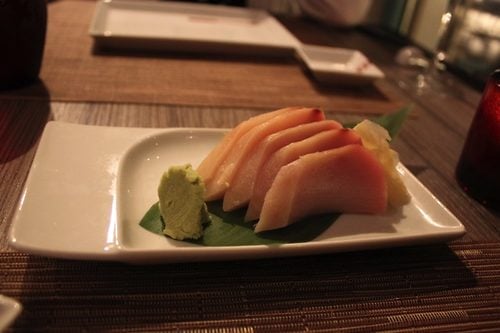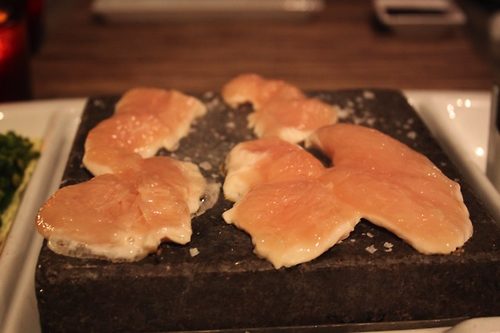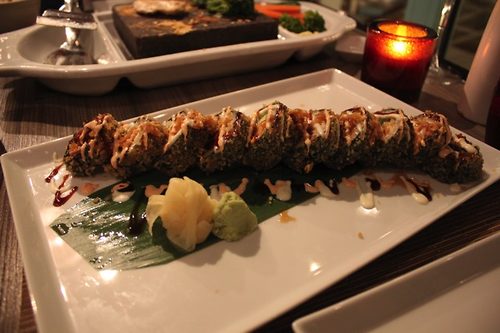 I will save my review of Izumi for a formal blog post but we really liked the experience.  Great sushi, beautiful spot and great service.
This evening's entertainment was a medley of Broadway music, which my wife really enjoyed.  There were songs from Mammia Mia, The Producers, The Full Monty and more.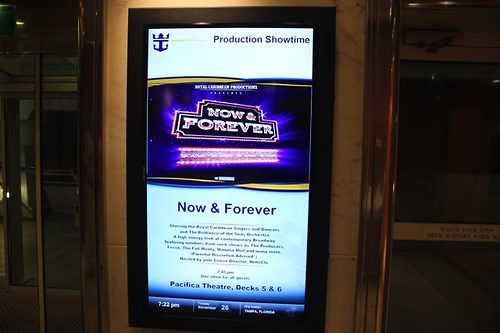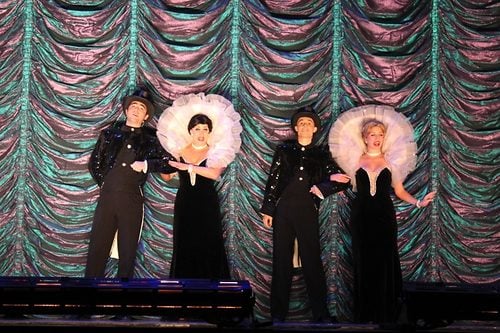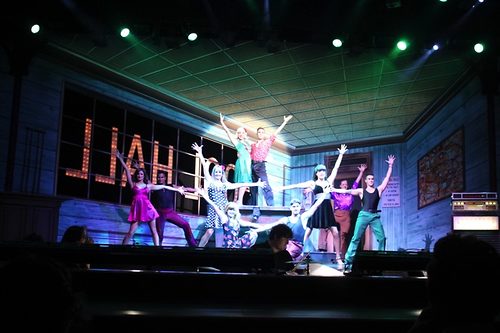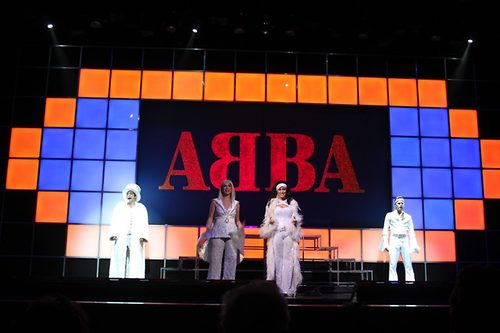 It was essentially one song after another and if you like show tunes, this is the show for you.
Dinner tonight was in the main dining room, where we had a Thanksgiving menu attached to the regular menu.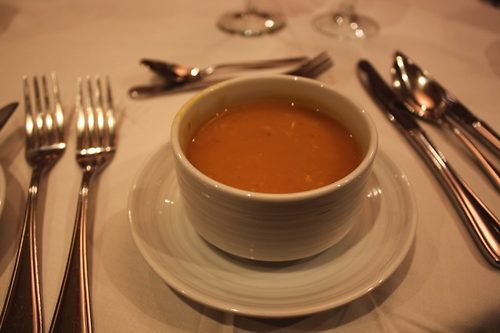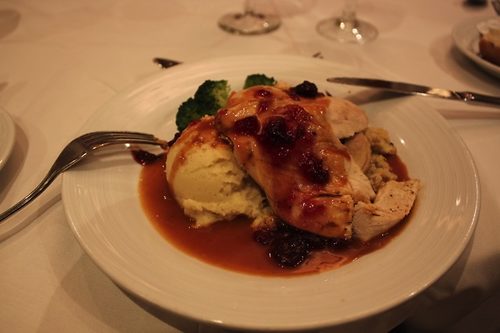 I ordered the pumpkin bisque, turkey dinner and pumpkin cheesecake.  All were terrific and I would order them again.
Speaking of Thanksgiving, it certainly did not feel like Thanksgiving onboard.  Some guests watched the various football games on TV but I kept reminding myself it was a holiday.
I would say this is a great cruise for anyone who wants to skip the whole formality of a holiday with all the "stuff" that goes into it.  It felt like a Royal Caribbean cruise that happened to be during Thanksgiving, and I enjoyed it just fine.
After dinner we did a little walking but we were wiped out.  True to form, by 10:30pm, we were in bed and ready for sleep.
Tomorrow, is a sea day and I plan on doing a lot of activities.  Hoping to work in a little of everything tomorrow.  Stay tuned!
Live Blog Index
Day 3 - Cozumel
Day 4 - Sea Day