Brilliance of the Seas Live Blog – Day 1 - Embarkation Day
In:
My cruise day has finally arrived; of course I woke up at 6AM to watch the Brilliance of the Seas pull into the port of Tamp Bay. I never set an alarm to do this; I just naturally wake up, due to all the excitement.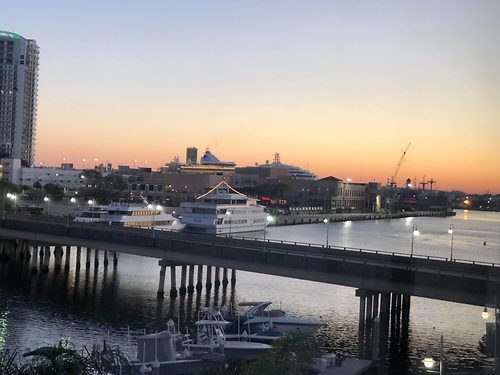 I was planning to walk over to the ship this morning, but my girlfriend was heading out at 10:30AM and offered to drop me off. arrived at 10:30AM down at the new terminal 6 in Tampa.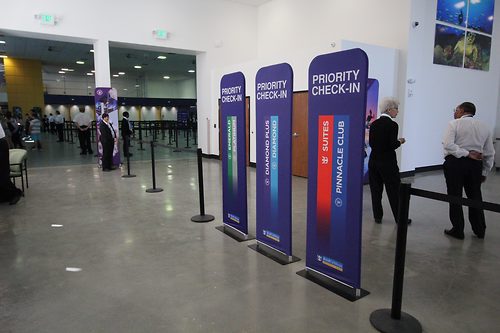 Royal Caribbean is almost always at this terminal now; my expectations were very low, based on recent reviews. However, it might have been the smoothest boarding process 've ever seen. think it helped that it was so early in the morning, but I didn't wait in a line during the whole process, I just walked right on board.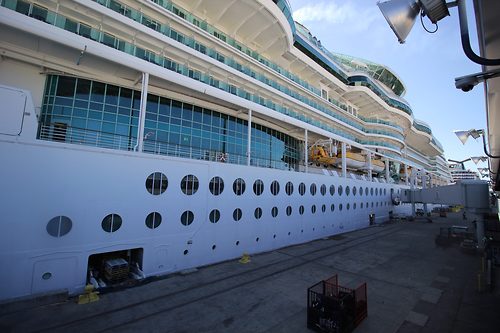 My first hour on board was exploring the ship, taking it all in. It's been two years since I've sailed on Brilliance, so I was trying to take it all in.
I went into the Solarium around 11:30am and noticed the pool was closed due to some repair work and fresh paint. I relaxed and waited until noon when Park Café opened in the Solarium.
For those of you that might be looking for a more relaxing day 1 meal, I highly recommend Park Café. It's included in the cruise fare and surprisingly I was the only one here. I had a salad and the favorite roast beef sandwich.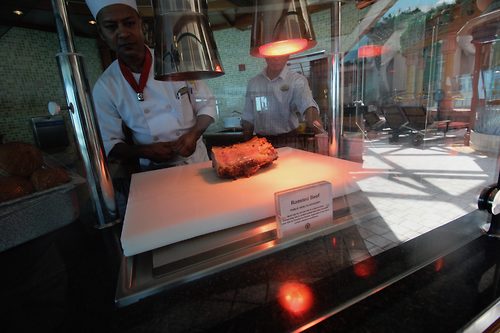 After lunch I went to explore the ship more, that's when I noticed people were lined up buying the drink package on board. The price was $63 per day, plus 18% service charge. I'm always so surprised people don't buy the package in the cruise planner online when they run discounts. If you didn't want to purchase the drink package they had the drink of the day for $8.
At 1pm the cabins opened up and mine is just a few feet from the centrum. I booked a solo cabin on this cruise, room 4587. They have three solo cabins on Brilliance of the Seas and they are a great value for solo passengers.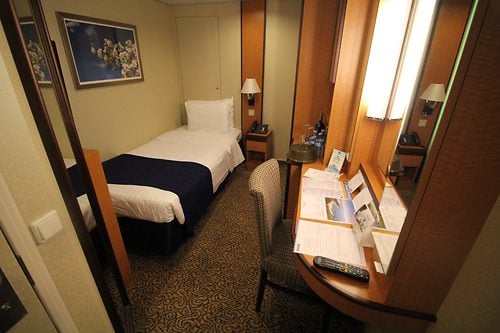 The room reminds me of a college dorm room almost, just a twin bed, closet, small desk, and the bathroom. I love the location of the cabin since it's maybe 5 seconds away from the centrum. The cabin itself has plenty of storage and the bathroom is standard like all the other cabins.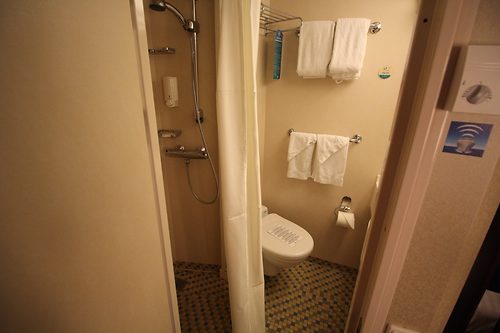 Muster drill was at 3:15pm, nothing exciting to report just the usual standing on the outside decks. I was in my cabin when the alarm went off and my cabin attendant kindly reminded me it was time to go.
After the drill I went looking for my luggage since it still hadn't arrived. Since my solo cabin is off on a small hallway by itself of only 9 total cabins it takes a little longer for them to bring the bags. They actually come up on the other side of the ship and they must pass through the centrum to bring them over to us. I wanted to get unpacked and ready for the night. I was able to find them and get ready for the evening.
Tonight I wanted to take advantage of some free cocktails, since I don't have a drink package. I went into both the Concierge lounge and Diamond Lounge tonight.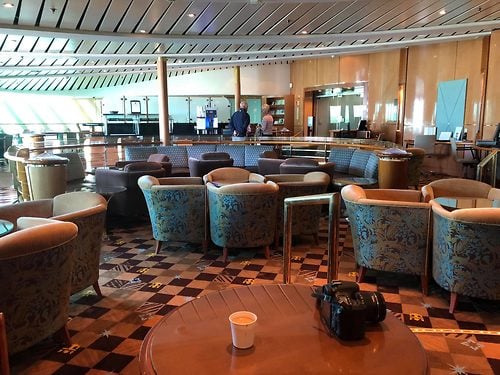 The Concierge lounge is large; they have outside seating, a lot of tables, and even a sit-down bar in the lounge. I stayed in the lounge for two hours just making friends with everyone; it's one of my favorite parts of cruising all the new people you get to meet from all over the world.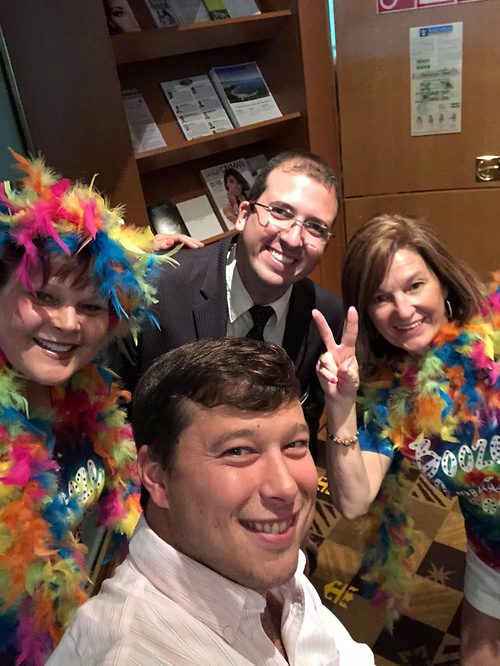 At 6:30PM we passed under the Sunshine Skyway Bridge, everyone in the lounge rushed out to the outside deck to see it.  It's always exciting to see this and right at sunset made it even better.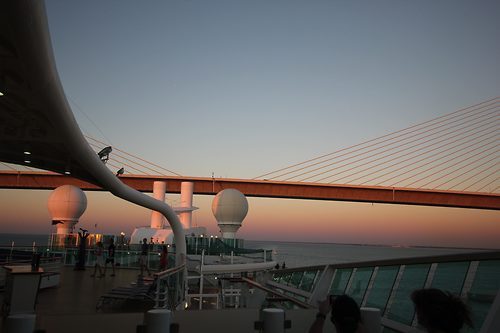 The Diamond lounge was much smaller with maybe 10 tables, however they have a view over looking the pool deck. So I guess it's a give and take on which lounge I like better.
Dinner tonight was in Giovanni's Table at 8PM. I purchased the BOGO offer online for $30 that lets you dine night 1 & night 2. I made my reservations right when I got on board at Chops for both restaurants. When I arrived I first noticed it was empty, other than two other tables and myself that was it.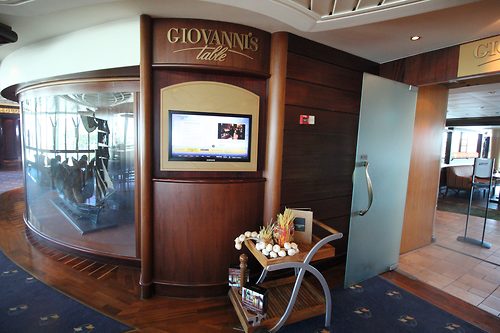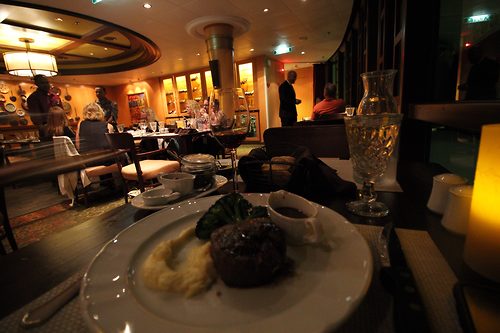 The service was outstanding; it was like I had the whole staff waiting on me. I had a few starters and my favorite the filet. They suggested I come back tomorrow night, but I told them I'll be in Chops.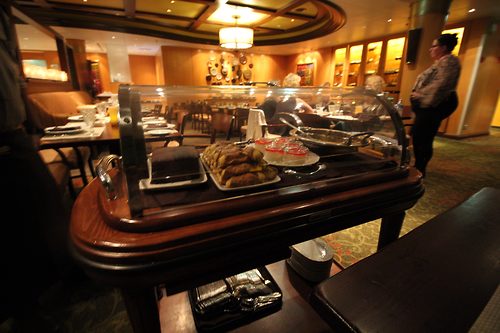 But, they did talk me into coming back night 3 and 4! The manager gave me a discount offer to come back later during the cruise.
I wish I had some entertainment updates but I didn't see any shows or enjoy any music around the ship. After dinner at 9:30PM I actually went to bed! I was pretty tired from my full day and decided to get some sleep before my sea day tomorrow.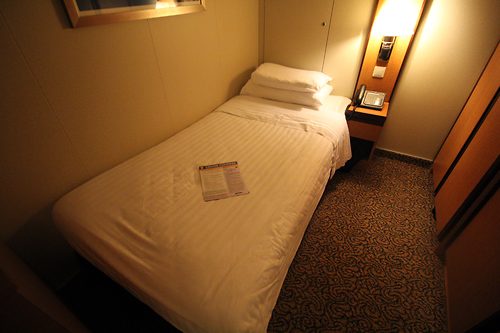 My bar tab for the day was $14 without the drink package, I purchased a beer and another using my BOGO coupon pre-loaded on the sea pass card.