Brilliance of the Seas Live Blog - Day 7 - Sea Day
In:
Well, here we are again for another sea day on board Brilliance of the Seas.
Today, I decided to not set an alarm and just wake up naturally. I'm not going to lie; it was really nice sleeping in past 8am.
The first thing I did was to blog a little on my balcony; I sure did enjoy having this to wake up with. Sadly, my internet connection was too weak to send pictures from out here.
Breakfast onboard
This morning I decided to make my first trip into the main dining room for breakfast.
Hard to believe I've been on board for six days now, and this is my first trip in here. For breakfast, they had had a few tables in the center to grab some fresh fruit and granola. We started off with some morning mimosas, which were included with our Premium drink package.
I decided to order an omelet, which is made to order.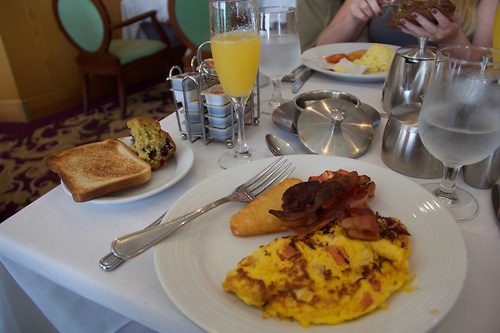 The breakfast in the dining room is a great option for those looking for an alterative option than the windjammer. The breakfast is a much slower pace, and we were dining in there for an hour.
Pool Deck
At this point in the day 10:00am, I knew our luck for finding a pool chair was most likely not going to happen. And I was correct; there were zero open pool chairs so we sat on the edge of the main pool.
After about five minutes of the wind, it was time move to the Solarium. In all my cruises I've never spent anytime in the Solarium and I absolutely loved it.
The water in the pool was heated salt water, which I really enjoyed. For those who are not familiar with this pool, it's the adult only pool, so no kids here.
They also have the Park Café inside the solarium for fresh made to order salads and sandwiches. I could see me enjoying another day here again for my last sea day, I truly enjoyed this pool.
Afternoon onboard
This afternoon we were just taking things at a much slow pace and relaxing.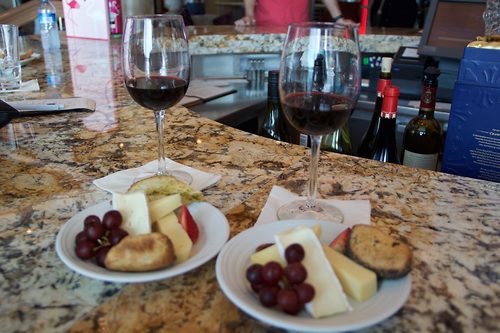 We decided to take our lunch to go from the Windjammer and eat on the balcony. I'm also enjoying having the balcony and just watching the ocean go by with a beer, so relaxing. Who knows, maybe I enjoy having the balcony even more than I thought I did.
We had some grilled fish, white rice, and two Guinness'. The fish tasted so fresh, some of the best I've had, and well the Guinness, you know that was amazing.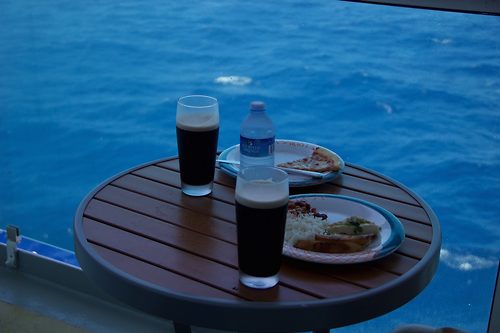 Dinner
Tonight, we had dinner in the main dining room, which was also my first meal in the dining room.
I had previous emailed Royal Caribbean requesting a table for two, however I was placed at a large table of eight. If I planned on eating here the next two nights, I'd request to be moved.
The service was a little slow, but our waiter said he was sorry for the delay. I order the filet of beef, which I think is the best dish served in the dining room.
I decided to pass on desert, because I think the drink calories from today was enough.
70's Disco Party
Tonight was the 70's disco party in the Centrum at 10:30pm.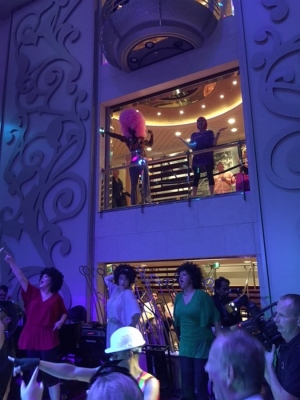 It was already 10pm when we left dinner, so quickly changed out of formal attire and off went. The Centrum was packed, shoulder-to-shoulder.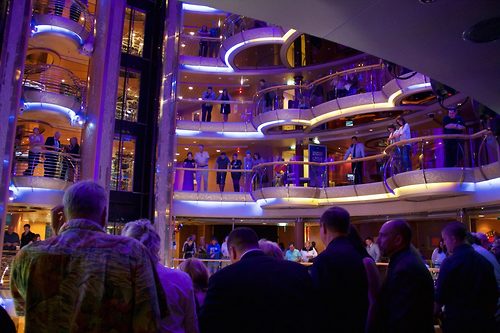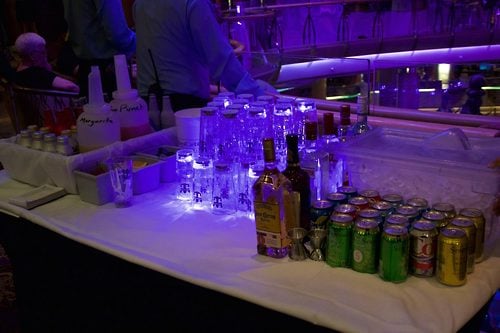 Cruise Director, Ricky Mathews certain surprised me again, with an amazing time. He has so much energy and really brings the guest into the dancing mode.
In all my cruises on the smaller ships, with a Centrum, I can't recall a disco party this packed. This party last until 11:15pm, and then off to bed we went. I would recommend getting to this party around 10pm if you want a good seat.