Brilliance of the Seas Live Blog - Day 1 - Embarkation Day
In:
Blog writer Michael Poole is onboard Brilliance of the Seas for back-to-back Brilliance of the Seas cruises this week, and he is LIVE blogging all of it right here. Enjoy!
Hi friends, my cruise is finally here!  I woke up early and watched the Brilliance of the Seas dock in Tampa on the webcam.  Over the past year this has become a morning tradition of mine. 
Embarkation – Port of Tampa
I arrived to the port at 12:00 on the dot and my first thoughts were there are no signs that tell you where to go. 
The Vision of the Seas was beside us, so I could imagine first time cruises, not knowing which ship/terminal to pull up to.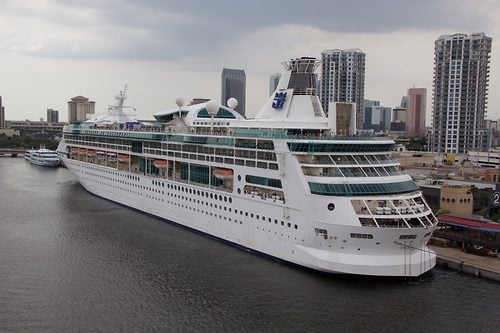 Once we pulled up, security asked us which ship we were sailing on, I suppose people get it mixed up often.   Once I arrived to the Brilliance terminal, there were lines out on the sidewalk.  Yikes, it was so hot and we were just standing outside.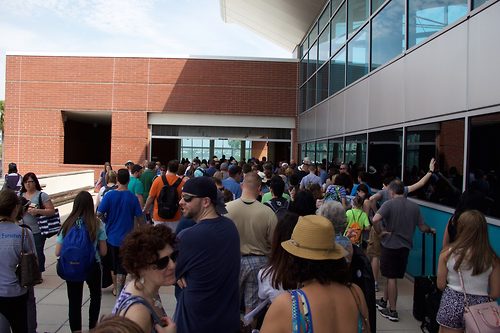 This was the line to go through security; it didn't take too long approximately 20 minutes.   Once you get through security you are then asked to complete the health form, prior to approaching the check-in desk.  The only line at this point was the non-crown and anchor members, all others were wide-open. 
The ship
The ship itself is in great shape, everything still looks new from the dry dock she received two years ago. 
When you walk on, you have to walk through the shops to get to the Centrum.  The Centrum on the Brilliance is much larger than those on the Vision class.  I did notice the R Bar was a little smaller than the one on the Enchantment.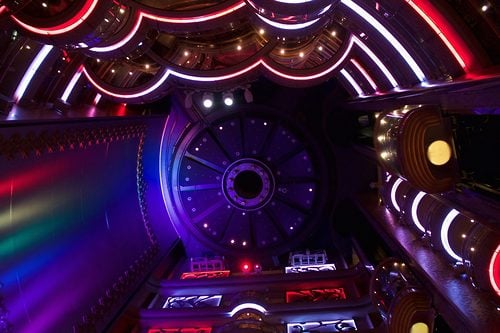 The Next Cruise desk is now a full venue on deck 5 with the beautiful new décor.  I also noticed they have six desks in there now, so they must be seeing a lift in their on board bookings. 
The pool deck was full of passengers already enjoy their first day in the sun.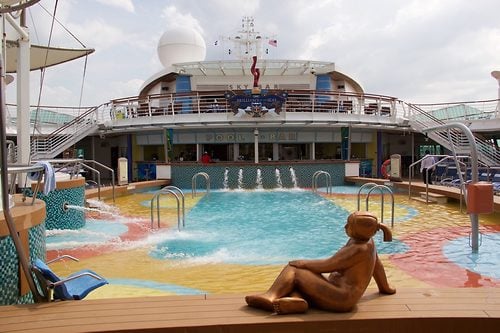 However, there are a lot of kids and I'm talking in the masses.  But you just have to expect that around this time of year, it does make me miss the kid's pool on the Freedom/Oasis class ships. 
My Cabin – SI Solo Cabin 4583
Since I'm sailing solo on this leg of the cruise, I booked a Solo cabin.  There are only three of these cabins on board and they were added during her last dry dock.  
First, let's start out with the location of the cabin, it's on deck 4 beside the centrum.  I really love having easy access to the centrum, it's about four steps away and I'm there.  I was a little worried about possibly hearing music or the R Bar from my cabin, but so far I've heard nothing.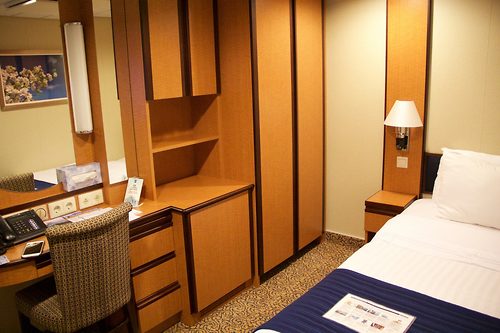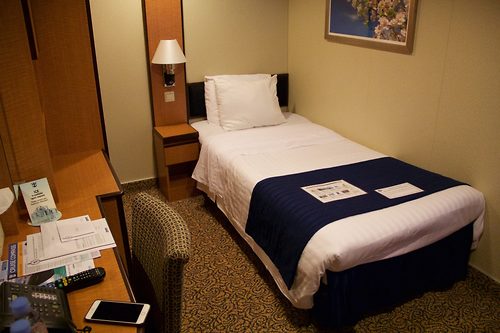 Okay let's talk about the cabin, it's around 100sq feet with a twin bed.  I was expecting the cabin to feel much smaller than the standard inside cabin, however it doesn't at all.  In fact, I feel like there is more space to walk around the cabin. 
The closet is much easier to access since it's not beside the door when you walk in.  I would recommend this cabin's to all solo cruisers, and will likely book them again. 
Sail Away
Almost sail away time, we had the mandatory muster drill at 3:15; they shut down all the bars down at 2:45 to prepare for the muster drill.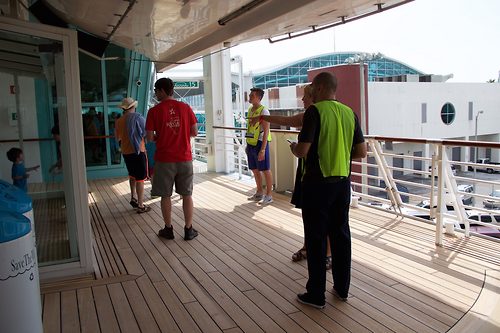 As everyone knows, this is the worst and best part of the cruise.  Worst, because they pack you on the outside decks very close to others.  But best, because when it's over you are officially on vacation!  It was over around 3:30, and I ran up to the pool deck, and yes I was almost running. 
They had a poolside lunch with hotdogs and hamburgers to enjoy during sail away. I also saw little mini bars set up all around the pool decks, I'm sure they needed these two weeks ago on college spring breakers.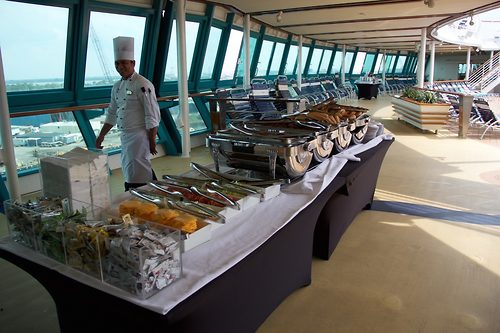 I met a bartender who said they were hit really hard with college crew for the last two weeks, but none on this sailing.   We sailed before the Vision of the Seas so I was able to take some great pictures of her.  I must be honest, seeing the Vision really made me miss the Enchantment; I just love that class of ships. 
Sunshine Skyway Bridge
After sailing for around two hours out of Tampa you get to pass under the Sunshine Skyway Bridge.  If you have never gone under a bridge on a cruise ship, it's a really fun experience.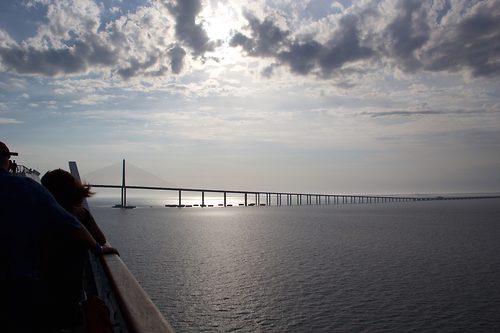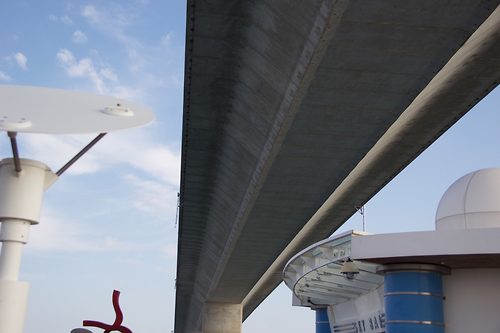 I was actually enjoying a cocktail in the Diamond lounge and ran outside, just in time to see it.  We had 2-3 feet clearance from the top of the ship, so everyone was clapping once we passed. 
The captain also blows the horn as we are going under, so be sure to experience this from the outside decks. 
Dinner
For dinner tonight, I decided to do something different, this is starting to seem like the theme of this cruise.  But I dined in the Windjammer for the first time for dinner.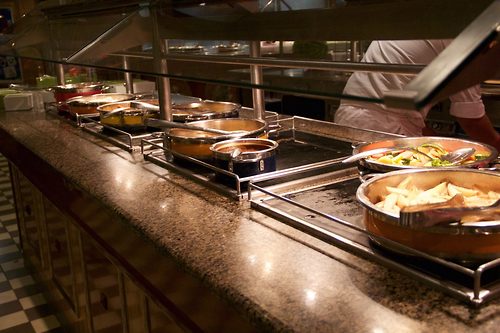 I was actually surprised for two reasons.  One they have so many options and two it was very full of guest.  I enjoyed some grilled fish and 1 or maybe 2 cuts of prime rib, and maybe grabbed some pasta too!  I liked being able to sample a little of everything and leave when you wanted. 
And sadly, this is where day 1 comes to an end, after dinner I decided to get some sleep and call it a night.  After a full day on board it just finally caught up to me.  Tomorrow we are in Key West! 
Drink Cost Vs Drink Package Check – Up
As I mentioned in my first post, I didn't purchase the drink package on this sailing.  I tried to enjoy myself just as I did have the package, and order at will. 
I ordered 3 beers before sailaway/during for a total cost $22. 
In the evening time, I used my diamond cocktails perks pre-loaded to the seapass card.  For those unaware, once you reach diamond level you get three drinks per evening at any bar from 5:00pm-8:30pm. 
So for day 1 looks like a saved a few dollars by buying them at bar price, but I didn't enjoy post dinner entertainment. Let's see if it holds true tomorrow…