Brilliance of the Seas Live Blog - Day 8 - Cozumel
In:
Michael Poole is live blogging from Brilliance of the Seas. Enjoy!
Well friends, we are back in Cozumel, Mexico again. 
We docked promptly at 8am and the Independence of the Seas was docked beside us again.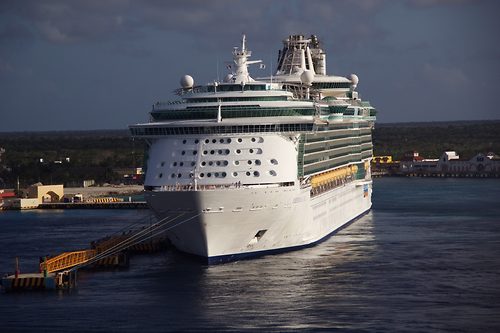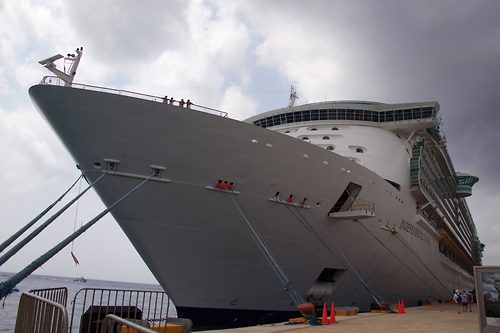 This morning, I ordered room service to be delivered to the cabin.  The rooms have cards behind the door, and you can simply fill out what you would like, and the time block you want it delivered.   
We selected the 8:00-8:30am window and it arrived around 8:10am.  The options for room service are eggs, fruit, cereal, coffee and tea.   You can get mimosas delivered to the cabin, but these are not included in the drink package, since they came from room service. 
We enjoyed our breakfast on the balcony and both of us, how happy we were to have it.  Now the question is, can I go back to a standard inside cabin?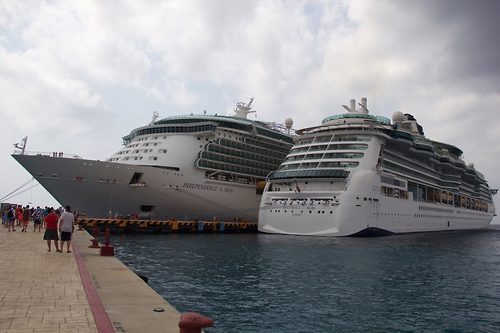 Nachi Cocom
As you know from my day 4 live blog post, I was also at Nachi Cocom. 
Most of my experiences were very similar to the first time; in fact I sat in the very same seat.  The only thing different is I arrived a little later and they greeted us with a welcome glass of champagne.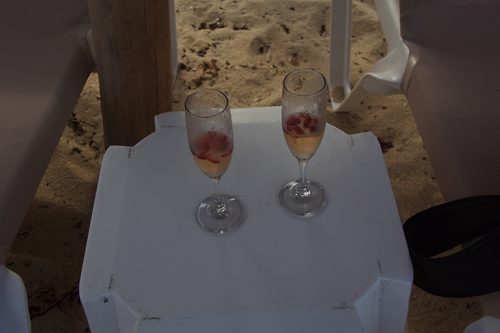 I'm a little picky when it comes to champagne, and I found this very pleasant to drink, and they also put strawberries in the glass. 
We did have a beautiful sand creation that said, Cozumel.  It was at the end of my chair and thought it was very beautiful.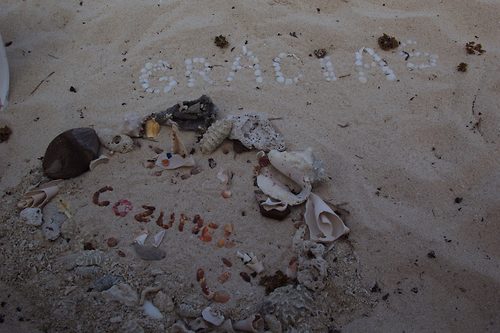 I did ask where it came from and they said a family was sitting in those seats yesterday, and their children made it.  The service this time was much faster than my first trip, but there were also about half the people here today.  I enjoyed some time in the swim up hot tub today, and loved having the bartender just had me a drink over.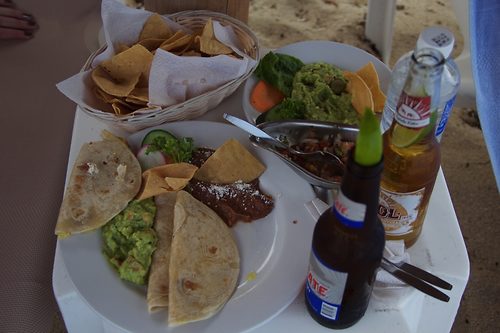 I will note there were about 20 women from a different ship at Nachi that started to get out of hand.  I thought the staff would jump in and ask them to tone it down some, but they never did.  But, this was only on our last hour of the day, and it was almost time to leave.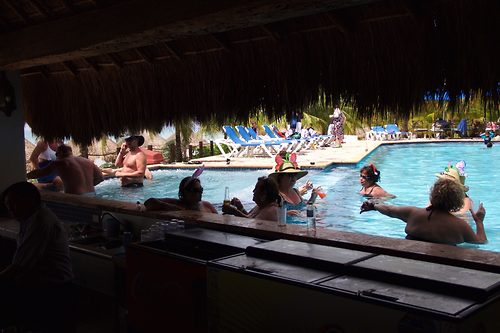 We ended up leaving Nachi at 3:45pm, and back on board by 4:15 (last call at 5:00), never been within an hour before.  Once back on board, we napped for two hours.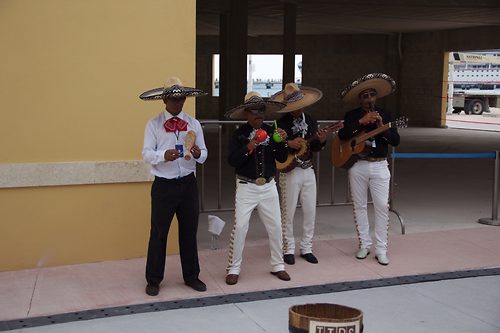 Evening Time
For a pre-dinner cocktail we decided to head over to the Schooner Bar, since Giovanni's Table is right there. 
We have met a really great bartender named, Julie here and she was making better old fashions, than the R Bar.  She would also surprise Hillary every time with a new champagne cocktail. 
They have live music in here each evening, singing on the piano.  I must say, this 4-day sailing the bars are much more crowded than on the 5-day.  If you are happening to sail on the Brilliance anytime soon, stop in and see Julie. 
Dinner – Giovanni's Table
I had made reservations online prior to my cruise for Giovanni's Table tonight at 8:30pm.  The cost for the meal is $25 per person and that includes tips for the server. 
The restaurant called our cabin at 5:00pm to confirm our reservation, and that we are welcome to come sooner than our time, if we wanted.  We were seated by the window in a table for two. 
Our server was outstanding; I could just tell he was one of the best, so informative and knowledgeable.  We started out with some sea scallops and mozzarella.  The scallops have so many flavors in them; only problem is we wanted more!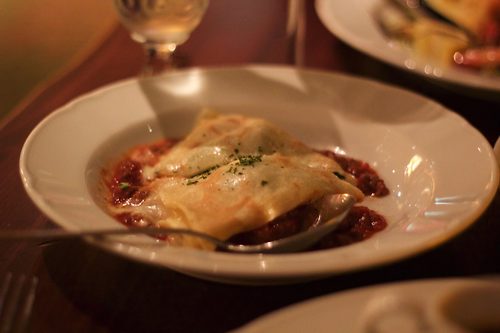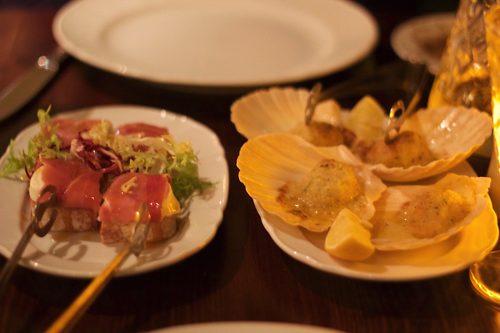 For the main course, I order the filet and Hillary ordered the shrimp.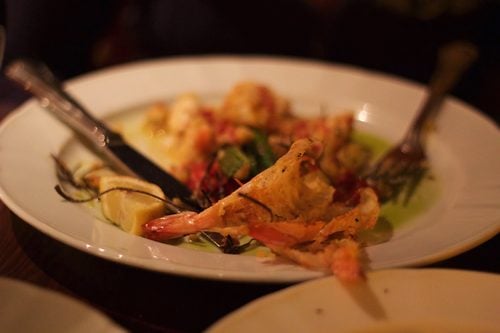 The filet was just as good as chops, maybe even better.  If you are a steak lover and want to save $10 per person in cover charges, just go to Giovanni's Table.  
They also role a desert cart over table side and all I can say, is save room, because this is the best part.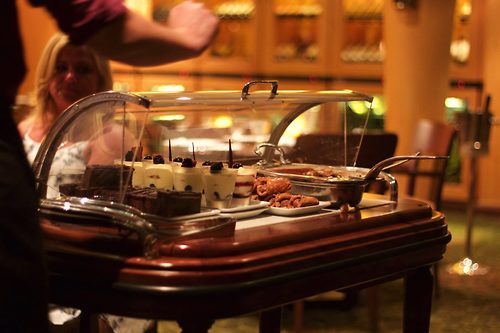 Dancing under the Stars
Tonight was the dancing under the stars party again, and I just could not miss that.  Ricky Mathews was the host for the party and it was a fun time.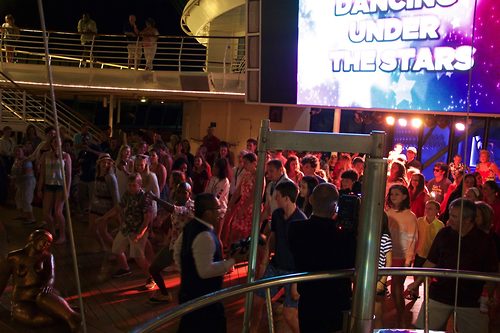 There were so many people out on the deck dancing, he decided to extend the party and close the nightclub for the evening. A few times Ricky brought the microphone over for me to sign a few lines of the songs.  
We stayed out on the deck until 11:30pm and then called it a night. 
Stay tuned for one more day, tomorrow we are enjoying our last sea day.