Brilliance of the Seas Live Blog - Day 4 - Sea Day
In:
It is the last day of our cruise and that is never a day anyone looks forward to, but you make the best of it that you can.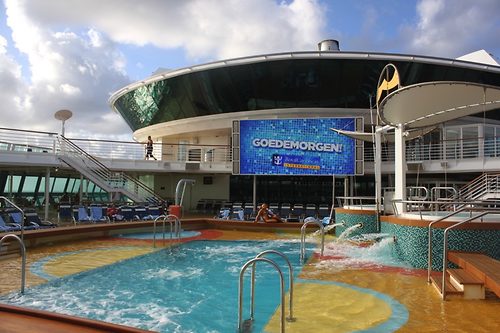 We got up a little before 8am and got our day started early with breakfast in the Windjammer for breakfast.  
Had the usual omelet from the omelet station and we enjoyed breakfast outside.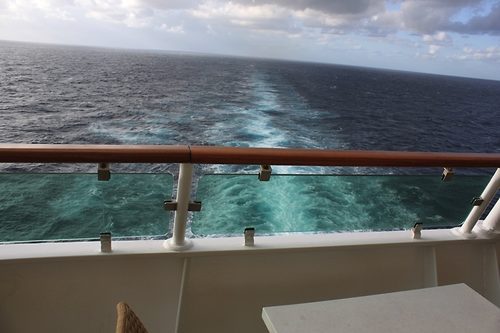 Speaking of outside, the weather today was quite lovely.  The day started out with a little motion but by lunch, it had smoothed out a lot.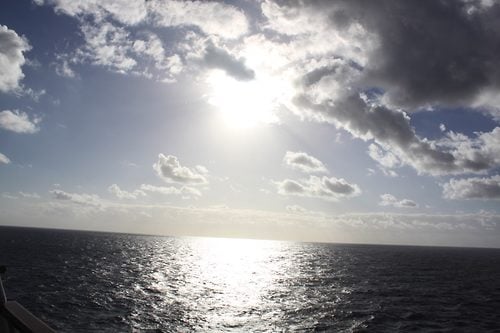 Following breakfast and some walking of the ship, I began my trivia-a-thon, with morning trivia.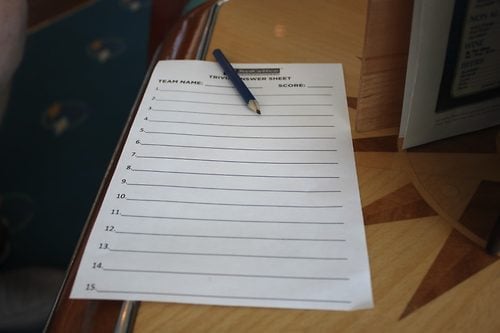 For the first time ever, my team won!  We were awarded glorious Royal Caribbean pens.
Following morning trivia was Crown & Anchor Society trivia, which was essentially Royal Caribbean trivia.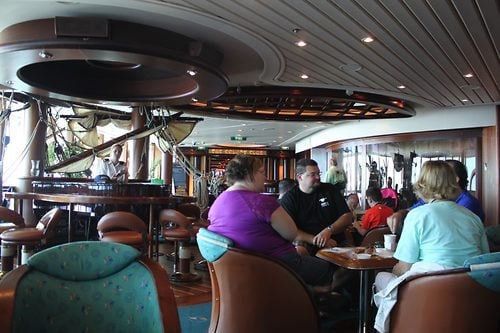 I am proud to say our team won again for this trivia as well.  I felt a good sense of satisfaction for flexing my geek muscle with those answers!
I followed up that with sports trivia in the King and Country pub.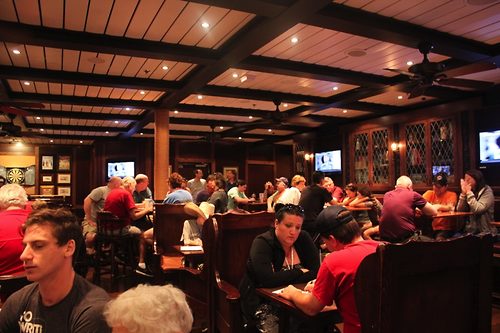 Sadly, my winning streak came to an end here.  Oh well, two out of three ain't bad, right?
For lunch, it was back to the Windjammer. I did suggest Izumi but my wife shot me a look, so Windjammer it was!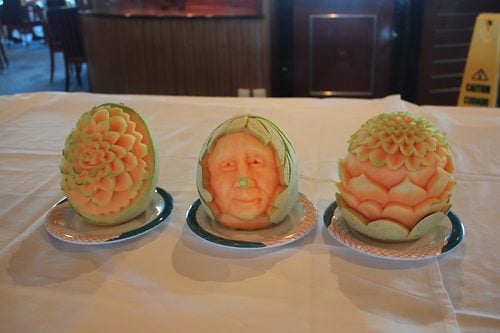 Following lunch, we were both feeling a little tired so it was off to the pool for a nap.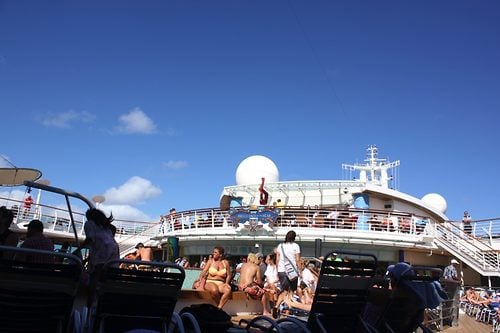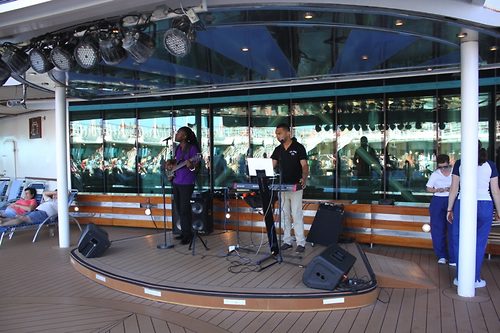 I love taking naps by the pool while on a cruise, and this was another successful napping event for me.
After my mid-afternoon slumber, I headed to Rita's Cantina to sample the food.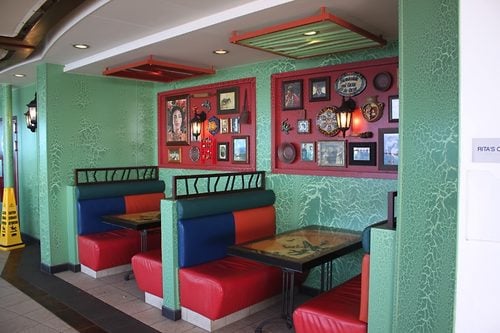 I had heard and read a lot of negative comments regarding Rita's so my expectations were low.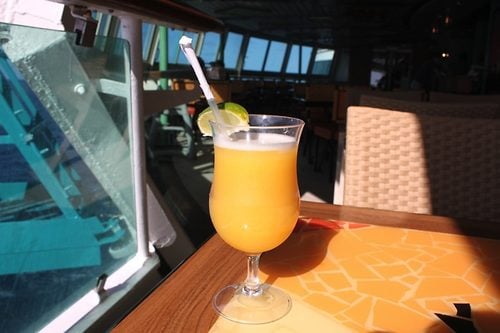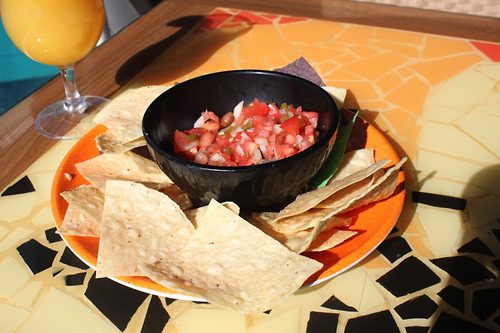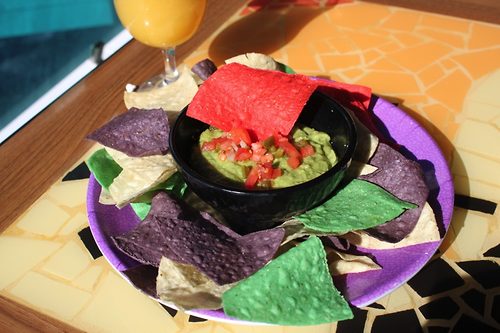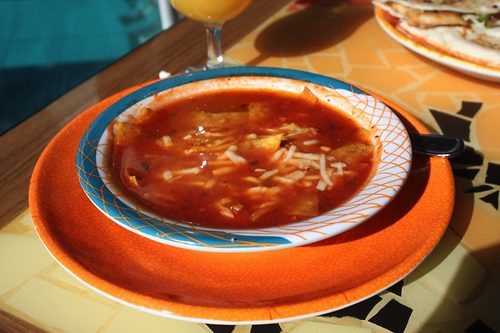 Here is what I will say about Rita's Cantina.  It is certainly not an authentic Mexican restaurant and will not win any awards for its Mexican fare.  However, their prices are dirt cheap (average option is about $2-3).
I think Rita's is good for those on an unlimited alcohol package who want to enjoy chips and salsa and maybe a snack.
It is not a destination for a meal in the way that Izumi, Chops Grille or Giovanni's Table are.  
My favorite items were the salsa and tomatillo soup.  The guacamole was, well, awful.  Everything else  ranged between "okay" to "good."
After my time visiting Rita's, I headed down to the Casino.  I watched the slot tournament, which is an excellent test of will, determination and who has the strongest wrists.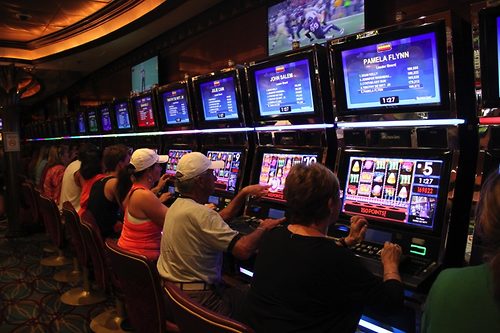 I also managed to turn the last $10 in my pocket into $40.  Woot!
I rounded out my trivia day with "red trivia."  This is essentially trivia with a theme that the questions or answers have something to do with the word red.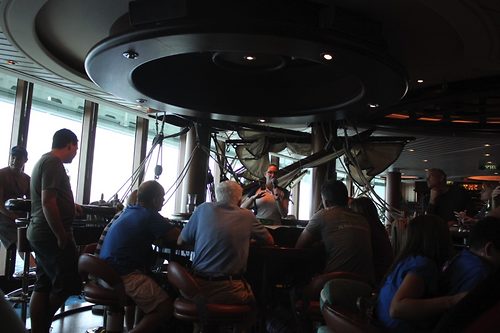 It was interesting, but we did not win.  I was happy to trade my trivia luck to the casino.
As the afternoon started to dwindle, we headed back to the stateroom to get ready for our dinner at Chops Grille.  
While my wife got ready for dinner, I did some walking around the ship.  Someone in the comments asked for photos of the Centrum shops, so here they are!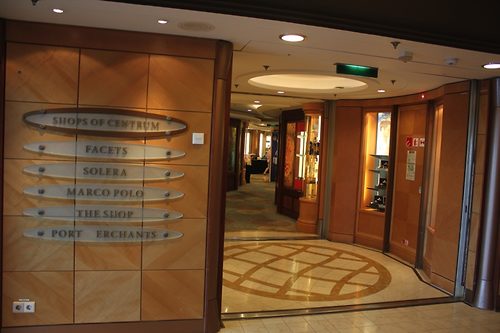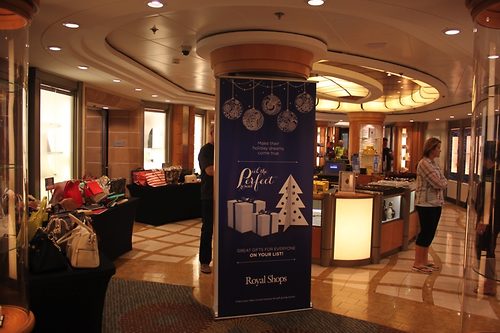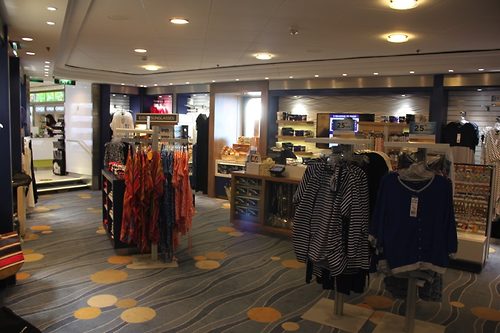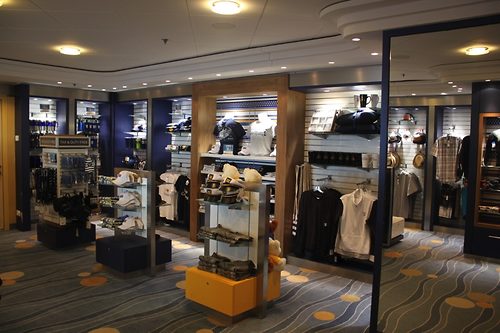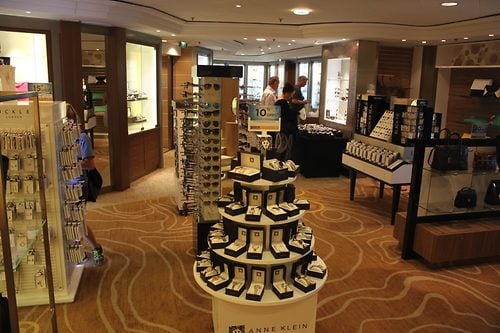 I was also treated another beautiful sunset at sea.  Love these sunsets!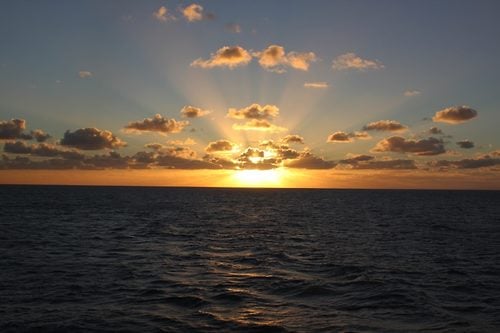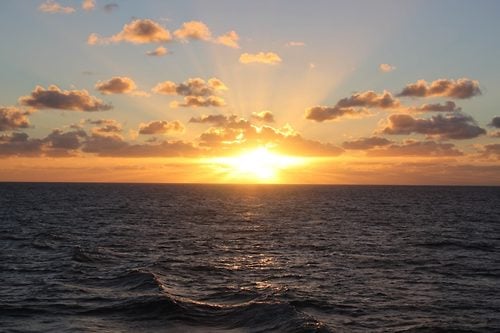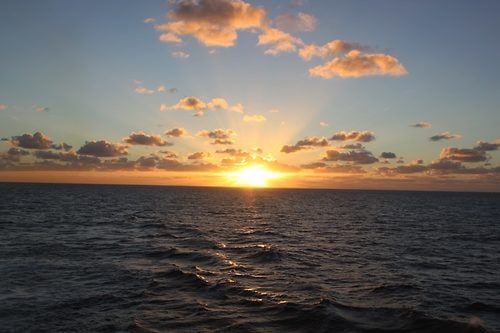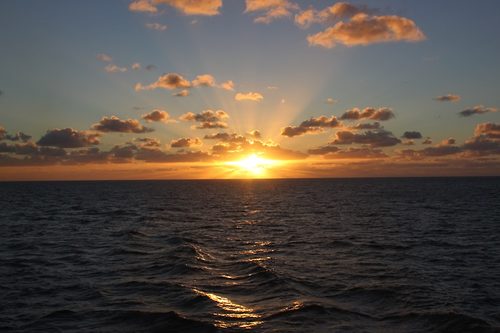 Dinner tonight was at Chops Grille and it was our first time back to Chops Grille in a couple cruises.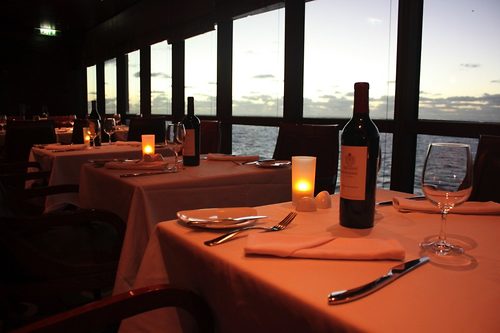 Chops did not disappoint, as it was another great meal.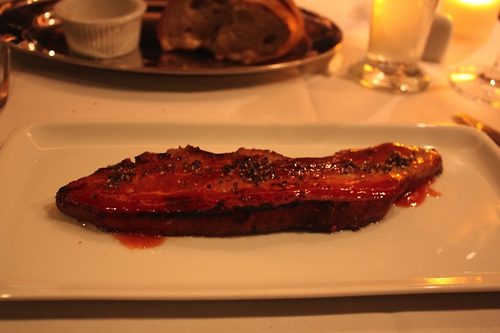 What I love about Chops Grille, and the reason I recommend it, is because it is consistently a good experience across the fleet in terms of the quality food offered here.
I opted for the tuna, while my wife chose the filet mignon.  Both were excellent.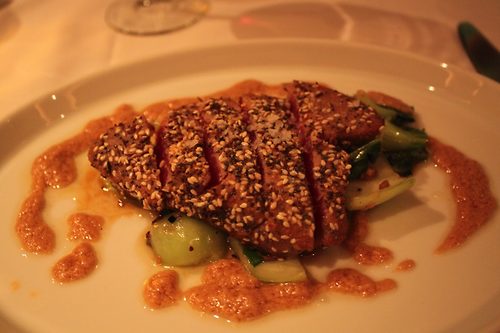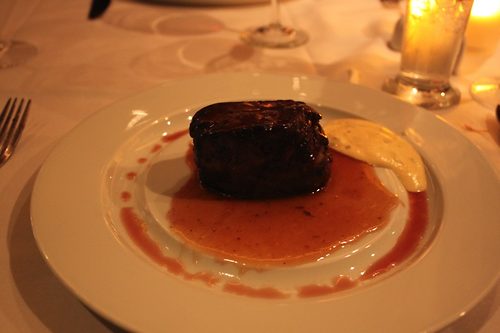 The two underrated aspects of Chops have to be the appetizers and desserts.  I am particularly fond of the red velvet cake.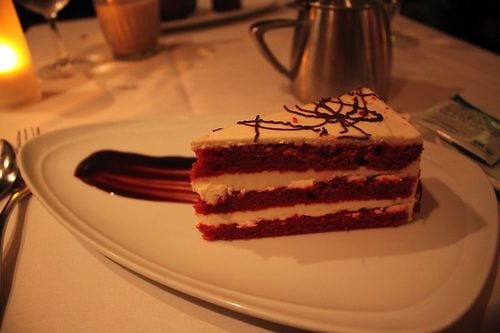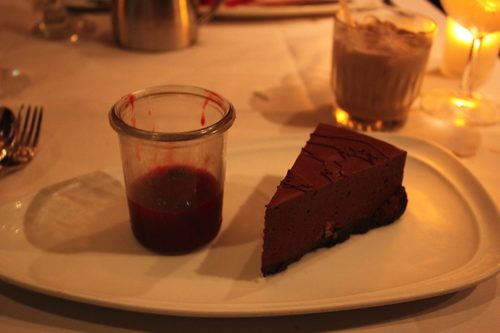 Following dinner, we took a stab at evening trivia.  Lost, but had a great time!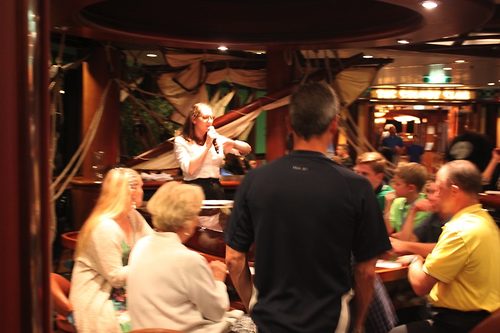 Our last event of the cruise was the evening show, which is a tribute to live music and encompassed almost all the live musical acts onboard Brilliance of the Seas.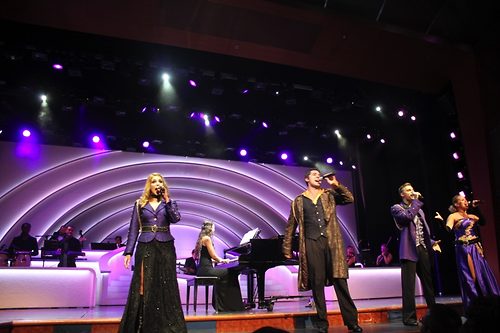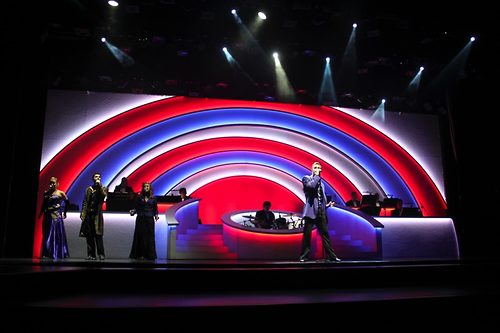 The highlight for me was the John Williams tribute portion of the show. Music from E.T.,  Star Wars, Superman and Indiana Jones!
This rounds out our Brilliance of the Seas live blog.  Thank you so much for following along and taking a virtual trip with me.
I loved all the comments and questions and can't wait to do it again in February 2016 on Allure of the Seas!
Stray Observations
Favorite bar for best mixed drinks: Schooner Bar (Solarium Bar in second place).
I had heard a few guests try to compare activities/restaurants/events on Brilliance of the Seas to Oasis class ships. Very different experiences and no way to properly compare.  They each offer their own style of cruise.
I found a lot of activities on Brilliance of the Seas, with the most events during the afternoon.
This was my first cruise using the unlimited alcohol package (premium).  My wife and I likely broke even on the cost and I can definitely see the advantage of the package, especially at specialty restaurants.  But I also drank more than I probably otherwise would have.
It seems like those without the unlimited alcohol packages are more and more less common.
In terms of sporting events, college football games were limited to ESPN broadcasts, but for NFL games, broadcasts on FOX were shown.
Places I spent the most amount of time: Solarium, Schooner Bar and pub.
Places I spent the least amount of time: Colony Club, Café-Lattetudes and Vintages.