In:
If you are familiar with the contemporary acronym "FOMO", then you know exactly what a typical first sea day on a Royal Caribbean ship feels like for me. Despite any logical argument, I always find myself wanting to do as much as I can, and today was no different.
We did not set an alarm, but ended up waking up around 8:30am or so. Even though we all got to bed late last night, the drive to get a full day of fun in on Independence of the Seas was too great to ignore.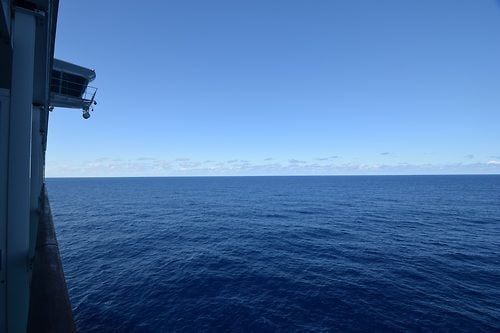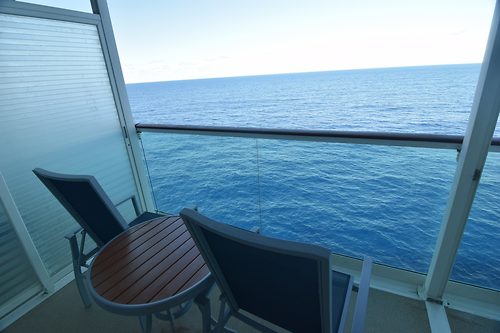 We headed up the Windjammer for breakfast at 9:30am and it was very busy. In fact, I think the Windjammer on Harmony of the Seas was less busy during this time than on Independence. I think going forward if we want to eat breakfast after 9am, we need to go to the main dining room to ensure getting a table.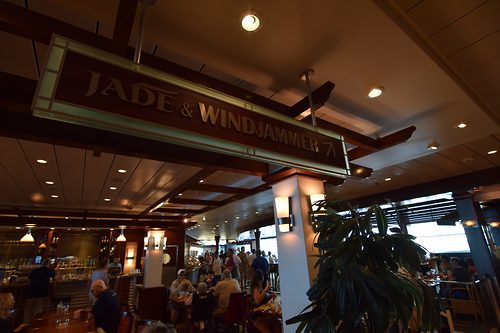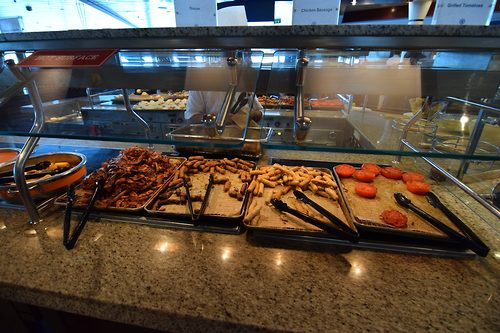 After breakfast we did what any sensible Black Friday shopper would do: we went to the NextCruise office! We did not book anything new, just re-booked a sailing or two to take advantage of the Black Friday offer combined with the NextCruise booking bonus.
We then took the kids up to the Teen club, Fuel, where they have an open play area for toddlers from 9am – 5pm. Both kids played together for a bit.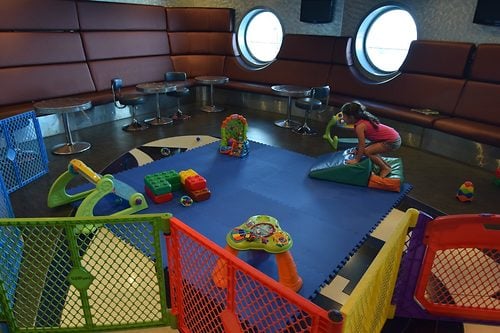 Lunch today brought us to the main dining room. On sea days, they serve lunch in the main dining room and today's menu was wonderful. The tandoori chicken kabobs were excellent, and they even had coffee ice cream available!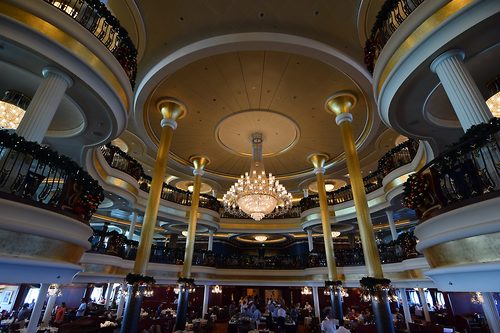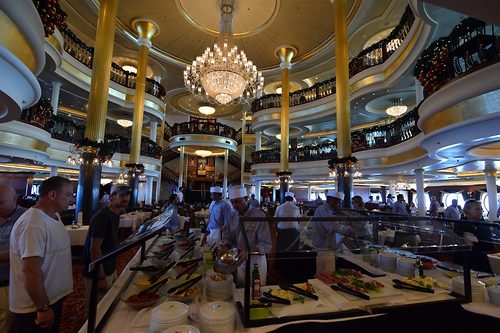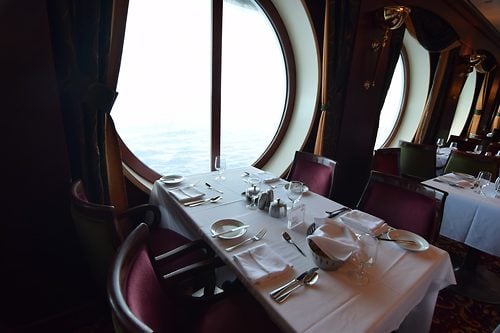 Following lunch, we headed to the pool for the only activity my kids can never get enough of. Even though we rolled in around 1pm, there were still a few lounge chairs here and there near the H2O Zone. In fact, we managed to get three chairs near the pool and in the shade. Perfect!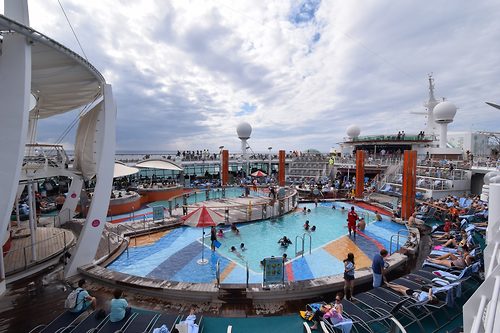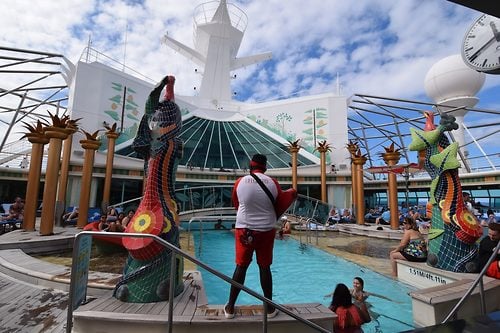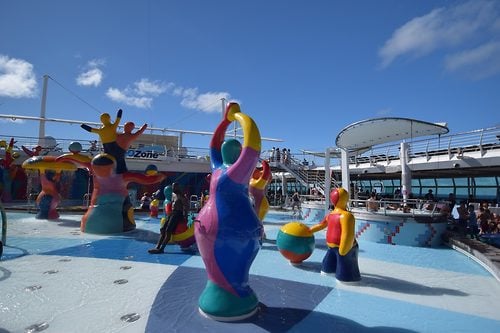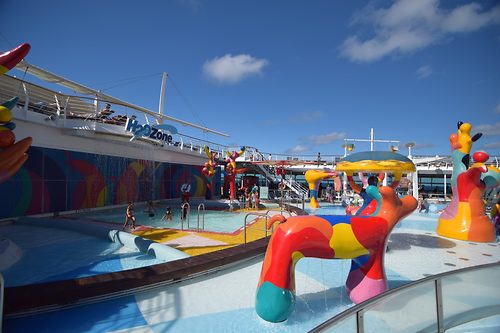 After lunch, we instituted a mandatory nap for everyone to ensure we all had enough energy later this evening. The kids especially need a nap to recover from all the energy they expelled at the pool.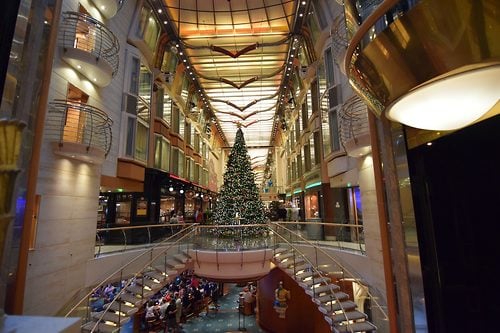 Walking the ship this afternoon, it turned out to be a really great day weather-wise.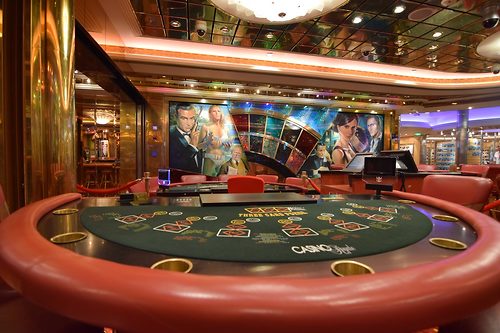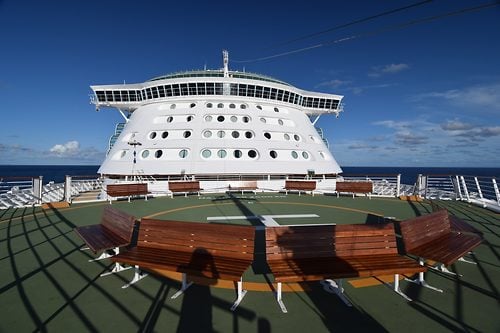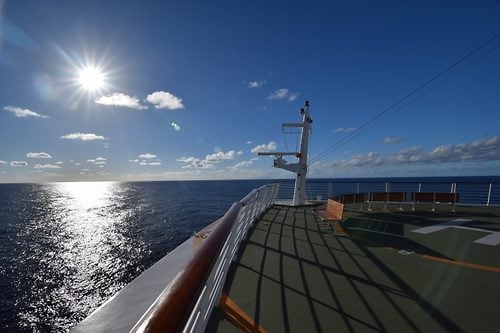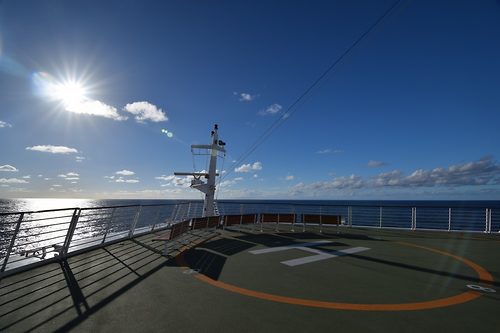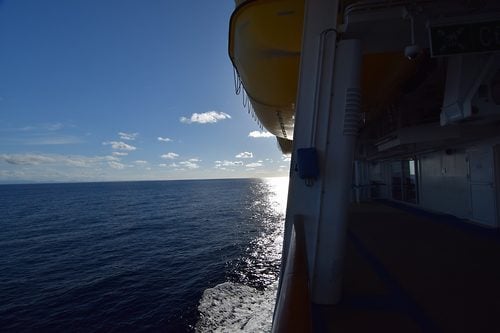 After naps, we all got ready for formal night and dinner. We wanted to take nice photos of the kids this evening, so the kids had to get ready early.
I fed the kids and took them up to the Windjammer for dinner before dropping them off at Adventure Ocean.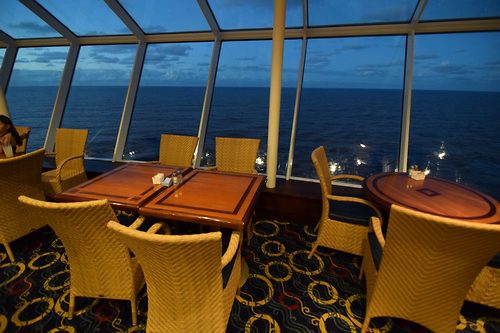 My wife took in Grease while I took care of the kids. Today was the only day to see Grease, so we had to split up. One of the nuances of a shorter cruise is you have less time to see everything, and that includes less showtimes than on a seven night cruise.
We had planned to go to the main dining room for dinner, but my wife was feeling a bit run down from a steady stream of fun over the last 48 hours, so we decided to call it an early night and rest up for our time in Cozumel tomorrow.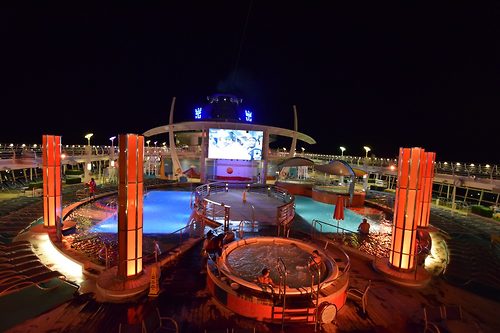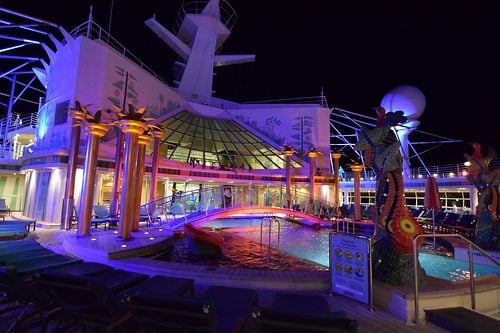 Stray Observations
The onboard internet continues to perform well. One annoyance is after connecting with my phone, if I let the screen turn off for more than about 15 seconds, it will lost the WiFi connection and I usually have to manually re-connect. I don't have to re-login, but it is not a perfect situation. Still, I will gladly take internet that functions reasonably well.

Oddly, Chops was open for lunch today but not Giovanni's Table.

We did not meet our stateroom attendant yesterday, but ran into him this morning. He gladly opened up the balcony divider between our connecting staterooms.

One nuance of a sailing less than 7-nights is trying to work in all the entertainment is much more difficult since you have less opportunities to see the shows.

The Solarium on Independence of the Seas has these great bench swings, which are not on Freedom of the Seas.