In:
I love going to new places, but quite often, after many Caribbean sailings, sea days seem to be my favorite.  We woke up later than planned after being out at The Dog & Badger pub until after 0200.  We got up just in time to head to the main dining room for breakfast, which we found on the Freedom sailing to be much better than the Windjammer.  With a nice table for two by a window we had a spanish omelette, eggs benedict, and muesli with a large portion of espresso.  The MDR was much busier than I remember it on other sailings in the morning - but perhaps it was just timing.  
We headed back to the stateroom after eating, and I really just wanted to pass out, but knew that it was time to enjoy the ship, so I jumped on Periscope, said hi to the internet, and went up on deck to roam.  I often gauge how a ship handles crowds based on pool areas on sea days (when the weather is nice).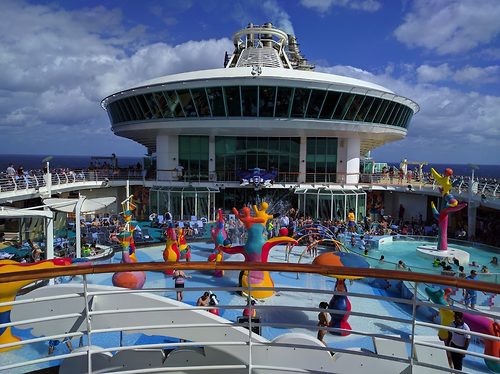 As is usual, I saw a number of "reserved" loungers, though I didn't stay in one spot long enough to see if the crew were clearing them out after some time.  It was, without question, crowded - but not so much so that I felt I was dodging people as we walked around, it was comfortable, and if you weren't married to the idea of getting a spot right next to the pool, there was still chair space about.  The real crunch was at the outdoor bars, which were slammed.  The crew was working hard to take care of everyone, so the wait wasn't actually as much an issue as it looked.
After finally getting a drink from Carlos, the Brazilian bartender at the Sky Bar, we settled into a swinging bench at the Solarium.  It's funny, on the group cruises time flies because I'm trying to pack in as much as possible - today though we spent a few hours just sitting on that swinging bench (as a server kept our glasses full), staring at the ocean, and ya know what… time still went by way too fast.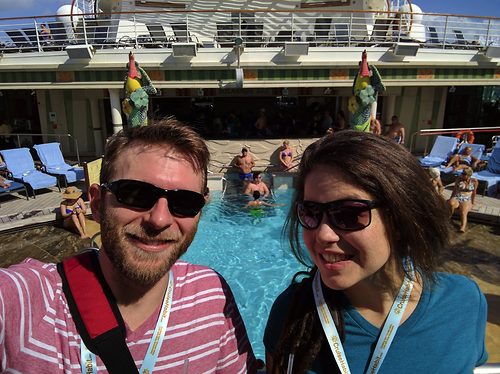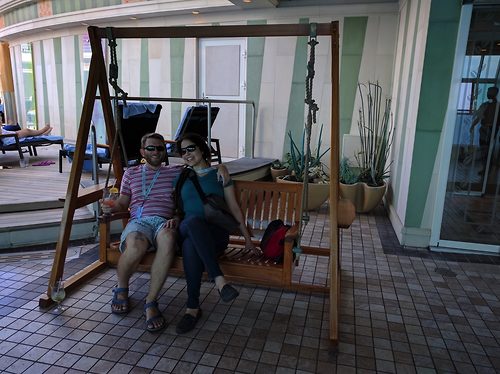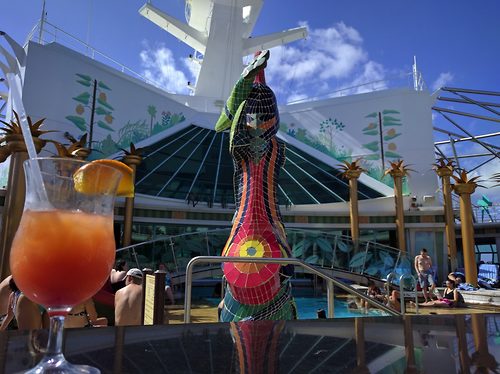 We really enjoyed our time there though, and I'd be content repeating that each day.  I did recall while sitting there that on a recent episode of the Royal Caribbean Blog Podcast our friends Len and Laurel mentioned having a swinging bench on one of their verandahs in their Anthem loft suite.  
The next event of the evening was awesome.  Actually, it was a nap… but after that was great.  It was experience you just can't arrange, well, for the most part.  We met up with our friends Gabby and Steve behind the Flowrider to take pictures in our (well, their) formal dress.  What made it awesome is that the real reason we were there was to take pictures while Steve proposed to Gabby!  We captured the moment, celebrated, and I didn't cry a whole bunch or anything, no matter what Larissa says.  Congrats to them!  Let's celebrate together by taking this same cruise next year!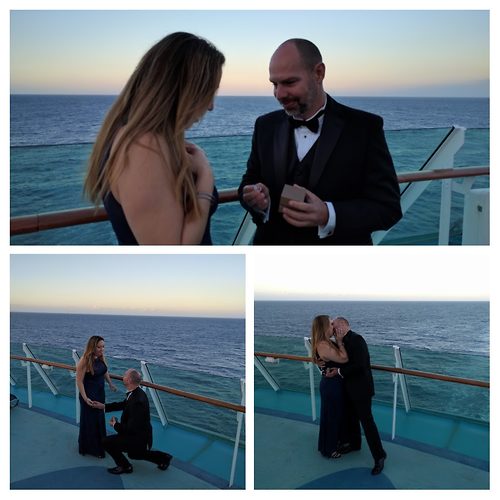 Speaking of future cruises, we left Steve and Gabby to have a vat few glasses of scotch at the Champagne bar as I waited to for my NextCruise appointment.  The big 'Cyber Weekend' sale starts tomorrow, but I've found that some RCL sales are cup games, and you never know which sale will be best.  The upcoming promotion seems pretty good, but I wanted to lock in some prices just in case, and can always roll them into the new promotion tomorrow.  I booked several Royal Caribbean sailings as well as a Celebrity sailing.  For the record, if you book Celebrity at NextCruise the incentive is very similar to booking an RCL sailing, the only difference is that while with RCL you can take your on board credit on this sailing or the next, with Celebrity bookings it applies to your next cruise - I'm guessing this is just because applying a Celebrity on board credit to a Royal Caribbean cruise would be an accounting nightmare.  I'm glad to have everything taken care of, but I will say the process always takes a while - I'm beginning to suspect they use a combination of telegraph, semaphore, and carrier pigeons to get the information back to the Miami headquarters.  Oh, and I think I saw the nice woman turn a crank on some sort of steam powered machine as well.  All worked out, but the delay did cost us, literally.
Our plan was to have diner in the Windjammer, and when we ventured from NextCruise to deck 11 at 2130 we found that the Windjammer was closed.  This was a problem, as I was not about to resign myself to Sorrento's for dinner.  Luckily, Giovanni's Table took our walk in with no issue.  It was our first time at Giovanni's on any ship and while we really enjoyed it, it didn't blow me away.  Between us we shared caprese salad, lentil soup, mushroom and truffle risotto, and spinach and ricotta crepes.  Being big fans of truffles we devoured the risotto and realized it's almost certainly the same dish they served us in Chops on Freedom in September, which is not a bad thing at all.  For dessert we sampled everything, and it was all great.  The low point was the cannoli (I think they filled it too early, making the shell the wrong texture), then there was the custard, tiramisu (fantastic), and the chocolate cake, which was the high point for me.  Larissa took one bite of the cake, declared it too rich (for her taste, not mine) and proceeded to "chase" the cake with tiramisu, which I thought was hilarious.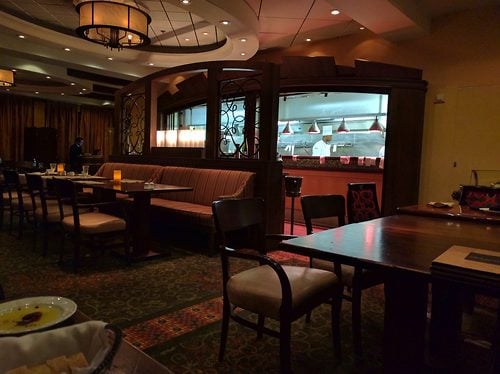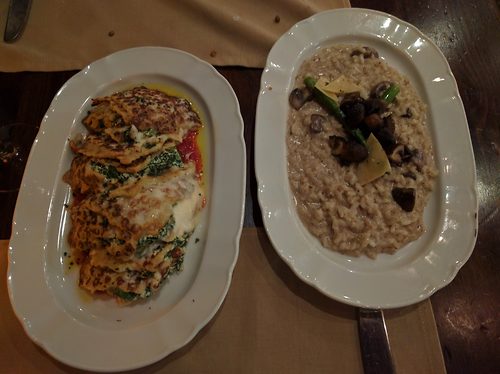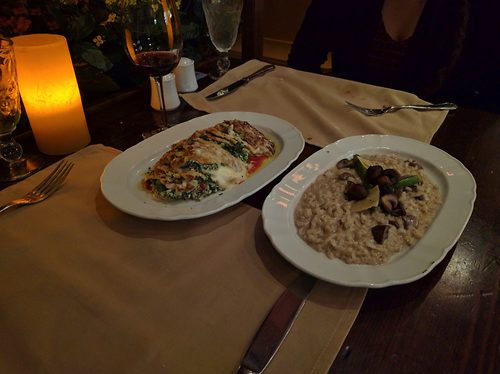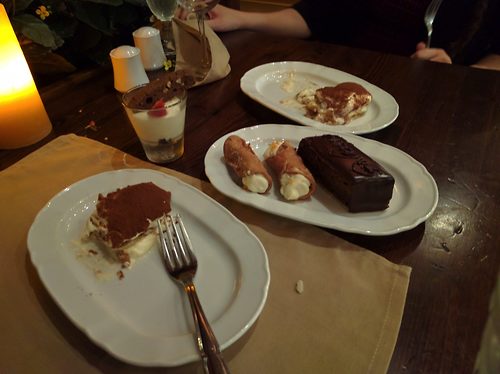 Finally we met up with our friends who'd been waiting for the whole semaphore operation at NextCruise and our Giovanni's dinner to come to an end.  We arrived to find that while waiting, they'd tied a few on.  It was a fun evening and after today's engagement, a very celebratory atmosphere at The Dog & Badger.  
All in all I loved today.  Days of doing almost nothing on a cruise make me feel more relaxed than anything else I know.  Tomorrow we're in Cozumel, one of our favorite places.  Our plan is to, as usual, walk around the city, stop at Coz Coffe, and perhaps The Pub.  I'm also looking forward to stopping at Selecto (a local grocery store) to pick up some inexpensive liquor, hot sauces...who knows what else.  Oh, and we may try and exchange a dress that some of you watched Larissa buy back in September, it was a bit too large.
Day 2 Takeaways
The solarium and all the pool areas were hopping today, but I appreciated that I saw a decent number of servers walking around the area offering to get drinks.  This seemed to be in decline on many lines, so I was glad to see this.
There doesn't seem to be live entertainment in the pub on Independence.  The staff said it's been about a month since they last had a singer here.  This is a massive disappointment to me, as on Allure and Freedom this venue had the best atmosphere on the whole ship.  I'll definitely be mentioning this to officers and including it on my feedback at the end of the sailing.
Maybe it's because there are more families on this sailing than in the past (because of the holiday), but the smoking side of the deck isn't as smokey - same with the casino.
On Freedom and Indy the Wipeout Bar (the bar near the Flowrider) seems to go unopened and unused.