In:
I spent today exploring Nassau, our first port of call. My first port day in Nassau last August was a bit of a mess due to lack of planning and rain, so I felt more prepared today.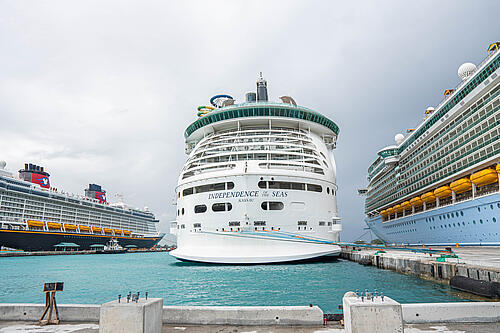 Prior to my cruise, I purchased a day pass to the Warwick Paradise Island from Resortforaday.com. Resort For A Day allows you to purchase day passes to hotels and resorts in popular Caribbean, Mexican, and American destinations.
The Warwick is an all-inclusive, adults-only hotel located on the harbor side of Paradise Island. A full, in-depth review of my experience there will be published next week, but here is a brief overview: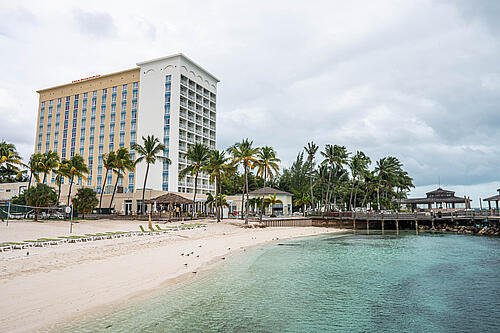 I got off the ship around 10AM and grabbed a taxi to Paradise Island. The taxi ride to the Warwick was around 10 minutes long and I paid $12. Once I checked in as a day pass guest, I began to explore the resort.
The first thing you will notice at the Warwick is the huge pool area. There is one large pool, a small hot tub, and ample seating areas throughout the property.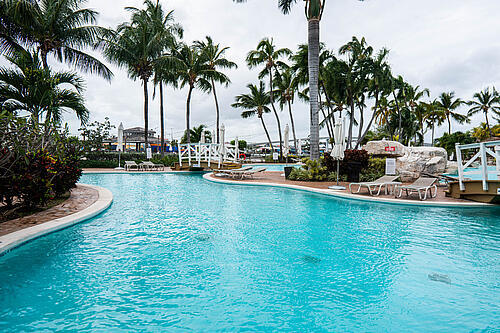 As the Warwick is located in the harbor, it does not have open ocean views like you would get on the other side of the island. It does have a small beach, though, as well as hammocks and a volleyball net on the sand.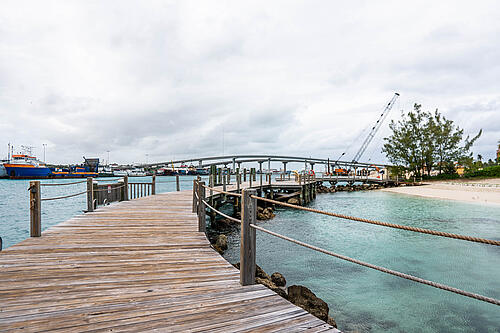 Unfortunately, today's weather in Nassau was less than ideal. The wind was intense and with temperatures of around 70 degrees, I was pretty cold. Unsurprisingly, the pool remained empty throughout the day!
One benefit of the Warwick is that it is all-inclusive, so there was no need to worry about choosing food or drink options under a certain amount of money.
There are two lunch options at the resort: the food near the pool and the buffet located inside. However, the buffet was closed for lunch today, so I went to lunch at the pool and ordered quinoa salad and conch fritters. The food was quite good and I liked how they had options to fit many different diets.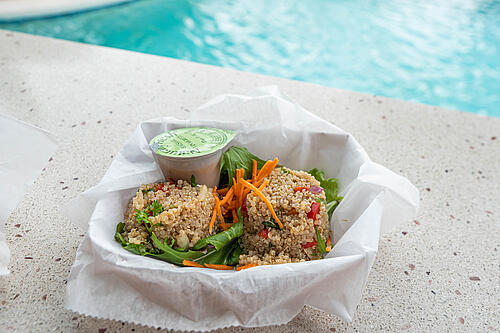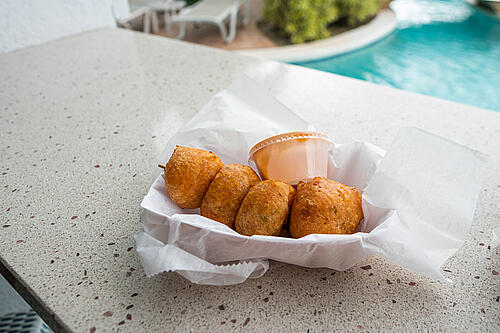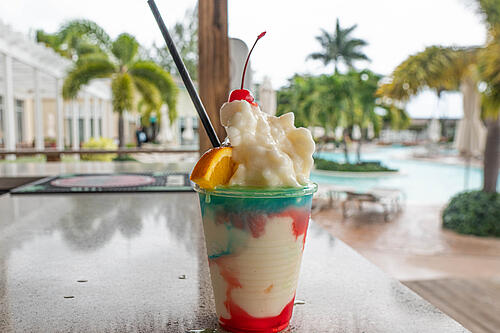 After lunchtime, I grabbed a piña colada and swung in a hammock on the beach for a few minutes before the rain came back. Shivering in the hammock as raindrops fell on me, I concluded that while the resort was really nice, today was simply not a beach day. 
I took a taxi back to downtown Nassau. Last time I was in Nassau was in August and it was way too hot to comfortably walk around the city. So even though today was not the best day to go to the beach, it was a perfect day to walk around Nassau.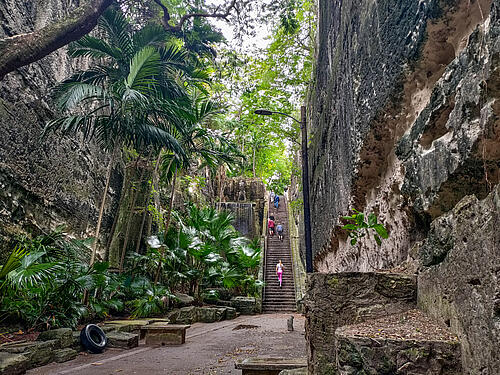 First up was a trip to see the Queen's Staircase and Fort Fincastle. This historical staircase is located in the fort's complex in Nassau and consists of 66 steps in a lush walkway. The stairs lead directly to the Fort, which is the highest point in Nassau. There were local guides available at the fort and staircase. While I walked there myself, Royal Caribbean offers shore excursions that visit these two places if you would prefer to be on an organized tour.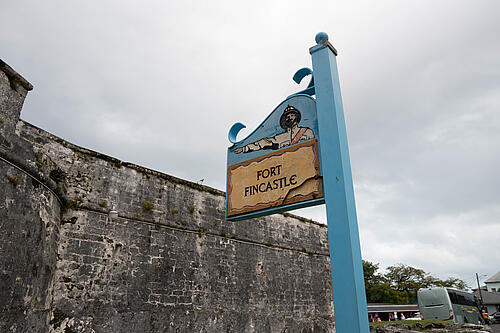 I also grabbed a coconut from two friendly Bahamians on the side of the road near the top of the Queen's Staircase. One of my favorite parts of traveling is chatting with locals to get to know them and their culture, so we chatted for a few minutes before I continued on with my walk.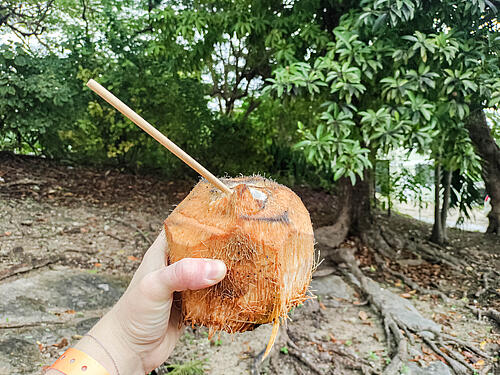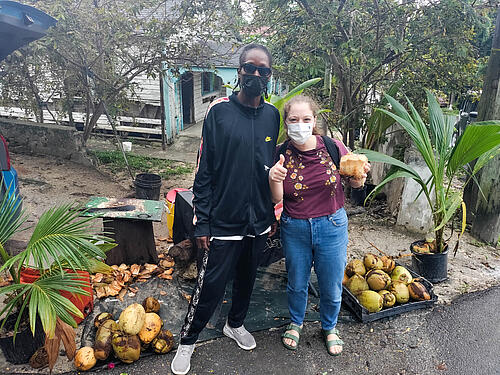 If you have never tried fresh coconut water or are dehydrated from walking around Nassau in the summer, be sure to grab a coconut from these guys!
Overall, I much preferred exploring the staircase and fort to walking around the touristy streets right outside the cruise port. I headed back to the ship in the late afternoon.
Dinner tonight was at Izumi Hibachi. This is one of my favorite things to do while on a cruise because of the energy it brings to a dining experience. I also love how it brings the whole table of passengers together. It is much more social than dining at separate tables!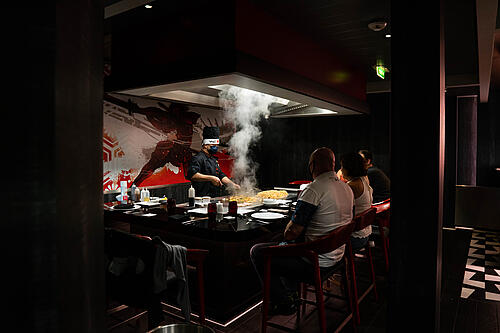 Today our hibachi chef was funny, upbeat, and had excellent talent at building a "volcano" out of onions. Yes, an onion volcano. Whenever I order vegetable hibachi, I always get a different type of dish (I guess each chef has a different 'go to' for a vegetarian option). Today our chef cooked vegetable and tofu udon which definitely hit the spot.
Also, shout out to our waiter Dan for being a Royal Caribbean Blog fan!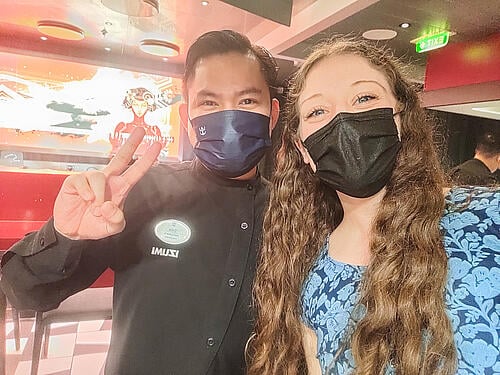 After dinner I went to Studio B to watch Freeze Frame, the ice skating show on Independence of the Seas. The ice shows are my favorite type of performance to watch onboard. Due to an injury, though, the entertainment was altered.
Instead of the regular show, several cast members were brought to the ice and briefly interviewed about their background and skating experience by the Cruise Director. Following their "get to know you" session, the cast member skated for the audience. At the end of the show, five cast members performed together.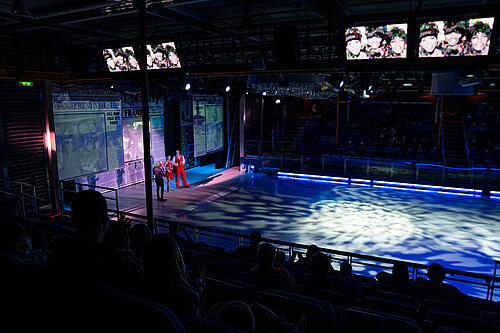 While it was not the normal show, I really enjoyed the revised production they performed tonight and it was fascinating to learn more about the cast.
I ended my day at Star Lounge for a Big Band jazz performance. It was a relaxing way to end a busy day in Nassau and onboard.
Tomorrow is the last day of our cruise and we will be at Perfect Day at CocoCay.
Stray Observations:
Many cruise passengers stay on the ship while in Nassau, but I think New Providence Island has a lot to offer beyond jewelry shops and Atlantis. I am looking forward to finding more authentic experiences there for my next cruise. If anyone has any recommendations, please leave a comment below!
Izumi Hibachi/Teppanyaki is an excellent dining option for a solo cruiser. The tables seat eight people, so you will be seated with other passengers who also may not know each other. Tonight there were four different groups of people and we chatted the whole dinner!