In:
I'm not sure who "they" are, but when they said that all good things must end, I wish they'd have exempted cruises.  Today was a sea day, and our final day on Independence of the Seas.  
I woke up around 0830, but to be honest, was not ready to do so.  My head was screaming and all I could wonder was how many caipirinhas Fernanda served me at Boleros the night before.  I stayed in bed just a bit as I waited for Larissa to get moving and then pressed on, as the last day of a cruise is not the time I want to spend in bed.  With the exception of the first full day, the Windjammer was seemed to stay open until 1100 each morning, an hour later than the main dining room.  While we're never early risers, we stayed up particularly late each night of this cruise, so we opted to again hit the Windjammer today for breakfast.  On this trip we didn't try the custom waffle station in front of the Plaza Bar (the bar at the entrance to the Windjammer), though it looked awesome.  I wanted to give it a whirl this morning but while the long queue indicated that it must be delicious, it also kept me away.  We grabbed some light breakfast and got some espresso before heading to the stateroom to do a very preliminary packing of our clothing and other wares so we had less of a struggle later.
On the way to our stateroom we came across some friends who invited us back to the Windjammer for mimosas, an invitation I was excited for, though as I was nursing my headache and pondering the need to pack we decided we'd circle back around.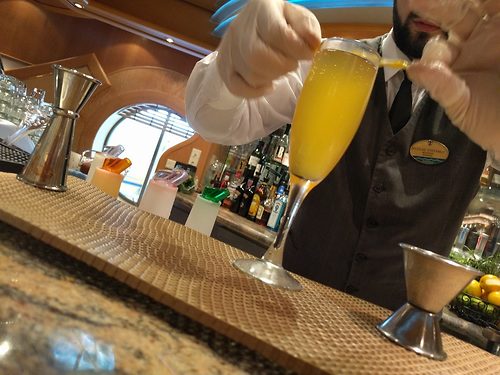 We piled all the dirty laundry into our suitcase, organized clothes for today and tomorrow, etc.  At this point, I almost got stuck in a rut, wanting to take a nap and maybe whine about the cruise being nearly over.  Instead of going down this road we headed back to the Windjammer to meet up with our friends Gabby and Steve for mimosas.  They'd brought some champagne, so we just needed orange juice, which while available, wasn't fresh squeezed.  I remember they were pushing fresh squeezed juice on past cruises, so I'm not sure if this is part of a bigger shift, or just one of the small differences between ships.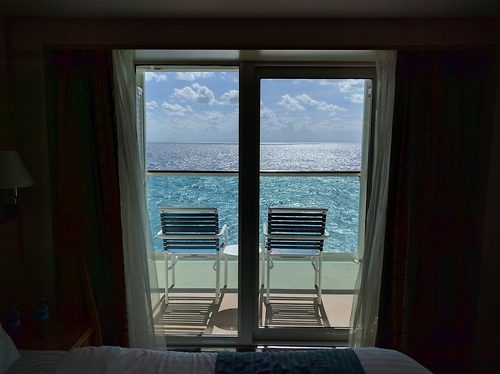 By this time lunch was being served, but realizing that I wasn't particularly hungry (drink fatigue may not be much of an issue for me, but food fatigue is) and that we hadn't visited the main dining room for lunch this entire sailing, we headed downstairs for the salad bar that Royal Caribbean offers each day.  I really enjoyed this in the past, as I found the ingredients fresh, and I'm able to completely customize what I want.  Today was no different, though they seem to have run out of spinach, which I'd have preferred.
At this point I decided we needed to enjoy some time on the open deck.  The weather has, for the most part been perfect.  Reasonably cool air and warm sun.  I'm not sure if it was just timing, but when we arrived to the Solarium either the chair-hogs were out in force or half of the guests had been raptured...leaving only their towels.  We managed to find two chairs out of the sun (Larissa's preference) and just laid down listening to the relaxing sounds of the cruise.  I'd love to make a soundtrack, "sounds of a cruise", but really when I combine distant reggae and the sound of exhaust coming out of the stack, it may not sound as awesome as I'm imagining.  There is a certain feeling when you're out on deck that just can't be replicated any other way.  Eventually, Larissa had enough indirect sunlight and we went back to the Champagne Bar for some scotch.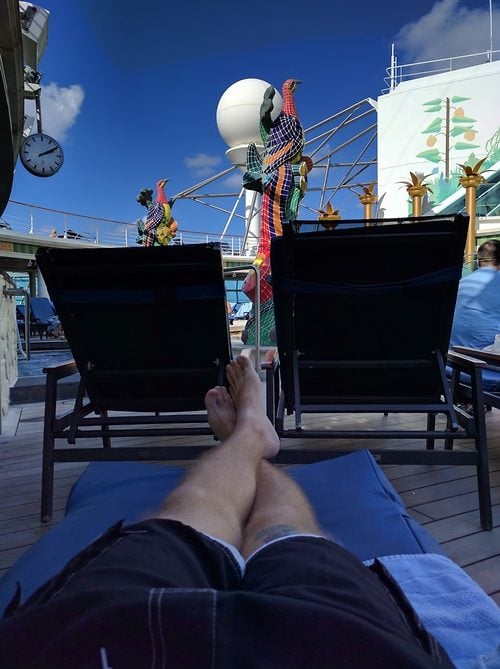 I can't emphasize enough that the Champagne Bar staff are not only incredibly pleasant and efficient, but are fantastic craftsmen - it's entertaining just watching them make drinks.  After a few rounds it was time to go clean up, do a little more packing, and get ready to watch Grease.
This July Independence of the Seas started featuring Grease in the Alhambra Theatre.  It's not a mash-up, but a full ninety minute show on a stage a bit smaller than that which hosts broadway shows on the Oasis class ships.  Several scenes took advantage of the booths just above and to each side of the stage, and actors occasionally came from the house too, making good use of the available space.  Every performer in the show held their own, though I didn't feel the "wow" factor that I got seeing Mama Mia on Allure.  I can't quite put finger on why I feel that way, but it was high energy and a lot of fun, so I certainly don't mean to knock it and you should absolutely see it when on Indy.  In this show, Royal Caribbean carried on in it's wonderful tradition of using live music, with the orchestra below the stage but very much a part of the show.  I really hope they never stop this.  The show let out just in time for us to grab another drink before heading for a chat with Jamie Fentiman, Cruise Director on Independence of the Seas.  He was very generous with his time and really gave me a better appreciation for the hard work he and his team do to make our cruises fantastic.  We'll share more soon from our conversation with Jamie.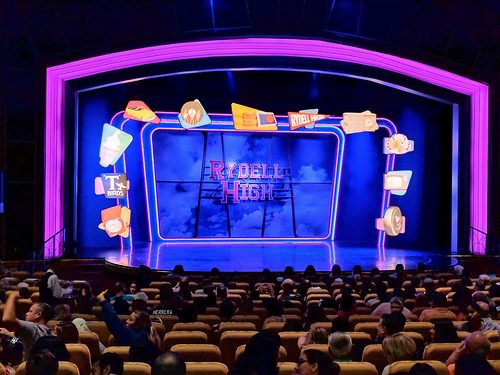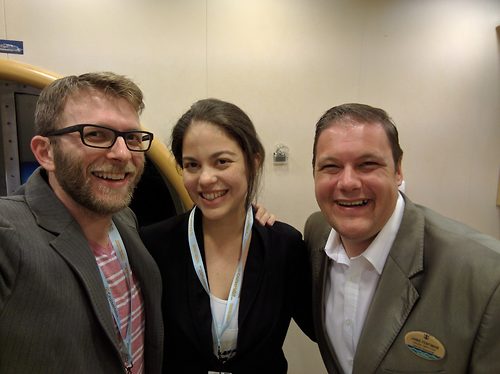 After our talk, which ran a bit later than planned, I didn't want to miss the Windjammer like we did a few nights ago so we sprinted.  If you're keeping track, you've noticed that we only had dinner in the main dining room once this cruise, and even then it was really just an encore to what we had first in the Windjammer.  Up until a couple years ago we almost never hit the buffet for dinner, but it's becoming a habit, and I'm pleased with it.  It's casual and offers so many choices it's hard for us to go wrong.  There were an assortment of curries once again, including cauliflower.  We stuffed ourselves and then kept going with some key lime pie.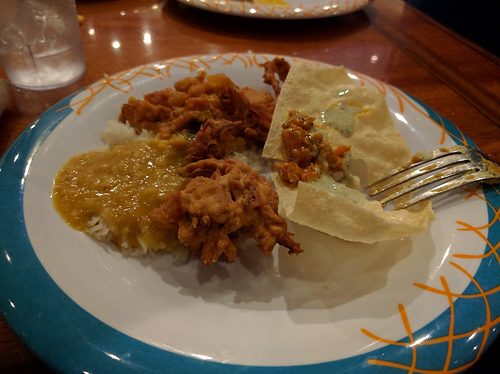 Now we're all packed and I'm back at the Champagne Bar, but after the long nights I'm bushed.  Larissa is down at On Air where it seems karaoke has somehow turned into a variety show.  Once we disembark in the morning it's straight to the office for us, so as much as I like to milk the last moments of our cruises I think I'll be turning in before midnight tonight so I'm fully functional at work, and making more cruise money.  I'll post an update about our disembarkation process, but this is the last full update for the Independence of the Seas Live Blog.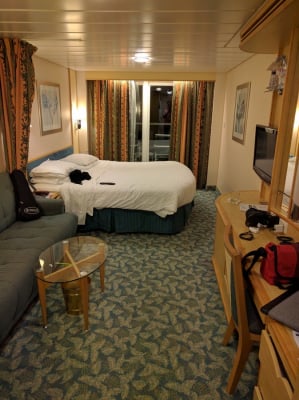 Today's take-aways:
I noticed I didn't sleep well on this cruise, and you know what?  It's my fault.  The mattress was harder than on some ships, but simply asking for a topper would have helped, our friends already had on their bed.  Further, we had a lot of whistling/wind noise around the verandah door.  I finally called maintenance and they easily remedied the issue.  The real takeaway here is that if there is something that can be improved upon, just ask!

It seems the last night on any cruise is always the most lively, contrary to what you'd think.  This should be our motivation to sail back to back (a "consecutive cruise") sometime.  It would be nice if we had five nights more ahead of us...

I heard many people on this sailing discuss wanting to sail on smaller ships - which I haven't heard much on longer sailings.  I think maybe these shorter sailings leave people feeling like they missed many things on the ship, and perhaps the size means that by the time you've made new friends on the cruise it's time to part.  

Every time I walk by the Schooner Bar I wonder why I don't spend more time there (this has been true of all of our RCL sailings.  I think maybe I just don't pass by them as much - out of sight, out of mind.  I'll make a conscious effort to visit more on future cruises, though I do love the Champagne Bar staff...and my scotch they store here.