Oasis of the Seas Live Blog Day 5 - San Juan, Puerto Rico
In:
Today was our second port stop in San Juan, Puerto Rico from 7am-3pm.
I was here last year on Allure of the Seas, but I stayed on board.
Today I wanted to explore San Juan to the fullest.
I woke up early and decided I should go get a run in down on their jogging track. Since it was a port day the track was almost empty. I did get my favorite post run drink, yellow Powerade with my drink package at the coffee shop.
After I cleaned up from my never-ending 2.5 mile run, we had breakfast in Park Café. It was 9:00am by this point so most of the guests were already off the ship. I noticed when we walked in they had a bagel station where you could put all kinds of toppings on them. I decided to skip that section and try the breakfast burrito and bacon, egg, and cheese sandwich. While Hillary and I were eating we talked about how this was the best breakfast we have had all week.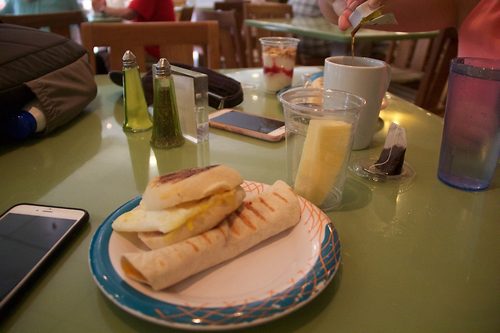 At 9:30am we walked off the ship into San Juan to explore the island.
My first impressions of walking around downtown were how beautiful the old building looked. I could have spent the morning just exploring the streets and getting lost around town. However, I wanted to finally see the forts on the island, everyone always talks about.
We walked just a few forward from the exit of the pier, back to the Castillo San Cristobal fort. To enter the fort it's $5 per person, but it also includes entry into their other fort Del Morro. Once we arrived to the fort my first thought was wow, this thing is huge.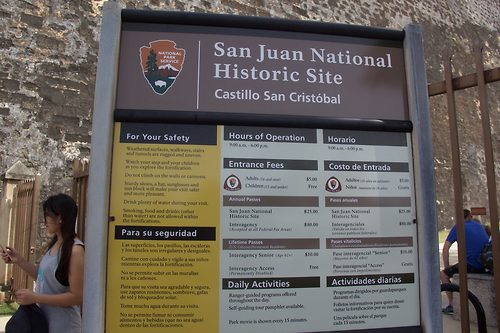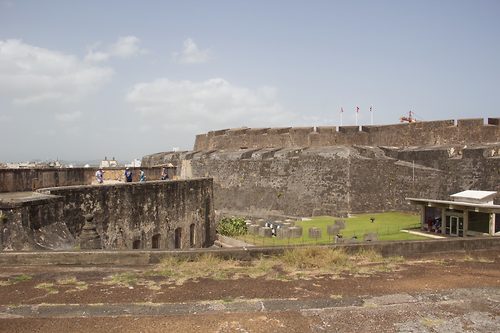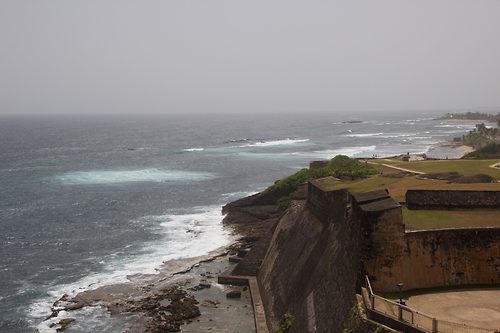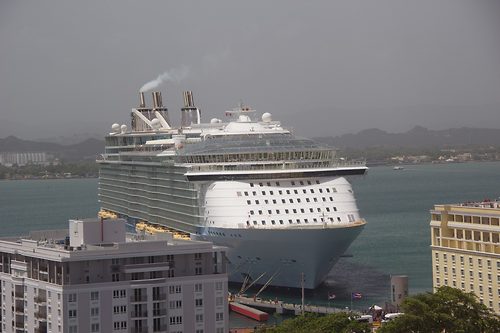 After exploring for an hour I really had no idea how massive this fort really is. I think it would take 3-4 hours to really take a deep dive into this fort, but we manage to cover most of it in 2 hours. Just remember when visiting here wear tennis shoes and bring extra water.
We ran out of our water and they have bottles in the gift shop for $1.55.
Our original plan was to walk the 1-mile over to the next fort, but we decided we needed a break from this heat. I remembered the Bacardi rum factory was in San Juan, so that was our new plan for the afternoon. We started walking looking for a taxi, and I thought how about an Uber instead? Our Uber driver was there very fast, and the cost for four people was $11. The factory was about 10-12 miles away, so I was pretty happy with the rate. I will note the Uber drivers don't speak English, so that's some added entertainment for the ride.
Once we arrived to the factory, we were a little confused where to go.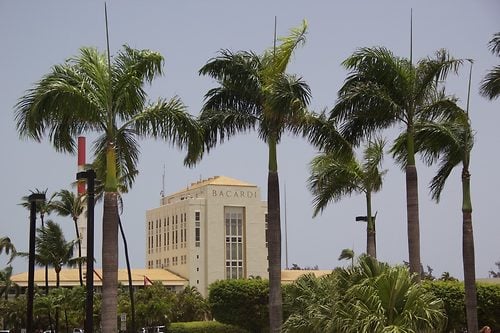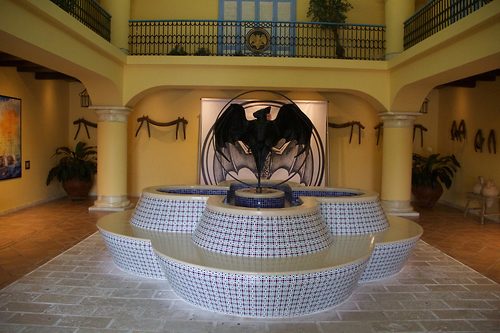 The property looks like a headquarters to a company, guard at the entrance and buildings everywhere. We ended up grabbing some lunch, which was decent.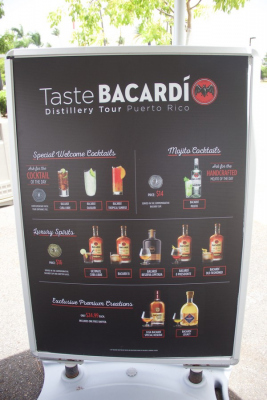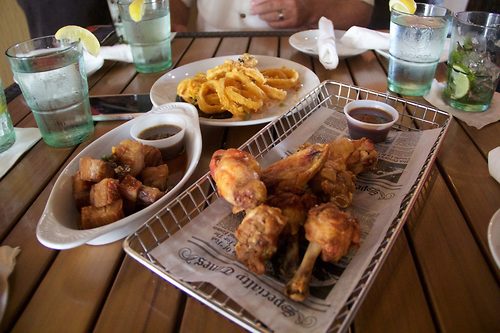 They also had a very large gift shop we picked up things to take home. However, we didn't have time to complete a tour due to our ship leaving at 3:00pm.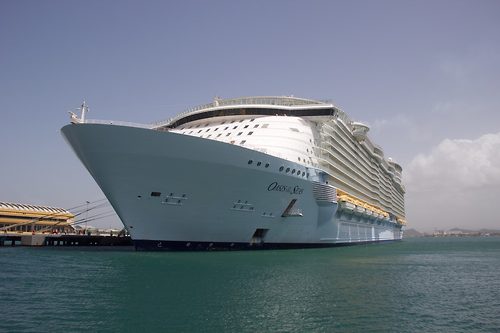 Evening on board
Tonight was our second formal night and we had a pretty busy evening ahead of us. We had reservations for Giovanni's table at 6:00pm; I know you must be thinking… Didn't you already eat their Michael? We love the new menu in here so much we just wanted to come back. Again, I ordered the filet and it was just as flavorful as night one. The service in this restaurant is by far the best we have experienced, and he's a spoiler alert: we are going back tomorrow!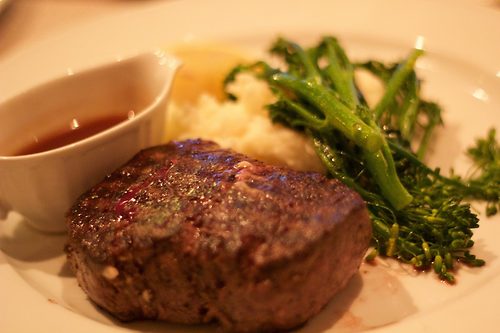 After dinner we had the ice show schedule for 8:15pm. We arrived early to get a front row seat, (it's a must for the blog right?). I haven't seen an ice show on their ships in likely five years; just seem to never make them. Tonight I'm so glad I did, this show was so entertaining they even had kids from the crowd in the show at one point. They have a sand artist draw things with his fingers during one of the costume changes, which really got the crowd going. That evening my girlfriend asked me if we could go back to the ice show again, it was that good!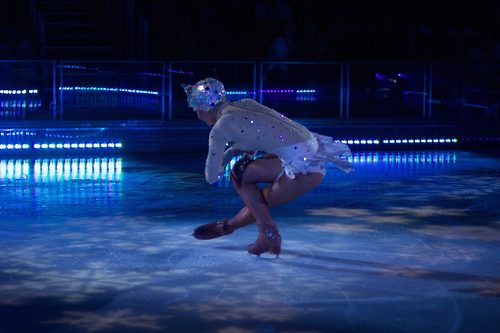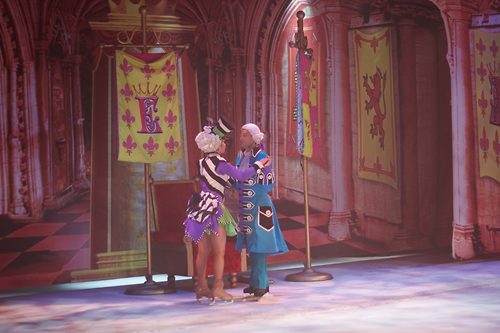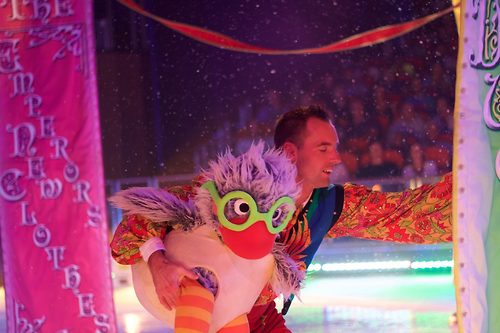 Our show started a little late, so we were rushing to leave to get to the 70's street party on the Royal Promenade. This is the one party I'm looking forward to all week. If you have been to one of these parties before you know they play the same songs, but I still find them pretty fun.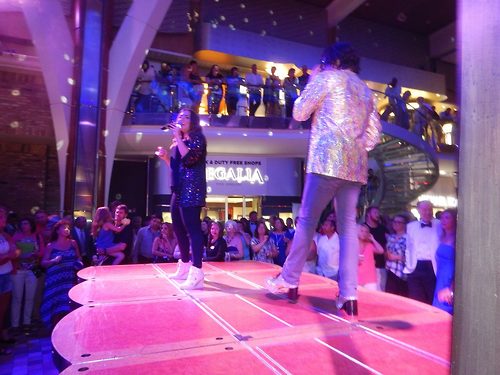 We danced tried to enjoy ourselves, but I noticed many passengers didn't really dance or anything. The party lasted around 35 minutes and this is when we decided to call it an evening.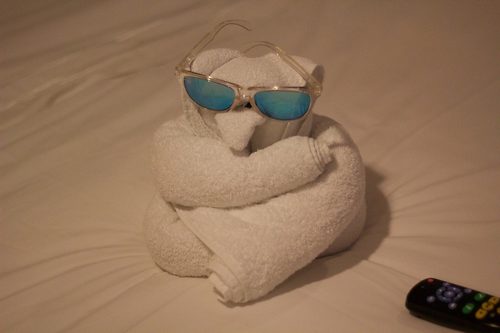 Tomorrow is our third and final port stop in Royal Caribbean's private island Labadee. This is Matt's second home, and he's covered this port many times. So I'll try to throw a different spin on it. Stay tuned!