In:
So let's be honest, there are some times on a cruise when you're in a bar at one in the morning, and thinking, "I shouldn't be writing things on the internet".  You've been there, right?  Great!
Today we visited Cozumel Mexico, which as mentioned yesterday, is one of our favorite spots in the Caribbean.  After another long night we woke up the the beautiful Mexican waters at around 0945.  It's mornings like today's that I really value a verandah, it was so refreshing to wake up like that.  We grabbed breakfast at the Windjammer, and I know feel like I have a large enough sample size to declare that the Allure Windjammer breakfast is far superior to that of the Freedom and Independence Windjammer breakfast.  We've found that the breakfast on Indy and Freedom are just a bit uninspired - the same eggs, bacon, etc (and I suppose I should mention the lo mein - which is an odd breakfast item).  To be honest, most people are probably pretty happy with the selections, but on Allure we enjoyed some Indian options, various more traditional, but creatively presented items (like blueberry whole wheat waffles), etc.  All of that in mind, the most critical part of breakfast was espresso, and that waaaas excellent.  Oh, and I grabbed some grilled tomatoes, which I love, and have only ever eaten on cruise ships.  
After a stop at the stateroom we headed ashore, and it was beautiful day with the sun penetrating the topaz waters among the Brilliance, Independence, Carnival Freedom, and Carnival Fantasy.  There are few places in the world that have coastlines like this, we never stop appreciating it.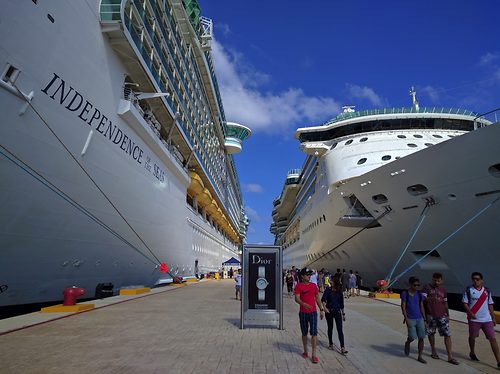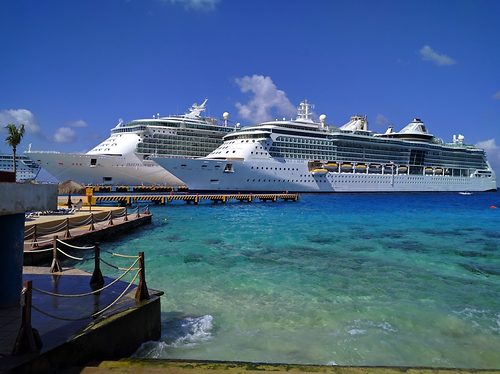 If you get a cab right from the port (in this case, the International Cruise Terminal - which generally serves Royal Caribbean and Carnival, you'll see a list of rates to various destinations on the island.  We headed to Parque Benito Juarez a few miles away, which was an $8 ride.  The ride took a bit longer than usual because tomorrow's Ironman competition closed a few roads.  When we finally arrived we first visited a small shop at which Larissa purchased a dress  several months ago.  She likes the dress, but it was a bit too large.  Once we reminded the shop owner who we were, and that we really did purchase the dress there (I cheated, told him he was famous, and showed him a video of Larissa and him talking, which you can find on Periscope), he was kind enough to help us find the right size, and within minutes we were on our way.  
Next stop?  Coz Coffee.  This is also in Parque Benito Juarez, and I really wish we had a coffee shop this good close to our home in Ft Lauderdale.  While we've been there a number of times in the past year and change only today did we chat up the owner, Vince, and realize that he is an American ex-pat (it seems speaking to him in broken Spanish in the past was really useless).   Vince showed off his roasters next door and told us his story, but we'll elaborate more on this in a post on www.CruiseHabit.com in the next week or so.  After our chat we enjoyed some espresso we were off to our next destination only a couple blocks away.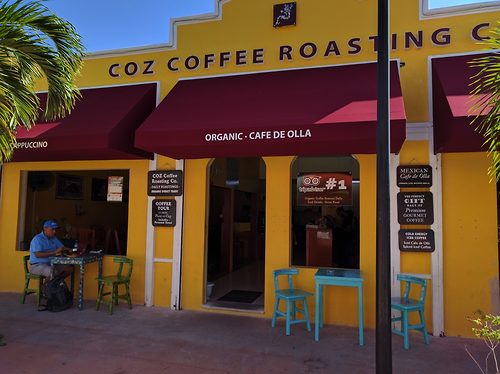 We've written about The Pub before, and it feels funny mentioning it, as I always try and convince people to visit local and authentic spots.  While a British pub in Mexico doesn't seem authentic, they have a great spot with reasonable prices, and we had some veggie tacos with guac and fresh salsa, which frankly rivaled anything I've had elsewhere on the island.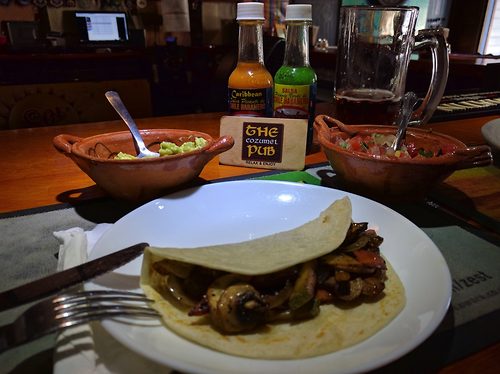 We enjoyed not only tacos, but many beers and great conversation (including a very lively group from Brilliance of the Seas) before taking a walk to grab a cab to Chedraui, a Mexican grocery store.  We fell in love with this chain in Cancun a month ago, and calling it a grocery store may be a bit of an understatement - it's more like a Walmart in variety, but with better prices and customer service.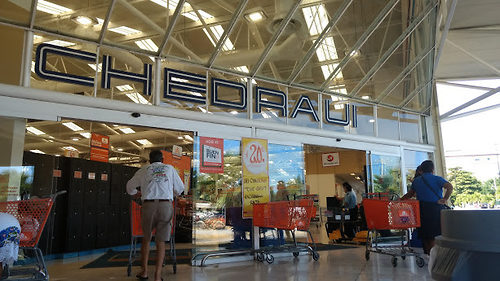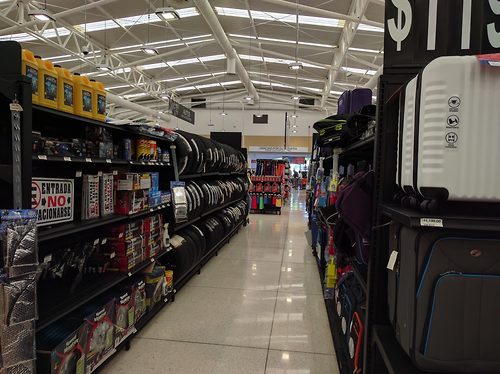 I grabbed a few bottles of hot sauce (for less than $.40USD each) and some Havana Club Cuban rum.  Oh, I also stopped at an ATM in the store and took out some Mexican pesos, as after going to Mexico four times in seventy days, it seemed nuts not having some local currency handy.  
We got back to the ship around 1600, cleaned up, and grabbed some lite fare in the Windjammer before it was time to take in the fresh air, gawk at Brilliance of the Seas as she sailed away (we'll be sailing her next year), and Periscope sail-away. There aren't many sites as beautiful and depressing as leaving Cozumel on a cruise ship, and today was extra difficult as we don't have another trip planned to the island (or the mainland for the matter) for another year, though I have a feeling we'll find our way back long before then.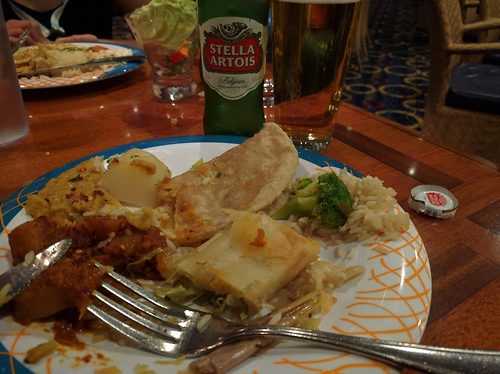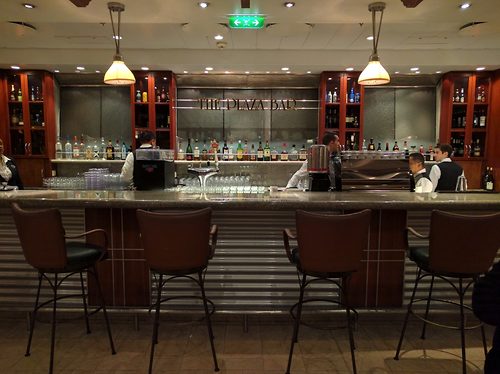 Since we enjoyed Giovanni's last night we wanted to keep it casual tonight, so we relaxed, had a few drinks at Boleros, and headed to the Windjammer.  Tonight there was a decent spread, including a large cheese selection near the desserts, which is not something I'd noticed before.  There was also a papadum-like bread with chutney - I'm always a fan of this.  Somehow, I kept from over-eating and we went back to Boleros - which was definitely tonight's hot spot.  Live music started and our bartender Fernanda made caipirinhas that were as good as Larissa's, though without the need for me to mop sugar and lime juice out of the kitchen for the rest of the night.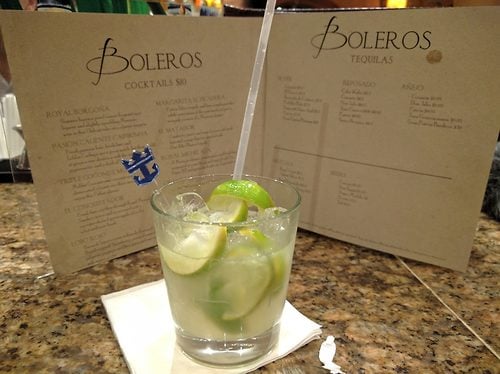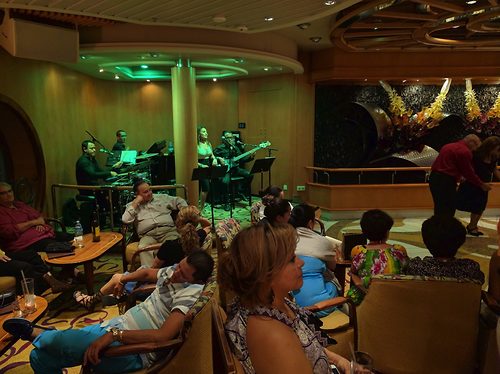 That was where we nearly spent the rest of the evening until I realized we hadn't visited the Labyrinth.  You may recall the one thing I miss from the Freedom of the Seas is Sabor, because on Indy, this spot next to the Schooner Bar is occupied by a nightclub called Labyrinth.  It's theming reminds me of a goth club, and I mean that in a good way - it's a neat looking space.  Ultimately, the loud music and dark lighting isn't my thing, so we only spent a little time there, but it is, to me, a far more interesting space than so many of the open venus that are host to late night parties on other ships.  The theme also lead us to goof around a bit, so that was fun.
After Labyrinth I went back to the Champagne Bar where they've had my scotch, and a fantastic staff.  I'm here right now and consider this my "home base" for this sailing.  It's really just the R Bar, but they haven't changed the colors to match (and there is no picture frame seat).  Tonight they advertised as  "Speakeasy" night, and the special menu includes cocktails that looked very much like what we've seen in the R Bar.  When I came back later to write this post, I noticed the front of that Speakeasy menu… it say's R Bar on it.  Go figure.
Tomorrow is the last day, a sea day.  As seems the tradition on this cruise, we have no real plans, and to be honest I don't want to think about the last day any more than I have to - but we'll hope for a clear sky, high seas (because that's what I'm into), and a loooong day.  I do have one meeting tomorrow that you'll get to read about and listen to in the near future, so that's today's teaser.
Today's takeaways:
The drink package definitely worked out nicely for us on this sailing, though I see a very clear correlation between having the drink package, and building a sizable surplus of half-consumed water bottles in our stateroom.

Brock, my MEI travel agent contacted me about yesterday's NextCruise bookings, and after he compared them to those sailings with the new promotion, he found only one needed adjustment to get the best possible deal.  This is why a good travel agent is helpful.  Brock is off to sail Harmony this week by the way, so I truly hope he has a blast and stops answering my emails.

There was a 70's party in the Royal Promenade tonight, and when that happens, if you're at a surrounding bar, I recommend ordering doubles leading up to this point, because as soon as it was over everything got very busy, very quickly.

VOOM failed me tonight with regard to Periscope.  I tried dozens of times to broadcast my fun but it just wasn't happening.  Checkout my Facebook page (http://fb.com/CruiseHabit) and Instagram feed (instagram.com/cruisehabit/) for some video clips of the fun you missed.