In:
We began today much like our other days, with a wake up around 8am and then subsequently getting the kids ready to get going.
We ate breakfast at the Windjammer, which was packed today.  I think everyone had the plan to sleep in given our noon arrival in St Thomas.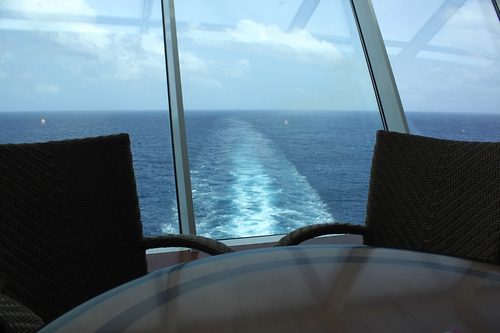 We dropped off our 4 year old daughter in Adventure Ocean and then went to the helicopter pad to watch Freedom of the Seas pull into St Thomas.  
As it turned out, we got in early and were cleared to go ashore by 10:30am.  That's an hour and a half early!  Thanks Captain Ron!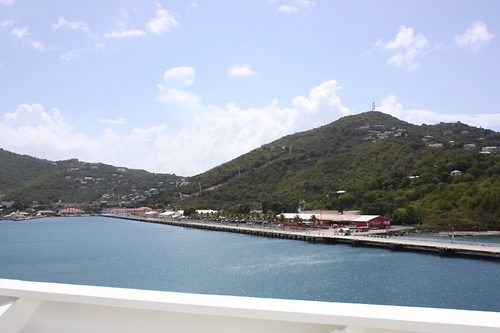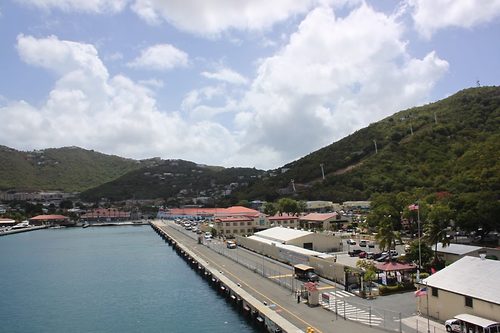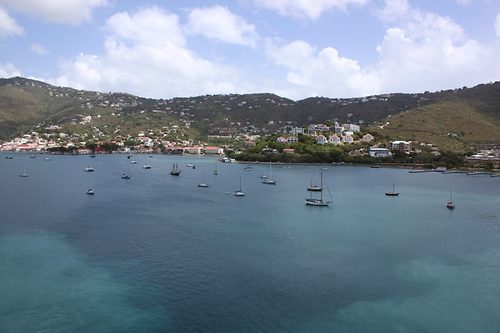 Our early arrival presented a small problem because we had just left our daughter in Adventure Ocean 30 minutes or so ago and if we went to pick her up now, she would have a mini-heart attack.
We decided to give her the choice of coming with us or staying and sure enough, she did not bat an eye about wanting to stay in Adventure Ocean.  She absolutely loves it in there and everytime we pick her up, we are the bad guys. 
With one less child, we headed back to the stateroom to get ready and then went ashore.  
Our first stop was the Sky ride to Paradise Point.  It is a gondola-style cable car ride up a mountain to the top of a mountain that overlooks the port area.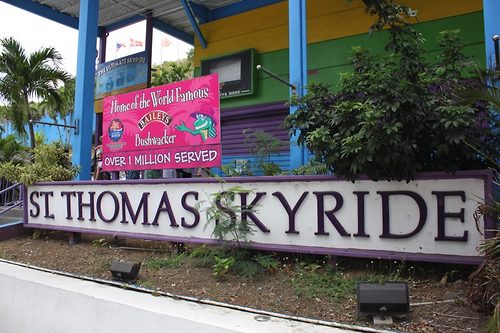 We booked the excursion through Royal Caribbean (About $20 per adult and $10 per kid. 6 month old was free).  It is really close to the port and is about a 5-10 minute walk.
We got to the base of the sky ride and got our wristband (your admission allows you to go back as many times as you want during the day).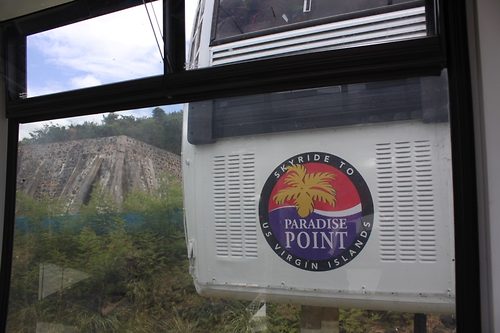 I will have a more in-depth review of the sky ride in another blog post but we really enjoyed it.  It was a fun ride up the mountain and the view is quite lovely.  The whole thing took about 30 minutes, unless you spend time at the top at the bar or shopping more than we did.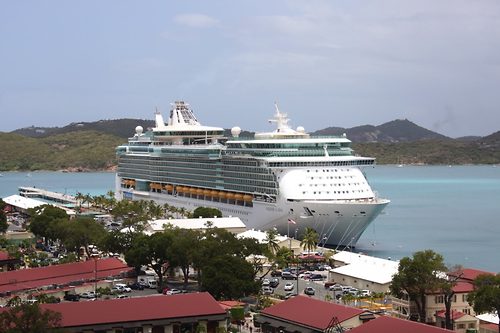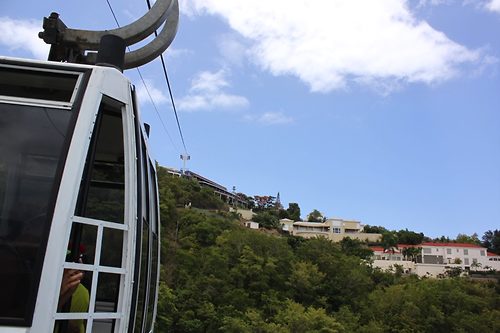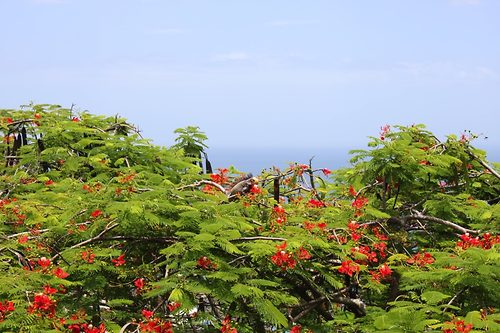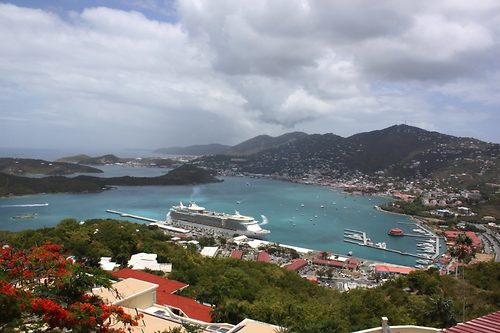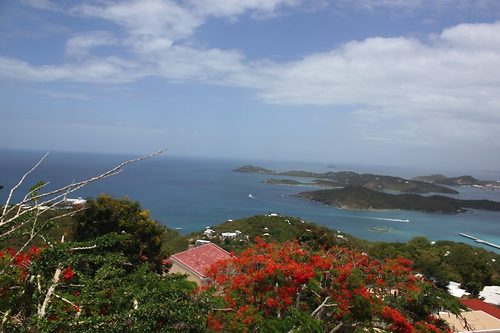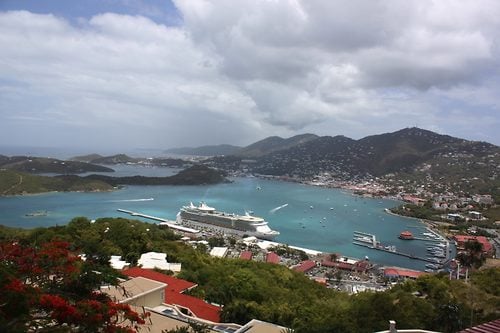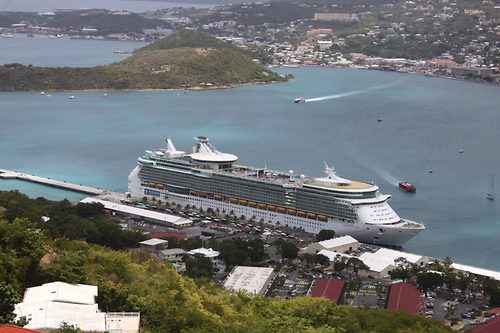 Next up we took a taxi to downtown Charotte Amalie to do some shopping and have lunch.  
We walked by a few shops and found a nice pearl necklace for my wife.  I have been promising my wife jewelry for a few cruises but we never find anything we like.  This time, we found a nice piece at a good price and we bought it.
By now it was 12:30pm and we were getting hungry.   Since we had cell service in St Thomas (it is part of the United States), I took my cell phone out and pulled up the Yelp app to find a restaurant.
The #1 restaurant in our area was Cuzzin's Caribbean and we went there.  As the name implies, it serves up Caribbean food but there were also burgers and sandwiches. And it has air conditioning!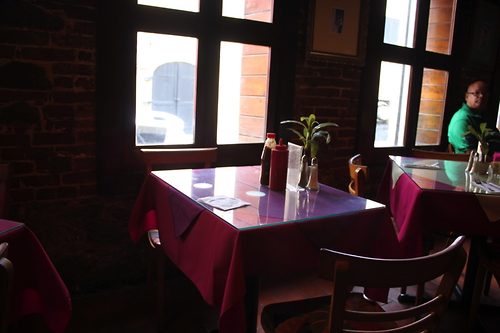 I ordered the curried chicken while my wife ordered the cheeseburger.  Her burger was good and freshly made but my curried chicken was really, really good.  The meat was falling off the bone and I really like it.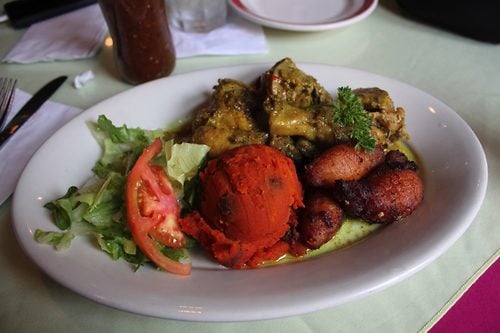 On top of that, a blog reader Michael from Tampa, recommended the lambada boomer drink and let's just say my day got a lot better very quickly!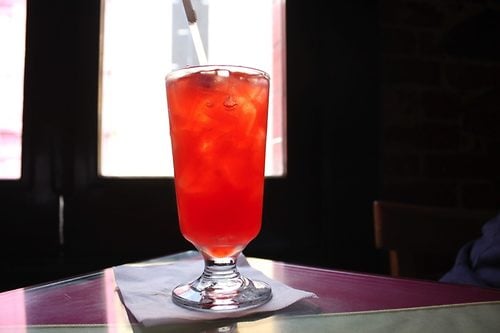 Next up we took a cab to the beach.  I wanted to go to to Lindquist Beach on the east end of the island but the taxi driver we found convinced us to go to Emerald Beach instead.  He had a good point: Both beaches are quite lovely but this one is closer and cheaper.  He offered to let us scope it out first so I obliged and off we went.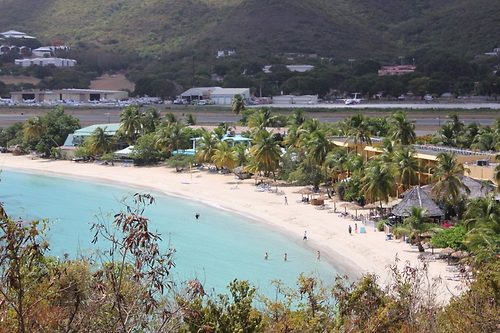 Emerald Beach is about a 5 minute drive from downtown and there is a Best Western Plus hotel.  Once you get there, you can walk straight to the beach and there is no fee for the beach, chairs or anything.  Granted, there is no service either in terms of waiters.
The beach and water were beautiful and it was a quiet piece of beach to enjoy.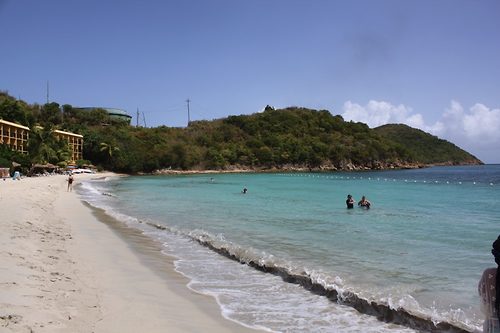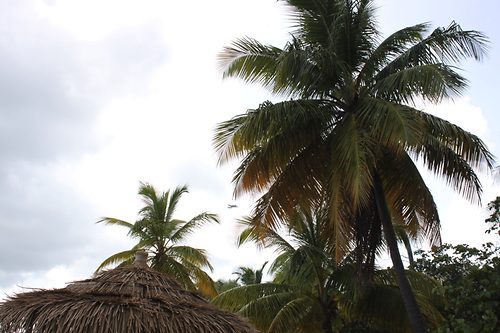 This would have been perfect if not for my 6 month old losing her mind because she was over tired and refused to nap.  We fought it for a while but ultimately we had to leave and go back because if the baby was screaming, no one is having fun.
Overall, it was a fun day and we got a lot done in my opinion.  We spent far less money than I thought we would and it was good seeing a few different spots on the island.  I just wish the baby would have cooperated a little bit more.  C'est la vie!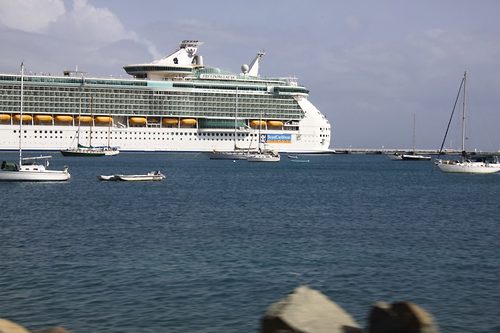 You can see the piece of the top of Freedom of the Seas missing due to the fire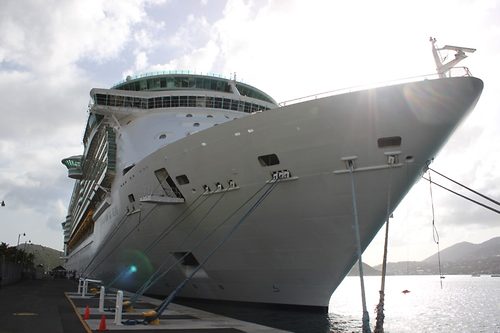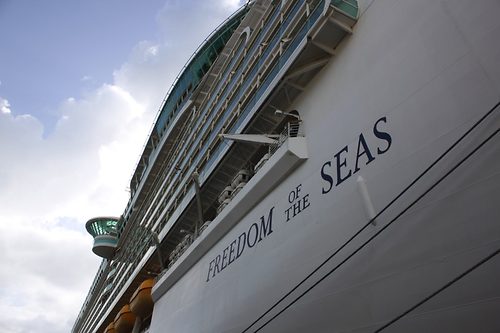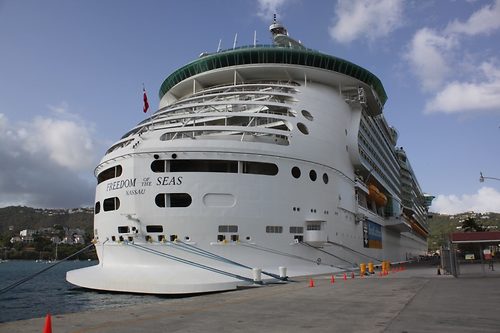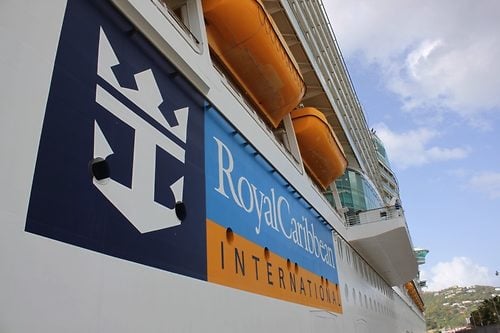 Back onboard, we rested up and got ready for dinner.  The kids went to Adventure Ocean and the nursery and we headed to the dining room.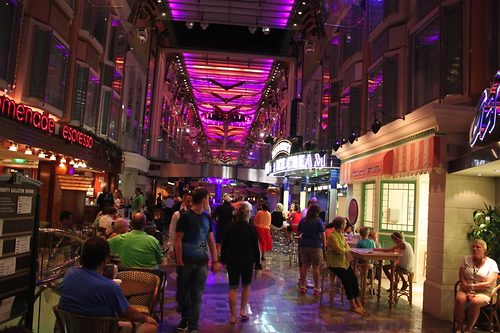 Dinner was good, unfortunately not as good as last night but we enjoyed our time there and it was a pleasant evening.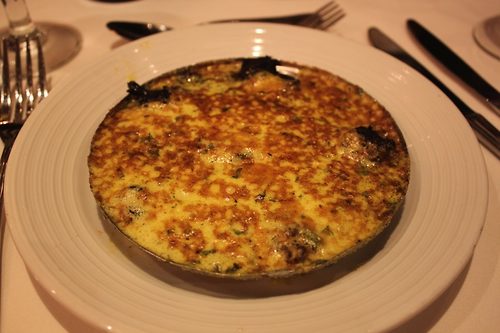 After dinner we got out early enough that we got into the Once Upon A Time show in the Royal Theater.
This was the first evening show we managed to see and it's a mashup of classic fairytales to contemporary music.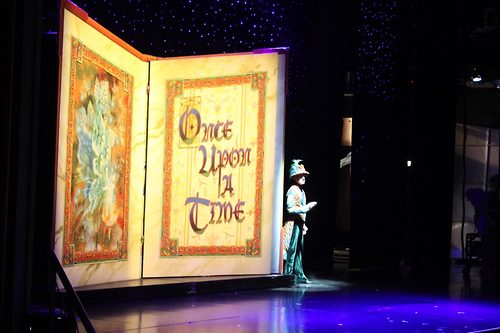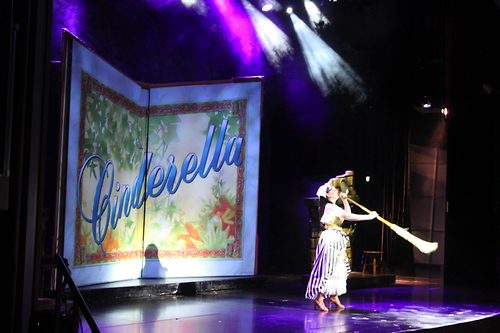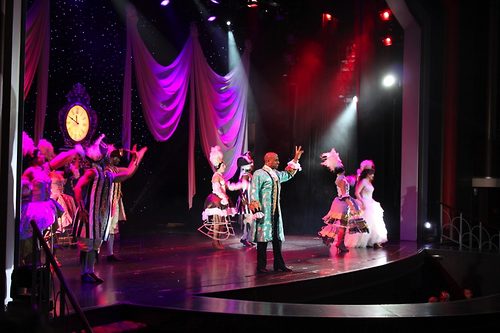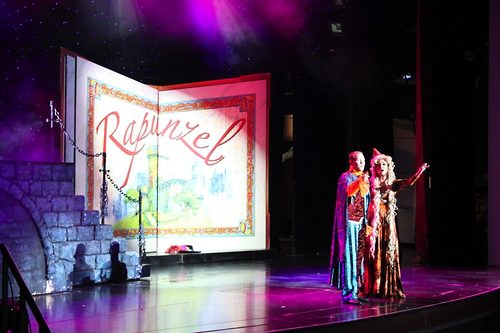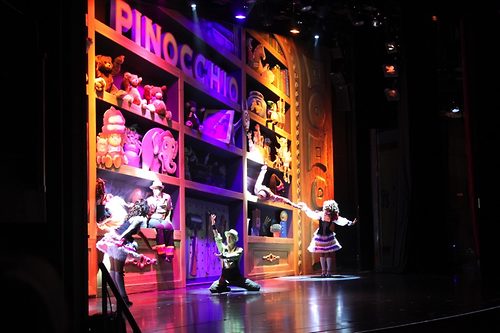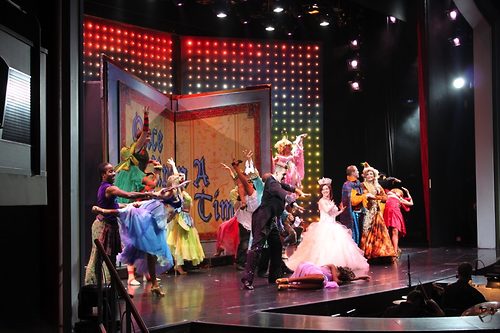 I really enjoyed it and thought the songs they chose were spot on and overall it was a really good performance.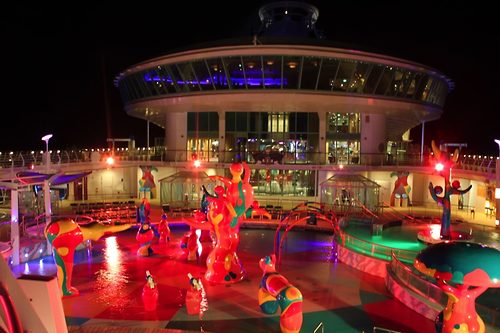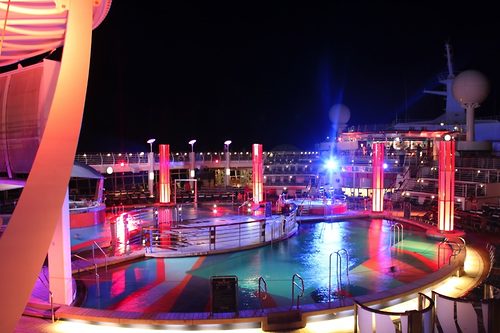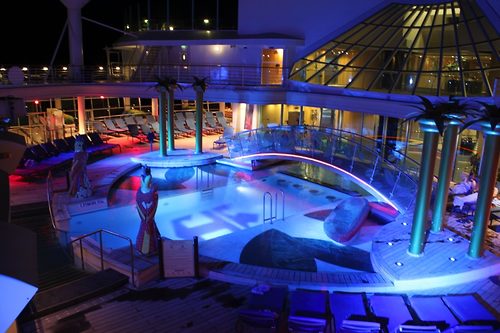 Tomorrow, we are going to St Martin with all the kids and hoping they both can work in some naps!
Live Blog Index