Freedom of the Seas Live Blog - Day One
In:
Today we kick off our Royal Caribbean adventure on Freedom of the Seas and as per usual, my wife and I woke up too early.  We were just too excited to sleep until our alarms went off, so we got up an hour or so early and started getting ready.
We were staying in a vacation home in the Orlando area near Walt Disney World this week as a pre-cruise vacation, so we loaded up the car with our stuff, locked up the vacation home and hit the road, heading straight to Port Canaveral!
The drive to the port was rather uneventful, although I did manage to pull a muscle in my back loading luggage into the car which made the car ride uncomfortable.  
Arriving in Port Canaveral, we drove to Terminal 1.  Terminal 1 is the new cruise terminal built in Port Canaveral that Royal Caribbean partnered with the port to construct.  The flow of the area is quite nice.  When you drive in, there are two options: drop off/pickup or park.  
I dropped off my family and luggage quickly and then drove around to the parking garage, which is on top of the terminal.  It was quite simple and I enjoyed the convenience factor of the entire process.
After parking, we took our luggage and got on line as the port was not quite open yet.  We waited perhaps 10 minutes and then they started letting guests in.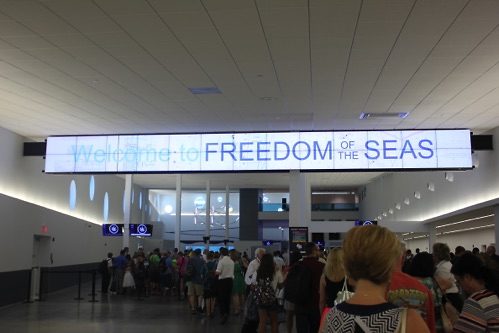 Check-in was a breeze and we benefited greatly by the special line for Crown and Anchor Society members.
As you may recall, we are going to two weddings on this cruise and the first wedding was today.  Once Freedom of the Seas was cleared by customs, we were literally the first group let onboard.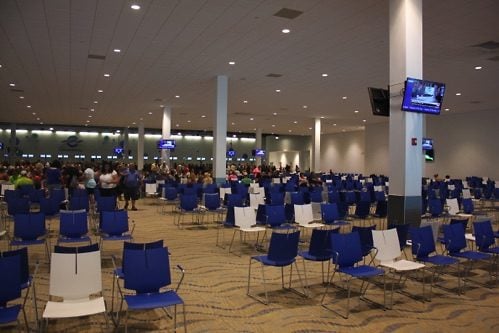 The wedding was at 12:30 in the Star Lounge.  It had been previously scheduled for the Diamond Club but that is closed for maintenance and so, the event was moved to the Star Lounge.
We headed up the Windjammer for lunch before the wedding and grabbed the usual assortment of embarkation day foods. Sadly, no honey stung chicken available!
After lunch we headed down to the Star Lounge for the ceremony.  It was a quick event, with the exchange of vows, first dance, toast and wedding cake all in about an hour.  It was a nice and quick event.  Certainly not traditional in the sense of a many hour affair, but I think it is what the bride and groom wanted, especially since there were a number of guests who were onboard but not sailing with us, so their time was limited.
After the wedding, we went up to our staterooms.  We have two connecting inside staterooms (7133 and 7131).  Both rooms are on the small size but together they give us just enough room to get around and some sense of privacy.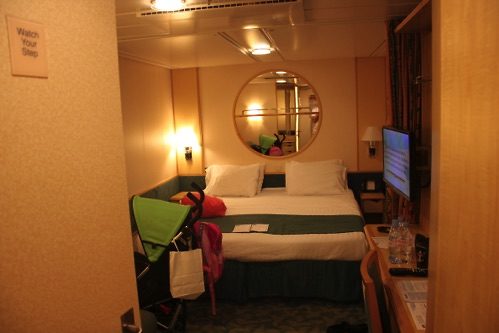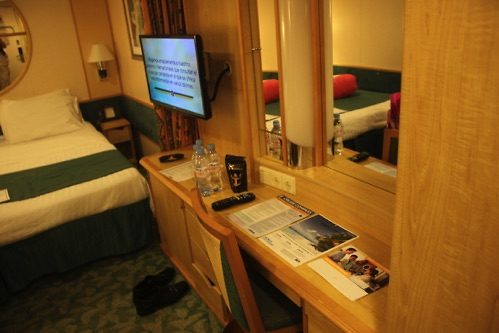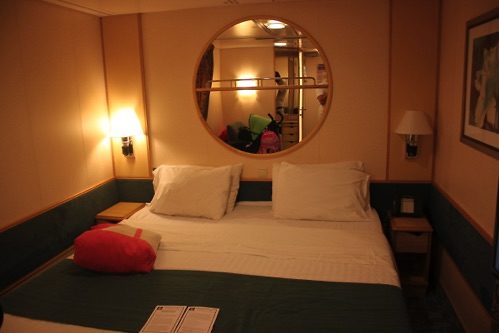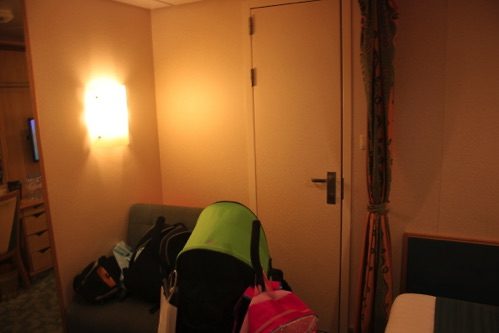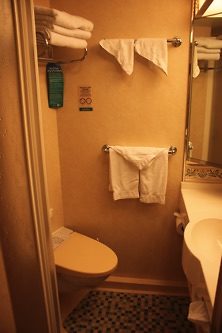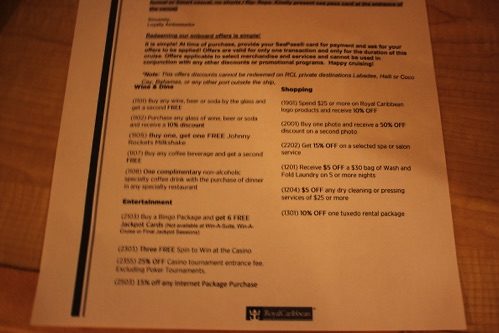 The rooms are exactly what I was expecting, so no surprises to be found.  
Next up was registration for my kids.  We went to Adventure Ocean and Royal Babies and Tots Nursery to register each.  Registration was quick, but I still wish I could do this in advance of the cruise to save some time.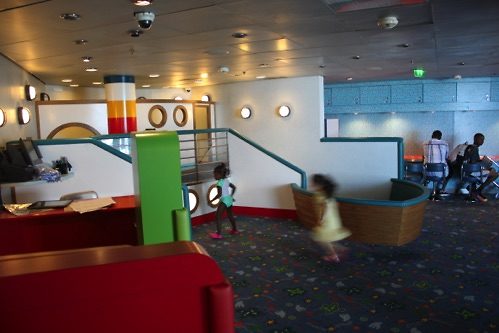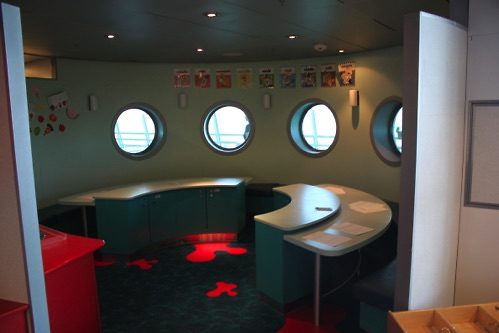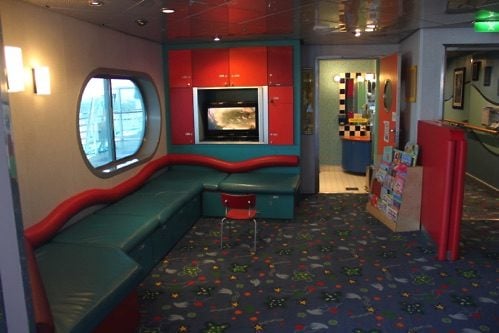 At the nursery, you are limited to 16 hours of reserved time.  You could use more time if there is availability if you just show up but no guarantees.  Also, you can only reserve time on one of the two formal nights.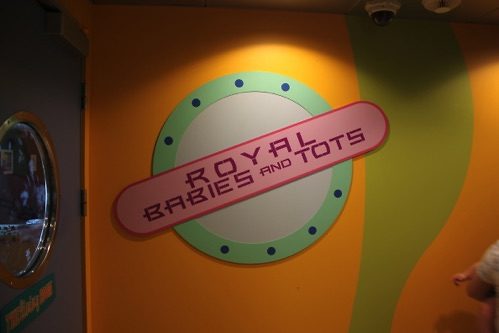 My wife commented the other parents there were reserving time in the day whereas we sought dinner time reservations.  In my opinion, I'd rather enjoy a nice dinner than time during the day but to each, their own.
We took a tour of the spa next and it was what we remembered and a pretty standard Royal Caribbean offering.  Someone had asked about if there is a thermal spa or other facility in the spa that offers access for the duration of the cruise but unfortunately there is none on Freedom of the Seas.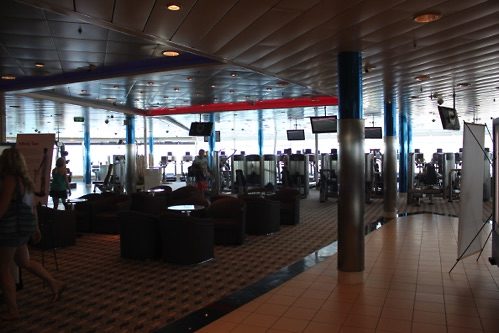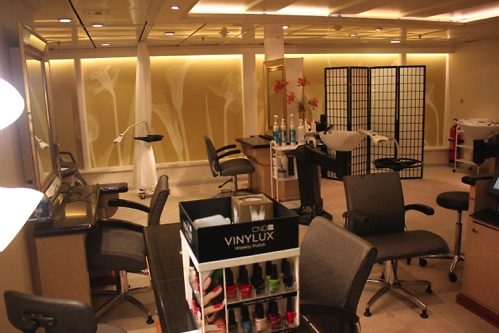 I was quite pleased that our muster station was in the Star Lounge, as I was concerned we would be outside on a deck and sweating there with kids who do not understand why we have to be there.  Muster was quick and simple (the best kind).
Following muster we grabbed some pizza from Sorrento's and went up to the pool deck for sailaway.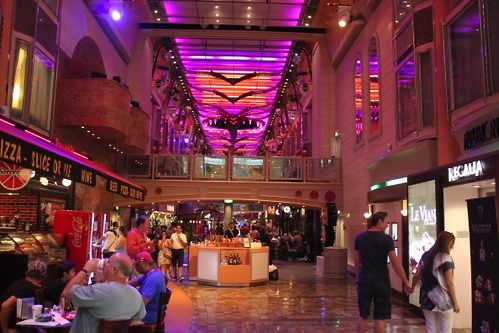 The sailaway party is at the main pool and features Dreamworks characters.  It's cute and sets the right tone for the beginning of vacation.  My 4 year old seemed to enjoy it.
We got our luggage and my 6 month old needed a break so my wife took her to the room while my 4-year old and I went to the pool.  I let her play in the H2O zone and she had a blast.
When we got back my wife mentioned to me we were missing one bag and that a voicemail indicated the final bag was being held on deck 1.  Many Royal Caribbean fans refer to this area of held back bags as "the naughty room" because folks go there for bad reasons.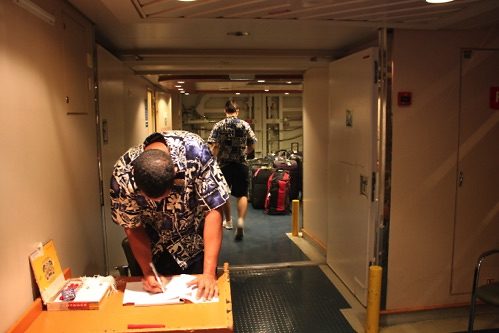 It turns out we had bottled water in the luggage and so when it went through the x-ray machines it was flagged.  The crew members inspected the bag, and to my surprise, gave me the bag with the water.  
I asked them if there are a lot of bags and if they are mostly alcohol or water.  He indicated they get a lot of bags and they are almost always alcohol.  
I will now take an opportunity to talk about the fire on the ship.  As you may recall, there was a fire last week on Freedom of the Seas.  In terms of the impact on this cruise, it has been minimal.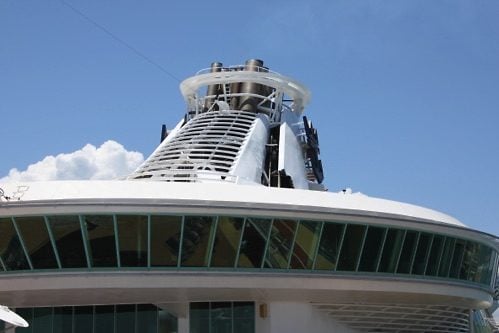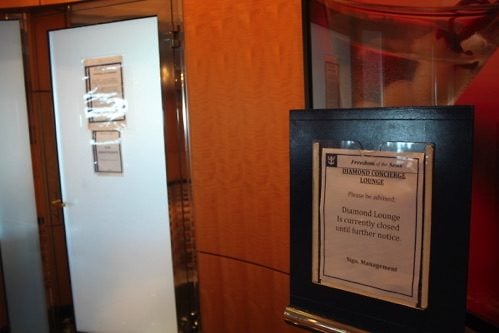 The smoke stack has been repainted but there is still a hole.  The Wedding Chapel and Diamond Lounge are closed for what I assume is because of the fire.  Otherwise, no other changes that I have seen.
I also did a fair amount of exploring and took some photos, so enjoy this batch of photos without my usual bit of entertaining commentary.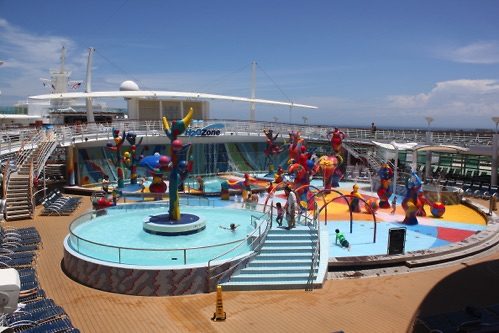 H2O Zone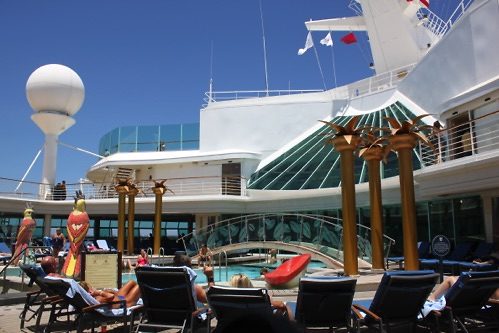 Solarium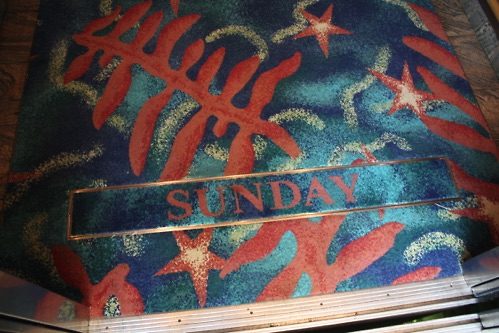 It's Sunday!  All elevators indicate what the day is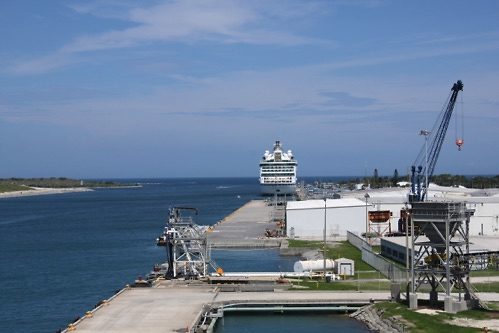 Grandeur of the Seas was also in port today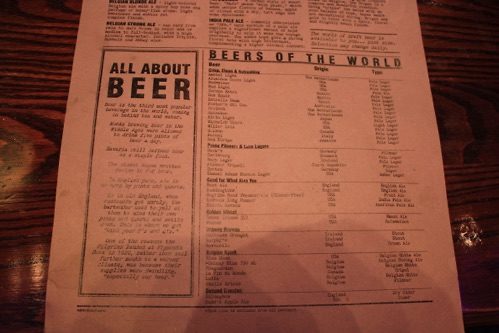 Beer prices at the pub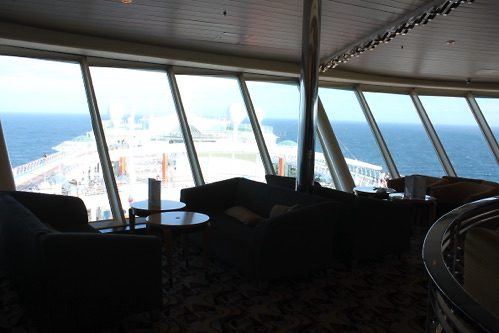 View from Viking Crown Lounge (I know, this photo did not come out well)
We headed back to the stateroom to get ready for dinner around now.  We decided to wear the same clothes we had worn for the wedding, so getting ready was easier than usual.
At the main dining room we were seated at a table for 4 at a window to the left.  No tablemates for us this cruise but it is nice to have a table by the window.  Not sure we have ever had a window side table for dinner in the main dining room before.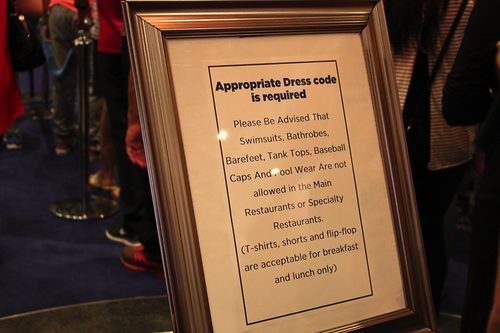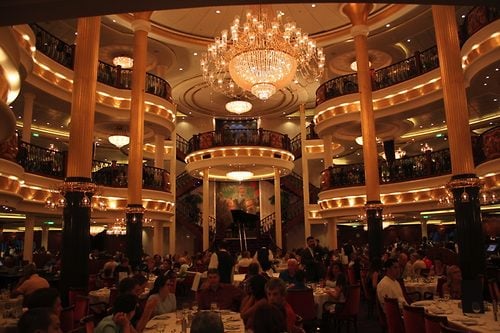 Our wait staff were good all around.  They were helpful and nice (sorry I do not remember their names yet).  I would have to say the dinner experience was unremarkable, which is not a bad thing.  The first night can be a little chaotic when it comes to the main dining room.
Speaking of first night differences, the ship is definitely cruising at a high speed this evening.  I can certainly feel the ship's movements but it is no where near it being very rocky.  It is the kind of motion that is perfect for sleeping!
The food this evening was about average overall.  Nothing terrible and nothing exceptional.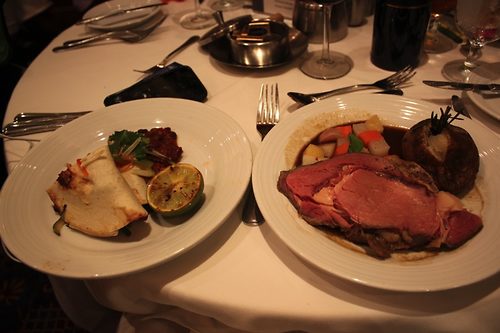 We had both our kids with us for dinner because on the first night Adventure Ocean and the nursery are not open and all things considered, we had a good time.
Following dinner we took a stroll on deck 4 to walk off some of the food we ate.  There was a pleasant warm breeze blowing and it felt wonderful.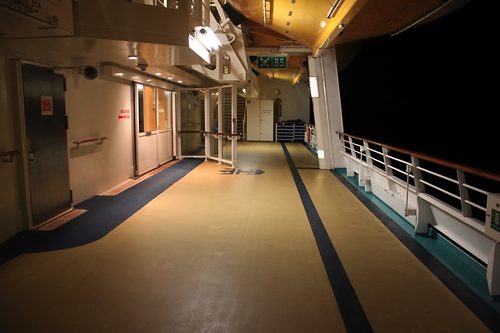 Since my daughter had eaten her food and was generally well behaved, I offered to go for a night swim with her.  We went back to the stateroom and got changed and then headed up to the main pool.  One side of the main pool was closed but the other was open and there was a Ryan Reynolds movie playing.
The water was a bit on the cold side but we had a blast swimming under the stars.  We then subsequently froze after getting out!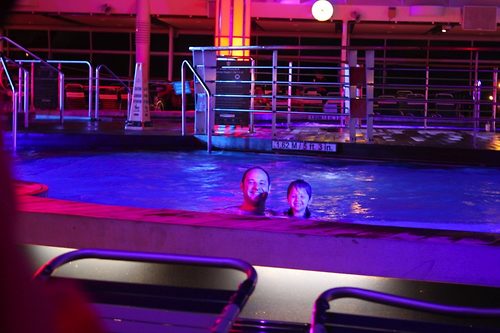 Stray observations
There was a Sabor Modern Mexican kiosk giving free guacamole samples on the Royal Promenade and I think I had no less than 6 samples.

Speaking of Sabor, outside the restaurant tonight was buy 1, get 1 free drinks (not sure what the drink was exactly).  
I could not smell any smoke or notice anything else of that kind related to the fire.
Our Crown and Anchor welcome gift was 4 bottles of water and Royal Caribbean cookies.  You can specify your gift in your Crown and Anchor preferences on Royal Caribbean's site.
The internet speeds so far have been tolerable.  I can upload photos in a few seconds but video is way too slow.  I'm happy to have a good wifi signal in my stateroom!
Internet cost is $140 for 7 days (one device) or $210 for 7 days (two devices) or $39.95 for 24 hours
That will do it for today.  Tomorrow we are going to CocoCay and another wedding!
Live Blog Index