Freedom of the Seas Live Blog - Day Seven - Sea Day
In:
It's our last day onboard Freedom of the Seas and the last day is always bittersweet.  
Yes, it's another day on a cruise and one less day at home but the end of this cruise is looming over us like a dark cloud approaching shore.
Today we mostly ran around and got things done, like paying down our SeaPass account and making some last purchases onboard.
Here are some photos from around the ship...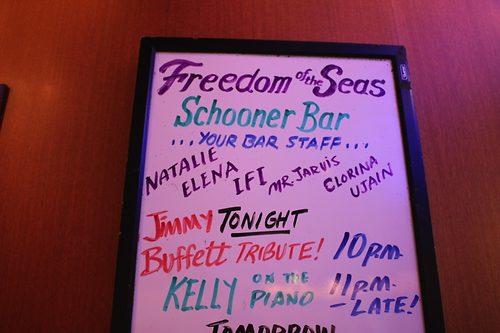 Jimmy Buffett tribute at Schooner Bar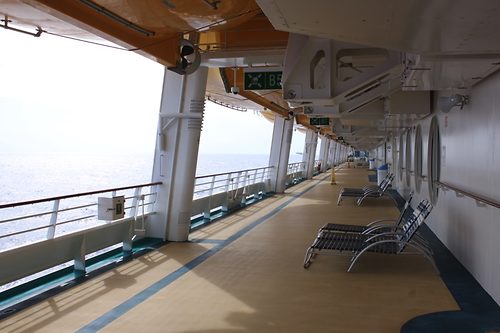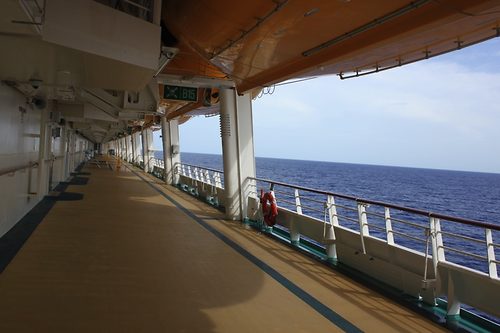 A look down deck 4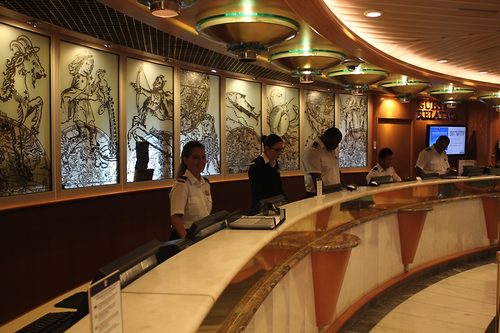 We hit the Guest Services desk early to avoid the lines later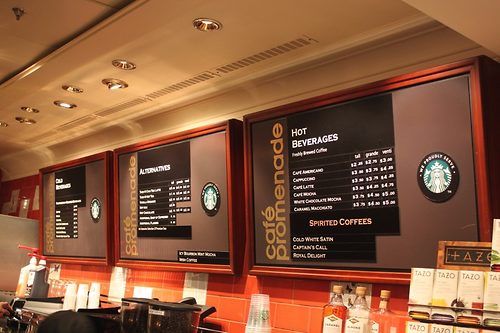 Starbucks menu at Cafe Promenade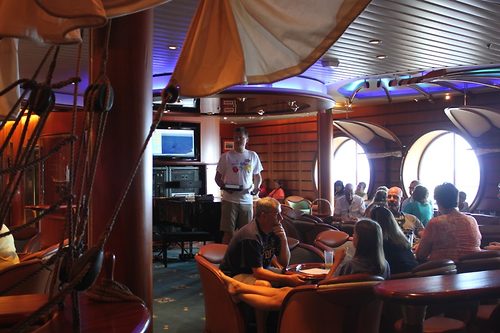 Trivia in Schooner Bar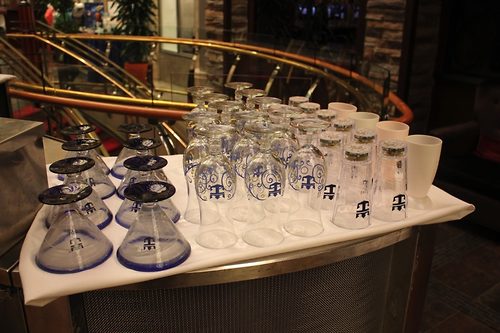 Souvenir cups for sale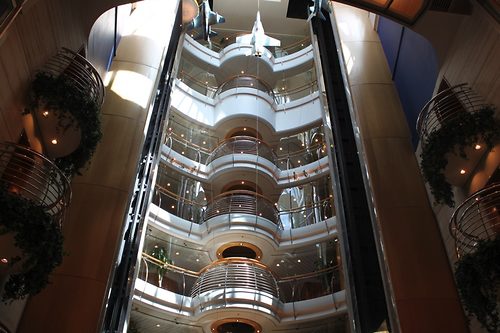 Looking up at the decks in the Atrium
Cake in Windjammer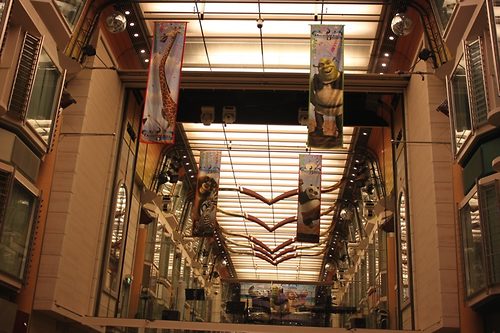 Parade preperations in Royal Promenade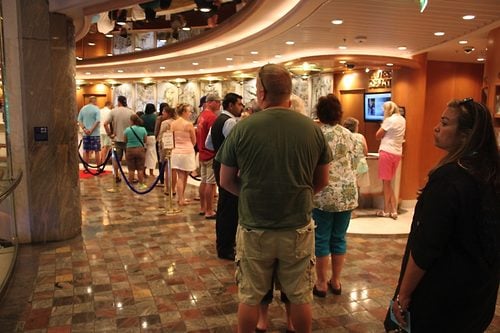 Typical last day lines at Guest Relations.  Get it done early or before the last day!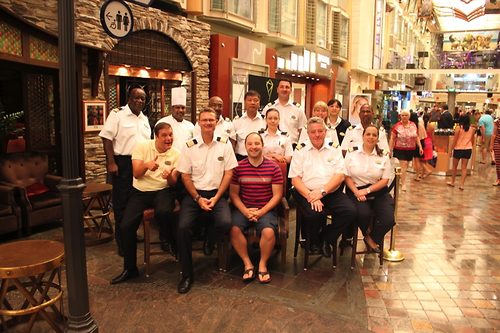 Me with the ship's officers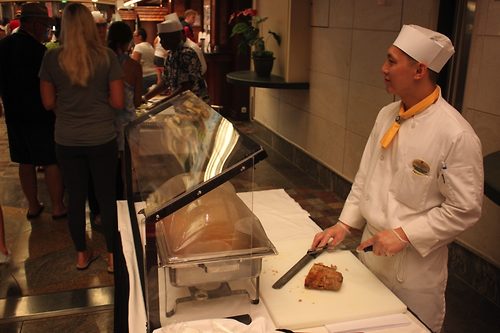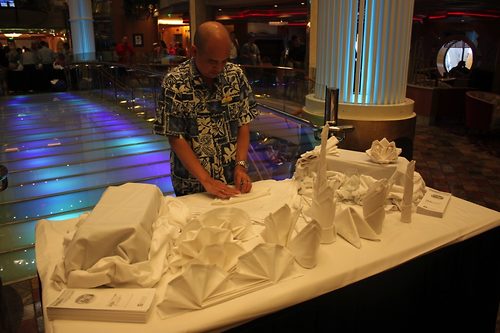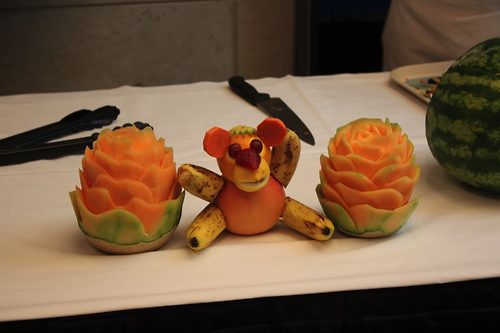 Photos from FreedomFest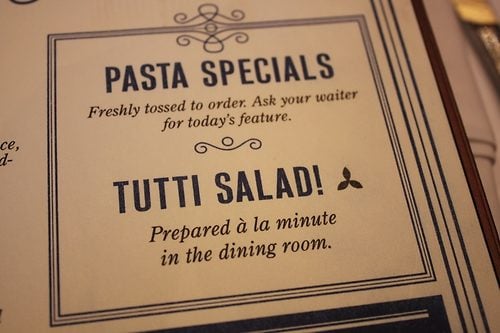 Tutti Salad on the menu at Main Dining Room for lunch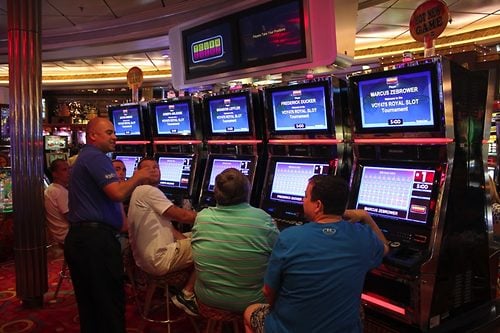 Slot tournament in Casino Royale
Rather than describe my various stops around the ship, I wrote up some conclusions and observations from this cruise to share.  I think it will provide more insight into the Freedom of the Seas experience.
To begin with, I really enjoyed this cruise.  Freedom of the Seas is a wonderful ship and our family had a great time onboard.  Even with this being our third time on her, it's still a pleasure to take a cruise on her.
The refurbishment earlier this year added some nice touches.  We loved Sabor and R-Bar.  Other guests we spoke to and overheard also echoed their love of these newly added venues.
Our fears of last week's fire affecting the cruise experience were greatly exaggerated.  I have gotten A LOT of questions about the fire and its effects but it may as well never have happened.  If you have an upcoming sailing, do not worry one bit about it.  I've often said, if you had no idea there was a fire last week, you would not have known it based on the condition of the ship.
Maybe it is just me, but I do not recall feeling so much motion with so little waves or wind.  The motion is NOT anywhere near the level of getting sea sick but I just felt the motion the entire cruise.  Based on my experience on other ships, it seems rather odd.  Again, maybe I am just sensitive.
Kids programs were great.  Our kids did really well with Adventure Ocean and the Nursery.  If you ask me, the key to a positive experience in either is setting the right expectations with your kids.  Letting them know about it, telling them about the activities and even hyping the experience a bit all contribute to having fun.  Granted, with my 6 month old there was much more luck but the entire experience is a testament to the staff.
Cruising in July, there were a lot of kids.  The Nursery staff told us over 1000 kids on this sailing.  It did not bother me at all but compared to sailing in September and February, it is a noticeable difference.  
Speaking of July, it is really, really hot in the Caribbean. CocoCay and St Maarten were exceptionally warm and being outside for more than a few minutes lead to lots of sweating.  Be prepared for plenty of wardrobe changes.
I'm really impressed by the crew.  They go out of their way to help and make a better experience.  Does Royal Caribbean get everything right off the bat? No, but if you ask or inquire, they are very accommodating.  The worst thing you can do is not say anything and "suck it up" and let it sour your cruise.  Ask in a nice way and you will be amazed by the results.
I am always disappointed in how little I do onboard in terms of activities but we did have a great time.  I always wish we did more events onboard but at the end of the day, I had a great time.  Royal Caribbean cruises are what you make of them and if you go 6am to 3am doing all the events or just sit by the pool, ultimately it is your choice and Royal Caribbean does provide a lot for folks to see and do.
I like second seating dinner for its time but I have to admit it makes seeing the shows more difficult.  It seems like we were always getting ready for dinner around those times.  I think that means we have to get ready earlier but then it seems like there is no benefit of second seating dining.  Having said all this, I do not think we will change our dining preference.
Best onboard entertainment: Once Upon A Time, Karaoke at On-Air Club, Live music
The internet onboard was mostly acceptable. It's slow and I cannot wait for Voom to arrive but it was tolerable.  I think speeds get worse as the week goes on and more and more people buy packages.
The main dining room was what I expected and we had a good time there.  Food is very subjective but I found the food to be somewhere between okay and excellent.  Most were between good and very good.  Service was outstanding.
Best dining experience: Sabor
Best bar: R-Bar for drinks. Schooner Bar or Pub for experience.  Honorable mention to On-Air Club
Places I never went: Ice skating rink, mini-golf (or anything in that vicinity not counting the FlowRider), Solarium (unless you count walking through it), Johnny Rockets
Stateroom we had was great and splurging for 2 rooms was the best idea ever.  Having 2 bathrooms and the extra space was important.  It was not as much space as I thought but I cannot imagine what would have happened if we had just one room.
It is really easy to meet the Dreamworks characters onboard.  There is rarely a line and if there is a line, it is just one or two people usually.  That being said, each character's set is usually quite short (about 20 minutes max).
There is no question I saved money by not getting an unlimited alcohol package.  Speaking with folks who did get it, by about day 4 or 5, many were telling me they were simply ordering drinks for the sake of ordering drinks.  
Things I miss from not being on a cruise ship: high speed internet, full use of my phone, access to more of my wardrobe.  Otherwise, let's keep sailing!
I also wanted to make sure I thank all of you that have been reading and commenting here, on Facebook, Instragram and Twitter.  Having your feedback and questions has been wonderful and it made my cruise much more interesting.  THANK YOU for letting me take you on a virtual cruise with me and I cannot wait to do this again!
Live Blog Index