Freedom of the Seas Live Blog - Day Two - CocoCay
In:
Today we are at Royal Caribbean's private island of CocoCay for a day filled with swimming, the beach, a wedding and tenders.
Freedom of the Seas anchored off the coast of CocoCay around 7:30am or so.  I am not exactly certain because I was fast asleep, as was my entire family.  The kids slept through the announcement and around 8am my wife and I got ready and then woke up the kids and got them ready.
After getting our clan dressed, we headed up to the Windjammer for breakfast and had another classic Windjammer meal.  While breakfast is my least favorite of the meals served there (the selection never changes), I still enjoyed my custom made omelette.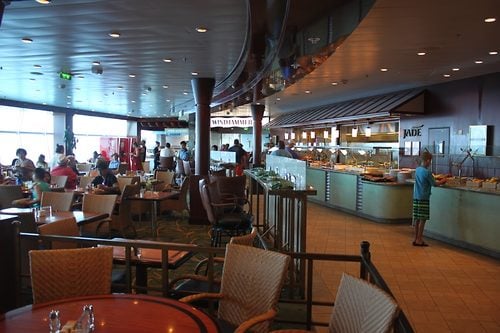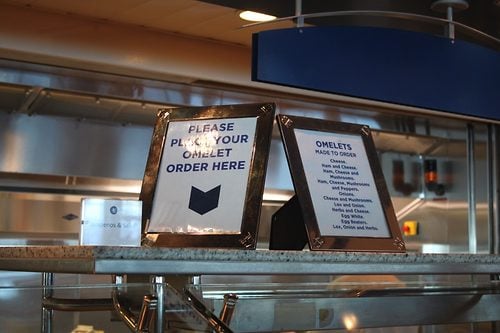 We headed downstairs to meet our wedding group at 10am to head over to CocoCay.  After waiting a little bit for everyone to arrive, we were on our way to CocoCay.
As you may or may not know, guests take a tender to CocoCay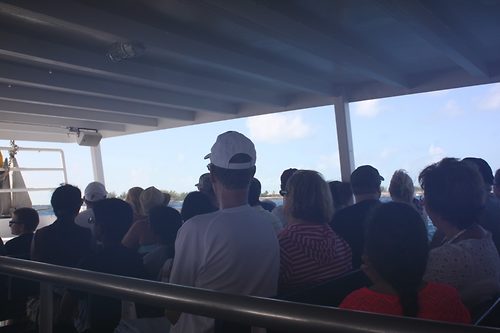 Once on the island, we were escorted via trams to the wedding location, which is a small spot on the top of a "cliff" overlooking the ocean and Freedom of the Seas.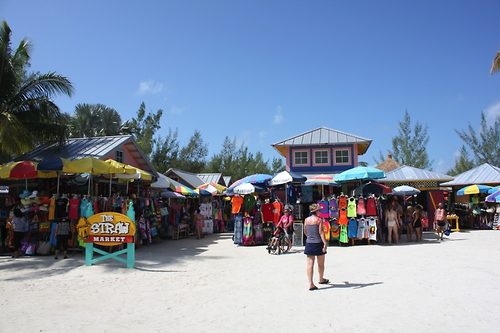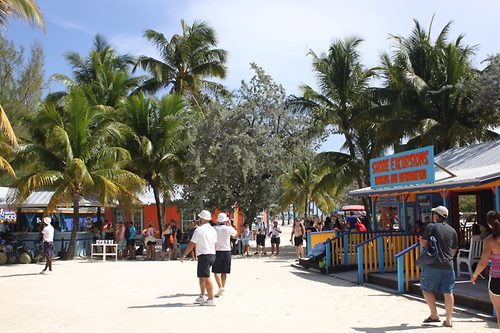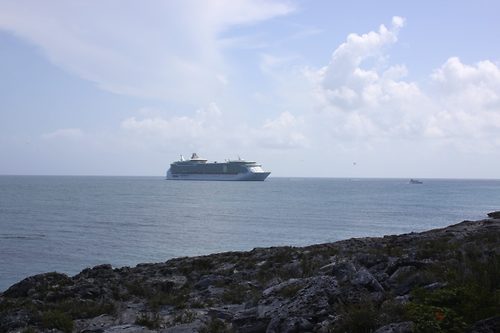 It was a nice spot for a small wedding but there was absolutely no shade so we were all sweating profusely.  Royal Caribbean gave us bottles of water to help relieve the heat a little bit.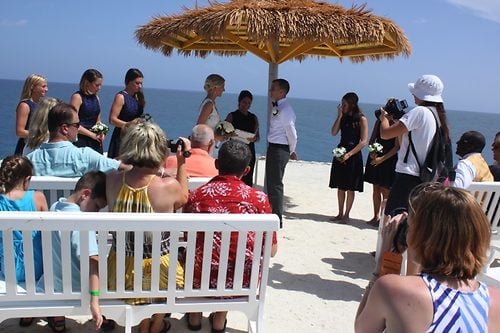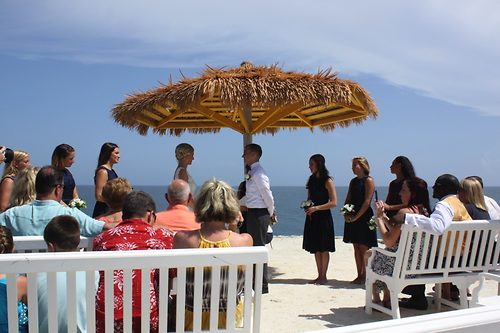 Despite the the heat, it was a lovely ceremony and as soon as it was over, we hopped back in the tram to head to the beach.
My 4 year old daughter wanted to go to Adventure Ocean so we dropped her off there.  
The Adventure Ocean facility is a small "compound" where kids play in the sand in the shade.  While it did not look like something I wanted to do, my daughter had a blast there and was upset she had to leave.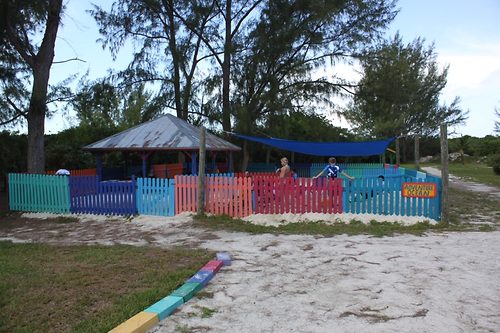 My wife, 6 month old daughter and I headed to the beach and we ended up near Barefoot Beach.  We managed to snag two beach chairs and placed them in a shady spot.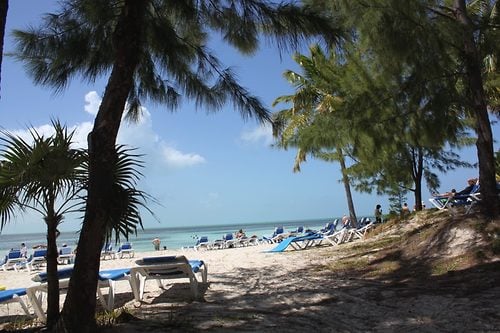 Shade on CocoCay is at a premium and oddly enough, they do not rent umbrellas.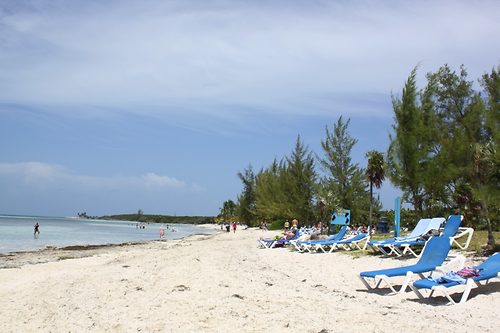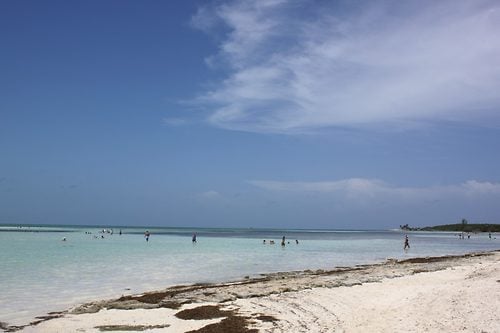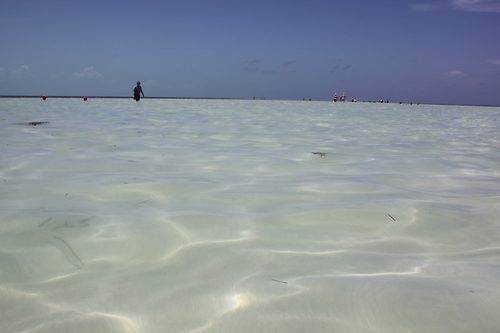 It was fun in the ocean, which was barely deep on any adult, but it was so incredibly hot I think my wife and I did not enjoy ourselves as much as we usually do at these private islands.  We did grab some Coco Locos to help cool us down.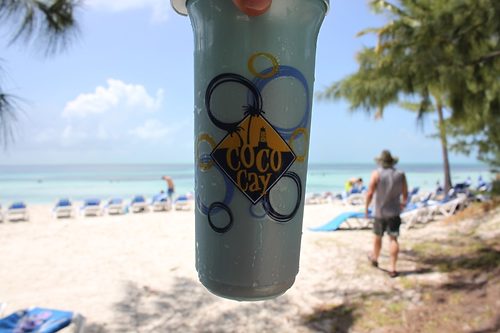 At around 12:30 there were some scary looking clouds coming so we decided to head back to the ship.  Evidently so did the rest of the ship.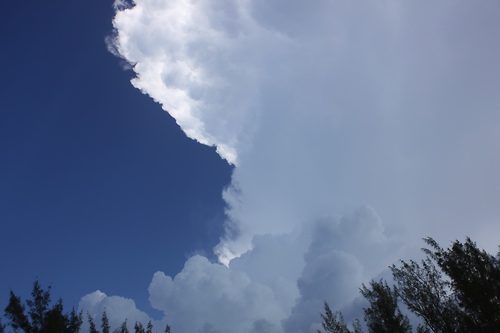 We eventually made our way back and yes it took a while because of the crowd heading back but I refuse to let a line for tenders ruin my day.  My daughter, however, had no such problem.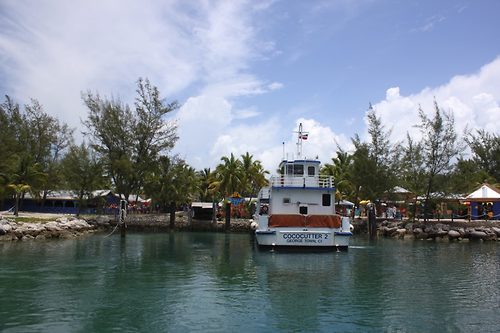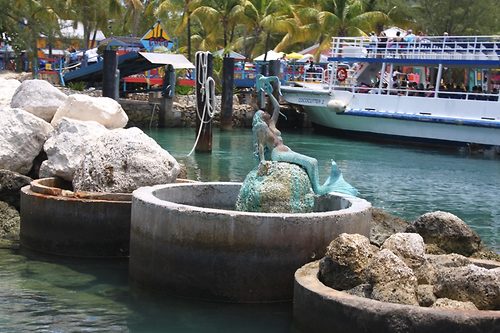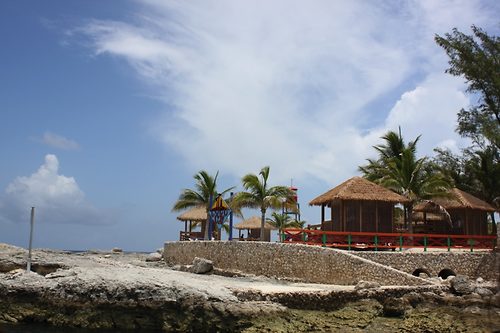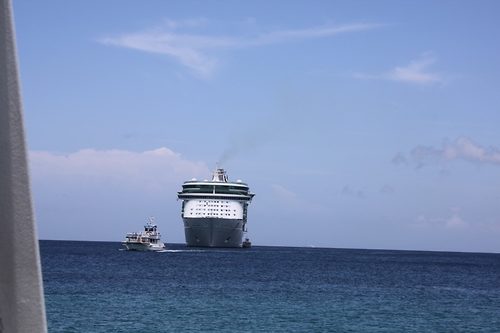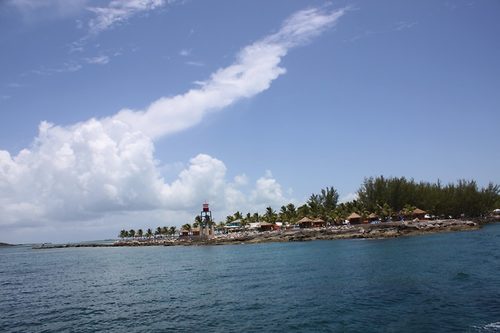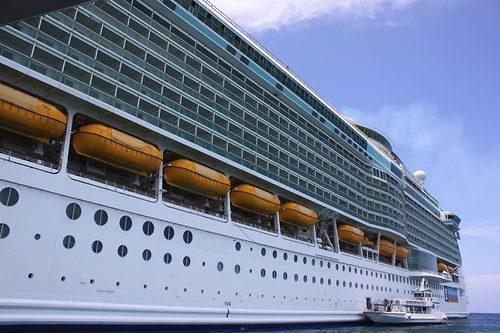 We got back to the ship, showered and changed and then headed to the Windjammer for a late lunch.  I really enjoyed the selection available today.
At this point my kids needed naps really badly so we went back to the stateroom.  I opted to head up to the main pool to enjoy the ambiance (in the shade).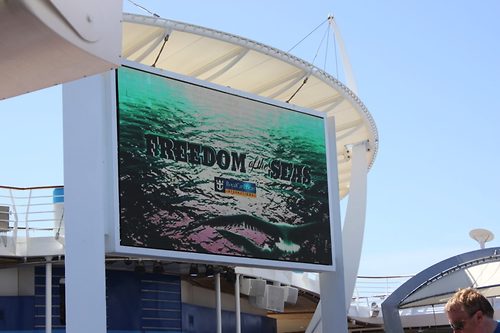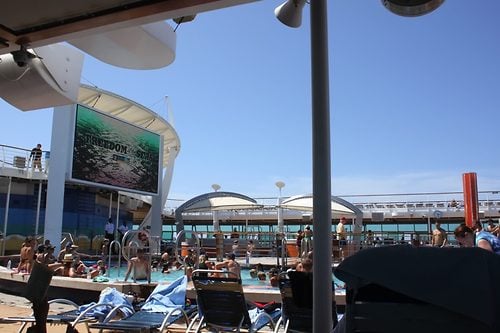 I then took part in a time honored tradition of mine by taking a nap by the pool and it was glorious.
After waking up, I headed back to the stateroom and everyone got ready for formal night.  I took my 4 year old up to the Windjammer for dinner and then dropped her off at Adventure Ocean.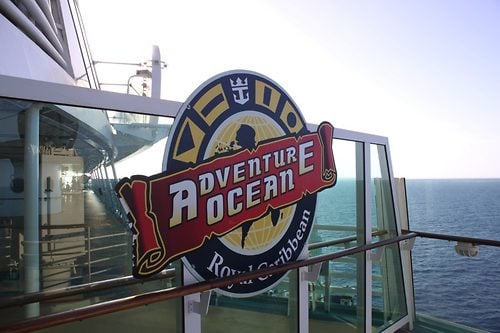 Afterwards I came back downstairs as my wife finished getting ready and we brough my 6 month old to the nursery.  My wife and I were hopeful both kids would do well.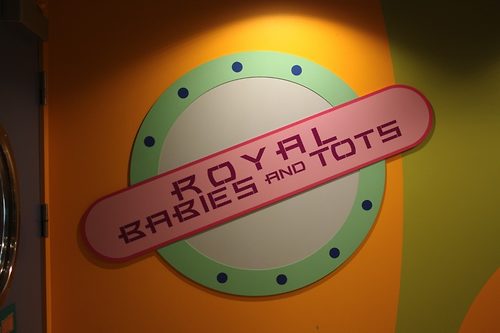 For our pre-dinner activity, we went to R-Bar, which is a favorite spot of mine. When we were on Navigator of the Seas I really enjoyed R-Bar and Freedom of the Seas was no different.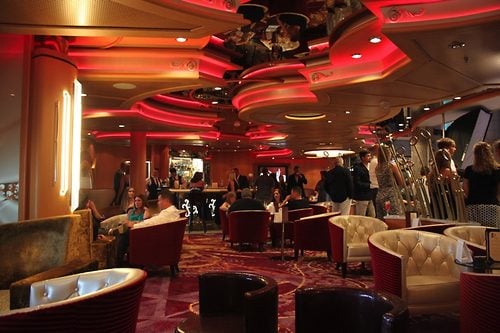 I was informed by the staff that the R-Bar menu is different for every ship, so the drink that I had on Navigator was not available here but the staff at R-Bar was happy to help pick out a new one for me.  Between the decor and drink options, it is my favorite spot for drinks.
Tonight is formal night in the main dining room and it is also one of the better menus of the cruise. We both really enjoyed the offerings and my favorite part had to be the coffee ice cream, which I natually ordered as much as they would serve me.  Love it!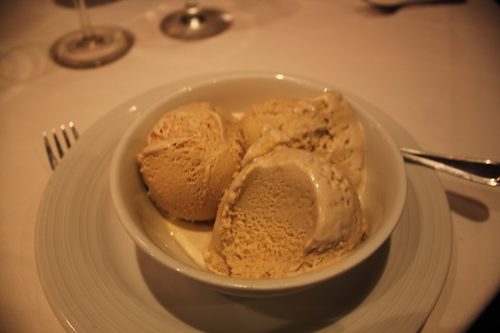 They also had some wonderful live music in the main dining room.  I think the live music for dinner is such a nice touch.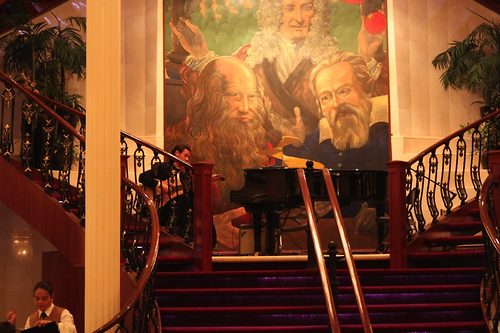 After dinner we went to the casino and I promptly lost money so we cut our losses and went to the Pub for some drinks and music.  I love the live music and cold beer available in the pub so it was a nice end to my evening.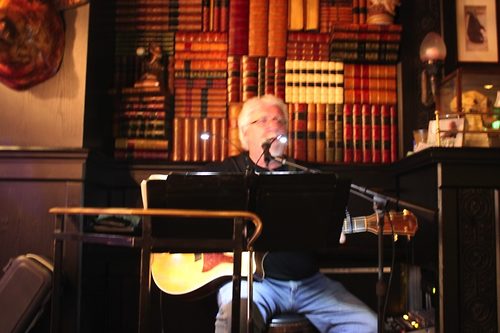 We picked up both children without incident and things turned out to be a great evening!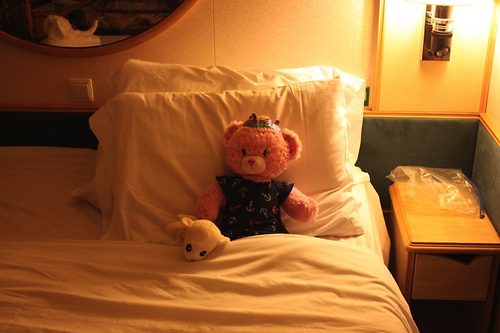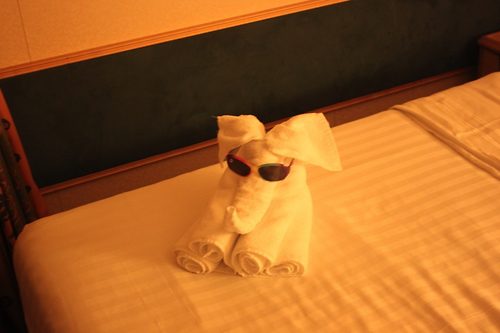 Tomorrow is our first sea day and we do not have any firm plans but hoping we can do more exploring and enjoy everything the ship has to offer.
Stray observations:
I know some people like tenders but I really do not enjoy them because of the extra time required to get back and forth compared to docking. Luckily, no more tenders this cruise!
In the Cruise Compass, Royal Caribbean is offering a dining package deal that we reported earlier this year. $20/person/day for the duration of the cruise.  There is also rates for kids at the specialty restaurants

The drink of the day comes with a 25% discount
​
Live Blog Index