Freedom of the Seas Live Blog - Day Three - Sea Day
In:
Our first sea day was today and we did not want to miss too much of it, so we set the alarm for 8:30am and started to get ready.
Except for my 4 year old, who got up, turned off the light my wife had turned on and went back to bed.  Clearly she is 4 going on 17.
We headed up to the Windjammer for breakfast and had a lovely table next to the window at the aft of the ship.  It provided us with an excellent view while we had our food.  My choice for breakfast today was build-your-own miso soup from the Jade section of the Windjammer.  Very tasty and something I have only ever seen on Royal Caribbean.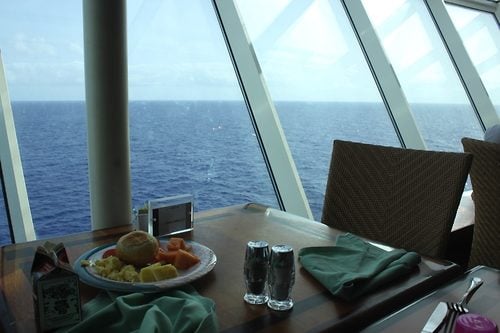 After breakfast I dropped my 4 year old off at Adventure Ocean for the morning and then my wife and I headed up to deck 14 to the Viking Crown Lounge for the Cruise Critic meet-n-mingle.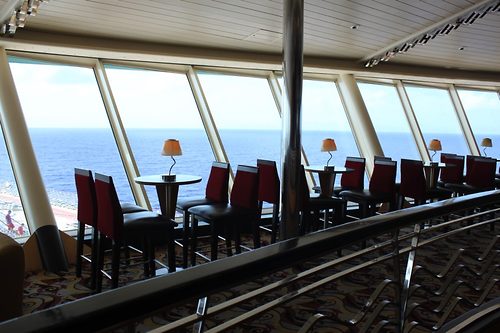 For those unaware, Royal Caribbean partners with Cruise Critic to offer a meet up onboard the ship, provided at least 25 people register for the event prior to your cruise.  Once registered, you will get an invitation to attend the event, which is usually on the first sea day.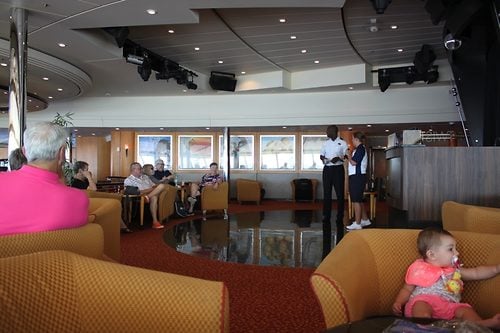 We arrived right at 10am and found about a dozen or so people there.  It was by far the least populated meet-n-mingle we have been to.
The event is about meeting other folks onboard who cruise and there is also a raffle for some prizes, such as bottles of wine, Royal Caribbean keychains, pens and more.  We won a Royal Caribbean highlighter and box 'o office supplies.  Hey, it's free!
We enjoyed speaking with others about their cruising experience and it was a nice little event.
Next we headed down to deck 5 to take care of some "business".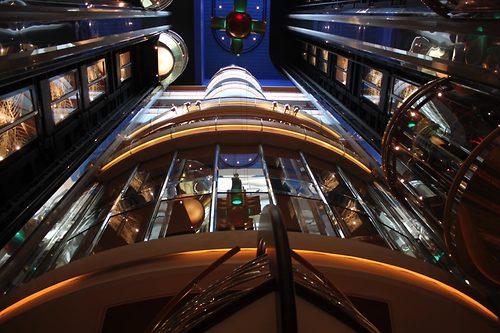 Our first stop was Guest Relations, where we confirmed our onboard credit amounts (it was not displaying on the televisions) and we also had them refund room decorations we had purchased that had never showed up.  Everything was quick and prompt.
Next, we went to the Shore Excursions desk and booked the Skyway Ride in St. Thomas.  My 6-month old was free and 4-year old qaulified for the kids rate, so the price overall was not terrible.  I was surprised the line for Shore Excursions was so short but was happy to get my tickets and be on my way.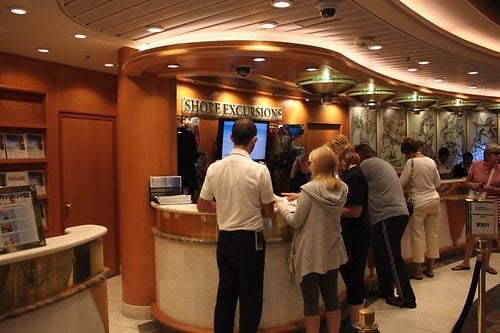 There was also no line at the Next Cruise office so my wife and I decided to book a random cruise in 2017 so we could take advantage of the onboard booking credit.  
I doubt we will actually take this particular cruise that we booked but by booking it onboard, we can transfer the reservation to another sailing if we like and retain the onboard booking credit.  Essentially, it is free money.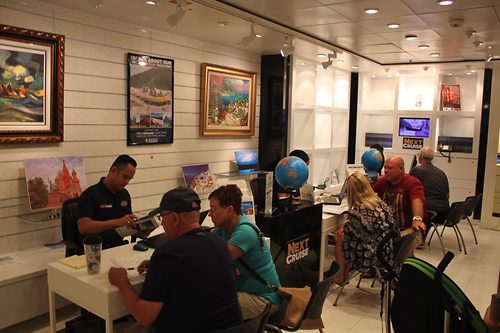 We also elected to save the onboard booking bonus for the upcoming cruise rather than take it on this sailing.
Around this time my wife and I started thinking about lunch and we decided to try and see if we can get reservations for our absolute favorite restaurant, Sabor.  
For lunch, adults only pay $15 per person for lunch and we figured why not go more than once this cruise.
I had no trouble making a reservation and we spent some more time back on the Royal Promenade doing some window shopping.  Did not buy anything but we do enjoy seeing what is on sale.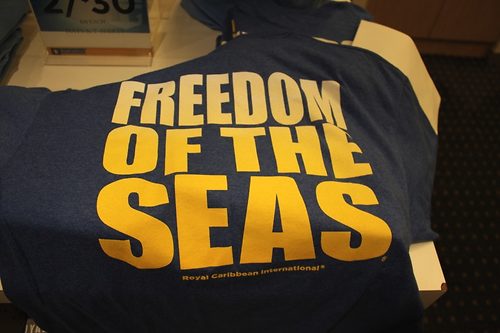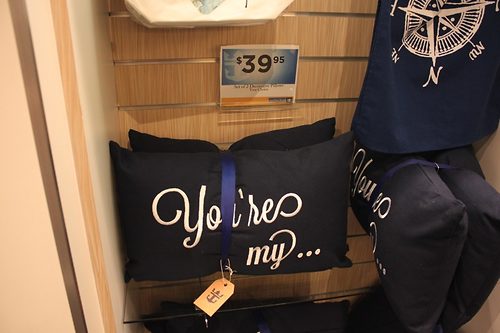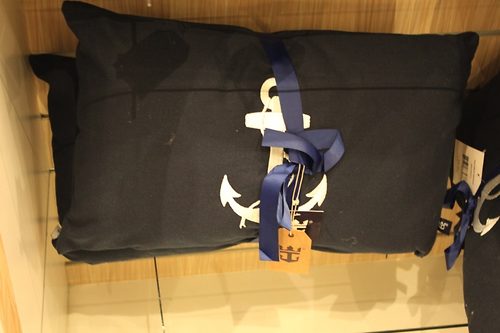 After a bit of walking around the Royal Promenade, we headed back up to deck 12 to collect my daugher. Adventure Ocean closes at noon for a quick break before reopening at 2. 
I had made our reservation for lunch at Sabor at 12:30pm but we were running ahead of schedule, so we stopped by Sabor at about 12:05pm and the staff were happy to take us in.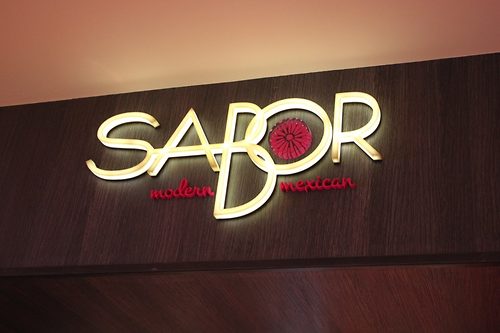 You may be wondering why I love Sabor so much and it is because we tried it on Navigator of the Seas last year and thought the food and experience were terrific.  
This time around for lunch, it was more of the same in terms of that great food, flavors and ambiance.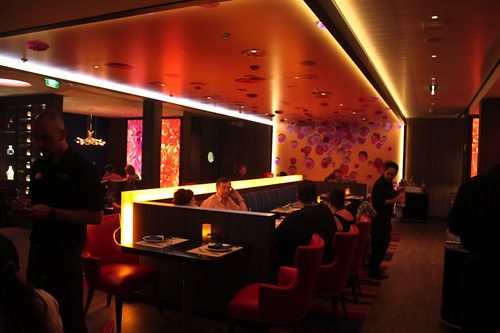 I will say if nothing else, go to Sabor for the chips, salsa, guacamole and hand crafted margaritas.  it is simply the best!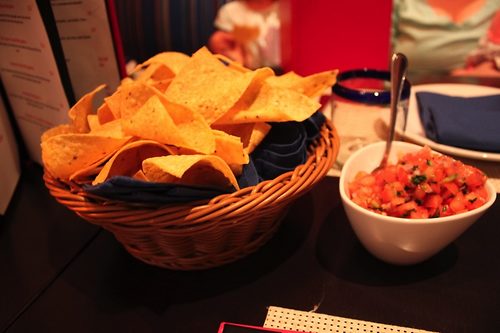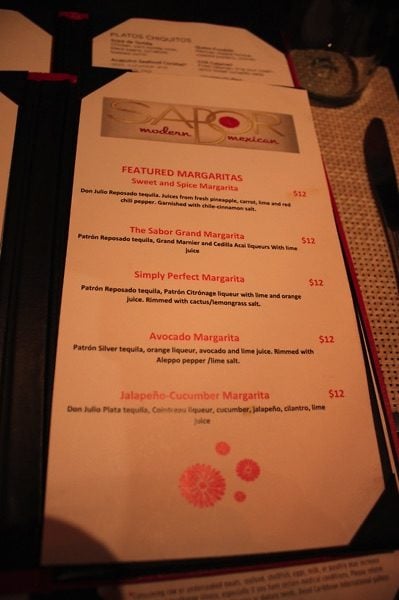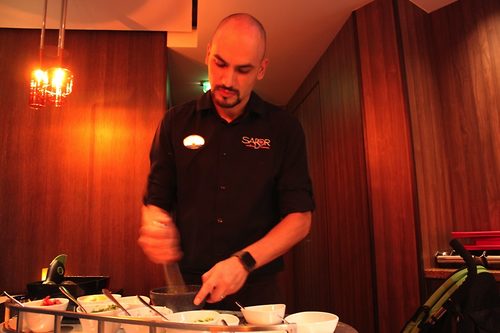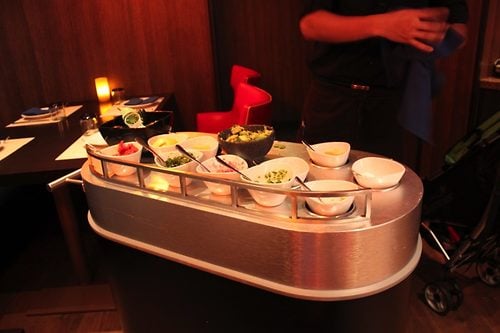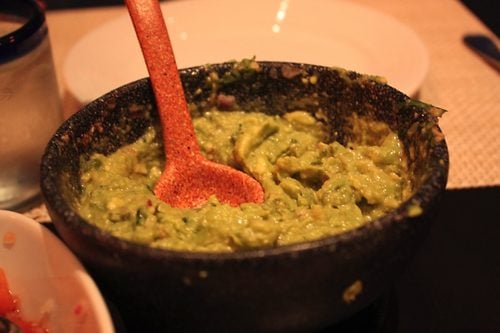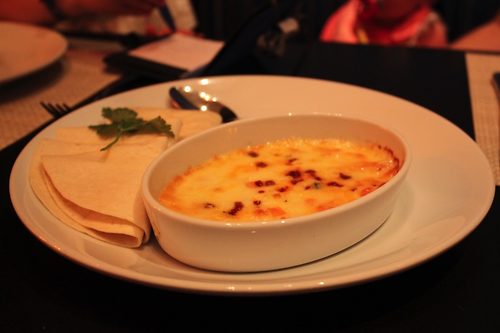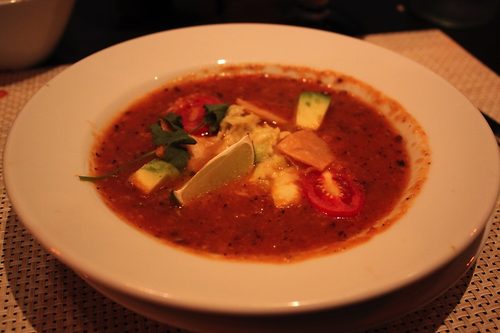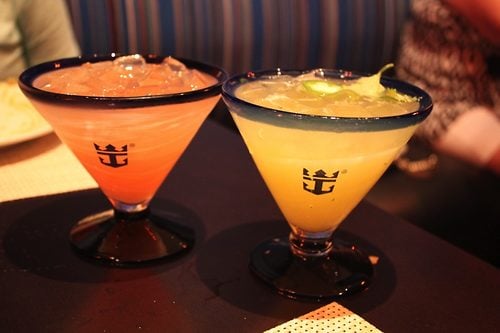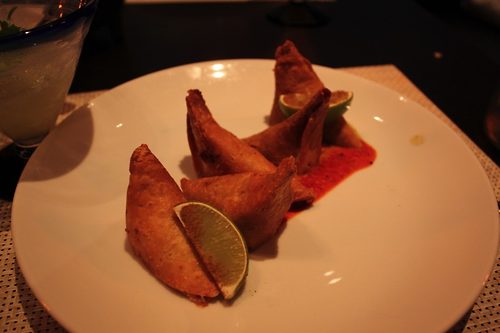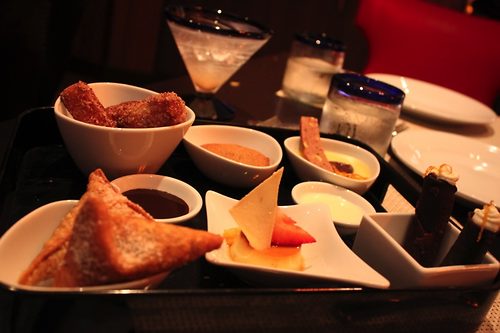 We ordered a few things off the menu and my wife and I enjoyed all of it.  My 4 year old picked at her food and we ended up going to get her pizza from Sorrento's.   As a parent, I'm frustrated at how she has regressed in her willingness to eat different foods. 
Despite my daughter, I can say Sabor on Freedom of the Seas lived up to my expectations and there really does not appear to be a difference between lunch and dinner.  We will be having dinner here later this cruise, so I can give a better comparisson at that point.
It was getting close to 2pm, so I took the 6 month old back to the stateroom for a nap and my wife took my 4 year old to Adventure Ocean and then she went to see the ice show onboard, known as Freedom-Ice.com.
I think the ice shows are quite good but my wife loves them, so I decided to let her enjoy the show sans kids while I let the 6 month old nap and I had a chance to connect with folks in #CruiseChat.
My wife reported the ice show was as good as she remembered and she also commented it is the same songs too.
Up next we went to the main pool to relax and enjoy the view.  I was happy to find the live band playing at the pool.  I really love Royal Caribbean's live music onboard and at the pool it is the best.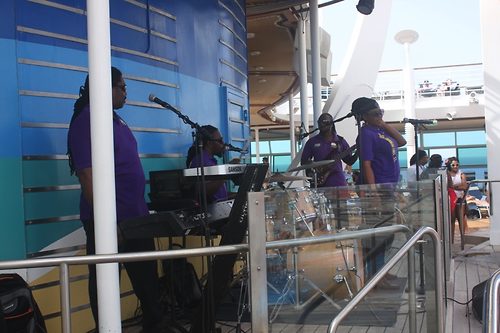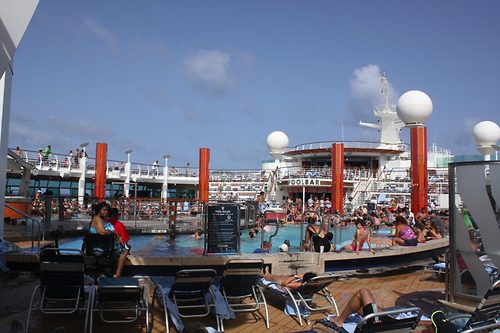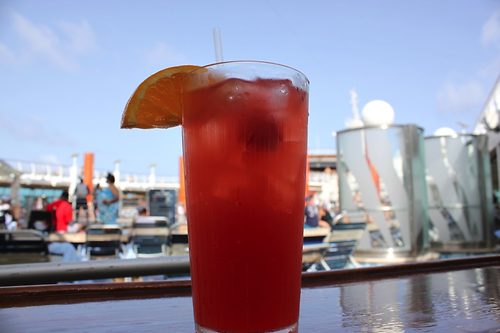 Drink of the day
Following the pool, we came back to the stateroom to get ready for dinner.  The girls got ready and I took a quick nap while most of this was happening
Our pre-dinner were the same as "usual" now.  I took my 4 year old up to the Windjammer for dinner and then dropped her off at Adventure Ocean (it was superhero night tonight).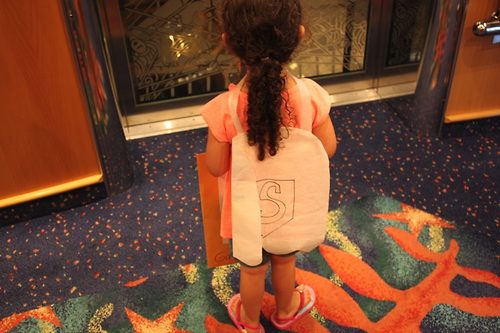 Then I returned to the stateroom to pick up my wife and 6 month old, and we took the 6 month old up to the Nursery.
Once we were kid free, we went to the casino where I briefly won some money and then subsequently lost it all on a "double or nothing" bet.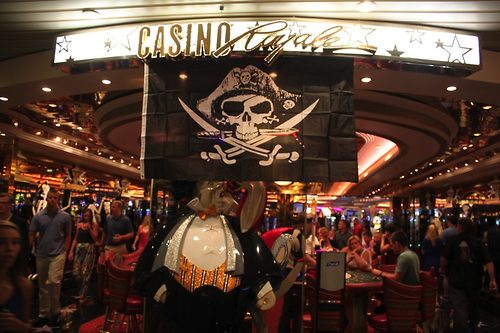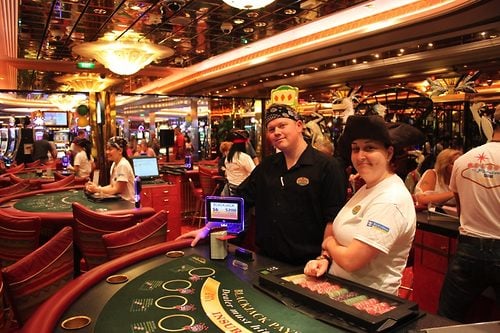 Right before dinner we went to the Royal Promenade and my wife picked out a nice ring that she wanted to wear.  Husband of the year right here folks.
At dinner it was "Italian night" and I have to say the best food of the cruise so far in the main dining room.  Even better than last night's formal night dinner in my opinion.
After enjoying dinner (and lamenting that I did not wear stretchy pants), we headed to the Schooner Bar for 80's trivia.  
We didn't win but it was a lot of fun and the host was terrific.  I was proud of myself for being the only person to get one of the bonus question's correct (What is the name of the little boy on Alf).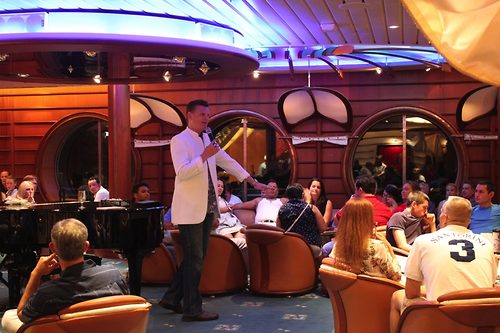 After trivia, we grabbed a quick drink at R-Bar.  Tonight's drink was the Texas Collins, another solid choice and tasty too.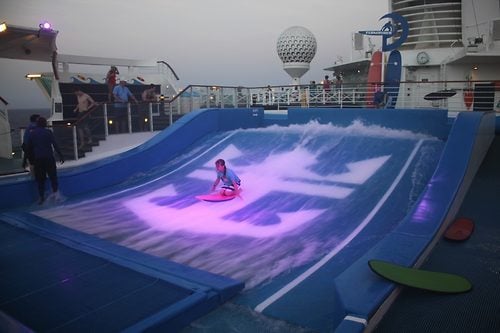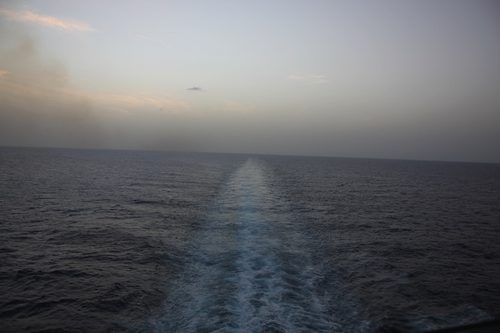 We collected both children and headed back to the room for the evening.
Tomorrow we are in St Thomas and we get to do some exploring.
Stray observations
Here is a photo of the phone you get after dropping kids off at the Nursery

Internet speeds have remained constant and I am okay with them.  I feel like staying connected around the ship is better than previous cruises.
I asked a bartender today at R-Bar if he prefers guests with the drink package or without and he said to him it is the same and there is no difference.
Royal Caribbean did not offer tickets to the ice show but it is smart to arrive at least 15 minutes early.  30 minutes would be ideal for a good spot.
The trivia games are incredibly popular.  Schooner Bar was overflowing tonight.
Vintages Wine bar does offer a handful of bottled beers.
Live Blog Index