In:
As part of my next Royal Caribbean cruise, I want to take you along for the planning process as we make decisions and plan our Royal Caribbean vacation.  I hope this will give you some insight into my thought process and perhaps this will assist you for planning your next Royal Caribbean cruise too.
Today we are going to look at excursion ideas for one of the stops on our Freedom of the Seas 7-night cruise, St. Thomas.
Background
I've been to St. Thomas about four times now and I am struggling with what to do here.
St. Thomas is quite beautiful and we have always done some sort of beach excursion.  We may work in some shopping or a tour, but inevitably we end up at the beach.  And that beach is always Magens Bay.
The reason I am conflicted is because going to the beach is easy and works well for my family.  It is low key and because I have two young kids (4 and 6 months), we cannot do something adventurous even if we wanted to.  
The other problem with finding new things to do in St. Thomas is I have come to the conclusion that a lot of the popular things to do in St. Thomas are tourist traps. 
On our last trip to St. Thomas, we did a group tour so that we could see more of the island and expand our horizons.  I felt like we just went from one tourist spot to another, so while I am always looking for new ideas, I have resigned myself to the conclusion there may simply be no escaping the touristy nature of things to do there.
The Options
After careful research, I cam up with these excursion ideas.
Magens Bay
Why mess with something that works, right? Magens Bay is beautiful and provides the kind of Caribbean beach experience most folks want when they go on a cruise.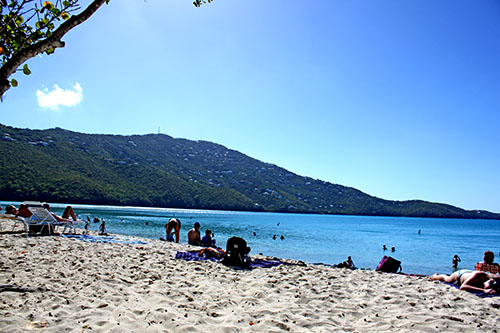 The cost to getting to the beach and the beach itself are minimal and there aren't a lot of big waves here either, which is good for my older daughter.
The biggest negative I can say about Magens Bay is that we have been here before.  Many times. 
Pros: Known entity; Great for kids; Beautiful setting
Cons: Been here many times
Skyride to Paradise Point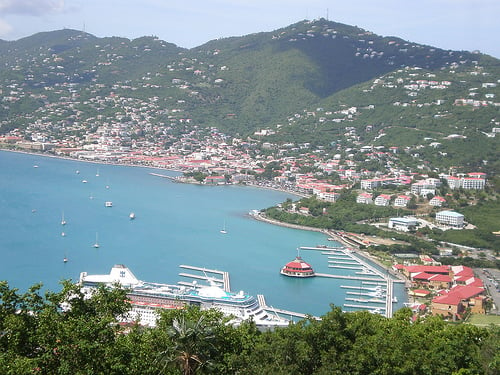 Photo by Mike LaMonaca
While browsing Royal Caribbean's shore excursions, I ran across the Skyride and it sounds pretty interesting.  Take a tram up 700 feet to mountaintop Paradise Point and enjoy the view.  
This will not be an all day excursion, but it sounds like a fun little thing to do in addition to something else on the island.
On our last trip to St. Thomas, our tour brought us to a different peak (Mountain Top) and we had a great view there, so this would be similar but from a different perspective.
Interestingly enough, everything I have read indicates it is cheaper to purchase this excursion through Royal Caribbean than going to the tram directly. It also seems like when you purchase a pass, it is good for anytime that day, so it gives us flexibility.
Pros: Great view; Easy for kids
Cons: Moderately expensive ($21.75 for adults / $10.75 for kids)
Lindquist Beach
Just like Magens Bay, Lindquist Beach is another beach option and the appeal here is it is not Magens Bay!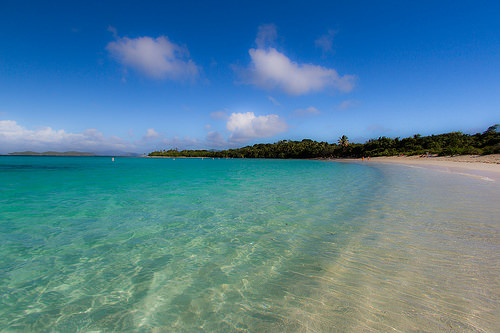 Photo by David Marriott
Based on reviews and photos posted online, it looks quite beautiful as well.  I will not waste more time waxing poetically about the virtues of a beautiful beach.
The only negative I can think of is we might go here in spite of Magens Bay and then regret not going to Magens Bay if this beach does not feel as good as Magens Bay.
Pros: Beautiful beach
Cons: Might regret not going with the #1 beach in St Thomas
Charlotte Amalie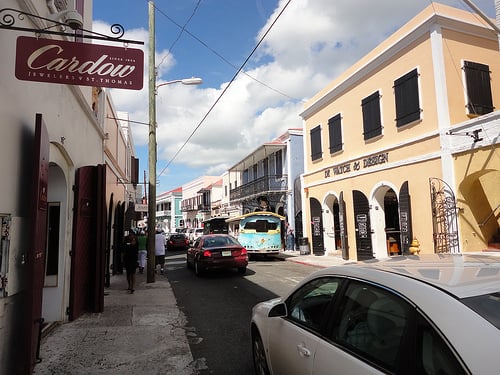 ​Photo by Andrew Love
It's been a number of years since I went to downtown Charlotte Amalie, St. Thomas' capital, and explore the city.
In other ports, we usually enjoy wandering the streets and doing some shopping along with having lunch at a local spot.  It is the kind of adventure I really enjoy.
The problem with walking around Charlotte Amalie is it will be July in the Caribbean and walking around outside sounds like a recipe for being tired and sweaty, with a pinch of whiny kids.
I could see us going here first in the morning to get some exploring in and then taking a cab to the beach to cool off.
Pros: Been a while since we explored Charlotte Amalie; Like exploring
Cons: Hot weather may make this a bad idea; Using stroller could make walking around tricky
The Decision
After considering our options, we ended up choosing.... the skyride and a beach.
We are not sure which beach we will go to yet but we are going to keep things up in the air and make a decision closer to our day.
The skyride does sound pretty neat and it is something new that we can try, so we will likely book that and check it out early in the day and then make a decision about which beach to go to.
If we were going to St. Thomas in the winter, I think there would be some other choices to consider but summer in the Eastern Caribbean means it will be simpler and more relaxing to sit at the beach.
What would you do if you were going to St. Thomas? Share your thoughts in the comments!