In:
Many Royal Caribbean ships make stops in a little piece of paradise that just so happens to be part of the United States, St. Thomas. Known as "the gateway island" of the U.S. Virgin Islands in the Caribbean, St. Thomas is known for its beaches, snorkeling and sportfishing.
Frankly, there is a lot to see and do in St. Thomas, with the island's capital, Charlotte Amalie, being a busy cruise ship port with high-end restaurants and shopping.
The First European settlement on St. Thomas consisted of four taverns. Now known as Charlotte Amalie, today it is a haven for shoppers, but was once a pirate sanctuary. Legitimate trade gained popularity in the 1700s when it was declared a free port, making it the trading center of the West Indies. More than 1.7 million cruise ship guests visited here last year to enjoy the duty-free shops, historic attractions, pristine beaches and friendly locals.
Royal Caribbean ships dock at Crown Bay or at the West Indian Dock, approximately 1 1/2 miles from downtown Charlotte Amalie. Regardless of what you choose to do, there is a lot of great choices for things to do in St. Thomas.
Magens Bay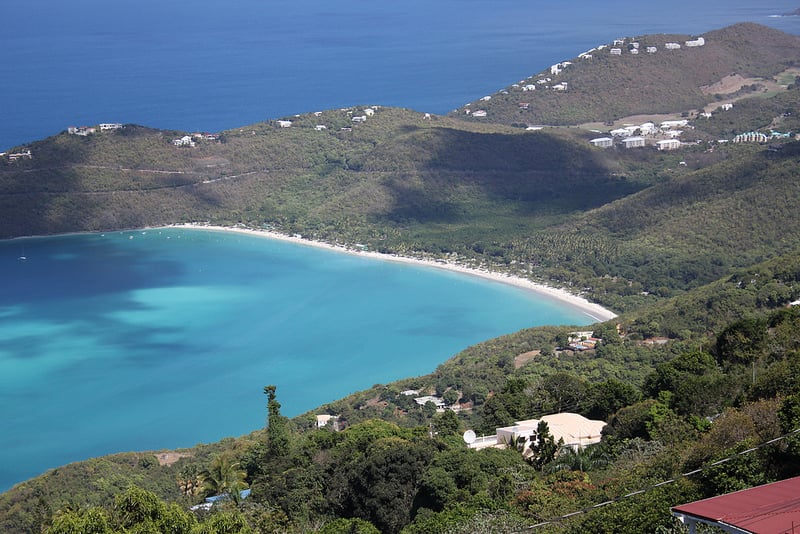 If you have ever heard of St. Thomas, you probably also heard someone mention Magens Bay, and for good reason.  Magens Bay is known for its turquoise waters and pristine sands that make for a picturesque beach getaway. Magen's Bay Beach is considered one of the world's most beautiful. Arguably, this is the best thing to do in St. Thomas on a cruise.
Once at Magens Bay, you have the choice to swim or snorkel in this gorgeous, balmy, palm-lined, turquoise bay situated along St. Thomas' coast simply enjoy the beach.
Getting to Magens Bay is fairly easy, with organized shore excursions and taxis readily available to bring guests to this idealic beach. Most excursions through Royal Caribbean include stops along the way at scenic overlooks and other places of historic significance. 
The beach has a small fee for admission, so the bulk of the cost to get to Magens Bay will be in transportation back and forth.
If you want a good alternative beach that is a heck of a lot closer to Charlotte Amalie, try Emerald Beach.
Shopping in Charlotte Amalie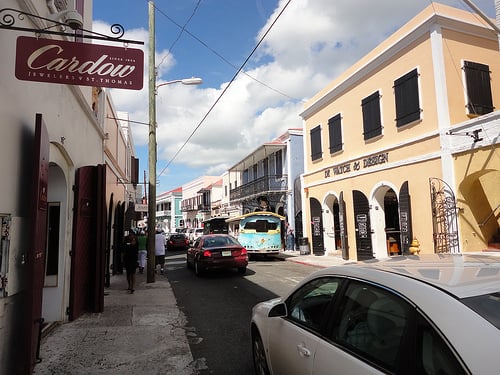 ​If exploring the island's capital is more your fancy, you will find a wealth of great shopping and dining choices in Charlotte Amalie.
There are over 400 shops along the Main Street area in Charlotte Amalie and some 50 more in Havensight Mall and Yacht Haven Grande. Often we hear the best deals are on luxury items such as fine jewelry, watches, perfume, leather, imported linens, china and crystal. Cameras, electronic goods and designer clothing are also available. Check out the selection of island rums and liquors, as well as the bargains on your favorite spirits
Charlotte Amalie's downtown and shopping area is a short taxi ride from the dock – $4 per person each way from Crown Bay or $4 per person each way from the West Indian Dock. Want to take a beautiful walk? Take a 30 minute walk to town from Havensight Mall. Be sure to wear comfortable shoes.
Skyride to Paradise Point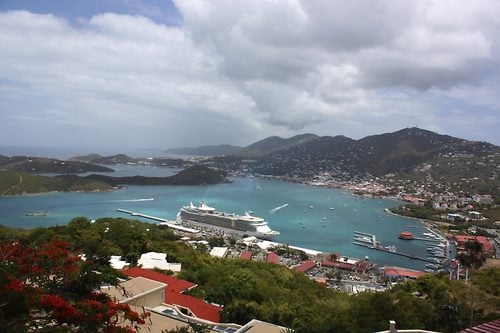 If you are going to see the Caribbean island of St. Thomas, why not see it from over 700 feet above sea level? The Skyride to Paradise Point allows guests to go to the top of a mountain and enjoy a stunning view of the island.
Guests embark on a panoramic gondola ride to mountaintop Paradise Point, where they can seer excellent views of the city and dazzling waters below. Once at the top, you have the choice to shop for souvenirs, engage in live bird shows, or savor a tasty lunch in a local café.
Getting to the skyride and up the mountain is pretty simple and the only caveat worth mentioning is there are a lot of stairs involved, so if you have a stroller or wheelchair, keep in mind that there is no alternative to the stairs.
Interestingly enough, it is cheaper to purchase this excursion through Royal Caribbean than going to the tram directly and you can do the skyride at your leisure, since it is continuously operating throughout the day.
Visit St. John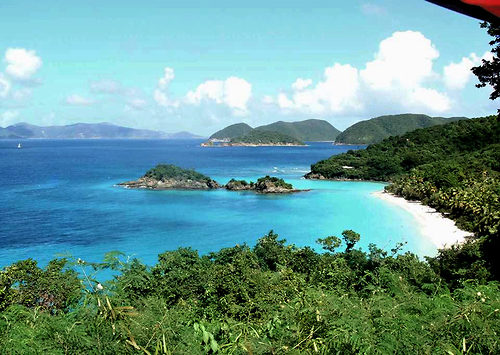 St. Thomas is a beautiful island, but its neighbor St. John is equally beautifully and far more pristine.  Many Royal Caribbean veterans opt to take the ferry to the nearby island paradise for a taste of something a little different. All you have to do is hop on the ferry from Charlotte Amalie the provides an excellent opportunity to check out the spectacular coastal scenery and soothing breezes.
St. John offers a lot, such as exploring the sub-tropical forests and semi-arid scrublands of the Virgin Islands National Park, or enjoying the quaint Cruz Bay. Perhaps you would like to hop in an open-air safari vehicle for a ride around the national park's coastal swamplands and sugar plantation ruins, viewing 800 species of plants.  Trunk Bay is known for a long stretch of white sand, sparkling water and lush foliage, and features an underwater reef trail.​
Given a ferry is involved in getting to and from St. Johns, we prefer to book shore excursions with Royal Caribbean when visiting St. John for the peace of mind associated with not missing the shop upon returning to St. Thomas.
Coral World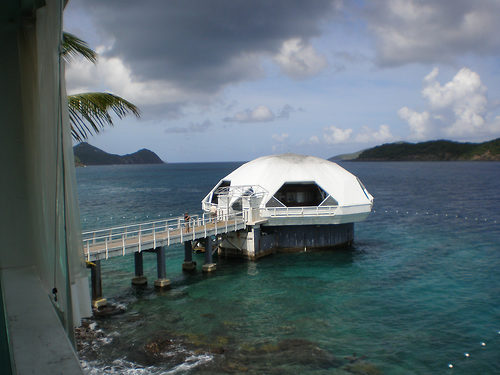 For those that want a little nature in their visit to St. Thomas, check out Coral World Ocean Park, were you can see tons of marline life without ever getting wet.
At Coral World, you will encounter a variety of marine life including sharks, stingrays, turtles and more. Coral World boasts the opportunity to see a recreated living reef and 21 aquariums in Marine Gardens.You can even pet, snuggle and take photos with sea lions or try a Sea Trek Helmet Dive. Visit the shark pool where you can pet a shark or hand feed a stingray. Visit with the Lorikeets which will flock to your arm when offered a cup of nectar.
Many guests opt to combine Coral World with a stop in Magens Bay, since the two are close by each other and offer the opportunity to experience both in one stop.
Island Tour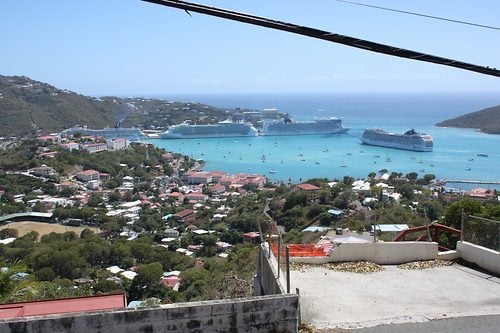 Since there is so much to see in St. Thomas, a lot of times a tour of the island makes a lot of sense. Taking a tour of St. Thomas allows you to get a "taste" of the highlights and maybe set yourself up for something on a future visit.
There are a lot of tours you can take, either on your own, with a private driver or through a group tour.  Each has its own benefits and drawbacks, and one of the big factors will be cost. Group tours will be the least expensive options, but you will be at the mercy of the pace of the group.  Conversely, a private tour will allow you to do what you want, when you want, but with the caveat that you will pay more for it.
Island tours are very popular shore excursions and available through third parties or with Royal Caribbean. When choosing, it is worth noting that traffic on the island can be an issue in the later afternoon, so getting back to the ship on time should be factored into your plans.  Of course, Royal Caribbean shore excursions promise the ship will wait for you.
A lot of the island tours will visit popular spots like Mountain Top, Drake's Seat, Bluebeard's Castle and more.
Your Thoughts
Have you tried any of the places we outlined? Do you have a recommendation for something to do in St. Thomas? Share your thoughts or questions in the comments below!