In:
Royal Caribbean and members of St. Thomas' government met yesterday to officially re-open Magens Bay in St. Thomas, which had suffered from significant hurricane damage.
Photo by TheTwangster
Royal Caribbean International partnered with the Department of Tourism, the Department of Planning and Natural Resources, the Magens Bay Authority and other government agencies and businesses to restore the world-renowned beach.
The Category 5 hurricanes caused major damage to the beach facilities, including the restrooms and food and beverage concession and gift shop. Winds and storm surge also caused significant beach erosion and impacted trees and plants along the shoreline. Cleanup crews have been working daily since the hurricanes to remove fallen trees and debris, repair buildings, and replant hundreds of native plants and trees. About 530 new trees have been planted, and 470 trees have been pruned.
Photo by TheTwangster
The ceremony included the reopening and dedication of Magens Bay, with St. Thomas, Governor Kenneth Mapp and Royal Caribbean Cruises Ltd. Chairman and CEO Richard Fain and Royal Caribbean International CEO Michael Bayley present.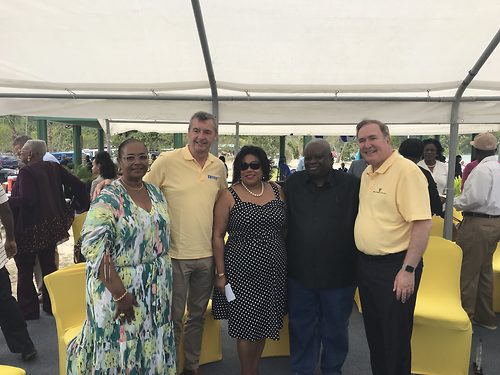 Photo by James Van Fleet
Mr. Fain shared that Royal Caribbean was keen to make a contribution to help the Virgin Islands and its people. He reported that tens of thousands of cruise passengers have visited St. Thomas since the storms and Royal Caribbean's visitor satisfaction ratings were now higher than before Hurricanes Irma and Maria came ashore.
Thursday's ceremony was particularly significant, Mr. Fain noted, because it was 47 years and one month to the day that Royal Caribbean's first ship made its first voyage, calling on St. Thomas. "This has been a long and important relationship," Mr. Fain said, adding, "It's very much a partnership."
Mr. Fain thanked the team at Royal Caribbean who took pride in the revitalization of Magens Bay. "I think they would all join me in expressing our admiration for the people here in St. Thomas for undertaking all of the work that's going on and for handling it with such aplomb and with such a commitment to make it better," he said.