In:
Our next adventure is coming up on Royal Caribbean's Freedom of the Seas and we will be LIVE blogging every day of the cruise, to share with you what it is like to experience this amazing ship.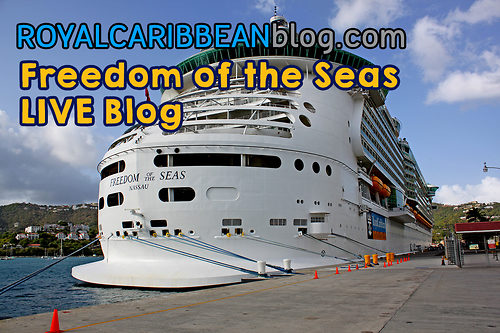 Our cruise begins later this week, but here is a cruise preview to share with you what to expect on our trip!
Our cruise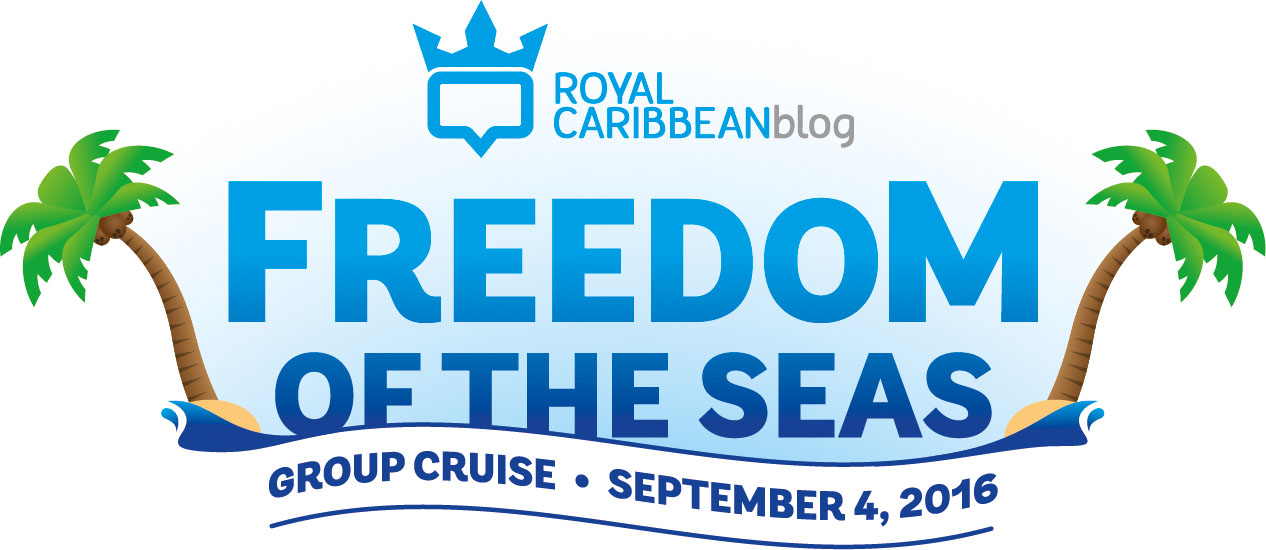 This sailing aboard Freedom of the Seas happens to be the third Royal Caribbean Blog Group Cruise, which is an event we set up earlier this year to invite everyone that enjoys this blog to sail together on a Royal Caribbean cruise.
We chose Freedom of the Seas because it is a very popular ship.  In fact, Freedom of the Seas is the ship I have been on the most across Royal Caribbean's entire fleet.  She is a large ship that offers a lot of great activities and options, and comes in at a terrific price.  In addition, we are sailing over Labor Day weekend in the United States, which means many of us will only have to take 4 vacation days.
Part of the reason I find myself coming back to Freedom of the Seas time and time again is the great variety of what she offers. Fabulous specialty dining, a fun pool deck and great entertainment every day of the cruise stacks up to offer one of the best values.  It is amusing to consider that despite the ship being barely 10 years old, her pricing relative to the newer ships in the fleet has lead to one of the best bang-for-the-buck anyone can find.
Sharing this cruise experience with my friends from Royal Caribbean Blog means that there will be lots of friendly faces aboard the ship. As I mentioned, this is our third group cruise, and each one has been even more fun than a normal cruise because we run into friends all over and that means we get to cruise with other Royal Caribbean fans that "get" just how fun and amazing a Royal Caribbean cruise can be.
Our stateroom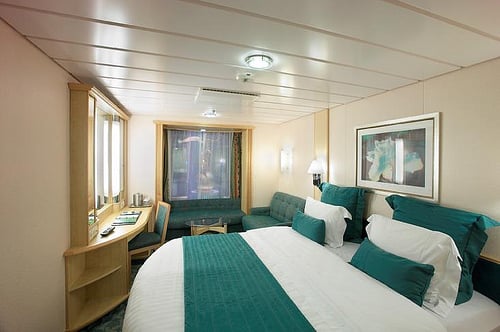 For this cruise, we are trying something new and different to us, a Promenade view stateroom.  We reserved two connecting Promenade view rooms because we wanted to keep our cruise fare low, without compromising on having a view.  
I have two children, ages 1 and 5, and I think they will love the endless viewing opportunities a room like this offers.  Plus, the bay window in Promenade view rooms provides a little extra living space with that couch near the window.
As a parent, we chose two connecting rooms instead of one larger room to provide extra living space, get an extra bathroom and get separation from our children (especially at night time). We love our kids, but need sharing a room with two young children is not always preferable, so having that extra room means they can sleep on their schedule and they also have their own space to play together.
Our itinerary
We are sailing on a 7-night Western Caribbean cruise aboard Freedom of the Seas, that will take us to cruise ports we love.  While there are no ports of call that are new to us, we are getting a chance to re-visit some favorites.
| | | | |
| --- | --- | --- | --- |
| Day | Ports of Call | Arrival | Departure |
| Sunday, September 4, 2016 | Orlando (Port Canaveral), Fl | -- | 4:30 pm |
| Monday, September 5, 2016 | Cruising | -- | -- |
| Tuesday, September 6, 2016 | Labadee, Haiti | 8:00 am | 4:00 pm |
| Wednesday, September 7, 2016 | Falmouth, Jamaica | 10:00 am | 7:00 pm |
| Thursday, September 8, 2016 | George Town, Grand Cayman | 8:00 am | 4:00 pm |
| Friday, September 9, 2016 | Cozumel, Mexico | 10:00 am | 7:00 pm |
| Saturday, September 10, 2016 | Cruising | -- | -- |
| Sunday, September 11, 2016 | Orlando (Port Canaveral), Fl | 6:00 am | -- |
Two of my favorite Caribbean ports are Labadee and Cozumel.  In Labadee, we rented a beach cabana so that the kids can have a comfortable place to relax and have easy access to the beach.  I love the cabanas at Labadee for the privacy and perks they provide.  I prefer the over the water cabanas for the added privacy, but with the kids being as young as they are, a beach cabana makes it far easier for them to get to and from the beach.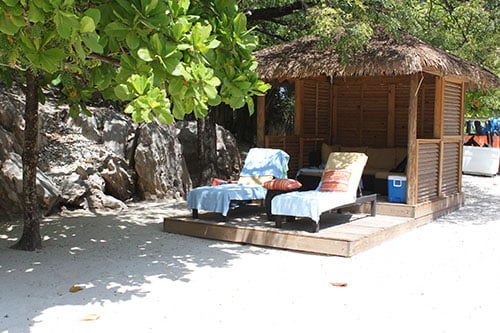 When I visit Cozumel, we just explore San Miguel and do a combination of eating, shopping, more eating and generally wandering the town (with some eating along the way).
On this cruise, we are visiting Grand Cayman for the first time in a while, and we have something super fun planned. I have invited everyone that booked into our Royal Caribbean Blog Group Cruise to join us on a private yacht excursion.  We found a great chartering service in Grand Cayman, that has a 55' yacht that offers three staterooms, two bathrooms, a full kitchen, jet ski, sun loungers, stereo and a whole lot more.  Plus, we get to go wherever we want around the island! This is going to be such an incredible experience that I get to share with my friends from Royal Caribbean Blog!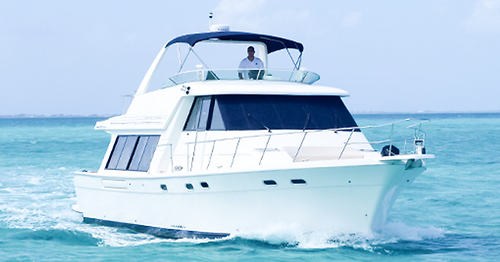 Three things I am excited to try
I have a lot of plans for this cruise, but here are the top five experiences and activities that I am most excited to do on this sailing.
3. Eat at Sabor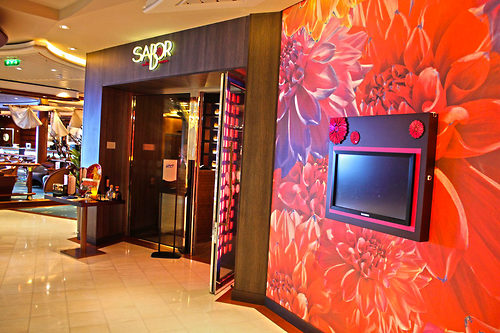 Hi, my name is Matt and I am a Sabor addict.
Hi Matt.
I make no apologies about how much I really, really love Sabor Modern Mexican, and cruising on Freedom of the Seas means I get yet another chance to eat here a few times. Between the amazing guacamole, hand-crafted margaritas and tuna tacos, not sure how I will be able to bring myself to dine anywhere else onboard.
2. Try the ultimate drink package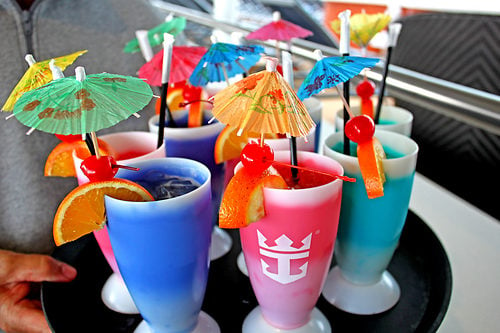 For this cruise, I booked Royal Caribbean's ultimate drink package prior to my cruise.  I generally do not buy the drink packages because I do not feel I can get my money's worth from them to make it worth my while.  But I changed my tune for this sailing for a few reasons. 
First, the drink package was discounted 20%, which means the difference in price between the premium drink package and ultimate drink package was $5 per day.  That means I have to drink just one coffee from Cafe Promenade a day to break even.  I was planning on doing that anyway, even before the drink package.  
Second, the drink package allows me to lock-in my beverage costs for this cruise, and that means my SeaPass bill at the end of the cruise will be much smaller. Breaking up the total cost of the cruise is a major benefit of all the drink packages.
Third, I have never tried the ultimate drink package, so this will be an opportunity to see how I do with it.  One of the top reasons I avoid the drink packages is because I feel that I drink for the sake of drinking when I have them, so we will see if that holds up or not.  I plan on documenting in each live blog post how many drinks I had that day to account for the value the drink package provided me.
1. Promenade view room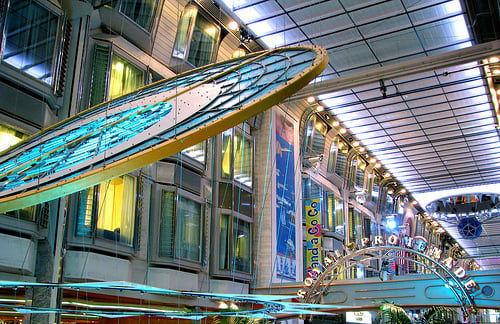 As I noted earlier, this will be my first time staying in a Promenade view stateroom.  While I have poked my head in a few over the years, this is the first time I will stay in one.  
My hope is the kids will really enjoy the view, especially when there is the first parade on the Royal Promenade that is often late at night. Moreover, I want them to find their own value from being able to see all the action on the Royal Promenade from the comfort of their room.
Personally, I am excited to see what the experience is like and have convenient access to the Royal Promenade. I seem to spend more time on the Royal Promenade than other places onboard, so being close by makes sense.
What's next
Our Freedom of the Seas cruise begins on Sunday, September 4th and I will be sharing the details on the blog, as well as across my social media channels.  Be sure to follow me on Twitter, Facebook, Instagram and Periscope for live updates throughout the day.
I invite you to share in this experience with me, by posting in the comments for any blog post questions and comments you may have.  I try to make these live blogs as interactive as I can, so I want everyone to feel welcome to share their thoughts.
Thanks for reading all of this and welcome aboard our next fun live blog experience!