Freedom of the Seas Live Blog Day One- Embarkation Day
In:
It is finally here! After months of waiting, our next Royal Caribbean begins on a Royal Caribbean ship I have been on the most, Freedom of the Seas.
We arrived in the Cocoa Beach area yesterday, following through with a piece of advice I always dole out, which is to arrive to your embarkation port at least a day early.  This ensures any travel delays will not impact your cruise and your vacation begins a little earlier!
This morning, we woke up bright and early and got to Terminal One of Port Canaveral at 9:30am.  To my surprise, the terminal was open for check-in and after parking the car, we went in to check-in and get situated.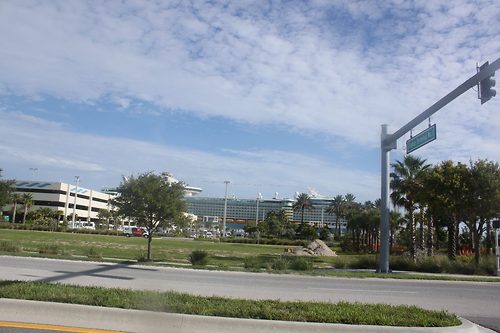 Check-in was simple enough and as you might imagine, no lines at that time of day.  I heard from other cruisers later on that the lines for security got significantly longer as the day wore on, so arriving early to the terminal on embarkation day is a good idea.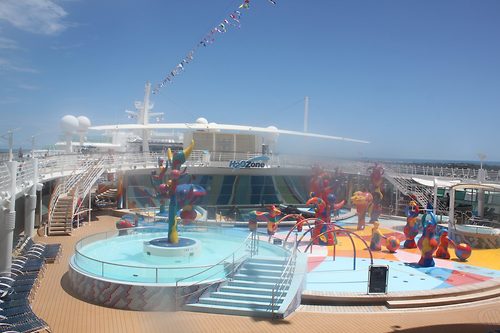 Also surprising was the fact that we were let onboard pretty early.  I was onboard at 10:30 and at the Windjammer by 10:45.  Love it!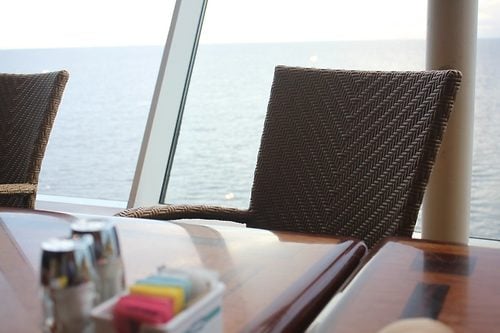 We had our traditional first meal onboard, enjoying the great variety of food available and without much fuss.
Following lunch, we walked around the Royal Promenade and just waited for the room to be ready. Traveling with a family, we tend to pack similarly to the Army of the Potomac, so it is easier to find a spot onboard to relax and wait for staterooms to be open at 1pm. We found such a spot at Boleros on deck 4.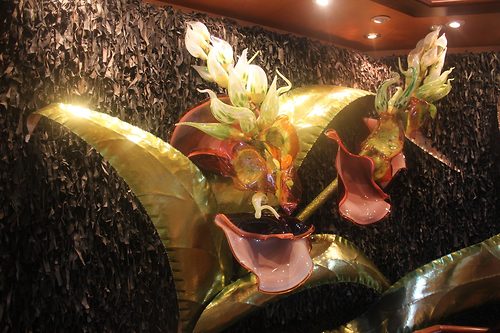 I also took this opportunity to enjoy our first drinks of the cruise, a frozen mojito for myself and a margarita for my wife.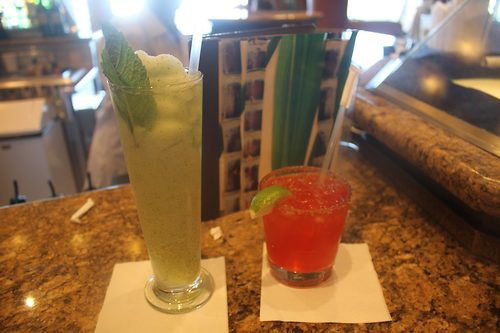 We sipped our cocktails while the kids played somewhat quietly.  I would love to hear any reader suggestions for what to do in these hours before the room is ready from other parents.  We did have swimsuits, but the idea of getting changed in a restroom did not really appeal to me.
The staterooms were promptly ready at 1pm and we checked out our new home for the next seven nights.  We reserved connecting Promenade View rooms, which is our first time staying in this category.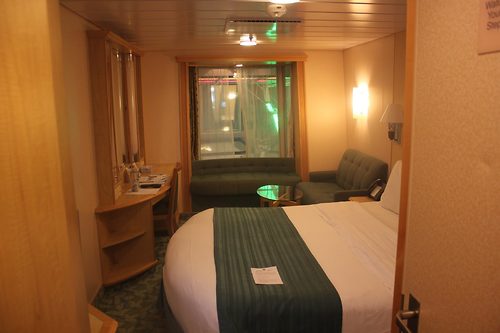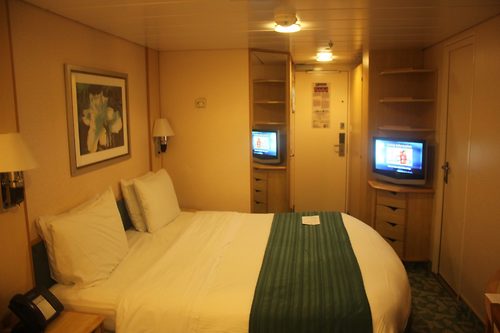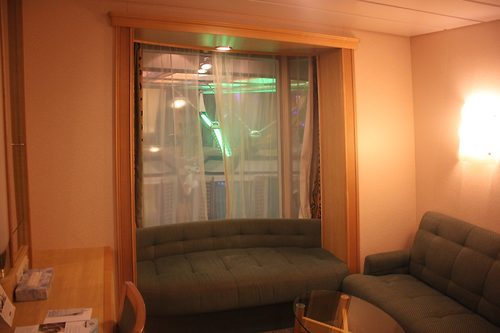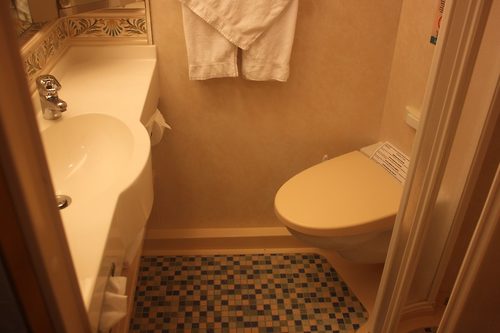 With two rooms, we have a good amount of space for us and most importantly, separation from the kids when it comes to sleeping.
We headed up to Adventure Ocean to register the kids for that and the Nursery.  Royal Caribbean limits the nursery reservation of time to 16 hours, but after day 4, they allow more reservations. My wife is apprehensive that there may not be enough reservable time as we like, but based on prior experience, I am reasonably optimistic.  Granted, our group alone has brought about 4-5 toddlers onboard.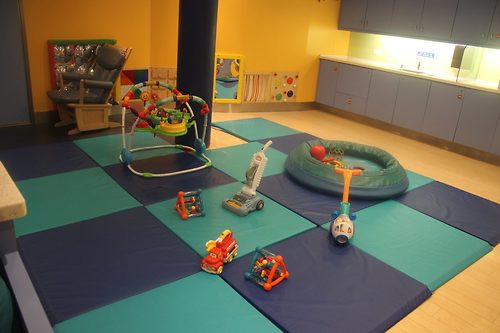 Next was time for our first meet of the cruise, the Go with the (Lava) Flow meet in the Olive Or Twist lounge. Great drinks with a great view and perfect way to kick off our cruise.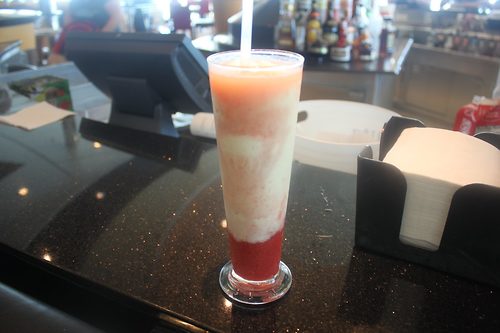 Muster drill was the usual event, and I appreciated the crew members that stood our kids at the front of the line and allowed us to leave a minute sooner than everyone to beat the crowd with kids!
For sail away, we organized another meet up at the helipad.  Great idea, but it was so hot out!  Luckily, we found some shade nearby.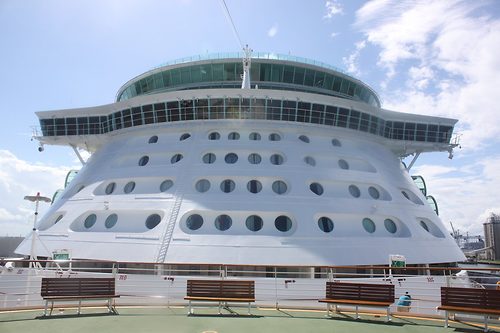 I took this opportunity to stop by Cafe Promenade and grab my first Starbucks of the cruise.  Suddenly, the ultimate drink package is wonderful!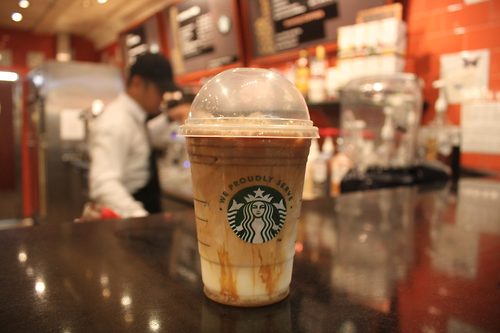 Back outside for sail away, we were delayed a bit because of some late luggage, but we left soon enough and on our way!
I headed back to the room after sail away for us to shower and get ready for dinner and our evening events.
While my wife got ready for dinner, I took the kids down to eat some food and to meet Po from Kung Fu Panda. Mission:accomplished! And for those keeping score at home, they do have 3D films in the Royal Theater, with Kung Fu Panda 3 shown tonight.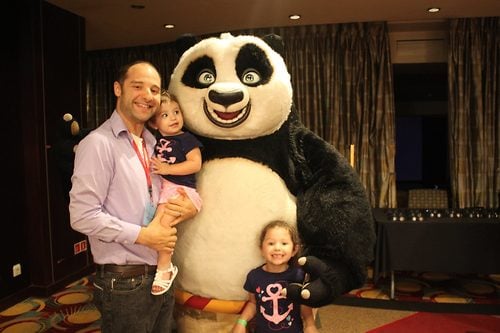 Along the way, I happened to run across the Izumi Express sushi available on Freedom of the Seas.  Earlier this summer, Royal Caribbean started offering Izumi-quality sushi for purchase.  On Freedom of the Seas, it is available from Sorrentos.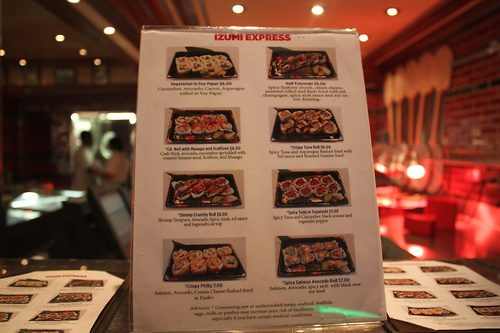 The sushi options were similar to what I saw on other ships and definitely an improvement what I have ever had at the Jade area of the Windjammer on previous cruises in the Windjammer. That being said, there is no more complimentary sushi available in the Jade section.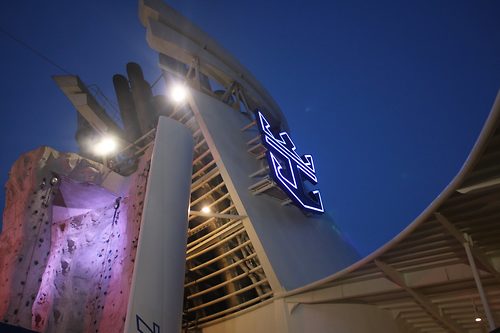 Adventure Ocean on day one is always a little odd in terms of scheduling but on this sailing, Adventure Ocean opened at 8:30pm, which is great.  We dropped my youngest off at the nursery at 8 and took my oldest daughter came with us for dinner in the main dining room for just about 20 minutes and then dropped her off after the appetizers.
Dinner in the main dining room was great, as usual, and the highlight of my meal was the coffee ice cream.  Perfect!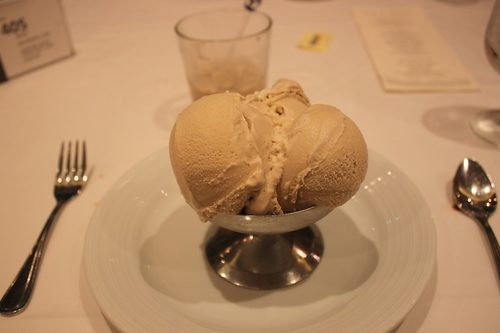 After dinner, we picked up the kids and headed back up to the room for an early evening.  We need energy for tomorrow.
Tomorrow is a sea day, with lots of exploring to do!
Stray Observations
Embarkation was among the quickest I have ever experienced, although I do admit I got there super early.  Still, the key is to arrive early to avoid those lines.
Check out the pricing for Sabor and Giovanni's Table.  $1 cheaper than usual, and I think it is because they want to make the price look more attractive at being just under the usual price point. Kind of like why things are $19.99 instead of $20.


Interestingly, I spotted on the Cruise Compass there is a note that Royal Caribbean's security officers now wear body cameras.  I spotted one officer wearing it when we boarded.  Definitely something new (to me).

The main dining room has a new kids menu, or at least a new presentation.

There are always embarkation day deals for specialty restaurants, but today at Sabor they were offering 20% off plus a free margarita. 
I wanted to tally the drinks I had each day to figure out how close I am coming to breaking even.  So at the end of every blog post, you will find my drink count.  Today's count is 7 alcoholic cocktails and 1 Starbucks drink. I came out a bit ahead, although I freely admit 2-3 drinks were drinks I ordered for the sake of ordering.  Still, off to a good start!