In:
After 15 months, the first Royal Caribbean cruise ship is sailing from the United States.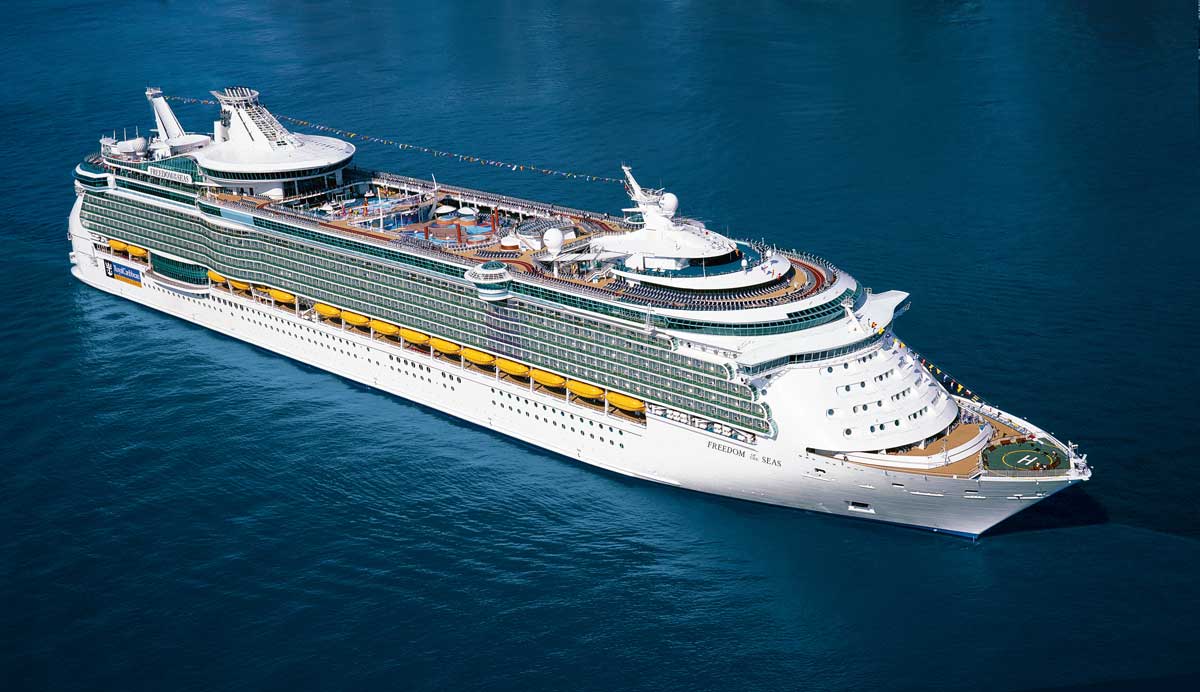 Royal Caribbean's Freedom of the Seas is departing Miami today to begin a short 3-night weekend cruise, but the significance of her sailing is far more important than where she goes.
The cruise industry has been mostly shutdown since 2020, and while a couple of other ships have restarted around the world, all eyes have been focused on cruising's restart in the United States.
On Freedom of the Seas from Miami, Royal Caribbean will allow vaccinated and unvaccinated guests, although there are different rules about where you can go if you are unvaccinated. 
Before the cruise, Royal Caribbean gave passengers the choice of volunteering that they are vaccinated.  If you do not wish or skip showing proof of vaccination at check-in, your SeaPass card will be punched with a hole.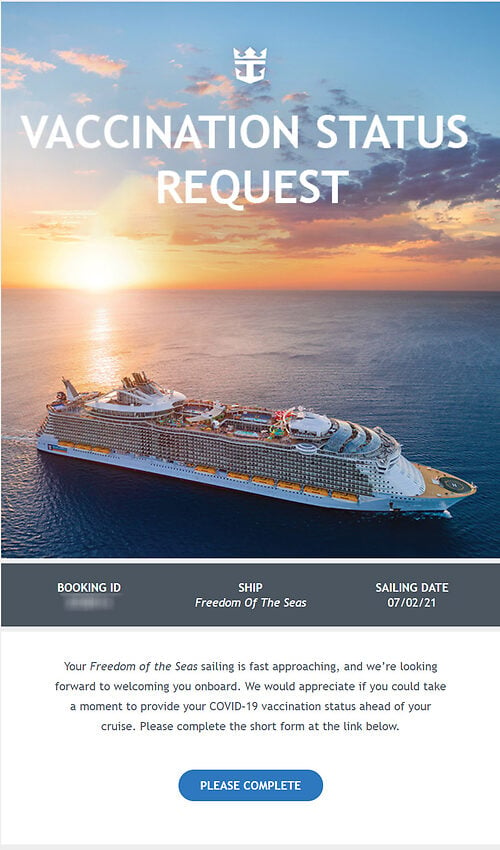 The health protocols in this post are for Freedom of the Seas sailings from Miami in July, and the cruise line has emphasized that protocols will vary depending on the ship and departure port. Moreover, protocols could change for Freedom of the Seas as various health organizations and the federal government changes requirements and recommendations.
The line has made some bars, lounges, restaurants, and events for vaccinated guests only, with no masks required. This includes:
Chef's Table
Izumi Hibachi & Sushi
R Bar
Schooner Bar
The Pub
Viking Crown Lounge
Solarium Bar
Solarium Pool
Casino Royale 
Casino Bar
Vitality Spa
Each scheduled event is designated if it is available to vaccinated guests only or not.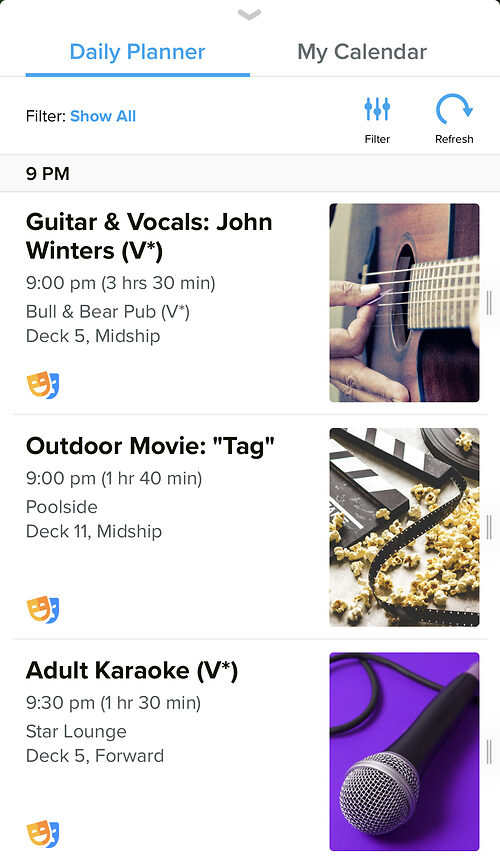 Unvaccinated guests will also need to pay for additional Covid testing.
Upon check-in, if you volunteered the information that you were vaccinated, you will be asked to show your vaccination card, at which point you will get a wristband to wear during the cruise to indicate to guests and crew you are vaccinated.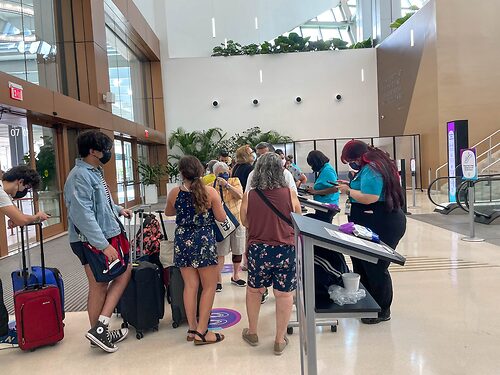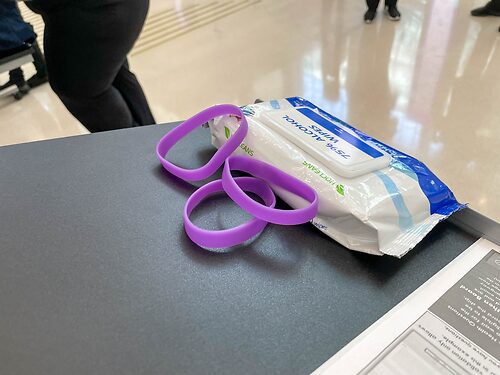 Unvaccinated guests will not have a wristband, and will get a hole punched in their SeaPass card.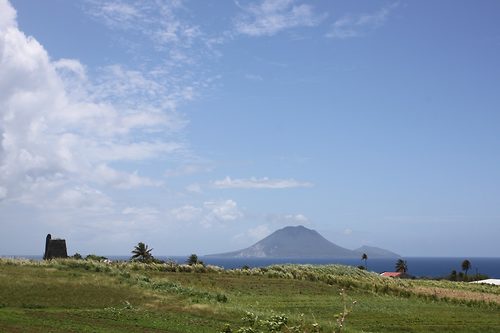 In addition, masks are required to be worn in the cruise terminal and inside the ship for vaccinated or unvaccinated guests.  No masks are required outdoors.  
One major difference between Freedom of the Seas sailings from Miami and Adventure of the Seas sailings from The Bahamas is vaccinated guests need to wear masks while indoors onboard Freedom, whereas vaccinated guests do not have wear masks indoors on Adventure.
Around the ship, the designated areas for vaccinated guests have signs to remind guests of which areas are off limits.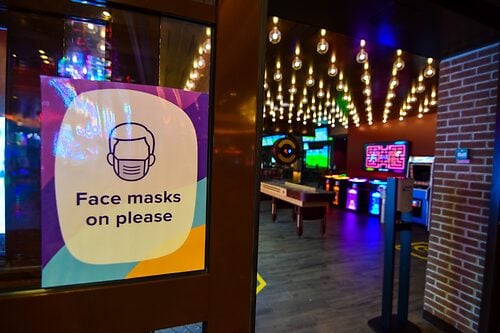 Children's programming in Adventure Ocean and the teens club are operational, with limited capacity in the clubs to ensure the area does not get too crowded.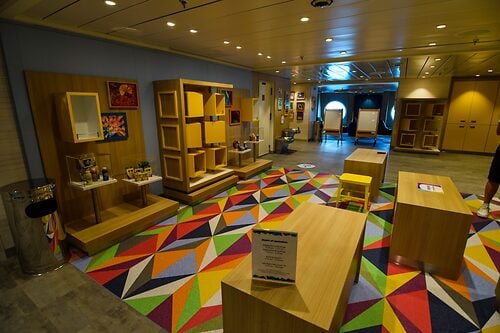 Revamped Adventure Ocean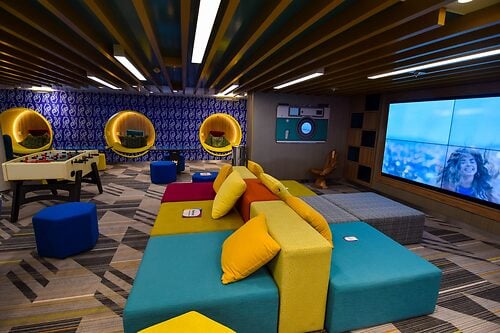 Teen club
The vaccinated spaces have signs, and are even roped off in some cases, to mark areas available to vaccinated guests.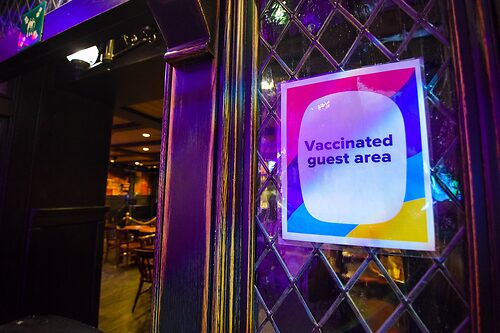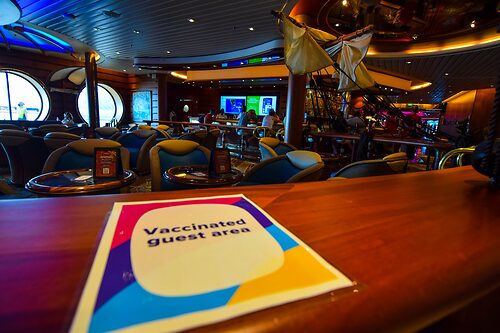 New muster drill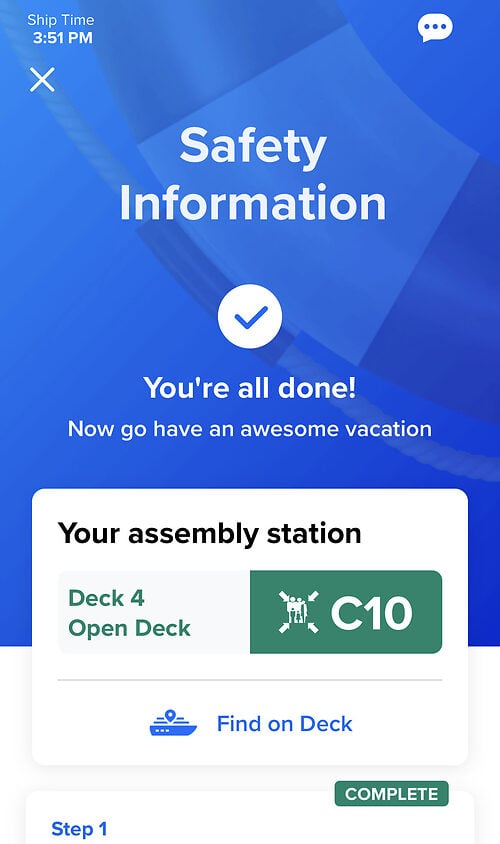 Perhaps the best new change is the refactoring of the cruise ship safety drill.
Instead of lining up at your muster station at a designated time, guests can now do the drill on their smart phone, tablet, or stateroom television.
Guests watch a short safety information video, listen to what the emergency alarm sounds like, and then go downstairs to their muster station to verify they know where it is.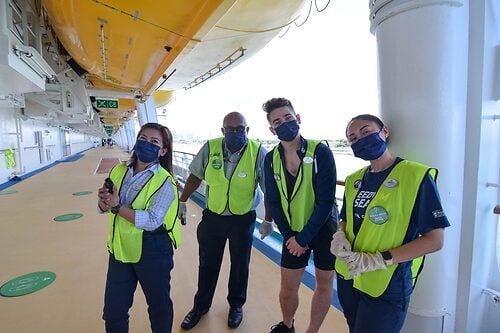 The new muster drill is significantly faster, less burdensome, and does not require the entire ship to shutdown while everyone does the drill.  This is a very welcome change for guests, and an incredibly simple process to follow.
Dining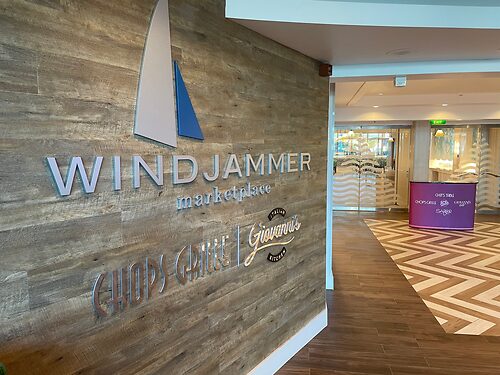 The dining options onboard are similar to what they were before the cruise industry shutdown.
There is still a buffet available for breakfast and lunch (they are closed for dinner), with a few different rules.
The buffet is full service instead of self-service, so the crew members will serve you the food.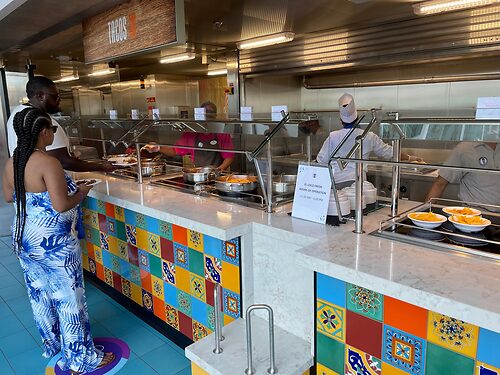 In addition, there is limited capacity in the Windjammer.  Guests can make a reservation for a time, or simply walk up and see if there is space.  On our Adventure of the Seas sailings last week, there was never an issue with getting into the Windjammer.
In the Main Dining Room, there will be designated areas for vaccinated and unvaccinated reservations to dine separately.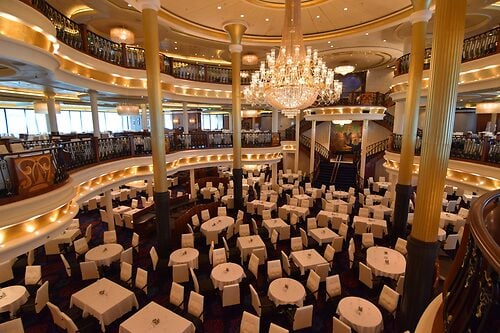 My Time Dining will not be available to unvaccinated guests. 
How is it being on a cruise ship with the new protocols?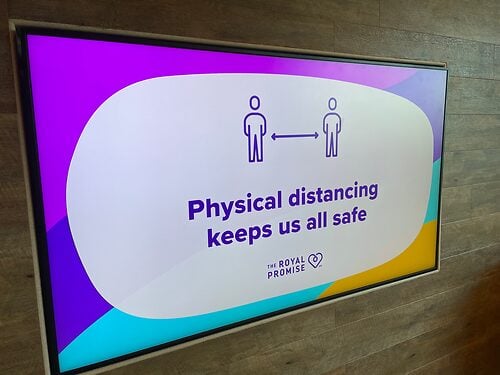 The overwhelming question everyone wants to know is what is it like to be on a cruise ship with the new rules in place.
As someone that is fully vaccinated, there are more areas available to enjoy and no restrictions.
The most noticable difference is the mask mandate while indoors (no masks required outside), which is far from ideal considering mask requirements for vaccinated people at home are eroding quickly in most restaurants, theme parks, hotels, and supermarkets.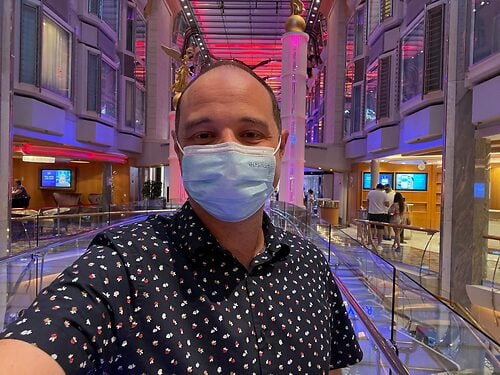 Having been onboard for less than a day, my early thought is I will spend more time thinking in advance where I will go next, rather than leisurely walking around to explore.  That way, I can reduce the time needed where I am required to wear a mask.
Moreover, the limited capacity onboard (around 1,000 passengers on this sailing) means no lines or waiting for popular activities and attractions. 
But at the end of the day, being back on a cruise ship feels great. As a Floridian, being able to drive to a ship instead of flying is a welcome return.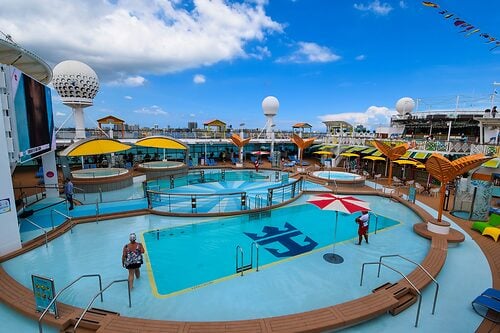 Many cruisers I spoke to onboard are equaly eager to be back onboard and relish the opportunity, masks or not.
Others may find the rules too much at this time, and wait things out a bit longer until protocols change.  Royal Caribbean has said it expects government requirements to change regarding health protocol requirements, including possibly masks.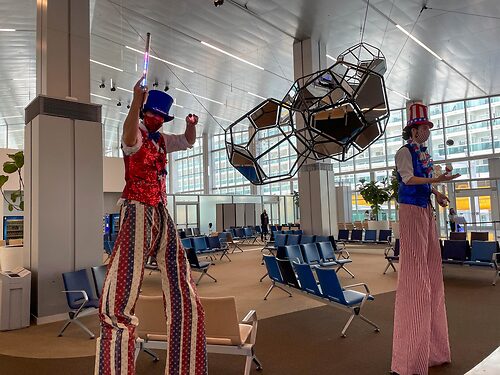 Based on sales, there is strong demand for cruises this summer as many flock to get back to travelling.
I will have regular updates throughout this sailing to provide a look at what the first cruise ship to sail from the United States looks and feels like.