In:
If you have read this blog at length, you may know that I am a really big fan of Sabor Modern Mexican specialty restaurant.  
Ever since Royal Caribbean first added it to Navigator of the Seas and I had my first taste of homemade guacamole and first sip of hand crafted margaritas, I was hooked.
Since then, to my pleasure, Royal Caribbean has added Sabor Modern Mexican to a number of cruise ships, including Freedom of the Seas as part of a refurbishment that occurred in early 2015.
While on Royal Caribbean's Freedom of the Seas, I just had to eat at Sabor and enjoy it again. 
Will my love for Sabor Modern Mexican continue and can this restaurant continue to win me over with amazing food and drink?  Let's find out!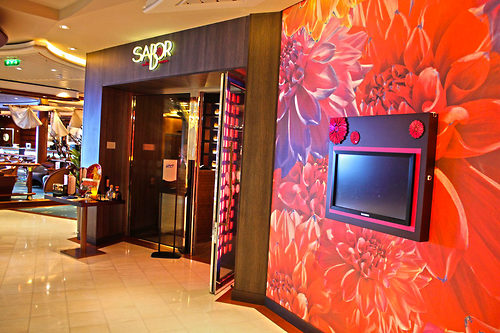 Atmosphere
Sabor Modern Mexican is located on deck 4 of Freedom of the Seas, in the spot where the night club once existed and across the hall from the Schooner Bar.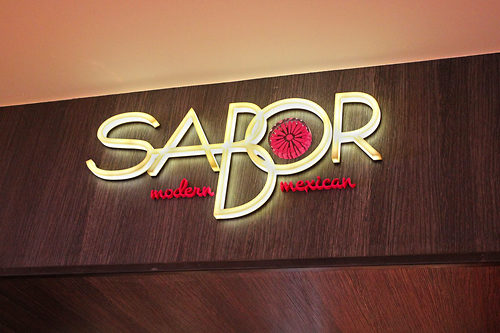 Much like Navigator of the Seas, Sabor Modern Mexican on Freedom of the Seas is nearly identical in look and layout.  You will find lots of browns, reds and oranges that accentuate a modern restaurant look and feel.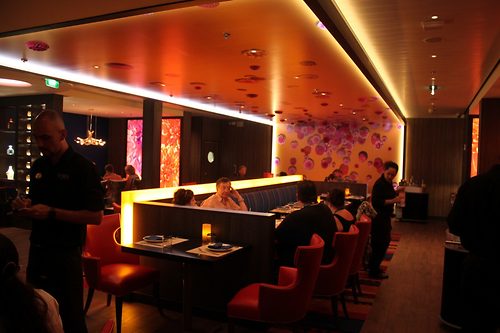 Sabor Modern Mexican definitely does not look like a typical Mexican restaurant found in the United States, with sombreros, art involving mules and mariachi band music playing.  Instead, Sabor Modern Mexican has the kind of vibe that you are in a hip new restaurant that opened in a city close to you and if not for the food, there is not a whole lot here that says Mexican simply by looking at it.
The restaurant is laid out in a sort of rectangle, with a set of tables in the center and tables and booths around the edges.  It is not a large space but it can comfortable fit a lot of guests inside.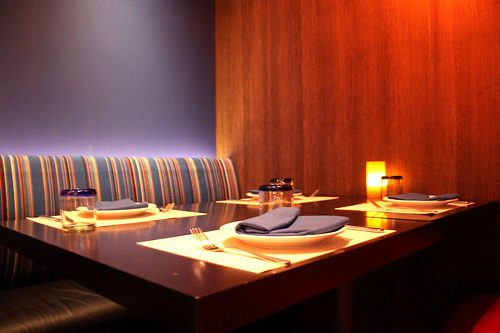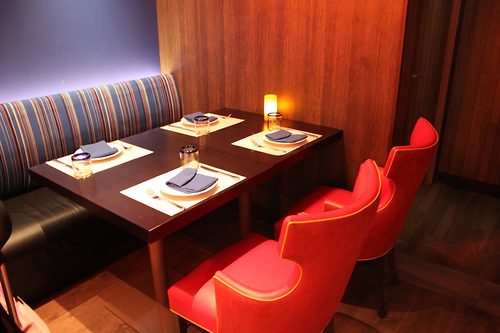 Inside Sabor, you will find a lot of colorful flowers and woods.  There is also a larger table near the entrance for bigger groups.  Recently, Royal Caribbean has been adding one large table near the entrance that has the most interesting decor.  Perhaps that is an indication to bring more friends with you!
Eats
On Freedom of the Seas, we elected to eat at Sabor twice.  Frankly, I am surprised it was not more than that.  
Sabor is open for lunch on sea days and dinner on every evening.  There are slight menu differences, with the lunch menu offering a couple less options than dinner but otherwise the experience is indistinguishable.  For the purpose of this review, we will refer to both experiences interchangeably unless otherwise important to note.
After being seated, your server will welcome you with menus and offer you chips and salsa as well as the option of having a bowl of guacamole made in front of you.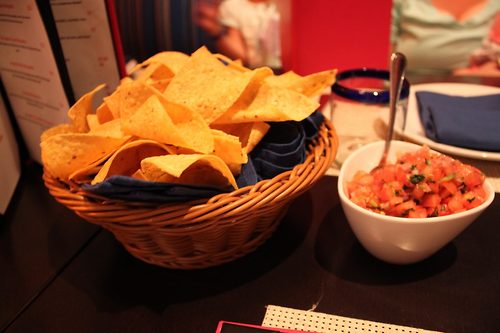 The guacamole is made via a portable cart that has all the ingredients.  Guests can tell the waiter how spicy (or un-spicy) the guacamole should be and if there are any ingredients you want less or more of.  
It is quite interesting to watch the guacamole be made and in just minutes, your guac will be ready for you to eat.  In my opinion, this is the best guacamole I have ever eaten and I could easily come to eat the guacamole and chips alone.  I was very happy to find the guacamole on Freedom of the Seas lived up to the expectations I had from Navigator of the Seas!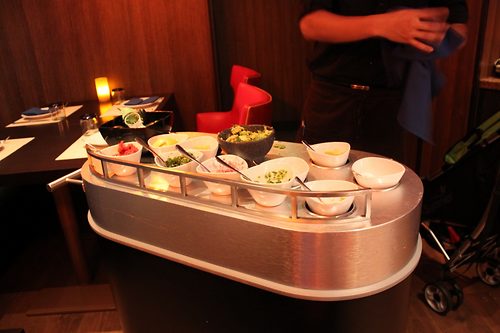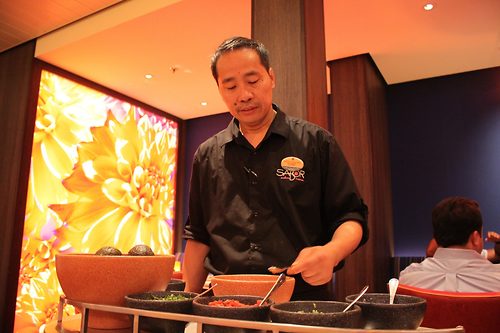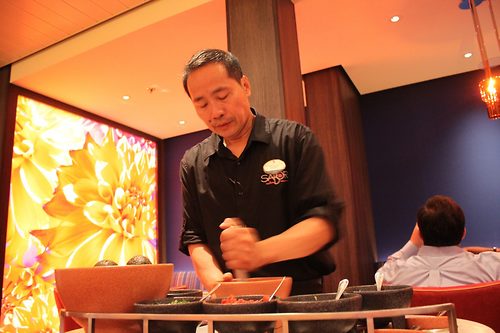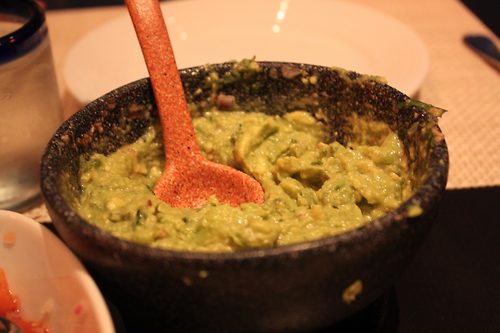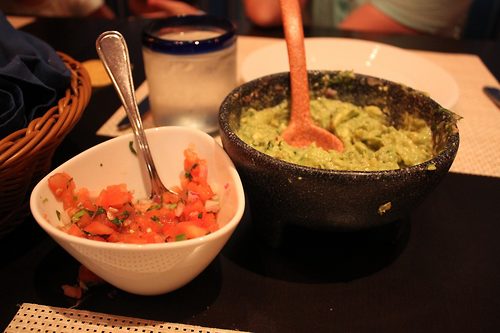 For beverages, guests may order from a variety of drinks.  All beverages beyond water have an extra charge to them unless you happen to have a qualifying beverage package.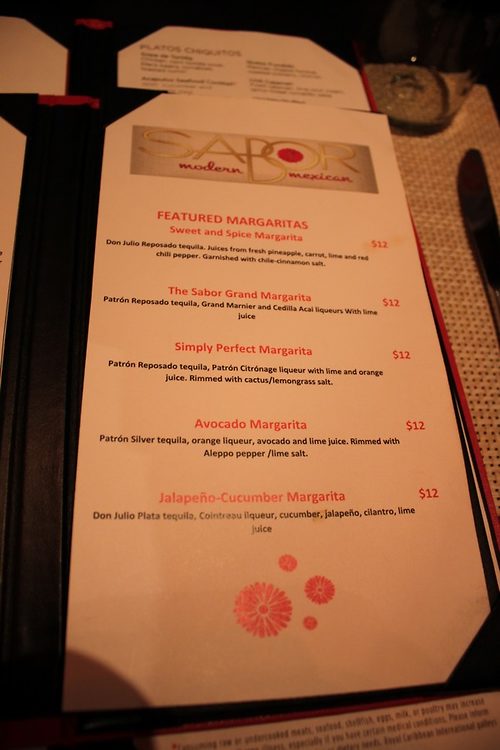 We opted first to try the handcrafted margaritas. Just like the guacamole, a different cart is brought to your table to have the drinks made for you.
 There are only two margaritas (sweet and spice margarita and Sabor Grand margarita) that are brought to your table to be made in front of you, while the rest are made at the bar.  
Being that we enjoy a show, we opted for the handcrafted margaritas (when in Rome, err... Mexico City, right?).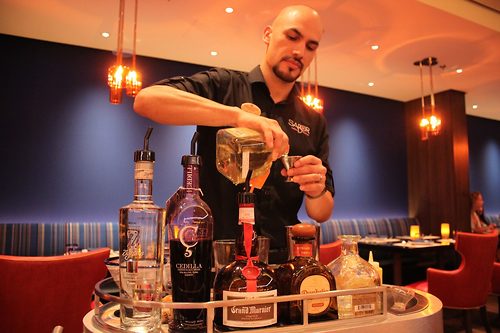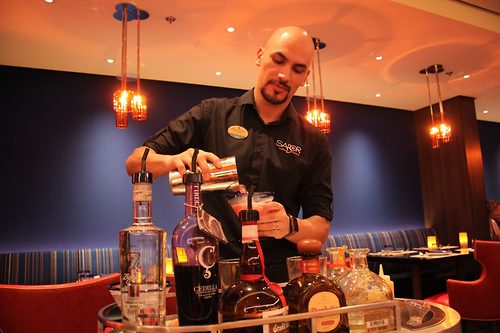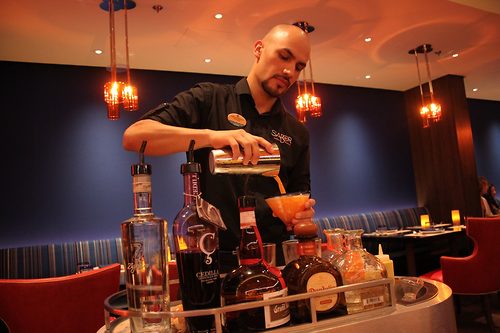 Watching the margaritas being made was enjoyable and tasting them was even better.  The drinks are large and have some fantastic flavor that certainly masks the alcohol inside.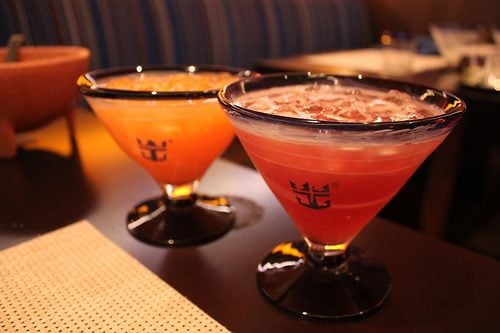 Sweet & Spice Margarita and the Sabor Grand Margarita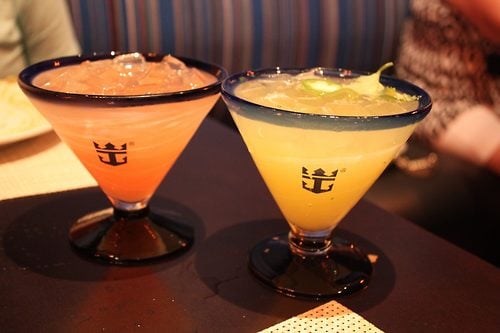 Simply perfect margarita & Jalapeno-Cucumber Margarita
The Sweet and Spice margarita is quite interesting because it tastes sweet as you drink it, but after you swallow, you get a spicy kick to it.  Very interesting!
I also wanted to try one of the tequila flights available, after a friend recommended it.  There are two tequila flights to choose from: the vertical tequila flight and the horizontal tequila flight.
Do not ask me what the difference is but the horizontal flight is slightly more expensive and comes highly recommended by our waiter.  I went with the horizontal flight!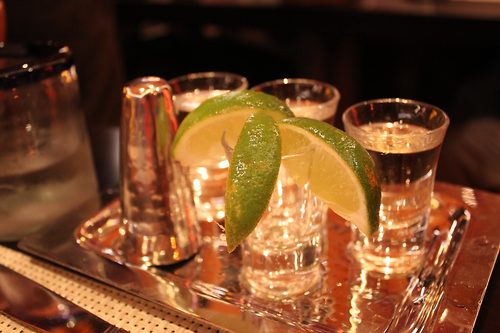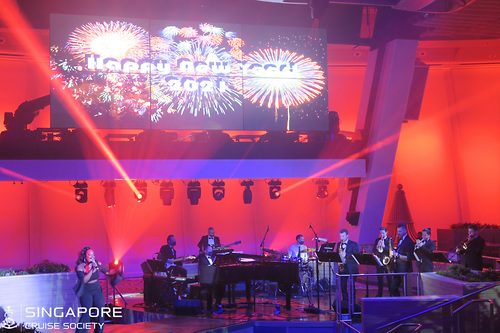 The flight offers three tequilas to try: Don Julio Reposado, Sauza Hornitos Reposado, Corazón Reposado.  
I am no tequila expert, but I can say that each was very smooth and certainly puts you in the right mood to enjoy a meal!
Moving onto the food (assuming you have not filled up on chips and guac yet), the menu has a mix of appetizers and entrees but they are intermixed.  Our waiter (hi Juan) knew which to bring out when but feel free to order whatever sounds good.
At lunch, we started out with the queso fundido and sopa de tortilla.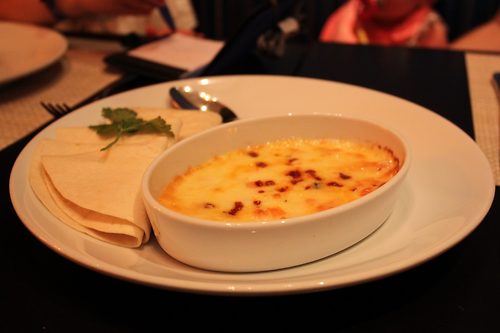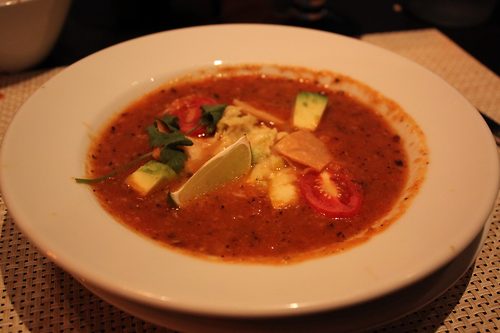 Both appetizers were great and I think my wife and I enjoyed both a lot.  
It is worth noting that many of the dishes are on the small side, so it is a good idea to order more than you might ordinarily order at a restaurant.
Our entrees were the tres quesos quesadillas and the chicken and roasted corn empanada.
The quesadilla features melted Monterey Jack, queso fresco and Chihuahua cheeses.  If cheese is your thing, this is your meal.  My wife recommends dipping the quesadilla into the queso for maximum cheese levels!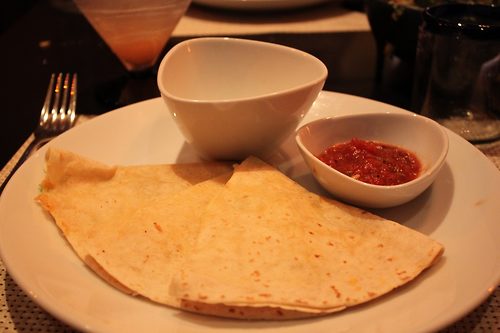 The empanadas had good flavor to them but I found them to be a little dry.  I compensated by dipping the empanadas in the salsa and guacamole and it tasted a lot better.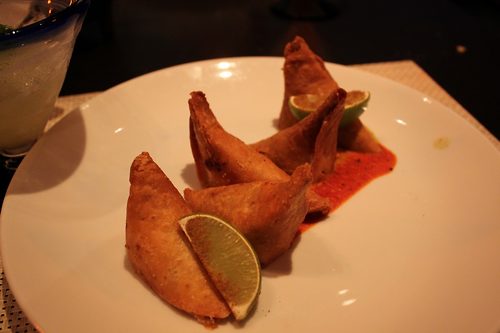 For my dinner appetizer, I tried the Tuna Crudo, 3 crispy corn tortillas, fresh tuna, salsa mexicana, guacamole.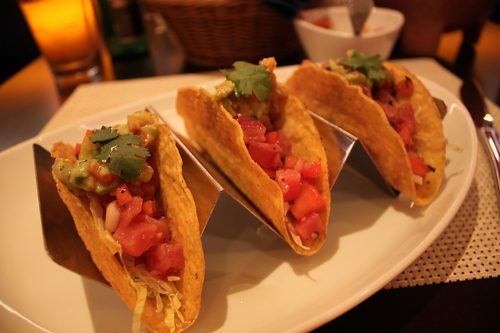 My friends, this was one of the best things I ate over the course of the entire cruise and when I come back next time, I may just order a few servings of this. It was really outstanding!
Keeping with my change of pace, I also ordered a different entree at dinner and went with the pan-seared red snapper.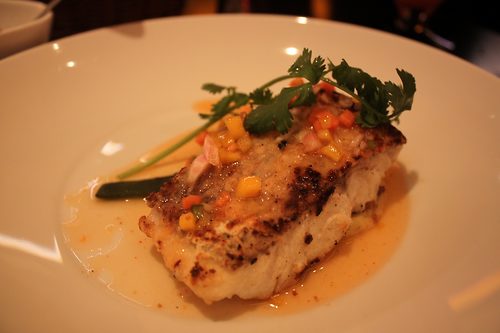 Had I not filled up on guacamole, chips, tuna crudo, guacamole, margaritas and guacamole, I might have enjoyed this a bit more but the red snapper was very, very good.  It tasted wonderful and was cooked to perfection.
There are also side orders to be had and in both lunch and dinner, our waiter simply brought us all of them.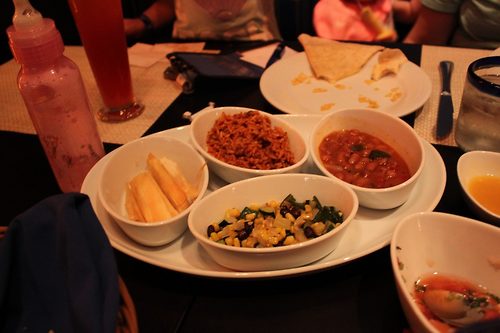 Yucca barrel fries, Mexican rice, calabacitas and Mexican beans are available to try.  They all looked good and I sampled some of it but I was so full by this point that I did not eat much.
If by some miracle you have room in your stomach left, the desserts are really phenomenal.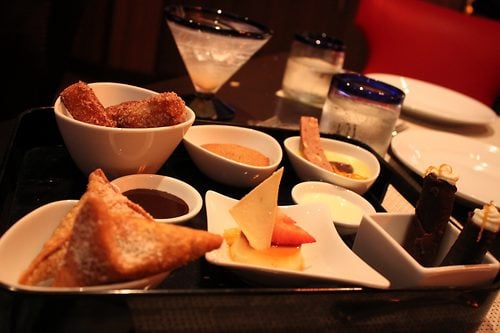 Just like the accompaniments, the desserts are served family style on a large plate and are described as "Mexican inspired mini-desserts".
My wife still dreams about the churros and chocolate banana empanadas.  
Overall
I have to say eating at Sabor Modern Mexican on Freedom of the Seas lived up to and exceeded my expectations.
I love the mix of freshly made food combined with plenty of choices.  I feel like there is a good mix of traditional Mexican favorites (tacos, quesadillas, etc) and some new choices. 
The guacamole, chips and salsa are supreme and I really considered a few times paying the cover charge again simply to dine on them along with perhaps a few drinks.
If you are going to try a margarita, go for the ones made at your table and my friend was definitely right about ordering the tequila flights.  Both will set the right tone for the meal (and likely well into your evening).
Looking at the cost, lunch comes in at $15 and dinner at $25.  I really feel both prices are well worth it and there is not much of a difference between the two to say one is better than the other.  If you want to save some money, go for lunch.
Sabor Modern Mexican still lives up to the lofty heights I have in my mind and it is without a doubt a restaurant I would recommend trying and then going back again (and again) for on your next cruise on Freedom of the Seas.
Sabor Modern Mexican is open for lunch on sea days between noon - 1:30 p.m. and dinner every night between 5:30 p.m.- 9:30 p.m. for dinner. We reviewed Sabor Modern Mexican aboard Freedom of the Seas.