In:
Ever since Royal Caribbean debuted its unlimited alcohol packages in late 2012, they have become quite popular with many guests who love the idea of locking in the price of something that can get very expensive, very quickly: alcohol.
For a lot of folks, having drinks on their Royal Caribbean cruise is a big reason they enjoy taking a cruise and I completely understand.  Heck, I love having drinks too while I am onboard.  It is really hard to top having a fruity drink with an umbrella in it while sitting by the pool on a beautiful day in the Caribbean.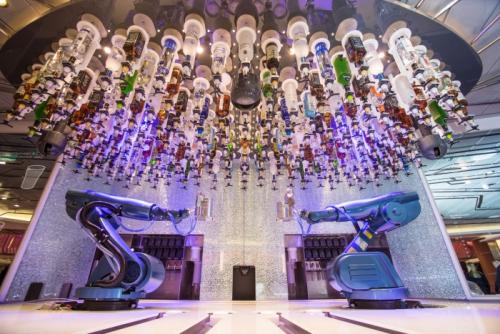 The reason why I do not purchase the unlimited alcohol packages and why I often advocate to take a second look at them is because I do not feel I can get the value out of them to make it worth the cost.
Why (not to) buy the package
The number one reason anyone would want to purchase a Royal Caribbean unlimited alcohol package is because they want to be able to drink an unlimited amount of drinks without running up a crazy bill.  It sounds like a perfectly good idea, right?
The package is simple: pay a fixed cost for every day of your cruise and you never have to worry about a bar bill again.  Royal Caribbean gets a flat fee and you get the freedom to order whatever you want.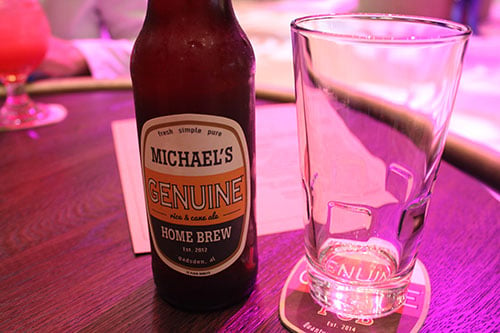 By most estimates, you have to drink around 5 to 6 drinks per day, depending on what you order and which package you get, to essentially "break even" on the package's cost.  After all, why would you purchase something if you are going to over pay, right?
This is why I don't buy the package.
For me, five to six drinks per day, every day of my cruise is a lot.  Can I do it one or two days in a row? Heck yea! But on a seven night (or longer cruise), that's a lot to drink and I wont want that much to drink every day.  
Do not forget about port days, where a vast majority of the day I am not even onboard, so there is little time that day to drink enough to meet my daily quota to get my money's worth.  And if I am drinking for the sake of drinking to get my money's worth, then why buy the package?
What I do instead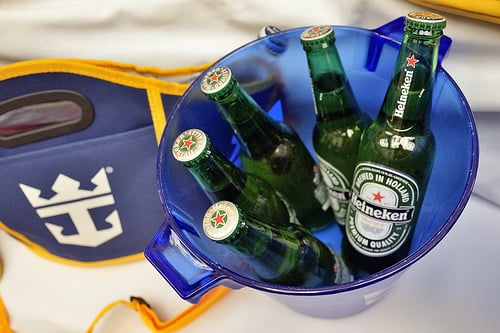 Instead of buying the drink packages, I opt to pay for my drinks a la carte.  
In my mind, even if I drink three to four drinks per day, I am still coming out ahead of the drink package cost.  And when I am in port, usually alcohol is less expensive than on the ship and I can really reap the savings.
If I can reference something I learned in middle school English class, I would like to quote an ancient Greek aphorism, "know thyself".  It means you should remember your limits and when it comes to having drinks, some people can easily have a lot to drink and others not so much.  For me, I recognize that I'm happy with just a couple of drinks per day at the most.
By purchasing drinks a la carte, I feel like I am ordering drinks when I really want one and not ordering them just because I can with the package.  
Wine!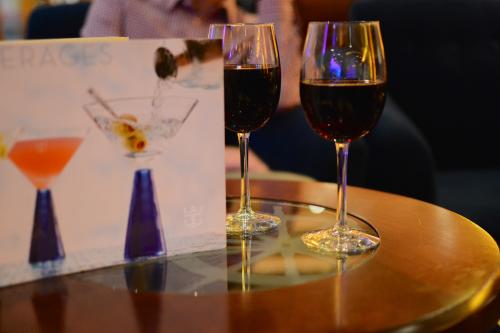 The other reason why I do not get the alcohol packages is because Royal Caribbean allows guests to bring up to two bottles of wine per stateroom.  
I bring the wine to dinner and this will get me through a few evening meals without having to pay for drinks.
Not everyone drinks wine but the fact this is something I can do to keep costs down and at the same time indulge in having a drink means the value proposition of an unlimited alcohol package is much less for me.
Find out for yourself
Obviously these are all my opinions and I recognize everyone is different. Forgetting about breaking up the cruise cost or having the ability to experiment with drinks, the real reason to buy the drink package is to be able to pay a fixed price for your drinks and save money on them in the end.  
If you have been on a cruise before, you probably know about how much you typically drink, so you can figure out if the unlimited alcohol packages make sense for you.  
I recommend looking at a calendar of your itinerary and consider if you really can drink enough to make the package work for you.  If it seems like the decision is too close to call, I recommend opting not to get the package off the bat.  See how a few days go, because you can always order the package at any point in your cruise, as long as there are at least 4 days left in your cruise.
In my opinion, the worst thing you can do is just assume the package is a good or bad deal without really understanding what it takes to get the value out of it.  Everyone is different, so take a few minutes to "do the math" and perhaps you will come to the same conclusion as me.  Or maybe you will call me crazy, in which case I will toast my next drink I buy (on my SeaPass account) to you!
Do you buy the unlimited alcohol packages? Or do you avoid them too? Share your thoughts in the comments!