Freedom of the Seas Live Blog Day Seven - Sea Day
In:
The last day of any cruise is bittersweet and waking up today, we all felt a sense of tempered happiness knowing our 7-night cruise was nearly over. Still, we have a full day onboard to enjoy.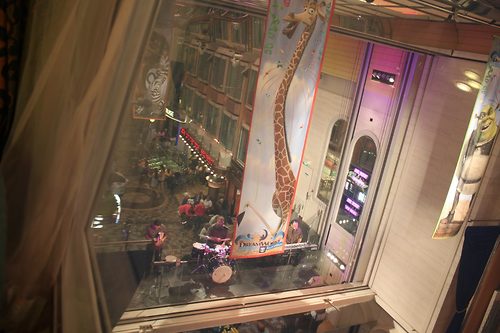 We all slept in after a few days straight of waking up early, and did not get up to the Windjammer until 10am.  It was quite refreshing never having much issue with crowds in the Windjammer on this cruise.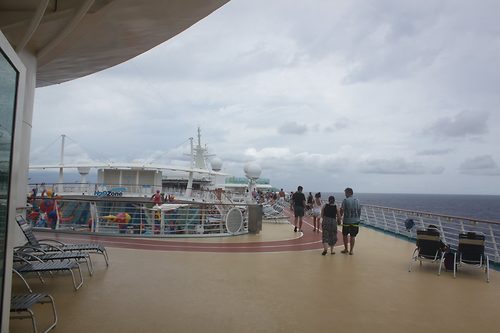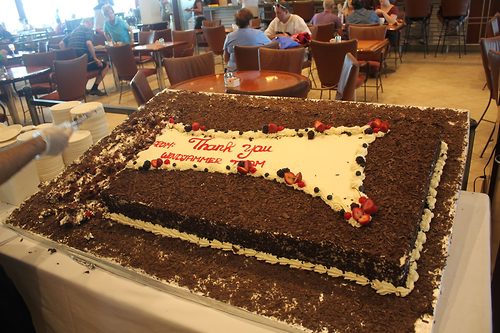 My oldest daughter went upstairs to Adventure Ocean for part of the morning session, while the rest of us strolled the Royal Promenade before taking time to record a live podcast episode with everyone in the group cruise.
It was fun sharing stories from our week together and I think it is safe to say we all had a lot of fun on this cruise together.
For lunch, we all had something different, with my wife and youngest eating in the Windjammer, my oldest daughter having take-out Johnny Rockets and I opted for a couple of sandwiches from Cafe Promenade.
The take-out Johnny Rockets was a new experience, and I walked into a very busy restaurant and placed a take-out order. Twenty minutes later, my food was ready to go in a bag.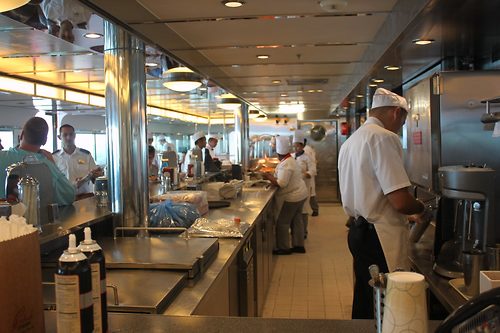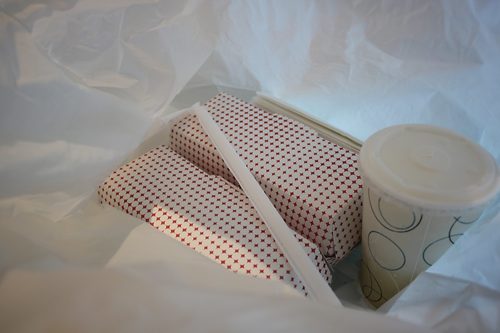 In the afternoon, the weather improved and the sun came out and turned into quite a nice day.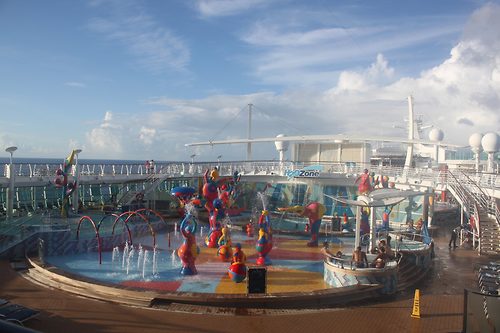 I also noticed this one day drink package option.  And for those wondering, no drink card spotted on this sailing.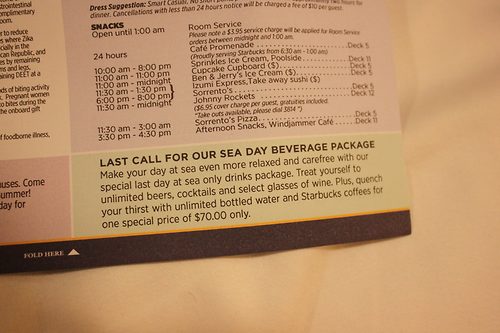 I also noticed in the casino that Royal Caribbean has its own brand of scratch-off lottery cards for $5 each.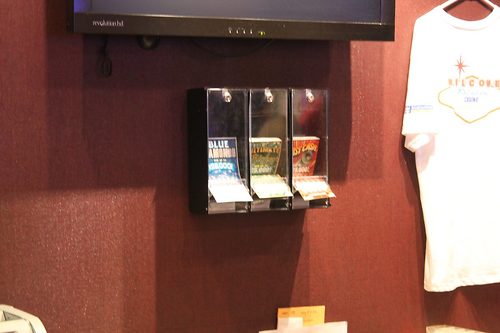 To wrap up our cruise, I will share some final thoughts on the experience based on different aspects of the cruise.
Crew
The crew were outstanding.  Truly great all around and offered the kind of service Royal Caribbean is well-known for.  Many thanks to them for making us all feel like part of their family.
Specialty Dining
I managed to dine at 2.5 specialty restaurants (take-out Johnny Rockets counts as a half) and greatly enjoyed it all.  Sabor was my favorite of the lot, but Chops Grille is a solid experience all around.
The Izumi Express was a good option to have, although they seemed to run out of the popular rolls quite quickly. Do not wait if you want to enjoy some yourself.
Entertainment
My wife saw most of the shows onboard, but I thought the activities and shows were quite good. The Cruise Director (Cuddy) had a great personality and I enjoyed hearing and seeing him around the ship.
The top two shows on Freedom of the Seas remain Once Upon A Time and the Freedom-ice.com skating show.
Ports
We visited four ports and other than Falmouth enjoyed them greatly.  Falmouth suffered from bad weather (rain), so not much that be done about that.
While I love Cozumel, our private yacht in Grand Cayman made that day my favorite day of the cruise and we had a blast onboard!
Drink Package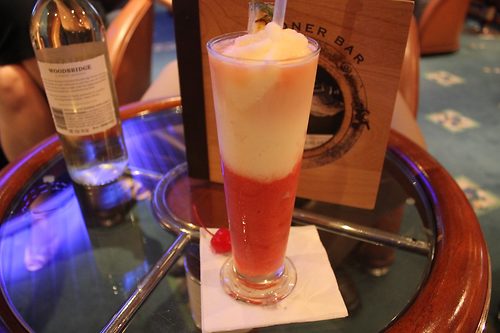 The question I have been asked a lot is if buying the drink package was a good idea.  I feel I broke even financially in terms of drinking enough per day, although that number is skewed by the fact that having the drink package I would order more drinks than I might have had otherwise.
That being said, I really enjoyed not having a bar bill at the end of the cruise and I think the real value of any drink package is pre-paying your drinking tab ahead of time. I will strongly reconsider the drink packages for future cruises because of that reason.
Conclusion
Overall, we had a great time onboard and I really enjoyed this cruise.  Enjoying a Royal Caribbean cruise with friends from Royal Caribbean Blog was a lot of fun I cannot believe how quickly the week went by.
Freedom of the Seas offers so many great things to do that I really believe it is one of the best ships in the fleet and an equally great value.
Thank you to everyone that followed along with this live blog and I cannot wait for my next cruise already!