Freedom of the Seas Live Blog - Day Six - Sea Day
In:
Royal Caribbean Blog contributor Michael Poole is on Freedom of the Seas this week reporting all about his cruise experience.
Today was a sea day as we start our journey back to Florida, it's so sad to think we are headed home.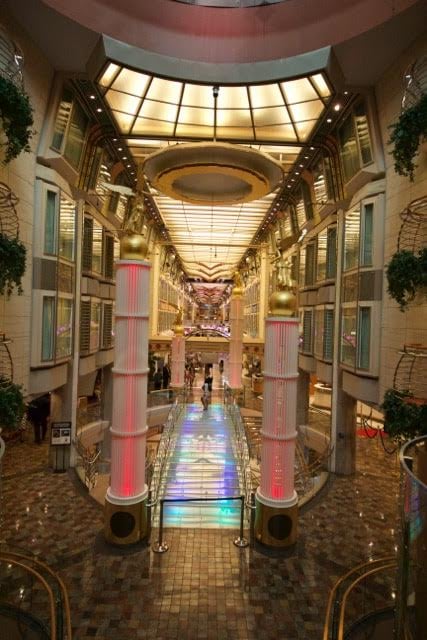 I didn't set an alarm for the first time this cruise, but still woke up at 8am.  I always get my coffee at Starbucks, and blog while I'm waking up.  I noticed it was very quite this morning, I suppose everyone was still sleeping in. 
Since it's a sea day, everyone had headed up to the pool deck.  There were many chairs being saved my pool towels, but the staff was trying hard to enforce the 30-minute rule. 
My schedule for today was to soak in the sun, get in the water, and repeat.  There were so many kids in the main pool jumping in having fun, but everyone was getting so splashed.  The pool staff kept blowing whistles at them to stop, but honestly they had over taken the pools. 
I usually don't cruise in the summer time; due to the cost so perhaps this is the norm at summer. 
Those that have cruised before know they always have a belly flop contest and world's sexiest man contest on sea days.  Well today the roles changed, for the first time ever they had a woman's only cannon ball contest.  And that's when it hit me; I've never seen so many people on a pool deck in my life!  I think half the ship was in the pools and around it getting ready for the contest.  It was fun seeing a different type of contest than the usual ones we have been watching for years. 
Dinner
Tonight was our second formal night and if you ask me the best dinner of the week.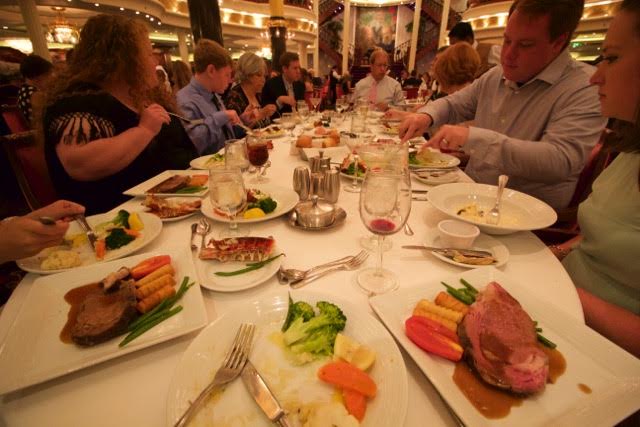 They have prime rib and lobster and boy did we have a lot of tails.  Our waiter just kept bringing the tails to our table.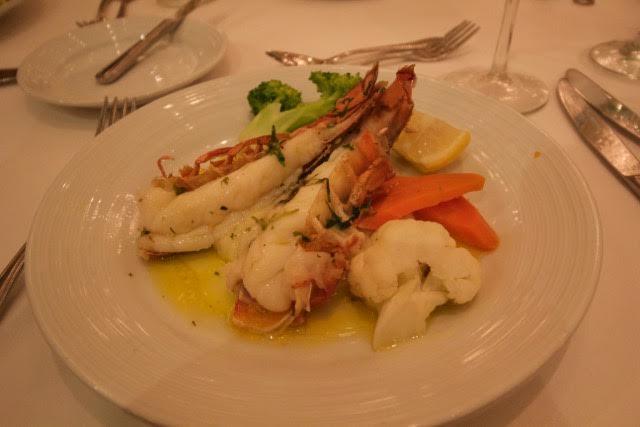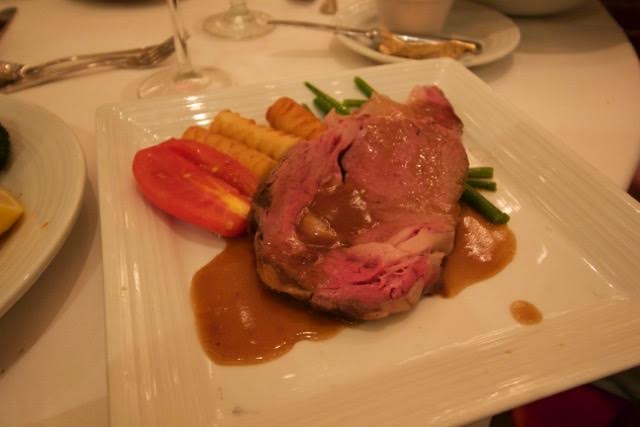 Again we had the head waiter stop by a few times to check-in on our meal, just makes dinner that much more enjoyable.  If you look at my picture you can see the amount of food on our table. 
I know I mentioned it before, but the service has just been outstanding each night. 
The Quest
Tonight was what I call the main event, The Quest!  Matt and I have talked in great detail on the podcast about the Quest being my favorite event.  If you haven't attended the show, you are missing out my friends.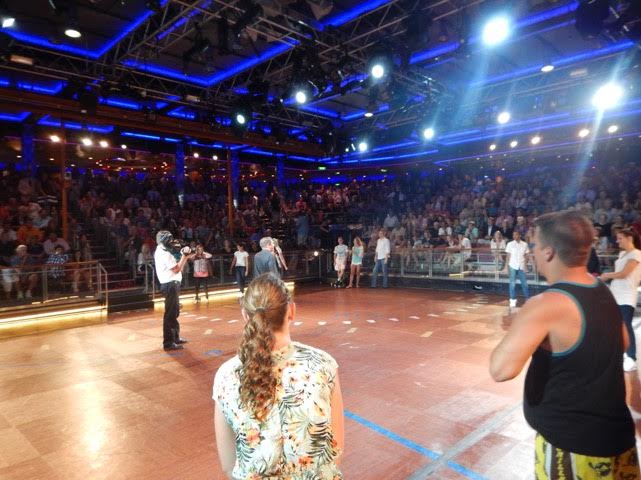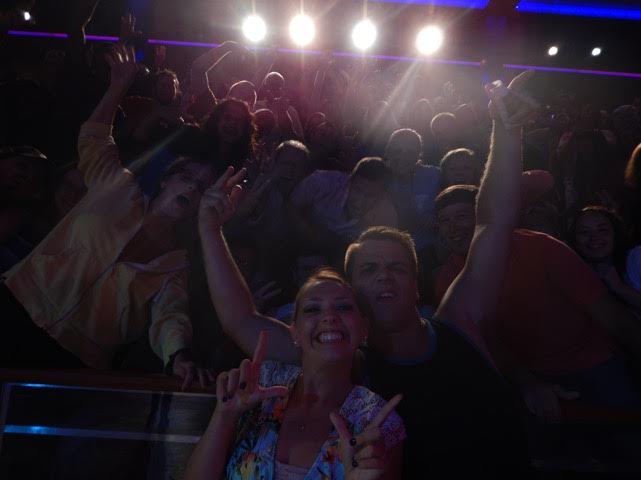 Just to give you an idea of the show, it's an adult game show searching for items within the team.  I'm very competitive in everything I do, so you can guess my team finished in first place! 
Cabin
In blog post from day one, I mentioned my cabin on deck 3 (3543), but didn't include a picture.  Per the request of blog post reader Clo here is a picture of my cabin.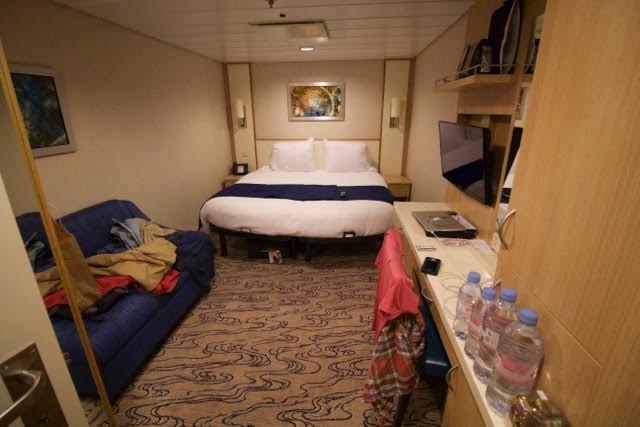 I'm sorry it's a little messy; I usually keep it much cleaner.  
My thoughts of the cabin have changed a bit throughout the week. Around 5pm each evening I can hear tables and chairs above me in Sabor, not really a big deal because I need to be waking up from my nap anyways.  
I also don't love being forward on the ship, it seems like everything is in the aft. 
Evening
Tonight they had another pool deck party in the solarium.  I'm sorry I didn't take my camera up to the party, so no pictures of the event. 
Unlike the last pool party this one was extremely packed.   The ship came to life tonight; it felt like everyone was out and about throughout the ship. 
The pool deck party lasted until 1:30am and then lasted until the early hours of the morning.  Sadly it was the last full night everyone had since most people get to bed early before they travel.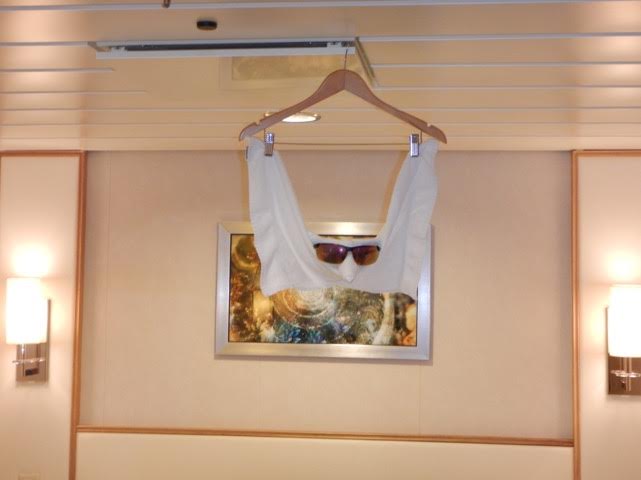 Up next tomorrow is our last sea day…