In:
Happy weekend Royal Caribbean fans!  The big news this week surrounded the return of Grandeur of the Seas to service after more than a month of canceled cruises to repair fire damage to the aft of the ship.  
While a few parts of the ship are still being repaired, most of the ship is good to go. Check out our photo update from onboard Grandeur of the Seas and see how this great ship looks like.
Royal Caribbean News
Join us for the first ever Royal Caribbean Blog Cruise!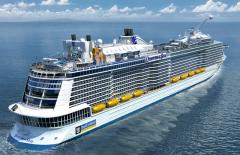 We're so excited to announce the first ever group cruise for readers and staff of RoyalCaribbeanBlog.com aboard Quantum of the Seas!  This is an exclusive group where we are inviting you, our readers, to join us on one of the first Quantum of the Seas sailings on an 8-night cruise to the Caribbean.
This Royal Caribbean Blog group cruise is all about enjoying this brand new ship with other fans who are big fans of Royal Caribbean.  Don't miss this opportunity to check out the brand new cruise ship as well as be a part of exclusive events for those that book with our group!
For more details on booking the cruise, the itinerary and prices, check out the Royal Caribbean Blog group cruise page and if you have any questions, email me!
Royal Caribbean Around the Internet
USA Today reports we still don't know what started the fire on Grandeur of the Seas.
Cruise Critic is reporting a number of passengers have been bumped off of Grandeur of the Seas due to repairs not being complete.
The Royal Gazette covered a group of students in Bermuda that received Royal Caribbean's Hospitality award scholarship.