Cruising 101: How to book Royal Caribbean's excursions
In:
Aside from booking your actual Royal Caribbean cruise, the next most common thing to book is your excursions and Royal Caribbean offers many different excursions at every port your ship will visit.  So why should you book your excursion with Royal Caribbean? And what's the best way to book your excursions?  Let's explore these questions.
Why book excursions with Royal Caribbean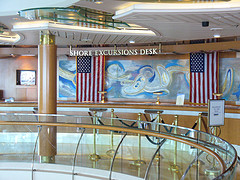 Convenience and reliability are the reasons to book your excursions through Royal Caribbean.  Royal Caribbean makes booking excursions easy with the option to book them online before your cruise or anytime during your cruise at the excursion information desk (usually located near guest services desk). And Royal Caribbean makes it simple too.  Select the excursion you're interested in, let them know how many people and pay the price and you're set.  Royal Caribbean handles assembling excursion staff and getting you back and forth.
The other major reason to book your excursion with Royal Caribbean is the cruise line guarantees you won't miss your cruise ship.  At each port, there is a well-publicized time everyone must be back onboard before the ship leaves port.  If something occurs on your excursion to prevent you from making it back to the ship (most commonly traffic problems in the port stop), the cruise line promises they will have the ship wait for you.  Considering the alternative is you have to fly/drive yourself to the next port of call to catch up with the cruise, that's a big deal.
When is the best time to book excursions?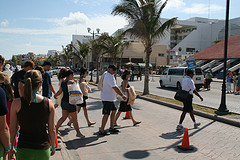 Ideally, you should book your excursions as early as possible.  All excursions have a limit on how many people can participate in them and spots for the more popular tours can go quickly.  In the past, you could book excursions onboard your ship but with the Internet, Royal Caribbean is making it simpler with online booking options.
All you have to do is log into the Royal Caribbean web site and go to your cruise and browse the excursion options available.  Royal Caribbean allows guests to book their excursions up to 4 days prior to their cruise.  All you need to know is who is participating in the excursion and a form of payment.  Royal Caribbean guarantees that if your ship cannot dock in a particular port that you have an excursion booked, they will refund your money.  
Booking your excursions as soon as possible ensures you can get a spot in what you're interested in.  In addition, the excursion desk onboard the ship is commonly busy with other passengers trying to book excursions or asking questions and this leads to long lines.  Let's face it, no one wants to spend time on their cruise waiting in line, so booking these excursions online saves you time.
Can I cancel my excursions?
You may change or cancel your Shore Excursions on the Royal Caribbean website up to ten days prior to your cruise start date.  No refunds are made for failure to use all of the described services included in the excursion price.  Cancelations by guests must be made prior to the closing deadline advised directly onboard the ship.  Once onboard, you will need to speak with someone at the excursions desk about canceling your excursion.