In:
Since Royal Caribbean rolled out its unlimited alcohol packages last year, there has been a lot of questions out there about package specifics.  So without further adieu, we present answers to the most common questions we've seen about the alcohol packages.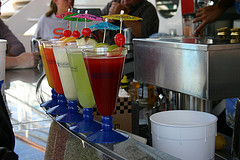 Someone I am cruising with does not/cannot drink alcohol but I would like to.  Can I buy the package just for me?
The rules of the Royal Caribbean unlimited alcohol package stipulate everyone over the age of 21 in a stateroom must buy the package, however, if someone in your cabin has a medical reason why they cannot drink, then you can speak with guest services onboard your ship about getting the package removed for that person.
This is something you must do onboard the ship on the first day of your cruise.  A letter from your health professional should suffice.
As of November 15, 2013 Royal Caribbean no longer requires every eligible adult in the same stateroom to purchase an unlimited alcohol package. 
How much are drinks a la carte? I want to decide if the unlimited package is worth it.
Prices for alcohol varies but generally speaking, you can get most beer onboard for about $5-6 per beer.  Mixed drinks will run you closer to $7-10, depending on the drink and how good alcohol you want.  
How much do I have to drink per day to "break even" with the drink package?
To break even on the standard drink package, you would need to drink about 8-10 beers/glasses of wine.
To break even for the premium drink package, you would need to drink 6-7 mixed drinks per day.  Of course, if you mix in beer or wine, then you will need to increase the amount of drinks per day since beer and wine are cheaper.
These are approximations and it depends on how expensive/cheap your drink happens to be.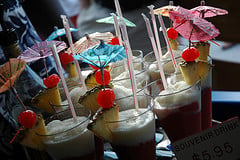 For the premium alcohol package, is ____ included?
Martinis are INCLUDED
Shots are INCLUDED, although certain uber-premium brands, like Patron, were not included.
All beer is INCLUDED
Mixers are INCLUDED (including Red Bull)
The only spirits not avail are any Scotch over 12 years old Cognac VSOP and above
Ultimate Vodka, Belvedere. chopin and Grey Goose are INCLUDED
Patron is NOT INCLUDED
House wine are INCLUDED (although we've heard the included house wines are not very good)
Drinks on Private islands are INCLUDED
Virgin (non-alcoholic) mixed drinks are INCLUDED
What does the unlimited alcohol packages not cover?
Package does not include room service or in-stateroom purchases, specialty coffee, mini bar items, canned sodas, bottled water / juice and souvenir glassware, specialty beers as listed on bar menus, or super premium category beverages.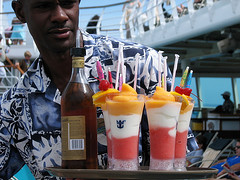 What beers are NOT included with either drink package?
Officially, all beers $6.25 and under are included.  Here are the beers we've found not to be covered.  There may be others...
Sam Adams Imperial White
Sam Adams Double Bock
Foster's Oil Can
Grolsch Premium Lager
Chimay Blue 750ml
Are you charged the price of the unlimited drink package each night? All at once? At the end of the cruise?
Royal Caribbean will charge you immediately on the first day for the duration of your cruise for the price of the package.  So for a 7-night cruise for the premium package, you will be charged $385 (7 nights x $55) per person.
Did we miss your question? Post it in the comments below and we will try our best to answer it!