In:
Guests aboard Royal Caribbean's Majesty of the Seas can now enjoy Izumi-quality sushi, despite not having an Izumi location.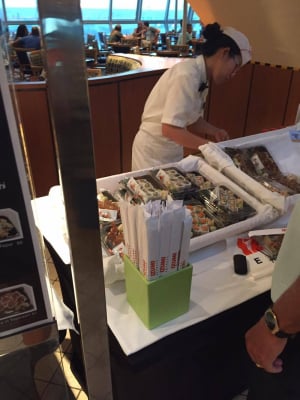 Photo by Kayla Gillman
We reported earlier this summer that Royal Caribbean would be offering Izumi-level sushi across its fleet on ships that did not have an Izumi location, and we have a look at the Izumi sushi on Majesty of the Seas.
There are a few different varieties of sushi available at the Windjammer during dinner and priced a la carte.  These include
Crispy Philly: $8
Crispy Tuna: $5
Vegetarian Sushi Sampler: $6
California roll with masago and scallions: $6
Half Futomaki: $8
Spicy Salmon Avocado roll: $7
Shrimp Crunchy Roll: $8
Spicy Tuna in Togarashi: $7
Photo by Kayla Gillman
Royal Caribbean wanted to offer guests something quick and easy to enjoy, without having to dedicate time for a sit-down meal.