In:
One of the most popular foods these days has to be sushi and on a Royal Caribbean cruise, guests can enjoy sushi throughout their cruise.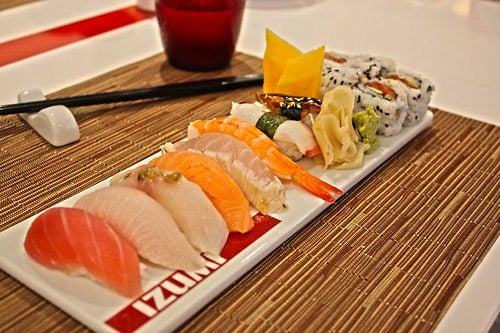 Sushi is a healthy and incredibly tasty meal that seems to becoming more and more popular.  Here is where you can get sushi on a Royal Caribbean cruise, how much it will cost and everything else important to know.
Izumi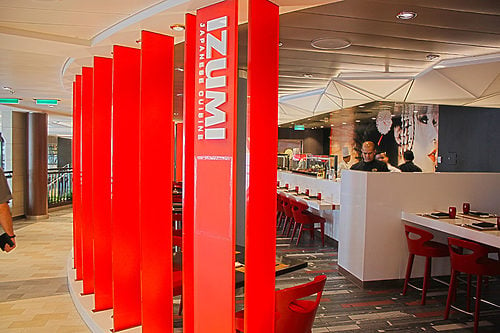 When Royal Caribbean launched Oasis of the Seas back in 2009, the cruise line added a brand new specialty restaurant dedicated to sushi and Japanese cuisine, Izumi.
Izumi specialty restaurants have spread like wild fire to many other ships in the fleet and each Izumi restaurant offers guests popular sushi rolls, sashimi, hot rock (Ishiyaki) plates, sukiyaki and more.
For sushi lovers, Izumi is the place onboard Royal Caribbean to get sushi because of the quality and variety available.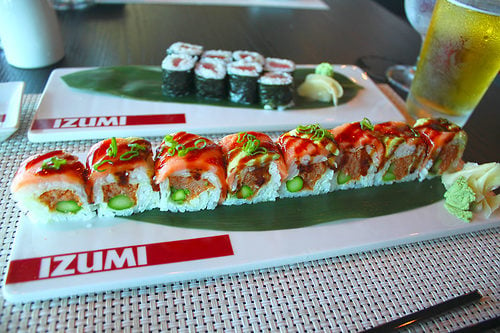 The following Royal Caribbean ships have Izumi available onboard
Harmony of the Seas
Anthem of the Seas
Ovation of the Seas
Radiance of the Seas
Rhapsody of the Seas
Serenade of the Seas
Splendour of the Seas
Voyager of the Seas
Explorer of the Seas
Grandeur of the Seas
Legend of the Seas
Vision of the Seas
Izumi is a specialty restaurant that charges a la carte for items on the menu.  There is no cover charge, and instead you are charged for what you order.
Izumi is open for dinner on every night and lunch on sea days.
Izumi Hibachi & Sushi
Royal Caribbean re-imagined Izumi in recent refurbishments for the Oasis class ships, that combines what you would typically find in Izumi on other ships with a hibachi experience.
In addition to the sushi rolls and sashimi offered at Izumi, guests can also order from a full teppanyaki menu.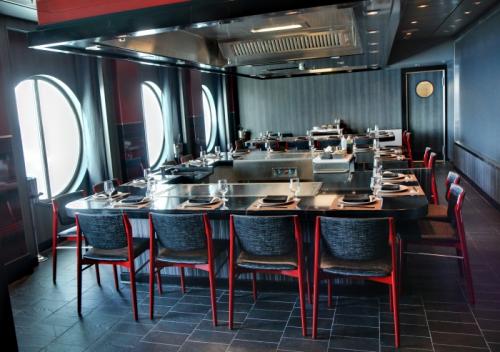 The hibachi meals have a cover charge that includes the entree. Choices include Beef, Chicken, Lobster or Shrimp.
Each meal includes soup or salad, edamame app, fried rice or lo mein noodles, cooked veggies and dessert.
Essentially, the restaurant is divided in two sections: one section for sushi and the other section for the hibachi.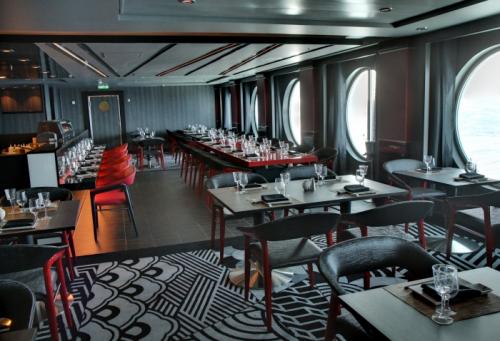 Sushi is priced exactly the same at Izumi Hibachi & Sushi, with sushi priced for each individual roll or piece.
Izumi Express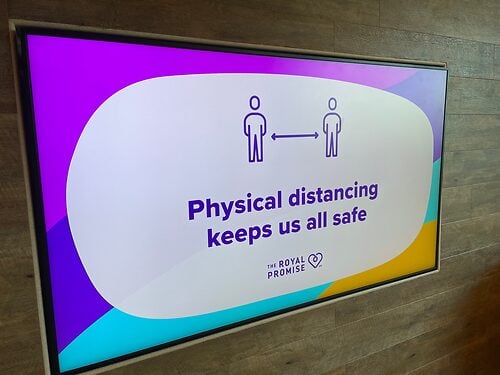 As of July 1, 2016, all Royal Caribbean ships also offer an Izumi Express option, where guests can purchase take-out sushi.
Izumi Express is a takeaway service that offers packaged sushi, ready to go, at a very discounted price.
Jade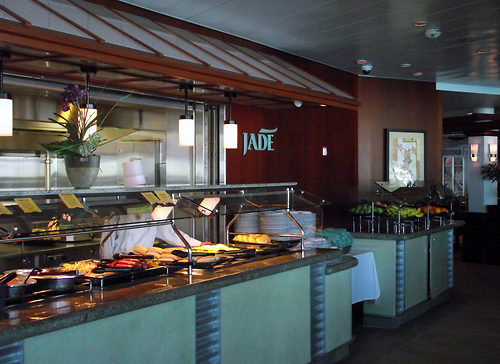 On some Royal Caribbean ships, there is a section in the Windjammer called Jade, where guests can enjoy Asian food of all kinds.
In the evenings, Jade usually offers sushi rolls to guests that are complimentary.
The selection of sushi available at Jade is more limited than Izumi, with usually a half dozen hand rolls available at any given time. There is no nigiri sushi and none of it is made to order.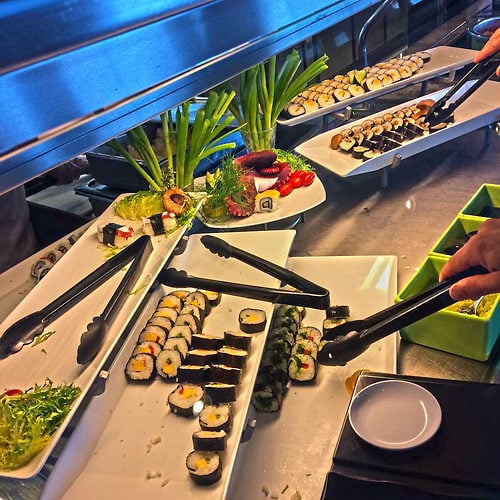 The chief benefit to Jade is that it is complimentary and available in the evening for dinner.  
Jade sushi was Royal Caribbean's first foray into sushi but has largely been replaced or superceded by Izumi.  
Jade is still available on a number of Royal Caribbean ships, mostly those ships that lack an Izumi.
Which sushi have you had on a Royal Caribbean cruise? Tell us in the comments!