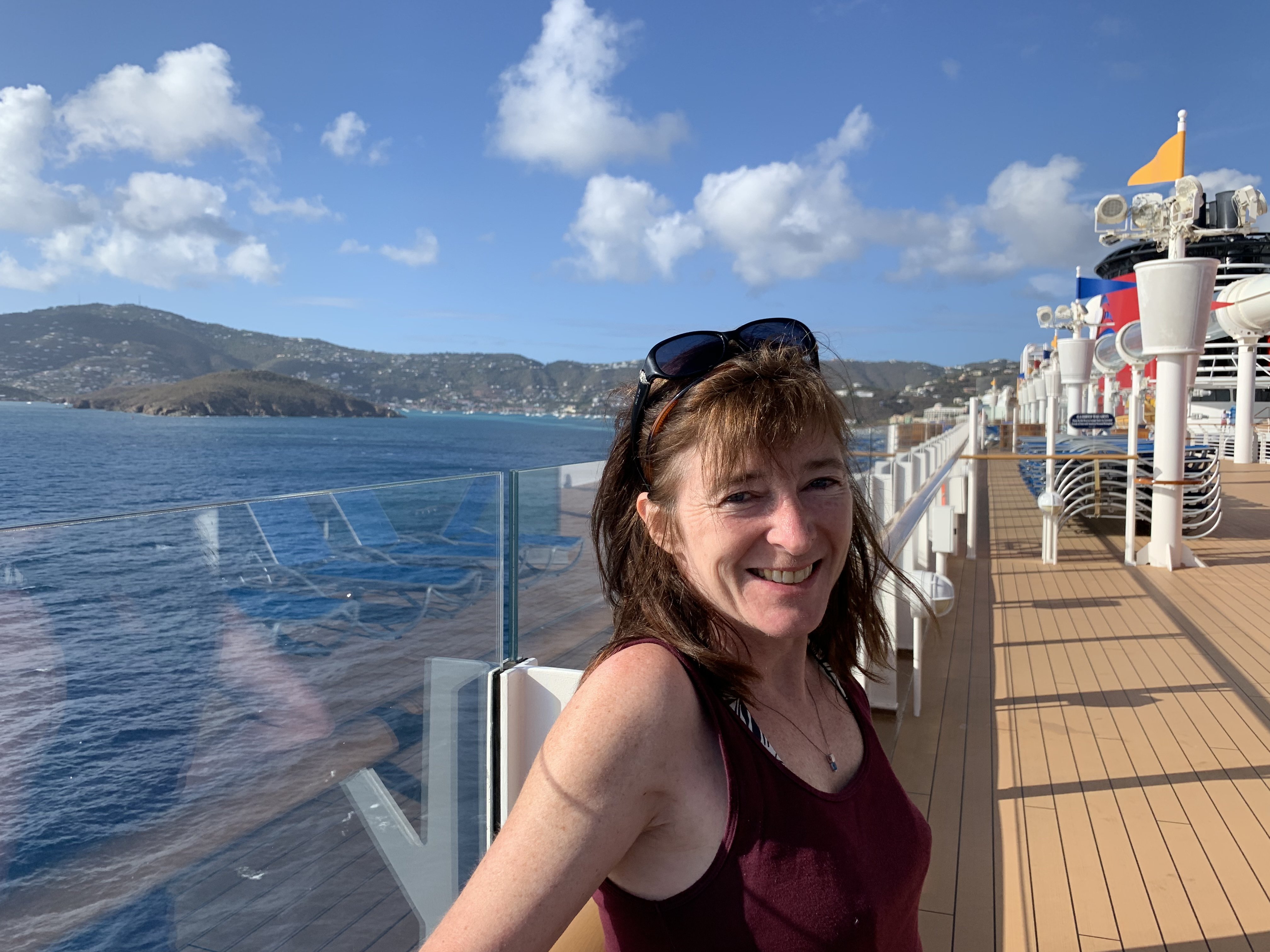 Content Count

99

Joined

Last visited
Recent Profile Visitors
The recent visitors block is disabled and is not being shown to other users.
DLXLDY

reacted to a post in a topic:

Orlando to Miami: fly or drive?

Thanks. This would make my Voom package useless (on Symphony), but not my refreshment package for speciality coffee in the morning. Bridge tour might be cool! We never use room service, nor welcome parties.

We bidded for a GS but we do not know what exactly comes with it. Do you get free internet (cf Voom)? What about free drinks (coffe, sodas, sparkling water, alcohool)? I know you have priority embarkation, and reserved seating for shows, and I expect a bigger stateroom… I've just discovered that I won't be able to cancel my packages if we win, because of the 3 day time gap between cancellation period and announcement that the bid has been accepted (if it has!). It is not fair play from RCCL!

Thanks for your answers. He will drive eventually. We are expecting that someday Amtrak would build a fast train line to Miami.

Hi, Our cruise departs from Miami. I'll fly directly there from Europe, but my husband will come from Orlando with all our summer clothes and stuff. Is he better flying or driving? With our own car (he would have to pay parking fees at the cruise terminal) or rental car (he leaves the rental car at the airport and takes another one in order to go back to Orlando)? Any advice? Thank you!

I've done this excursion (Mendenhall Glacier and Salmon bake) with Princess Cruise Line a few years ago. It was fun. We had plenty extra time to visit the town (Skagway?) after that. In Juneau we did a whale excursion. The weather was poor and we didn't venture much in town. Enjoy your stay in Alaska.

Come on Mickey, you cannot expect to go from le Havre to Paris and back on time to the ship within 1 day!!! I'm French but I've never been to Le Havre, sorry… I'm pretty sure there is some historical part of the city to visit, unless everything has been destroyed in WWII (it is Normandy, after all!).

JLMoran

reacted to a post in a topic:

Coastal Kitchen - Why?

Ogilthorpe

reacted to a post in a topic:

Coastal Kitchen - Why?

Big Tule

reacted to a post in a topic:

(Very very...) last minute reservation

Lovetocruise2002

reacted to a post in a topic:

Coastal Kitchen - Why?

Coastal Kitchen BECAUSE... The food tastes so much better that in MDR. And service is so much better, too. And the dining room feels more cosy and less crowded. And, because you're "suite class", you feel a little bit special (that's my "snobbish side" (?), sorry folks, somethimes I like to be pampered…)

OK, I'll ask for a change and see what happens then...

WAAAYTOOO

reacted to a post in a topic:

(Very very...) last minute reservation

Last question: is it compulsory to eat your first meal on the 3 night package on the 1rst or 2nd night? My group gives us free time on days 3, 6 and 7, so that I would rather reserve my 3 meals on these days...

Thanks so much for your experience, I like your "insider tips" I will remember them! I wouldn't have thought of being careful to formal nights, nor did I know of reserving while waiting to get onboard. I'm not sure however my DH will want to join the reception on formal nights … I love such events, but he hates dressing up and does not care about champagne: 2 things I would die for! But this is another story, which I guess does not belong here on this forum. He actually wears a suit (but no tie) one night within the cruise to please me, and shares a glass of wine or a cocktail with me once or twice. I won't stand on the show because I've had a backache for 10 days, and I'm worried I might suffer during the very long flight trip from Europe to Florida and/or the cruise. I keep my fingers crossed (and my medicine near).

Ok, this is much clearer now... I was confused because of the description of the package on the official website: "For restaurants with a la carte pricing, package includes a $35 credit towards the food portion of your bill I think we will give the 3 night dining package a try!

Sorry AGSLC5, our messages overlaped!

After reading further, I understand there is a specific menu for guests with a dining package to choose from with no extra charge. This menu is supposed to be worth more than the price paid for the package. Because if I add $35x3=$105, it is less expensive than the $115 RCCL asks for their 3 night package… Do I understand right? I also suppose that the $35 credit may be used if you choose a "à la carte" dish, ie if you do not like the said specific DP menu? Are the DP menus satisfactory? How many options can you choose from? Are they true to the restaurant theme? Are they as good as "à la carte" dishes? Thanks for sharing your experience.

Hi, I'm considering a 3 night dining package. As I understood, I'm allowed a credit for food in any restaurant up to $35. If I want to try any of my favourite food (seafood, upscale restaurant), I will be charged for the difference. So be it. My question is the following: I'm not a strong eater, I'm happier with a meal with one delicious main dish rather than a starter, a main course and a dessert, which might be too much for me. Does the dining package allow me such flexibility (ie ordering a $35 main course instead of a 3 course menu)? Thanks for your help.

Thanks for your answers. The reason why my reservation is late was not actually the point... You're right, on the App I found my dining selection (late dining). I'm considering buying online a 3 night dining package. However, I If I'm not too perculiar as to dinner time (eg: I accept to eat as early as 5.30), am I sure to get a seat in all my favourite restaurants, even though I'm making my reservations ASAP onboard? I'm sailing on March 7, so the ship might not be as crowded as in peak season, especially with coronavirus issues... I've been on Harmony last summer, I tried the standby line once. It was not as good as reservations, because the front seats at that stage are already occupied, but at least I've been able to see the show. I'll be careful about the aquashow, put it first on my to-do list.