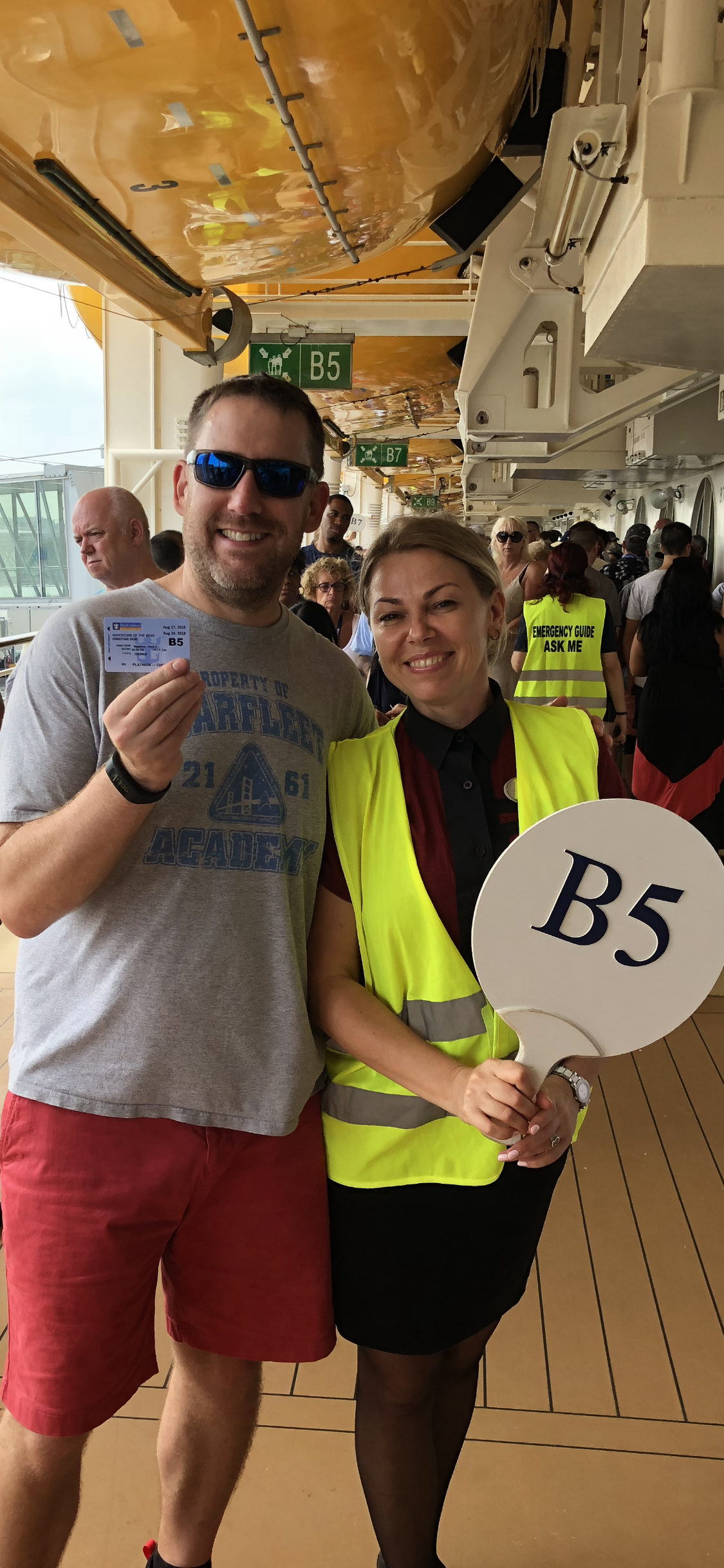 Posts

183

Joined

Last visited
Everything posted by Larry Muster
Supposed to be on Oasis June 27th out of New Jersey. I've got my fingers crossed but won't be totally surprised if it does not sail.

My agent jumped on this for me. He's getting me FCC for the rooms and rebooking now at the reduced price. I feel guilty about having him do all this work knowing it looks like the sailing may ultimately be cancelled.

Another brilliant idea worth looking into - thank you very much!

Booking new reservations and paying in full makes a lot of sense. I do have a little anxiety over violating the spirit of the policy. As someone else mentioned since I am really cancelling just to rebook they could charge me a hefty cancel fee. I think I'm going to send this to my agent and see what they can work out for me. Thanks for helping me brainstorm. LARRY

I'm booked on a cruise that may or may not end up happening because it is so close to the 'restart' date. We are supposed to depart Cape Liberty in late June. For purposes of this discussion lets assume the cruise is happening. We booked a Central Park Balcony for ~2700 and an ocean view balcony for ~3000. Currently on the website the two rooms are going for ~1500 / ~1600. Given that we are past final payment date can I have my agent just cancel and rebook? I know the cruise with confidence program will allow me to cancel but it seems shady to cancel only to rebook the same sailing at a lower rate knowing I could not do that in a business as usual situation. Larry

Oh man. John is great but I always thought we had an exclusive relationship. I didn't realize he had other clients.

Scooping up 10 shares a day for the past few weeks.

NOW is the time to pickup the 100 shares! It's a steal.

Annette: What about Air2Sea charges? Are those refunded as FCC as well? Also in the unlikely event we still want to use the flights but NOT cruise how would that work? Larry Muster

No. They provided no more detail than what I sent in the picture. I have yet to find a cruise where I have been able to use the benefit. I'm beginning to think it is not real.

The benefit may have been relaxed but it's still pretty useless. Tried to claim it for three upcoming cruises. Zero for three.

Make use of that EU plug in the room with this... Syncwire 34W 4-Port USB Wall Charger, Multi-Port [Foldable US Plug] Travel Power Adapter with Interchangeable UK/EU Plug for Apple iPhone, iPad, Samsung, Android Phones, Tablets & More https://www.amazon.com/dp/B011KPRE1G/ref=cm_sw_r_cp_tai_oxriEb27XPWD5

@Quilter620 I was on STTC-I on Norwegian. In general I noticed very little difference between that chartered cruise and a normal cruise. Some of the small differences were: 1) An extra layer of 'customer service' in the form of ECP. 2) ECP staff essentially replaced the cruise director staff. 3) Lack of traditional "cruise" activities, which were replaced by celebrity hosted activities. The gym was a ghost town and I never saw more than 5 people in it at once. The MDR was also a ghost town - it was a buffet crowd. I am also on STTC-IV so looking forward to seeing you.

I was on Allure recently. I can say for sure that the arcade was not so so, it was terrible! I'm not a complainer and this is probably the first negative thing I've said about a Royal experience but the arcade really was terrible. I think they were fewer than 10 games, a couple of them were price games, a couple were games for very young kids, and then there was driving game or two. I remember the arcade being so small, that I assumed it was just an add-on to a larger arcade so I went looking for it. Turns out the closet that I was in was the actual arcade. If I remember correctly the arcade credit is something like 50 bucks. I don't remember how much each game cost but what was available was not enough to hold my attention to even spend five bucks.

It's not a material difference but the Explorer dry dock is likely one week later than listed. She's on a chartered cruise for seven nights starting March 1, 2020.

Has anyone below Diamond gotten the confirmation they will honor it? We have friends who are emerald and they have not yet gotten it.

We were able to stack the package for three out of four of our 2020 cruise's. However we had issues trying to add it to the last one so we called. Royal Caribbean said that it was indeed a glitch and that when they get it all figured out the website will show a balance due between what we paid and what the fair value of the passage.

Agreed on this. As a shareholder this is a big miss. I can get more swag with a cheap logo of the local gas station than I can RCCL?

I splurged and got the shower package so I don't have to share.

I wouldn't dismiss it so quickly. Most of us seem to be pretty positive about RCCL so we in general like the direction they are heading, and probably assume the stock will go up. If you put in the $12K and say you cruise 5x per year and get $500 OBC that's a 4% return regardless of where the stock goes. I'm only in the 3x per year club but I'm going to buy enough to get me to the 100 share mark.

If you are going to buy an adapter go with something like this. For me it turns a useless plug into four USB ports. Multiple USB Wall Charger, [22W/4.4A] LENCENT 4 Port USB Travel Adapter, All in One USB Charger Plug with UK/USA/EU/AUS Worldwide International Travel Phone Charger for iPhone, IPad & More - White https://www.amazon.com/dp/B077VFGNYZ/ref=cm_sw_r_cp_tai_5kM.CbTFB8W4K

My Perfect Day will be the day after Thanksgiving this year. We have decided to splurge on a cabana and are thinking Chill Island. Unfortunately the cruise planner indicates booking is unavailable and indicates I should check onboard. is there any way to secure a cabana ahead of time? This is a YOLO Cruise for us and I really want to lock in the cabana ahead of time.

To clarify, I understand you are waiting for RCCL to refund cruise planner purchases, but isn't it the insurance company you are waiting on for the rest?

I'm too afraid of commitment to tie my spouse to my C&A status.