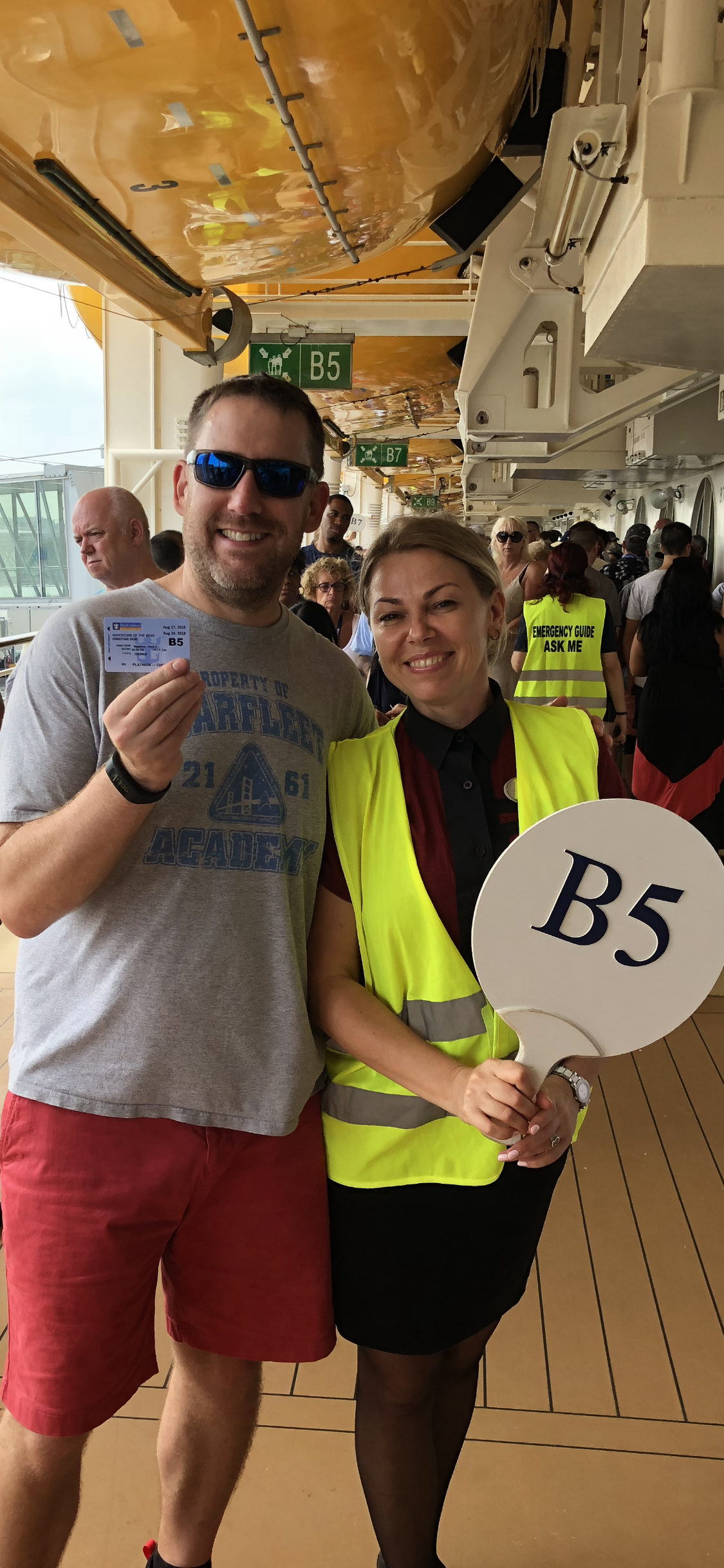 Posts

183

Joined

Last visited
Everything posted by Larry Muster
I'm also booked on a ship that does not have Freestyle. When you have specific things you like that are really only available from Freestyle (like your poweraid) it can change the whole equation on the overall value of the package. Glad I watched Matts video so I knew ahead of time! JG

Related to getting cash, where is the best place to break bills if you need the right denominations for tipping? Casino? Guest Services?

Check this out. I think it's as good of a product but uses the European outlet and frees up the 'traditional' outlet for other things. https://www.amazon.com/dp/B088KJ9CPM/ref=sspa_dk_detail_6?psc=1&pd_rd_i=B088KJ9CPM&pd_rd_w=bfVK5&pf_rd_p=57cbdc41-b731-4e3d-aca7-49078b13a07b&pd_rd_wg=Ht06o&pf_rd_r=CXYN7HT3XC10H9T3PD98&pd_rd_r=a69705b3-52cc-4a7a-abe1-aa57034e7185&s=electronics&smid=A2TOK8BGDG5XUQ&spLa=ZW5jcnlwdGVkUXVhbGlmaWVyPUExWTZFR1c5N0o2Q0NGJmVuY3J5cHRlZElkPUEwMDkzNzYzMlFUOFBSTEhYSElZTyZlbmNyeXB0ZWRBZElkPUEwOTc3NzQ1MzRJUjJSS0FDRU4yTCZ3aWRnZXROYW1lPXNwX2RldGFpbF90aGVtYXRpYyZhY3Rpb249Y2xpY2tSZWRpcmVjdCZkb05vdExvZ0NsaWNrPXRydWU=

Also get European adapters to utilize those as well.

Go to https://www.emed.com/ on your phone. Create an account and then say "start test".

I recently got my first booking receipt from Royal where my age bracket changed. YIKES! Seeing my new age band for the first time was TOUGH. However, as I get older, my post-booking expenses for cruise planner things is the one thing I can point to that is trending down. My drink packages have moved from Deluxe to Refreshment and sometimes even soda (just so I can get seltzer from the self-service machine). Partly due to me slowing down and partly to the free D+ drinks. I even just got the water package on one cruise, and if you told the me of 10 years ago that - I wouldn't have believed it.

I have to ask because of the complexity of Royal Caribbean math. Is your $44 for the DBP the advertised price or the all-in price after gratuities etc? Since 2018 (other than the $17 mistake) my best all in DBP score is $53.10 per night all-in.

The Royal Caribbean cruise planner math is really tough. I can rarely tell if a deal is a deal without going through the effort of a mock-purchase. I keep track of all my cruise planner purchases over the years to compare prices and help myself know what prices to aim for on certain things. Every once in a while I get something that looks too good to be true (like the $17 drink package) and assume others have the same experience so I wanted to brag. Does anyone else have any "rock bottom" scores recently? I have a 7 night Oasis OTS sailing in July. I did a mock-purchase this morning on a Voom Surf and Stream 4 device package. It came in at $531! I looked back at my log and noticed I purchased it for $216. It was such a big difference that I doublechecked my receipt and confirmed I had it right. I was going to go down to 2 devices, but it would cost me MORE than what I scored for the 4 devices. Can anyone beat $216 for 4 devices 7/nights? I'd love to hear about any other recent purchases you all have made that you want to brag about.

The fine print of the updated Crown and Anchor society benefit grid includes a link (in red below) to an upgrade preferences site. Not sure if this was always there or not but the link does not appear to go anywhere. Emerald, Diamond, Diamond Plus and Pinnacle Club members will receive welcome waters & a snack on day ("welcome amenity") one of their sailing. These items will be placed in the guest's stateroom. In addition, Emerald, Diamond, Diamond Plus and Pinnacle Club members can go online to RoyalCaribbean.com/UpgradePreferences or call one of our Loyalty Representatives (RoyalCaribbean.com/ContactLoyalty) in their local offices to pre-select from a list of beverages to be included with their welcome waters & snack. One beverage can be selected per guest 18 years of age or older. Preferences must be entered or updated for your upcoming cruise vacation up to 5 days before a US based sailing and 7 days for an internationally based sailing. The beverage selection list for Emerald and Diamond members will include water, juice and soda items. In addition to the previous list Diamond Plus and Pinnacle Club members can select from a more expanded list of beverages. If a guest has not selected an item then bottled water will be sent to the stateroom. House alcoholic brands may be substituted or changed, and are subject to availability. https://www.royalcaribbean.com/content/dam/royal/resources/pdf/crown-and-anchor-society-benefit-grid.pdf

My bet... Unless there is a lull they may put you off to the side and wait until closer to 1PM. Room access can vary but usually by 2PM. Pack your bathing suits in a carry on and you are good to go.

I too worry about things like that. Minimize the worry by using the Royal approved test. https://store.optum.com/royal-caribbean/

I think they are allowed because I see at least one group with them on every cruise. They are SUPER annoying to others and don't seem to work well, no matter how high-end you go.

I will usually throw my work phone in my checked luggage. that way I can track it (which is pretty limited) but I can use the find my phone app to make in beep so I can walk down the hallway and find it easier.

This has been said before, but when looking at the price, instead of just looking at the $65.99 pricetag consider the difference between that and the price of the refreshment package. If you know you will get the refreshment package (for the bottled water, use of your soda cup etc) consider the difference between the two the "real" price of the alcohol.

For what it's worth the cancel and rebuy has gotten MUCH better with the latest updates to the site. Refund still takes 5-7 days but the transaction is much more streamlined.

It varies but I usually tell people to plan on having luggage by 5PM.

I believe it's exactly the opposite. Companies push for numbers in the surveys they want quantity. If you notice even the grocery store now often hands you the receipt and highlights the survey link with a marker.

On the last two, StarTrek cruises there was no loyalty benefit whatsoever. No special boarding, no diamond lounge, no diamond drinks etc. I did have a drink package and I asked one of the bartenders if my card showed diamond drinks and he said no. Normally even with the drink package, I have those five sharable 'vouchers' on the card. The one thing I did get that I was surprised at was the 2X points in the double points promotion for cruises booked before X and taken before Y. The staff in the MDR did know my status. They referenced it when they introduced themselves to me the first night. They said something like I see you are Diamond so you've cruised with us many times or something like that.

Fellow Trek Fan! I just got off STTCV. It was awesome!

Bring a label with your room number on it. You will likely forget the cup somewhere once and #cruiselife people will be kind and return it.

I was on a charter in February. Our sailing there were no pre board or onboard benefits based on status. So no special boarding lines, no diamond lounge, no diamond drinks etc. My status wasn't even printed on my card, but it was on my boarding image on the app.

Dealing with the shareholder people is the one thing my Agent does not handle. I forget the reason but that I've always had to administer myself.

I think the 25% extra applies only to the cash you laid down on the original cruise. It does not compound if there are multiple cancellations. If there was a second cancellation, you get your original amount plus the original 25%, but not an additional 25%.

Not sure about 2023 but I'm eyeing the repositioning cruise out of Boston to San Juan in October 2022.

I went through security there earlier this month. It was super well organized and fast. Masks were required. The only thing I remember that stuck in my mind has to do with the wine I brought on board. It was the first time in all my years of cruising where they made me open my bag and take out the (single) bottle of wine. They looked at the neck of the bottle, to make sure it hadn't been tampered with presumably. Smooth sailing other than that (literally).