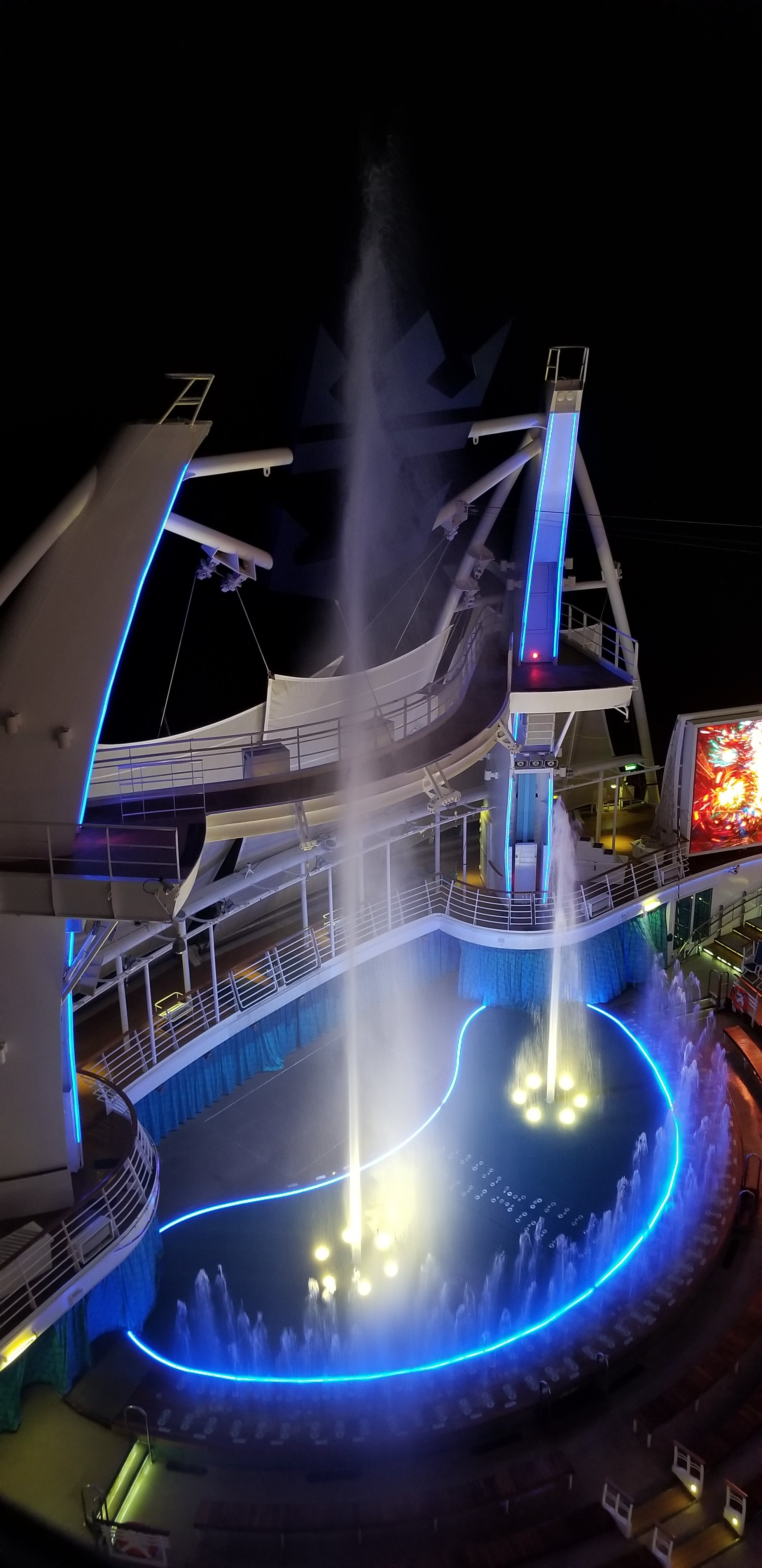 Content Count

124

Joined

Last visited
Recent Profile Visitors
The recent visitors block is disabled and is not being shown to other users.
We definitely had way too much leftover food! I think we had 20 bags of chips. Plus, when snacks were being delivered, we were rarely ever there so anything hot went to waste. Next time I will make sure to specify when we want snacks!

Lovetocruise2002

reacted to a post in a topic:

Anthem of the Seas 3/8/20 – 3/15/20 - Star Class Cruise

Ogilthorpe

reacted to a post in a topic:

Anthem of the Seas 3/8/20 – 3/15/20 - Star Class Cruise

Debarkation Day Saddest day. Yen asked us what we wanted delivered to our room for breakfast and what time we wanted to get off the ship. Promptly at 7:15 our breakfast arrived (bagels, pastries, coffee and juice). We caught Brian and Lucky out in the hallway after breakfast and gave them their tips for amazing service. Yen came with a porter at 8AM and whisked us off the ship with our luggage in no time. She used her special card to get us on an elevator with our porter which was great. As we said our final goodbye near customs I had tears in my eyes thinking about the best week we had and the amazing things she did for us. After having some time to think about the cruise, there are some amenities I wish we had taken advantage of. Hubby and I are not "sit down" for breakfast types but I wish I had done Coastal Kitchen once for breakfast. The others in our party did Coastal most days and said they really enjoyed it. The other thing we never did was Jaime's or Chops for lunch. I would have loved to try one of the burgers or enjoyed a nice salad and soup. On sea days we always had a lot scheduled so we grabbed Johnny Rockets one day and Windjammer for the other sea days. I felt it was hard last minute to change plans since there were 10 of us but I wish at least hubby and I did more specialty dining for lunch. Would I do Star Class again – of course (if I could afford it of course)!! We are currently trying to get 2 BR Aqua theater for September but unless the prices drop, we are going to stick with our Owner's Suite (we are wait listed for Crown Loft which is sold out). Our next Star Class experience is on a short 4 night cruise in November on Oasis. We had an amazing cruise, a lot of laughs, enjoyed being spoiled and look forward to our next adventure! Thanks for following along. With all of the craziness going on across the world with the dreaded "C" word, I enjoyed positing this to distract those who followed along. Finally, I want to thank everyone who posted great tips and did their own live blogs that I followed along with leading up to our cruise. All of the questions I had and nervousness about not being able to plan all of my dining ahead of the cruise were alleviated by people explaining that the Genie really does take care of everything – and she did! Until next time, stay safe everyone and I will be looking forward to cruises sailing again so I can read along on other blogs in the future!

Lovetocruise2002

reacted to a post in a topic:

Anthem of the Seas 3/8/20 – 3/15/20 - Star Class Cruise

MaryS

reacted to a post in a topic:

Anthem of the Seas 3/8/20 – 3/15/20 - Star Class Cruise

Day 7 – Last Sea Day A very sad day….last sea day. This is the day where we had to start packing and enjoy every last minute on the ship. We had great weather the entire cruise so it was nice to still be able to sit out on our balcony. Since we didn't get much wind back there, sitting in the sun was very nice. We only had plans to do the back stage tour and bridge tour. I had already done the back stage tour so I only opted to do the bridge tour. Yen met us in the afternoon with one other Star Class group to do the bridge tour. When we got to the bridge, there was a bar set up for us with soda and champagne….talk about feeling like royalty! It was very interesting to hear how they dock, how the ship sails itself and the tutorial on the radar. The bridge definitely has an amazing view. After the tour, we asked Yen to join us for dinner at Chops. She said she was unable to but would join us for dessert. Dinner was amazing and we enjoyed having one last opportunity to eat at Chops. Of course, all of our drinks were waiting for us. Yen joined us for dessert and surprised us with a birthday cake for some of us celebrating milestones this year and the restaurant sang us Happy Birthday. This is our group with Yen.

We had Brian and Lucky. They were both absolutely amazing and really cool different towel animals. we said we loved the penguin so he made a baby penguin the next night which was so cute!

Day 6 – Sea Day Since Cococay was our last stop, we were officially heading back to NJ. There were a lot of passengers on board worried as to whether we were going to be quarantined but the Captain announced that no one was showing signs of being sick so that made it ease our minds. Through the entire cruise, crew were wiping railings, door handles into rooms, doors, walls, etc. so they really did a good job. It was another late night so we slept in but had various activities planned throughout the day beginning with the Galley Tour. It was only about 20 minutes and they cancelled it for everyone except Star Class suites due to the health and safety of the guests. Yen told us that they made an exception for us since no one in the group was showing any signs of being sick. I am still amazed how the crew prepares so much food! After the Galley tour, 3 of us had Escape from the Future Puzzle Break scheduled. The theme is that the cruise ship has traveled through time and we have to solve the puzzles to bring the ship back to the current time. There were 8 of us in total and it required a lot of communication, but we were able to "escape" in a little over a half hour. We are (hopefully) sailing Oasis in September so looking forward to trying that escape room. In the afternoon a few people went to a private wine tasting at Vintages that Yen had set up. I am personally not a wine drinker but those who did it raved about being able to try some VERY expensive wines (I think they said one bottle was close to $600). There was a cost to this of around $175 for 3 people but Yen surprised them on the last night and actually had the wine tasting comped! Everyone in the group but my husband and I saw We Will Rock You at 6:30 – of course Yen had their drinks waiting. Since hubby and I wanted to have a nice dinner with just the two of us, Yen arranged to have Lobster and some sides from Chops delivered to our room. I FINALLY caught a picture of dinner before it was devoured!!! Yeah me! After dinner we met up with those that went to the show and they said they really enjoyed it. Of course, hubby and I headed to the casino where we finally had some luck! We got back to the room and Yen had come in and decorated for our anniversary and left us a cake to enjoy. Very sweet. Brian and Lucky left us the cutest penguin too!

Day 5 – Cococay So excited to wake up and be in Cococay! It was a little cool without the sun first thing in the morning but it definitely warmed up during the day. Mariner of the Seas was docked with us – I wasn't expecting anyone with us but since we rented two cabanas we weren't worried about it being busy for us. Since we had two cabanas at Chill Island booked, we wanted to get off fairly early. We met Yen at 8:30 on Deck 4 and she brought us off the ship. Once off the ship, Yen arranged a golf cart to bring all 10 of us from the ship directly to our cabanas so we didn't have to wait for the trams and Yen arranged a time to go back at 3:00 for anyone that was ready. Very nice and loved the special treatment. We had cabanas #4 and #5 which were the front middle waterfront. The cabanas are stocked with a cooler full of ice and water, the table doubles as a safe, there was a Bluetooth speaker and we had a device that allowed us to push it and our cabana attendant would bring us food and drinks from the menu. The drinks were obviously all free being in Star Class (besides tipping the attendant). The food menu is available beginning around 10:30. We did some exploring of the island and took some pictures along the way. We did not go to the new beach club but could see the floating cabanas on the beach behind us. Based on the map, those were floating cabanas 1 through 10 and didn't seem as private since there was a beach (not part of the beach club) that was right there. but I could be wrong. The view from our cabana was great. We loved the location although it did get a little chilly at times with the breeze. In hotter weather, the breeze would be more enjoyable. We did some snorkeling before lunch and there were a lot of fish near the rocks. Unfortunately, after lunch when we went out again to the deeper areas it got windy and the sand was stirred up so it was harder to see anything. We left a little after 3:00 and went back to the room to change. Of course there were snacks waiting for us and after being out in the sun and swimming all day, we were very excited for them!!! I got one picture before we ate most of it. After snacks, we took the opportunity to go up in Northstar since our balloon ride was cancelled due to high winds. Yen met us there and made sure we were the only guests on there when we went up. We couldn't believe how far out the tide goes near the over water cabanas…not sure if they were still floating or not! We were all exhausted so everyone just did their own thing for dinner that night and then played some more in the casino after dinner. They ran out of Michelob Ultra in the casino so Junior went and found some at another bar and put a few on ice for me. I think he appreciated that we always tipped him extra for any drinks we got because a lot of people weren't.

Day 4 – Nassau The first two days of the cruise didn't go by fast but now that we were stopping in ports the days started to fly by! Usually when we do this route, we do Cococay first, so it was unusual for us to do Nassau first and not get in there until 1PM. Four of us planned to do the Aquarium at Nassau tour through Royal Caribbean. My husband and I have done this tour a few times but since we were with a few who had never been we thought it would be fun for them. Yen met us on Deck 4 at 1:15 and escorted us off the ship and to the front of the line where wristbands were being handed out on the pier. We waited for a little while and then they had everyone with tours walk to the end of the pier. As I mentioned, we have done this before but the amount of people doing some sort of excursion was insane. The lines and the standing was so long and it was warm (thus the resulting V neck t-shirt sunburn I had). We all regretted saying that we didn't need water when Yen asked us! We finally got on the shuttles and off we went to Atlantis. Out of all of times that we have done this same tour, this was by far the worst. The headphones weren't working at first and usually, this tour brings you through the aquarium, around the outside of the grounds and then through the shark tunnel. After she walked us around the aquarium and near the pools the tour ended which was not what we were used to. We wanted to still see the shark tunnel, the baby turtle area and walk around still. Unfortunately, the shark tunnel was closed (it looked like there was some water leaking from the tank and it was closed). We did get to see the baby turtles and everyone said that was the highlight of the day. This first picture is of the tunnel the floating tube water park ride takes you through – I would love to do that sometime: We got back to the ship around 5 and had dinner at Jaime's Italian with all 10 of us. Once again, all of our drinks were waiting for us at our table. The waiter brought us all of the appetizers for the table (two meat planks, Garlic Prawns, Arancini, Garlic bread, Bruschetta, etc.) We each ordered our own dinners and then we got a dessert plank with everything from the menu. Talk about food coma!! I don't think I have ever eaten that much in my life! I am terrible at taking pictures at dinner but I can attest, the lamb chops and lasagna were both amazing!! Headed down to the casino after dinner to see my favorite bartenders and play some slots and Let it Ride. No big wins but we always have fun! We already earned Prime for the year so we didn't need anymore points but we still gambled for fun.

I would have been fine keeping it open but they said that while sailing management doesn't want it kept open. Regarding room service, Yen let us order from different restaurants but it seems from what I saw, she was the most lenient Genie on the ship. Maybe it was because we had 3 rooms???

Day 3 – Port Canaveral Before docking, some brave souls did boogie boarding (The one time I tried it my top came off and I nearly lost my bottoms so I learned my lesson…don't do it again). The two who did it did great and had a lot of fun. Yen met us all there and again, put those doing it, to the front of the line. I didn't want to post pictures of it because they may not appreciate it but if you are brave enough, it is a lot of fun. They were both able to get up on the board on their knees and neither fell off which was a miracle in and of itself. One person did the rock climbing and she made it to the top which I would never be able to do! We docked in Port Canaveral around 12 and loved having the aft balcony. We saw tons of dolphins and two sea turtles who stayed right by the back of our ship most of the day. Everyone had different plans for the day and for those that got off the ship, Yen met on Deck 4 and escorted them off the ship. Some took an Uber to Ron Jon's and others did the excursion to Ron Jon's through Royal Caribbean. We decided to stay on and walk around taking pictures, reading and napping. Because no other Royal ships were leaving from Port Canaveral that day we were lucky enough to Dock at Pier 1 which meant we could have gotten off and walked to one of the restaurants but with all of the amazing food and service on board we decided not to. Several families had hidden ducks on the ship and my husband managed to find 3 during the cruise (this was one). It was really fun looking for them throughout the ship and re hiding the ones we found. We didn't have any dinner plans so we asked Yen around 3:30 if we could open the divider between 10324 and 10724 so we could have dinner on our balconies all together. She met us in our room at 4:45 and we gave her a list of items from Chops and Jaime's we would like to order and she scheduled delivery for 6:30. Yen moved the table from my SIL's balcony to our balcony so we could eat together. This is the balconies with the divers opened (Yen is the itty bitty one in the background). Again, I forgot to take pictures of dinner. We were all so hungry that it quickly disappeared! It was really nice having the HUGE area to eat and not have to talk to one another over the railing. Maintenance came by after dinner to close them (as when under way the door bangs against the divider).

Day 2 – Sea Day This was a very busy day. Usually on a cruise we hang out on our balcony, read, go to the casino and just take the time to relax. This cruise we found ourselves trying new things. Although I have been on Anthem I have never done the bumper cars as the line is so long. Yen met us at bumper cars at 10 and we got to cut to the front of the line. It was so much fun! After bumper cars some of the girls went to the Cupcake decorating class. It was a little over an hour long and we got to make a flower cupcake and "burgers and fries". Once done, we were able to eat our cupcakes or take them back with us (although the safety waiver we signed said we couldn't take them but we were allowed). I have already done iFly but my husband's cousin wanted to try it and she did amazing!!! There were only 3 people in her group so they let the group try it twice. The instructor (whose name was "B") was amazing and we ended up with some great photos. He was pretty easy on the eyes too! And yes, this is a picture of him balancing her on his head!! J's cousin had mentioned that we liked snacks so everyday we received fruit, cheese and crackers, soft pretzels with mustard and canapes. We asked for snacks to be delivered around 3 and like clockwork, they were there everyday. In addition, yen also had late night pizza, wings, chips and salsa which was a nice surprise. There was definitely no shortage of food. Some random photos from the day: We ate dinner at Chops and definitely had food coma after! Yen met us there and every drink that we ordered on the first night at dinner was waiting for us at our table which was a very nice touch. A lot of the group had Spectra's Cabaret at 7:15 so dinner was quick (which I like better). I didn't go to Spectra's but Yen had reserved great seats and also had everyone's drinks waiting for them which they loved. My husband and I went to the casino (which we do most nights) and I met my two favorite bartenders on the ship – Junior and Mark. They got to know most of our group and remembered each of our drink orders. Now that they knew our orders, anytime we walked near the bar they had our drinks out…whether we needed one or not. …this resulted in too many drinks, not a clear memory of the night and some very blurry photos on my phone of four of us dancing at Boleros! From what I do remember – so much fun! If anyone gets to meet Junior at the casino bar, ask him to make you something special and he will put together a great drink. I recommend the Sexy Ocean. It was very late when we got back so the pizza and wings were cold but who doesn't like cold pizza!

@WAAAYTOOODuring lunch on embarkation day all 10 of us were in one room and all had plenty of room. We could have had a dance party in there as the living room was HUGE! We have heard these rooms on Deck 10 are larger than those on Deck 8 and we were not disappointed. I agree with previous posts you have made that the corner GLS on Deck 10 were much smaller and really should be considered Sky Loft Suites as even the Sky Loft Suites on Deck 10 looked bigger than the corner GLS from what we saw.

Sorry you missed the cruise. It was a little scary towards the end of the cruise when Royal announced 30 days of cancellations. We were worried we would get quarantined but luckily no one on our ship showed any symptoms! a lot changed from the beginning of the cruise to the end with sports, schools, etc, being cancelled.

Okay...so here starts the good part....Embarkation Day!!! Day 1 - Embarkation Day (YEAH!!!) I couldn't believe over a year of planning was here!! Of course, we were very worried about the Coronavirus with everything going on around the world but nothing was stopping me from getting on this ship. Royal sent an email to us indicating all passengers would be checked for symptoms so that eased my mind a bit. Yen had sent us a photo of Zone 6 and where to go as well as a contact person who will take our bags from us to bring them directly to our room. We had heard so many people say to make sure that the porters did not take your bags unless it was the star class porter. We got to the terminal around 10:30, pulled up to Zone 6, and the porter that was there confirmed he would take us and our bags through security and directly to our room. He loaded our bags, we waited for my husband to park the car and went into the terminal. After a short temperature check before security (due to Coronavirus), we went through security and went to the suite check-in to the right where Yen was there waiting for us! We showed our passports and Yen took us to the front of the line. We had to wait about 5 minutes before they opened the doors to start boarding a little before 11. Once we were allowed to board, Yen took us up a separate gangway with no lines and brought us on the ship….so far so good! Once on the ship, Yen toured the ship with us (we have been on Anthem 8 other times but it was our cousin's first). Because Yen had to meet the other 7 people in our party she left us to explore on our own (and get an adult beverage) and she set up a plan to meet us at noon at Vintages and bring all of us up to our suite. When we got to the suite, our lunch was waiting for us (sorry it is blurry...I promise I only had 2 drinks by this time): Room 10324 All I can say is WOW! The living room was huge, storage was plentiful, both bathrooms were great and aft balcony phenomenal. I tried to get most of the pictures I could of the room before we made it messy!! Master Bathroom Shower Our bar was set up with everything we asked for and Yen had our suite attendants (Brian and Lucky) bring in a cooler full of ice so we could keep our beers ice cold (the refrigerator was not big enough for the amount of drinking we did!!). We had asked for Corona Light and Yen specifically had some brought to the pier before we left NJ since it isn't sold on the ship. She also didn't have any Budweiser stocked in one of the rooms and 10 minutes later, 6 beers showed up chilled on ice – service was amazing throughout the cruise. We also got a bottle of champagne that was a perfect way to toast the beginning of this amazing cruise. As I mentioned, the other rooms booked were 10724 and 10320. Although 10320 had 3 balconies, the living room was significantly smaller and didn't have as nice of a layout (sorry I didn't get pictures to show the comparison). I also heard complaining about the noise from the suites on Deck 8 but rumor has it they may be installing soundproofing above 270 to keep those suites quieter after dry dock. We did sail away on the Suite Sundeck and loved being up that high to sail under the Verrazano Bridge. Yen met us at 4PM to go over the schedule she had sent us and provided us with an updated one. She changed our iFly reservations for the first sea day as she explained it sometimes gets cancelled later in the cruise due to bad weather in the winter months. She also scheduled more than one session of bumper cars and moved our North Star for us to our Day at Cococay. We also indicated that we would like limited interruptions during the day as we wanted to enjoy hanging out on the balcony and not constantly getting up to answer the door. Yen did a great job of this which we appreciated very much! For dinner we ate at Coastal Kitchen as it was Filet night and it did not disappoint. Most of us ordered the Filet and people also raved about the pasta with sausage. That was the only dinner we ate there since we mostly chose Chops, Jaime's or room service from one of those restaurants throughout the cruise. Sorry I didn't get any food "porn" pictures but I can assure you, everything was amazing! Of course, we got a towel animal from Brian and Lucky who were absolutely the best suite attendants.

Not a live blog but posting details of our Anthem of the Seas Star class experience under live blog section of the website. Come check it out if you have any questions about the ship or Star class on Anthem. I will be posting all 7 days of our experience! I figure in these times of no cruises some fun pictures will be an enjoyable distraction!

@WAAAYTOOO Yen was so sweet. She is quiet at times but she did anything we asked of her and she was always smiling. She was upset she couldn't fly home but her contract doesn't end until July. Because of the 30 cancellation of cruises plus the 2 1/2 weeks of dry dock for Anthem she won't have any passengers for all of that time and if the transatlantic doesn't happen it will be even longer. She was hoping to try out some of the activities on the ship and get some time to relax.