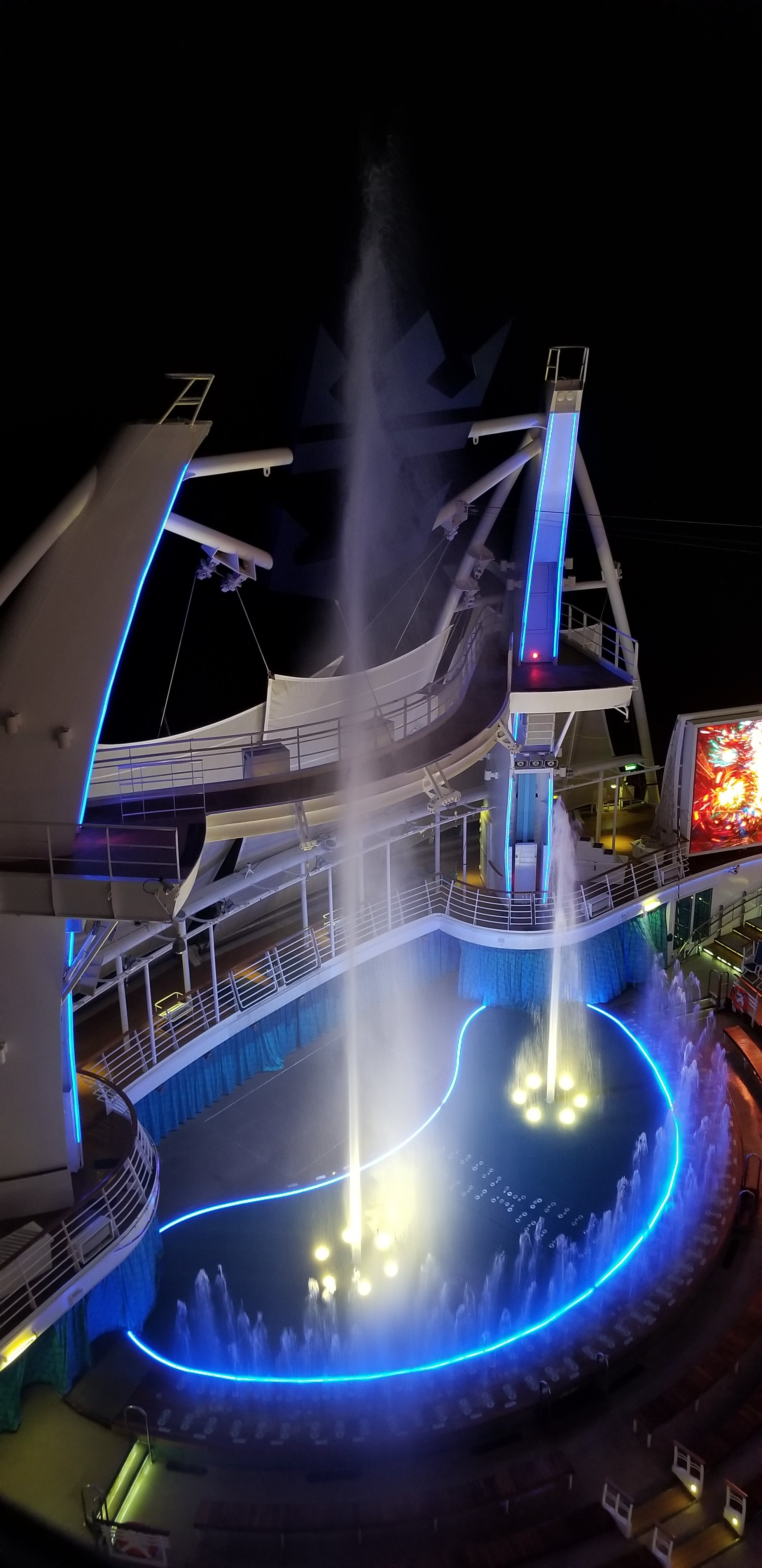 Content Count

134

Joined

Last visited
Recent Profile Visitors
The recent visitors block is disabled and is not being shown to other users.
LMort98

reacted to a post in a topic:

Anthem of the Seas 3/8/20 – 3/15/20 - Star Class Cruise

Thank you @Lovetocruise2002 for tagging me. I hope ours isn't changed as flying isn't ideal right now but good to know!

If it is expanded, the FCC would be in the names of the second and third passengers, even if it was you that paid for it. We had that issue and because ours ended up being cancelled, I took the refund for the 3rd person so it would go back to my CC since we paid for it.

coneyraven

reacted to a post in a topic:

Will Royal move ships?

It has a "1" in front of sail date : - )

We are booked for September (don't like posting exact dates online as internet trolls will know when the house is empty).

RCIfan1912

reacted to a post in a topic:

Will Royal move ships?

We are booked on Oasis for September (I know, there is a chance cruising won't be up and running but we are hopeful). Since many ships are off the coast of Florida and the virus is horrible in NY/NJ area, is there a chance Royal would change the ship to sail our of Florida instead?

Neesa

reacted to a post in a topic:

Anthem of the Seas 3/8/20 – 3/15/20 - Star Class Cruise

Ogilthorpe

reacted to a post in a topic:

Oasis of the Seas March 22, 2022

@Lovetocruise2002That must be why I can't find any Star Class rooms available!!! I do see a Star Loft but was hoping for 2BR Aqua since there are 4 adults.

I would normally think that is the case but the March 6, March 13 and March 27th ones are all available for booking...it is just one week missing.

RCIfan1912

reacted to a post in a topic:

Oasis of the Seas March 22, 2022

I was looking at March 2022 cruises on Oasis and the March 22, 2022 cruise is missing....does that mean it is already sold out or is it chartered? That was the date we wanted so curious if anyone knows.

Jax

reacted to a post in a topic:

Anthem of the Seas 3/8/20 – 3/15/20 - Star Class Cruise

WAAAYTOOO

reacted to a post in a topic:

Anthem of the Seas 3/8/20 – 3/15/20 - Star Class Cruise

We are in the 2BR Aqua theater on the four nighter on Deck 10!

@Lovetocruise2002 Yen made it all seamless. We did have certain nights we asked her to schedule dinner in advance of the cruise. On the nights we didn't have plans to just let her know the night before. I think the only difficult thing was we didn't always know what the plan was. When we opened the balcony and had room service for most of us that was only a few hours before that we decided and she made it all happen. She was wonderful!

We definitely had way too much leftover food! I think we had 20 bags of chips. Plus, when snacks were being delivered, we were rarely ever there so anything hot went to waste. Next time I will make sure to specify when we want snacks!

Debarkation Day Saddest day. Yen asked us what we wanted delivered to our room for breakfast and what time we wanted to get off the ship. Promptly at 7:15 our breakfast arrived (bagels, pastries, coffee and juice). We caught Brian and Lucky out in the hallway after breakfast and gave them their tips for amazing service. Yen came with a porter at 8AM and whisked us off the ship with our luggage in no time. She used her special card to get us on an elevator with our porter which was great. As we said our final goodbye near customs I had tears in my eyes thinking about the best week we had and the amazing things she did for us. After having some time to think about the cruise, there are some amenities I wish we had taken advantage of. Hubby and I are not "sit down" for breakfast types but I wish I had done Coastal Kitchen once for breakfast. The others in our party did Coastal most days and said they really enjoyed it. The other thing we never did was Jaime's or Chops for lunch. I would have loved to try one of the burgers or enjoyed a nice salad and soup. On sea days we always had a lot scheduled so we grabbed Johnny Rockets one day and Windjammer for the other sea days. I felt it was hard last minute to change plans since there were 10 of us but I wish at least hubby and I did more specialty dining for lunch. Would I do Star Class again – of course (if I could afford it of course)!! We are currently trying to get 2 BR Aqua theater for September but unless the prices drop, we are going to stick with our Owner's Suite (we are wait listed for Crown Loft which is sold out). Our next Star Class experience is on a short 4 night cruise in November on Oasis. We had an amazing cruise, a lot of laughs, enjoyed being spoiled and look forward to our next adventure! Thanks for following along. With all of the craziness going on across the world with the dreaded "C" word, I enjoyed positing this to distract those who followed along. Finally, I want to thank everyone who posted great tips and did their own live blogs that I followed along with leading up to our cruise. All of the questions I had and nervousness about not being able to plan all of my dining ahead of the cruise were alleviated by people explaining that the Genie really does take care of everything – and she did! Until next time, stay safe everyone and I will be looking forward to cruises sailing again so I can read along on other blogs in the future!

Day 7 – Last Sea Day A very sad day….last sea day. This is the day where we had to start packing and enjoy every last minute on the ship. We had great weather the entire cruise so it was nice to still be able to sit out on our balcony. Since we didn't get much wind back there, sitting in the sun was very nice. We only had plans to do the back stage tour and bridge tour. I had already done the back stage tour so I only opted to do the bridge tour. Yen met us in the afternoon with one other Star Class group to do the bridge tour. When we got to the bridge, there was a bar set up for us with soda and champagne….talk about feeling like royalty! It was very interesting to hear how they dock, how the ship sails itself and the tutorial on the radar. The bridge definitely has an amazing view. After the tour, we asked Yen to join us for dinner at Chops. She said she was unable to but would join us for dessert. Dinner was amazing and we enjoyed having one last opportunity to eat at Chops. Of course, all of our drinks were waiting for us. Yen joined us for dessert and surprised us with a birthday cake for some of us celebrating milestones this year and the restaurant sang us Happy Birthday. This is our group with Yen.

We had Brian and Lucky. They were both absolutely amazing and really cool different towel animals. we said we loved the penguin so he made a baby penguin the next night which was so cute!

Day 6 – Sea Day Since Cococay was our last stop, we were officially heading back to NJ. There were a lot of passengers on board worried as to whether we were going to be quarantined but the Captain announced that no one was showing signs of being sick so that made it ease our minds. Through the entire cruise, crew were wiping railings, door handles into rooms, doors, walls, etc. so they really did a good job. It was another late night so we slept in but had various activities planned throughout the day beginning with the Galley Tour. It was only about 20 minutes and they cancelled it for everyone except Star Class suites due to the health and safety of the guests. Yen told us that they made an exception for us since no one in the group was showing any signs of being sick. I am still amazed how the crew prepares so much food! After the Galley tour, 3 of us had Escape from the Future Puzzle Break scheduled. The theme is that the cruise ship has traveled through time and we have to solve the puzzles to bring the ship back to the current time. There were 8 of us in total and it required a lot of communication, but we were able to "escape" in a little over a half hour. We are (hopefully) sailing Oasis in September so looking forward to trying that escape room. In the afternoon a few people went to a private wine tasting at Vintages that Yen had set up. I am personally not a wine drinker but those who did it raved about being able to try some VERY expensive wines (I think they said one bottle was close to $600). There was a cost to this of around $175 for 3 people but Yen surprised them on the last night and actually had the wine tasting comped! Everyone in the group but my husband and I saw We Will Rock You at 6:30 – of course Yen had their drinks waiting. Since hubby and I wanted to have a nice dinner with just the two of us, Yen arranged to have Lobster and some sides from Chops delivered to our room. I FINALLY caught a picture of dinner before it was devoured!!! Yeah me! After dinner we met up with those that went to the show and they said they really enjoyed it. Of course, hubby and I headed to the casino where we finally had some luck! We got back to the room and Yen had come in and decorated for our anniversary and left us a cake to enjoy. Very sweet. Brian and Lucky left us the cutest penguin too!