In:
When is the best time to visit Alaska? This is one of the first questions people ask when planning an Alaska cruise because they want ideal conditions for their trip.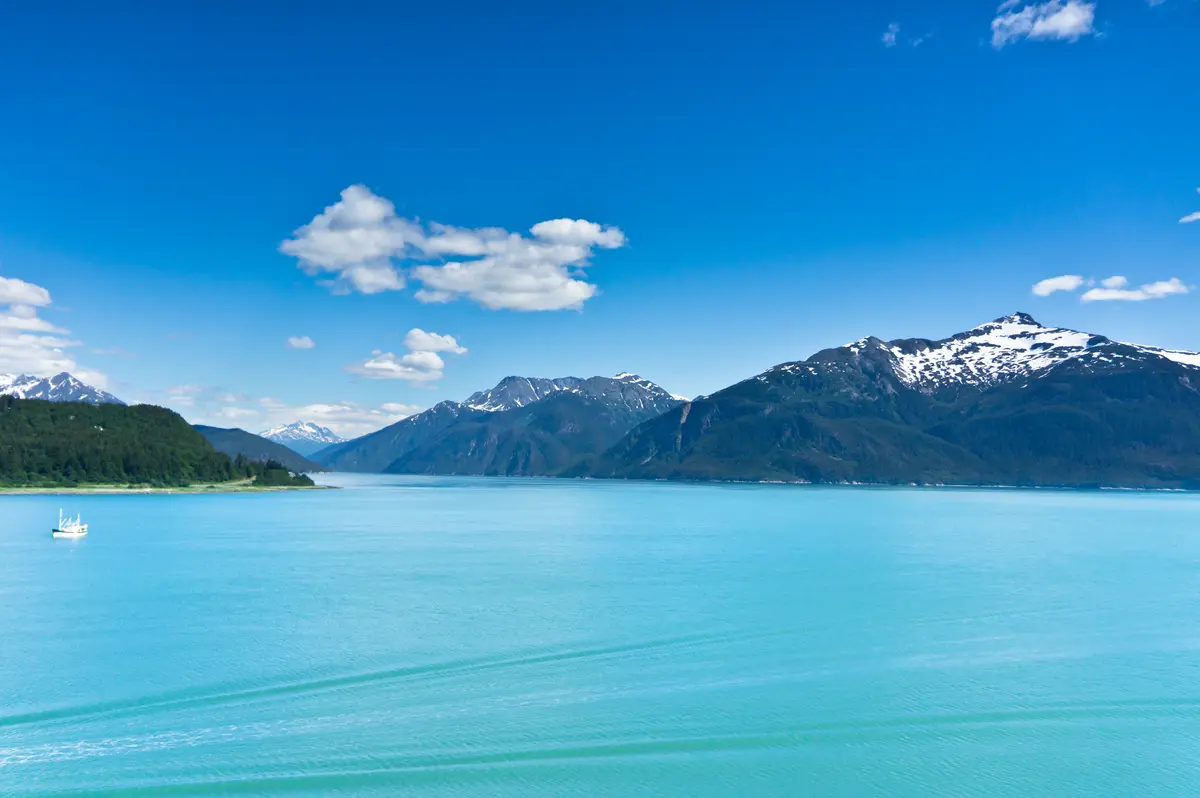 For such an exciting vacation, it's understandable to want to pick the best time to visit Alaska. After all, Alaska cruises put a focus on exploring the outdoors like no other cruise itinerary, and passengers want to make the most of their time amongst the state's glaciers, mountains, and wildlife.
Most Alaska cruises occur from early May to late September each year, although some cruise lines may offer sailings from April to October.
The beautiful, wild landscape of Alaska is an ideal destination for a summer vacation. From mid-June to mid-September, the average temperatures are perfect for outdoor activities, ranging from 60°F to 67°F - cool enough to be comfortable in the warmer months. During this time of year, the long days and bright sunshine make lovely conditions for being outdoors.
The weather, activities, and cost of an Alaska cruise can vary greatly from month to month. Certain times of the year may see little rain and higher prices whereas others may have chillier temperatures and fewer crowds.
Here's the best time to visit Alaska if you want to encounter the most favorable weather, cheapest cruise fares, fewest crowds, and best wildlife viewing opportunities.
The best time to visit Alaska for good weather
One of the main considerations people make when planning an Alaska cruise is the weather. Alaska's weather can be unpredictable, but with the right preparation (and packing), you can have an amazing cruise at any time of the season.
May is the driest month during the southeast Alaska cruise season, but spring temperatures can be a bit uncertain. You may encounter sunny days with relatively warm temperatures or you can experience cold, rainy days. Generally speaking, the later into May you cruise to Alaska, the better chance you have at nicer weather.
Related: What it's like to go on an Alaska cruise in the early season
Mid June to late July tends to bring the most favorable weather for an Alaska cruise. During these months, temperatures are usually in the mid 60s and days are long, with between 14 and 18 hours of daylight. Like May, June and July tend to encounter less rain compared to late summer and fall.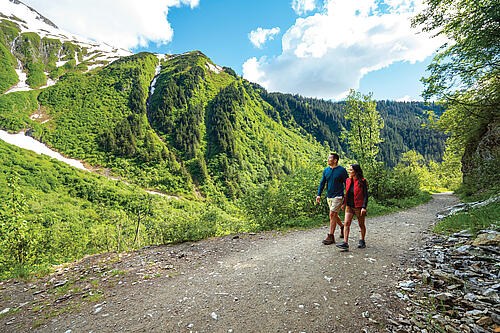 August can still offer comfortable temperatures for exploring Alaska cruise ports, but rain is much more common. More than half the days of the month in August experience rain, so packing appropriate water-resistant clothing is recommended.
It's important to note, though, that rain can occur during any month on an Alaska cruise, so you shouldn't let the possibility of rain deter you from booking your sailing during August. Plus, August still offers plenty of daylight, especially during the first half of the month.
As fall approaches in September, weather is more volatile. You should expect temperatures with a high in the mid 50s and more rain than any other month of the cruise season. Despite the weather, this can be a fantastic time to book an Alaska cruise, as cheap cruise deals are common and the start of fall foliage and snow makes scenic cruising days particularly beautiful.
Related: What it's like to go on an Alaska cruise at the end of the season
The best time to visit Alaska for wildlife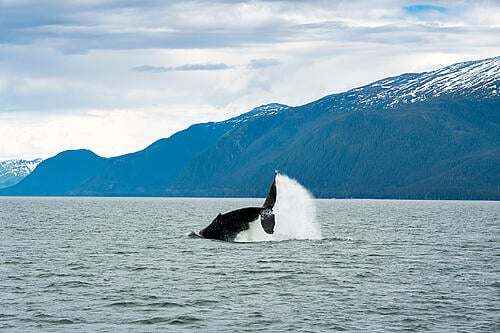 You can spot wildlife at any time of the year in Alaska. Truthfully, there's no "best" time to see wildlife, and it varies greatly from month to month.
The best time to visit Alaska if you want to see bears is from July to September. During these months, bears are commonly spotted along Alaska's streams.
Related: What is the best time of year to see wildlife in Alaska?
These months coincide with Alaska's annual salmon run, so many bears are feasting on the abundance of salmon in the streams and creeks. This makes your chances of spotting a bear higher than other times of the year.
If you're hoping to spot whales in Alaska, you're in luck, as whales call Alaska home from late April to September each year. You have a great chance at spotting whales at any time on an Alaska cruise, but certain months have a higher chance at spotting one species of whale over another.
Related: Alaska cruise whale watching guide & tips
Gray whales are some of the earliest to arrive in Alaska each year, and they can be spotted in late spring. Orcas are more likely to be seen in May and June, whereas humpback whales are most common in June and July.
Other wildlife, including sea lions, otters, and eagles, can be spotted year-round in Alaska.
The best time to visit Alaska on a budget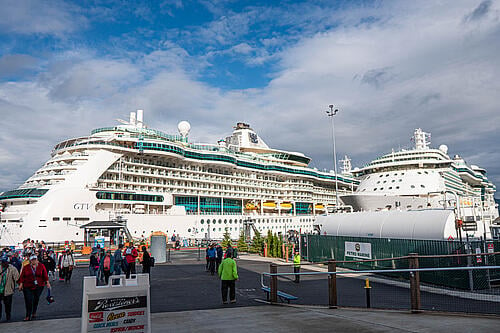 If you're looking for a cheap cruise deal to Alaska, you're almost guaranteed to see the lowest prices during shoulder season. Alaska's shoulder season runs from May to early June and from mid August to late September.
During these months, there is less demand for Alaska cruises due to more unpredictable weather, shorter hours of daylight, and the fact that these times of year coincide with the school calendar.
Related: How much does an Alaska cruise cost?
Because of less demand, you have a great chance at finding a cheap cruise deal to Alaska, especially if you're flexible on the ship, embarkation port, and sail date. You can often find deals for under $600 per person, including taxes and fees. At less than $100 a day, visiting Alaska during the shoulder months offers an amazing value.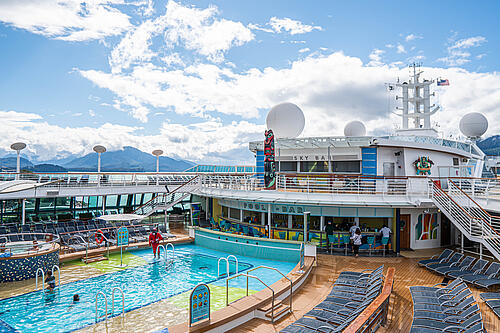 That's not to say you can't find cruise deals to Alaska during the busy season in June, July, and August. The further in advance you book your Alaska cruise, the better chance you have at scoring a lower price.
Plus, when you book an Alaska cruise far in advance, you have more opportunities to reprice your cruise before it begins. Royal Caribbean allows you to reprice your sailing up to final payment date. If you spot a lower price, you can readjust your cruise fare to the new, lower price. This can save you money on an Alaska cruise whether you sail in May, July, or September.
Related: Tips for taking an Alaska cruise on a budget
The best time to visit Alaska's interior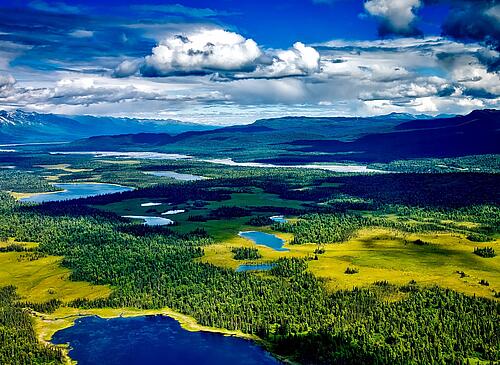 When you book an Alaska cruise, you can choose between a round trip and one-way cruise itinerary. Round trip cruises depart and return to the same cruise port—either Seattle, Washington or Vancouver, British Columbia.
One-way itineraries, on the other hand, start in Vancouver and end in Seward, Alaska and vice versa. There are two main advantages with a one-way Alaska cruise:
The opportunity to visit more ports, including those more remote such as Hubbard Glacier
The ability to start or end your cruise in Alaska's interior, making destinations like Denali National Park & Reserve just a short drive away
Most passengers who book one-way Alaska cruise itineraries tack on several days in interior Alaska before or after their cruise. You can book these cruises from May to September each year, and each month comes with its own set of advantages.
Related: Best Alaska cruises for every travel style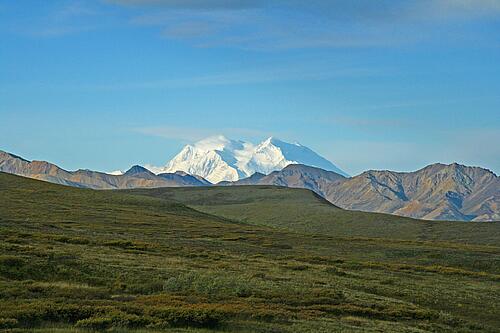 Traveling interior Alaska in May is fantastic for wildlife viewing. It's also one of the driest months, and there will be fewer crowds compared to the peak summer season.
June and July are also great months to spot wildlife in interior Alaska. Visiting Denali National Park & Reserve during this time brings long days (up to 20 hours of daylight!) and temperatures in the mid 60s. The mountainsides and meadows spark a wonderful green color during these months.
As fall approaches, colors begin to change and temperatures lower. Days tend to be comfortable whereas nights are chilly; there's even the possibility of snow in these months.
However, as the school year begins, there will be fewer crowds in Alaska, leading to more competitive pricing on travel and lodging. You may even see the aurora borealis (northern lights) during the fall as well.
The best time to visit Alaska for fewer crowds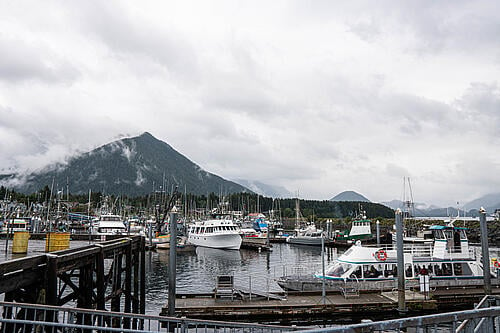 Alaska cruises are extremely popular. It's estimated that around 1.5 million passengers visited the state by cruise ship in 2022!  As cruises to the Last Frontier continue to increase in popularity, many people are wondering how to avoid crowds on an Alaska cruise.
The best time to visit Alaska with fewer crowds tends to be in either the very early or late cruise season. Sailing to Alaska in early May or mid to late September brings far fewer crowds compared to June, July, and August.
Related: Top ways to avoid crowds on an Alaska cruise
Most people want to cruise to Alaska during the warmest months of the year, whereas the shoulder season sees less demand. Not only will you encounter fewer passengers in the very beginning or end of the season, but you'll see fewer ships in port.
Royal Caribbean, for example, sends four ships to Alaska each year. The first ship to arrive starts offering cruises in late April, but other ships don't start offering cruises until the second week of May.
Therefore, with only one Royal Caribbean ship sailing in late April as opposed to four, there are over 10,000 fewer passengers cruising in Alaska each week.
Even if you sail to Alaska during the most busy time of year, there are a few ways to avoid the crowds. We recommend getting off the ship as early as possible on port days to begin exploring before the crowds arrive. Walking around Alaska's cruise ports is much calmer at 8AM compared to later in the morning and afternoon.
Likewise, exploring ports on your own can give you more flexibility with avoiding crowds. Without a tour, you are free to explore anything of interest, whether it means doing a quiet day hike or renting a car with your travel party. Getting off the beaten path is a sure-fire way to enjoy Alaska without as many crowds.
Related: 7 ways to have a great time in port without a cruise ship shore excursion
Finally, booking a balcony cabin is an excellent way to enjoy extra privacy on an Alaska cruise. Instead of watching Alaska's scenery on a busy pool deck, you can enjoy the views from the comfort of your own balcony.
When should I cruise to Alaska?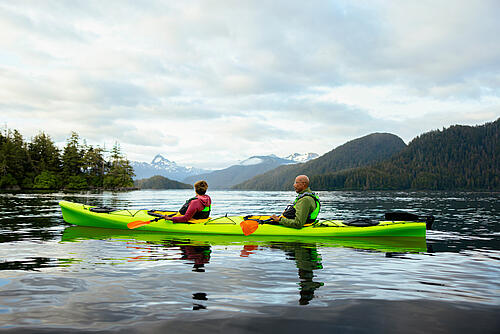 As you can see, there's no correct answer as to the best time to visit Alaska. Your budget, interests, and travel preferences can all influence your decision on the best month to book an Alaska cruise.
For most travelers, however, we recommend cruising to Alaska in June or July. The warm temperatures (for Alaska standards), long hours of sunlight, and ample wildlife viewing opportunities make these months hard to beat.
Sure, cruising to Alaska in the peak summer months may be more expensive, but you can still find great cruise deals by booking far in advance and repricing your cruise often.
Related: 45 ways to save money on a Royal Caribbean cruise
Like any cruise vacation, cruising to Alaska is all about keeping an open mind and about keeping your expectations in check. If you expect to see whales every day, encounter little rain, and have every Alaska cruise port to yourself, you'll likely end up disappointed.
No matter the month you sail, it's important to be flexible when planning an Alaska cruise. Going with the flow allows you to make the most of your time in this beautiful destination whether it's early May, late June, or mid September.