In:
Ready to book more Icon of the Seas cruises?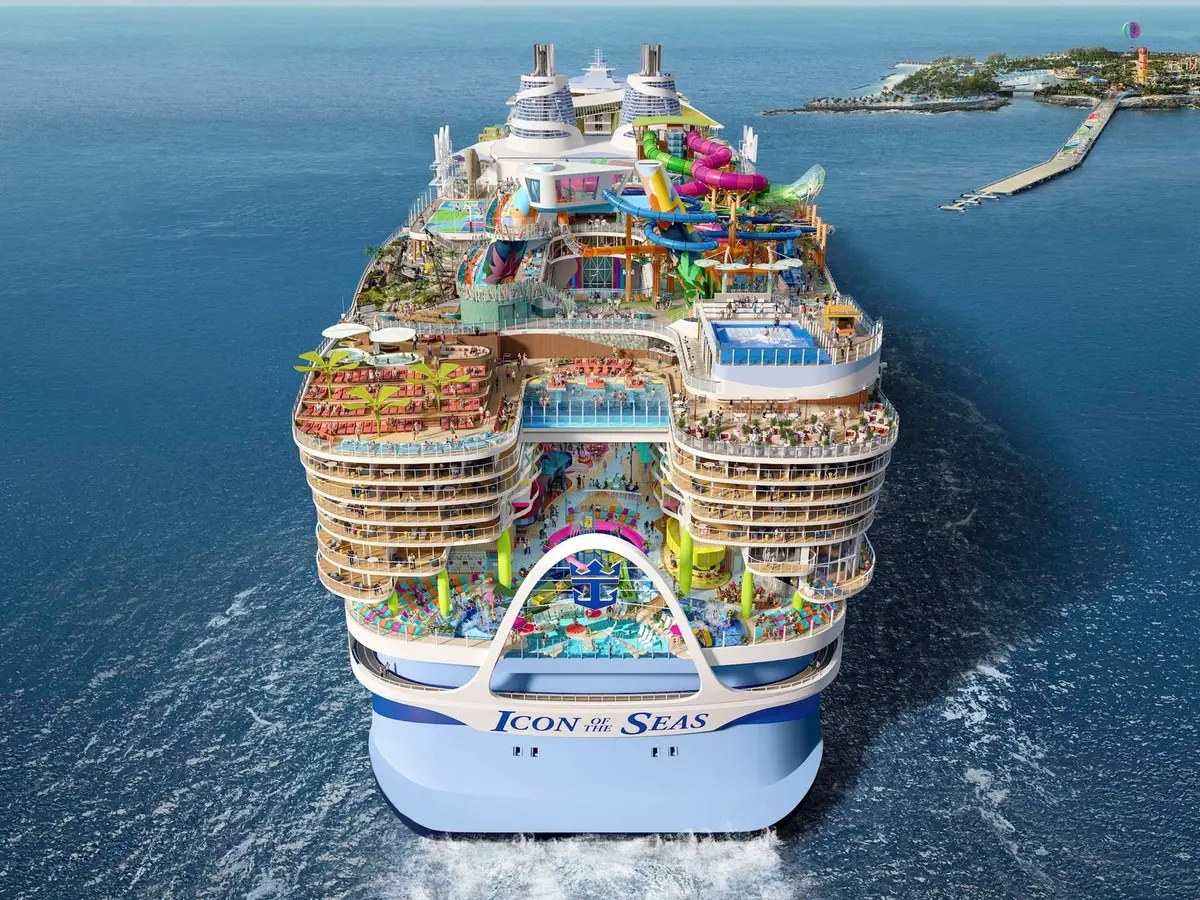 Icon of the Seas has yet to actually start sailing, but the vessel that will become the world's largest cruise ship when she debuts has seen a great deal of demand from customers.
Royal Caribbean has opened up more bookings that extend through April 2026.
While the cruise line has not yet added other ships to book that far out, they have added more available dates for Icon of the Seas.
Read more: When will Royal Caribbean release new sailings for 2025-2026?
Icon of the Seas will be 250,600 tons and hold up to 7,600 passengers, both of which are stats that eclipse the current largest cruise ship, Wonder of the Seas. Icon will also be about 10 feet longer than Wonder of the Seas, coming in at 1,198 feet long.
Icon of the Seas will remain in Miami, Florida and offer 7-night Eastern and Western Caribbean voyages, with all of them visiting Perfect Day at CocoCay.  There are four routings for these sailings:
Seven-night Eastern Caribbean voyages with stops at Puerto Plata, Dominican Republic; St. Thomas, San Juan, Puerto Rico; and Royal Caribbean's private island in the Bahamas, Perfect Day at CocoCay.
Seven-night Eastern Caribbean voyages with stops at St. Maarten, St. Thomas and Perfect Day at CocoCay. 
Seven-night Western Caribbean voyages with stops at Roatan, Honduras; Costa Maya and Cozumel, Mexico; and Perfect Day at CocoCay. 
Seven-night Eastern Caribbean voyages with stops at St. Thomas, San Juan, Puerto Rico; and Perfect Day at CocoCay. 
Prices for these cruises have an average starting rate of around $1600-1800 per person. The cost of going on Icon of the Seas has commanded a premium price since the ship opened for bookings initially due to record-high demand.
In May 2023, Royal Caribbean Group CEO Jason Liberty talked about the incredible demand the ship has experienced so far, "Despite being on sale for only five months, Icon is significantly more booked for her inaugural season at materially higher rates than any other Royal Caribbean ship launch."
Royal Caribbean International President and CEO Michael Bayley talked about this fact, "Icon is literally the best performing new product launch we've ever had in the history of our business, and we're delighted with volume and rate and that really is a full 24 product."
Demand has been so strong, that Royal Caribbean felt compelled to release more bookings earlier than the rest of its fleet.
Mr. Bayley issued a statement about why new bookings are out three months ahead of schedule, "Since Icon of the Seas was revealed almost a year ago, the response has been unprecedented by every measure."
"Families and friends are looking for vacations where everyone can make memories their way without compromise, and that's what we set out to create in its best form with Icon more than five years ago. The excitement has only continued to build, making it clear that we've designed a revolutionary experience that reflects how consumers want to travel today and for years to come."
Currently under construction at the giant Meyer Turku shipyard in Turku, Finland, Icon of the Seas will have her first sailing begin in January 2024.
Icon of the Seas features
Icon of the Seas was announced as a new kind of cruise ship back in 2016, and will be the first new class of Royal Caribbean cruise ship in almost a decade.
Not only is she big, but Royal Caribbean is loading her up with all sorts of new offerings that has clearly resonated with consumers.
The ship will have new types of cabins, a water park, new neighborhoods, and plenty of activities inbetween.  It will also offer a bigger array of dining venues, bars and deck-top attractions than any cruise vessel ever built.
Royal Caribbean calls Icon of the Seas a "white paper" ship, because it has been designed from the ground up with new concepts. 
There are 8 neighborhoods (one more than the Oasis Class ships), with three of the neighborhoods being an all new concept.
Read more: Royal Caribbean ship classes ultimate guide
One big focus of the ship is the family cruise market, which the cruise line is actively targeting.
Icon of the Seas will have a dedicated neighborhood for families, known as Surfside.  Surfside is aimed at competing with the Orlando family vacation market.
Read more:  A sneak peek at Icon of the Seas under construction
Surfside was designed to become an area of the ship where families with kids ages 6 and under can play all-day together, where parents don't need to give up their relaxation time just because their kids want to play.
You'll find a giant aqua park designed for families: Splashaway Bay and Baby Bay splash parks for kids and the Water's Edge pool for parents. 
You're also going to find an entire water park on the top deck with six water slides to choose from.
Icon already completed her first set of sea trials, and is expected to complete work on her sometime later this year before being readied to start offering cruises.
Planning a cruise? Start here: