In:
Last December, my husband and I hit a personal milestone as we celebrated our 100th cruise together. Coincidentally, that sailing was also my 100th cruise with Royal Caribbean.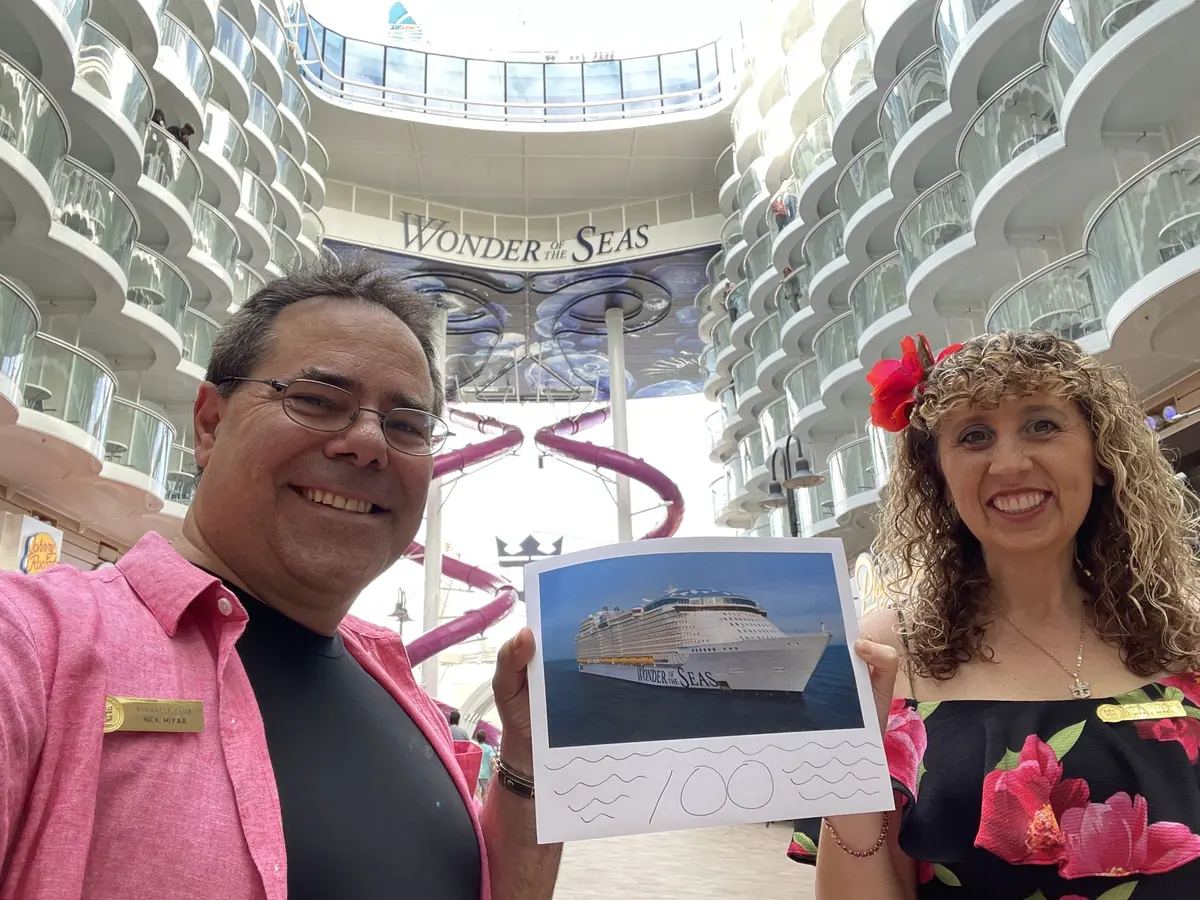 I was curious to see how my approach to cruising has changed since our first sailing in 2004, and also how things have changed in the cruising industry.
From cruising more frequently to booking better cabins, we've made several key changes to our cruising approach in the past 19 years. Here are the top ways my cruising style has changed after 100 sailings.
Frequency of cruising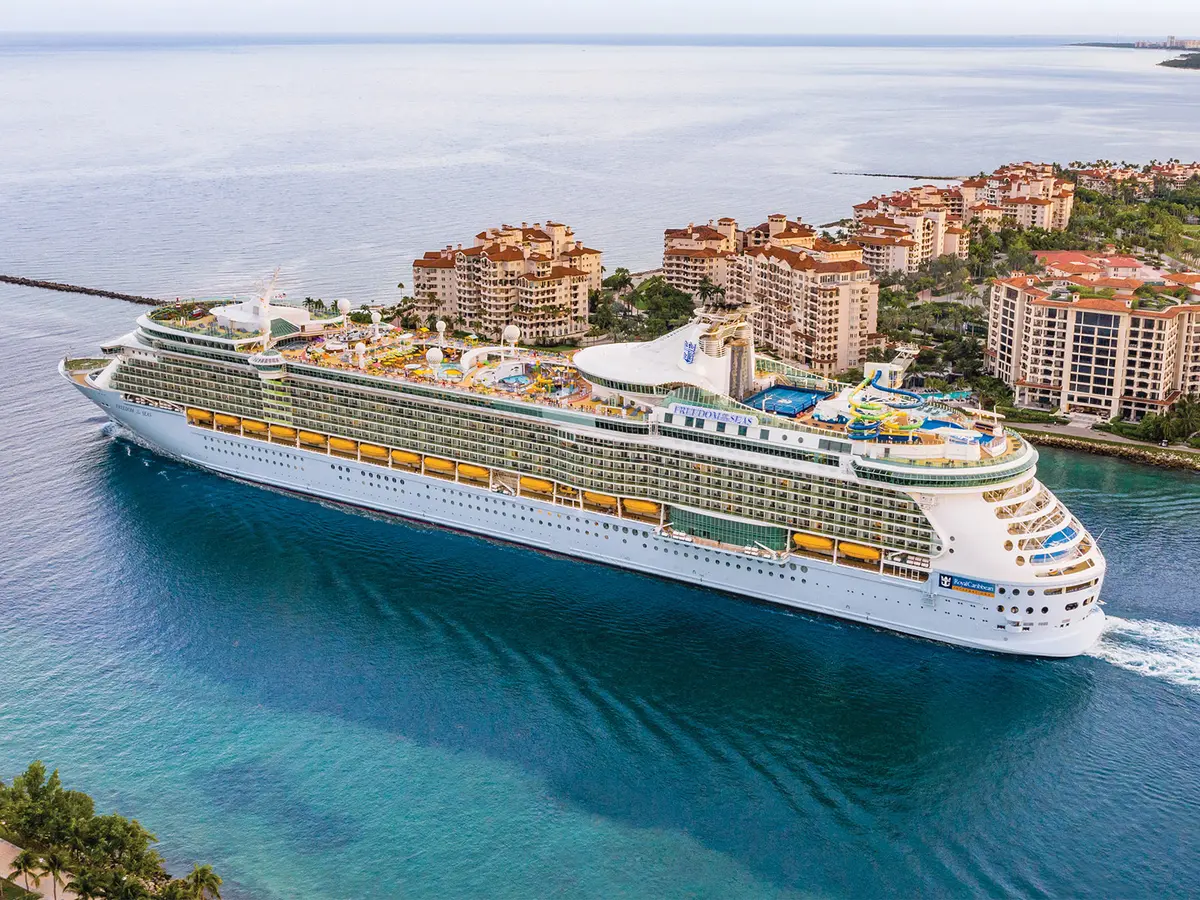 When we first started cruising, we sailed once a year, and always in October for our anniversary, which usually coincided with Halloween sailings. 
As time went on, we started doing two weeklong cruises and two weekend sailings each year.  Once we realized that reaching Pinnacle Club status was a realistic goal, we began cruising ten or more times per year, which is pretty much where we still are today.
Related: Pathway to Pinnacle: How I reached the top of Royal Caribbean's Loyalty Program
Ports vs. Ship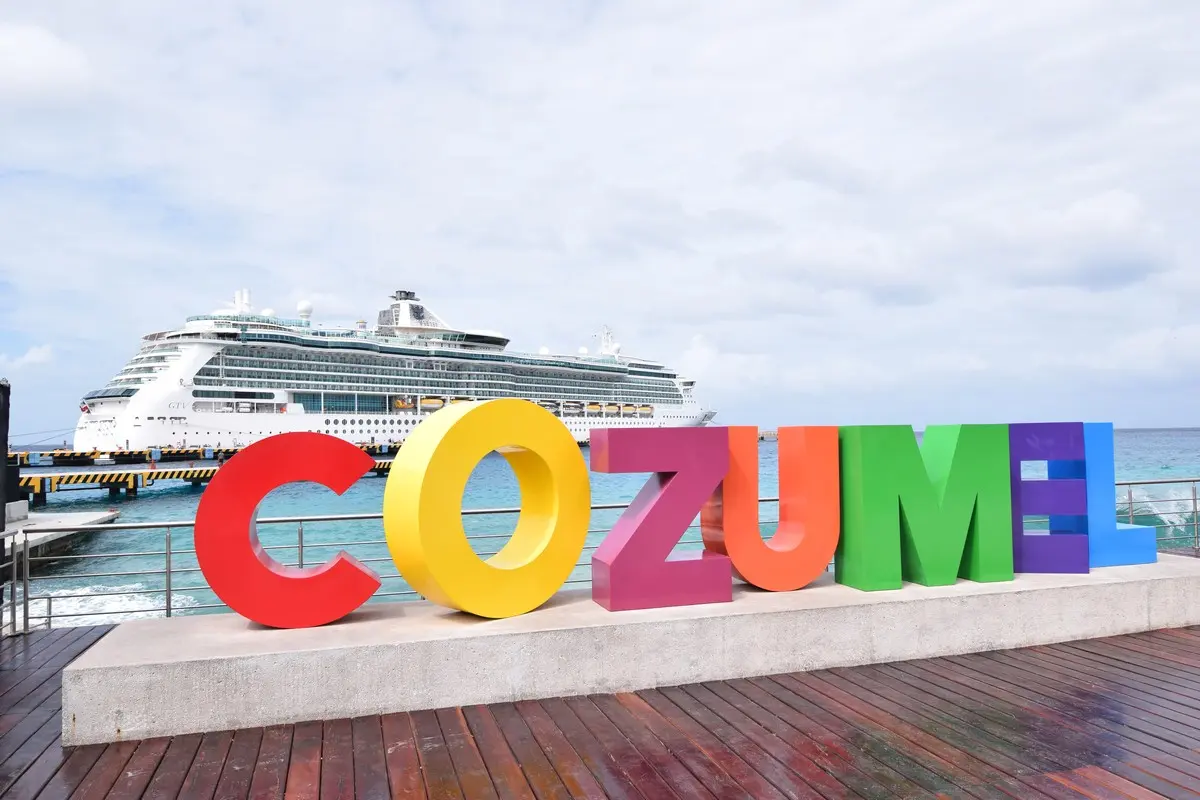 Early on, whenever we booked a cruise, we always made sure to pick an itinerary with at least one port that was new to us. However, when you frequently sail to the Caribbean, that gets harder to do.
Of course, you can take cruises to Alaska, Europe or Australia to find new destinations, but for me, that involves a lot of flying, which I am not a fan of doing. Therefore, it's basically the Bahamas and Caribbean. I like to choose an itinerary with Cozumel as it's a personal favorite of ours.
The ship itself, though, has become more of a selling point for us when booking a cruise. A Voyager, Freedom, or Oasis Class ship is a must. Then again, we still haven't been on a Quantum Class ship, so who knows, maybe that will be a favorite in the future.
As far as departure ports go, Port Canaveral will always be our first choice. Sure, it's the one closest to home, but we also feel it's the most efficient.
Accommodations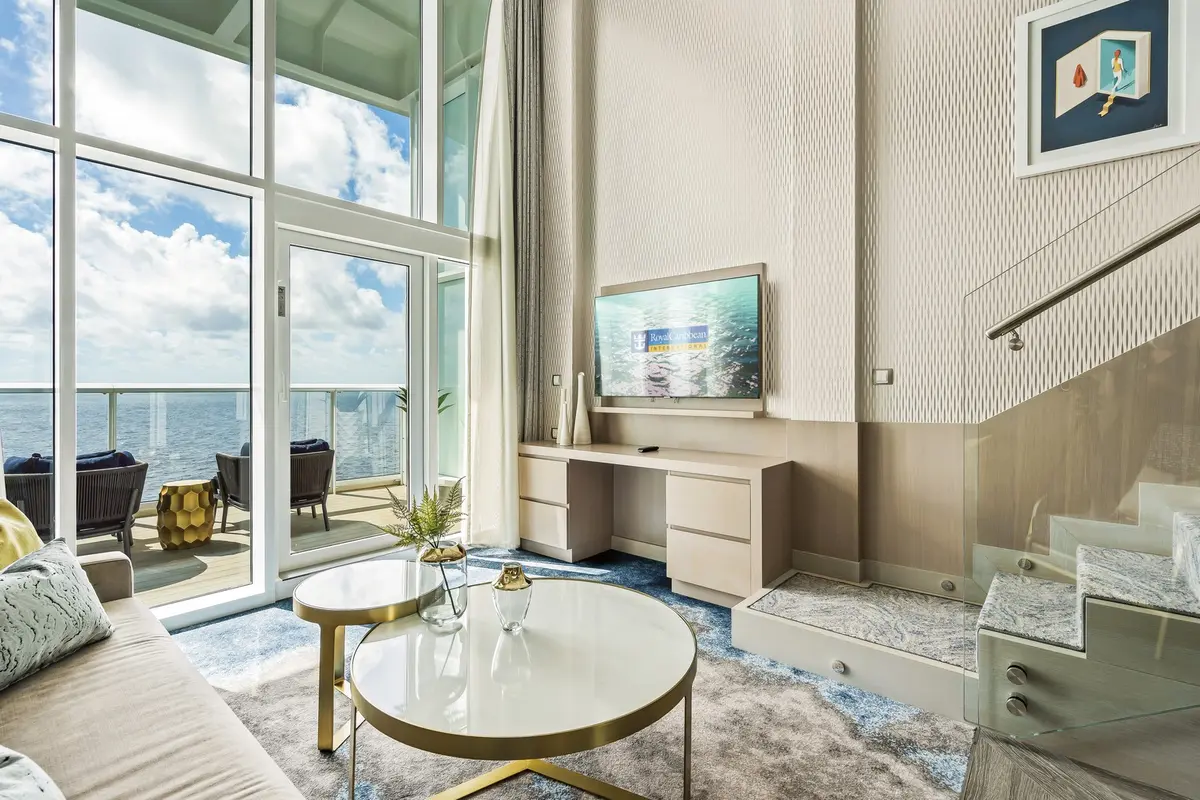 In the beginning, our approach to picking a stateroom was always "whatever is cheapest". That meant a lot of interior cabins, some of which were so tiny you could lay on the bed sideways and stretch out to touch both walls! We figured since we weren't in the room that much, the size didn't matter. 
Today we find ourselves spending more time enjoying the room. We typically book Junior Suites with the occasional Crown Loft Suite. I'm at the point where I need to have a balcony, even if it's an interior-facing cabin like the Central Park balcony we recently tried on Wonder of the Seas. I just like to have the option of fresh air.
Onboard Activities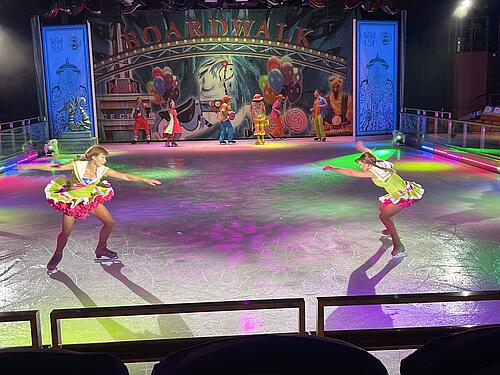 I would guess everyone new to cruising feels the same way about onboard activities: you have to do everything in the Cruise Planner to make the most of your vacation. That certainly was us when we started cruising; we went to every show and trivia game available! 
Today when it comes to trivia, I only show up to the ones that I have the most interest in, such as classic rock and Disney-themed trivia.
Long gone are the days of the Flowrider, ziplining, and ice skating. Instead, I find myself enjoying a more relaxing experience.
Sailing on the same ships over and over again means you have seen the main theater shows multiple times, although there are favorites that I still look forward to. I never miss a performance of Ice Games! on Allure of the Seas or Aqua80 on Oasis of the Seas. Plus, there are always guest entertainers that keep the shows fresh for frequent cruisers.            
Dining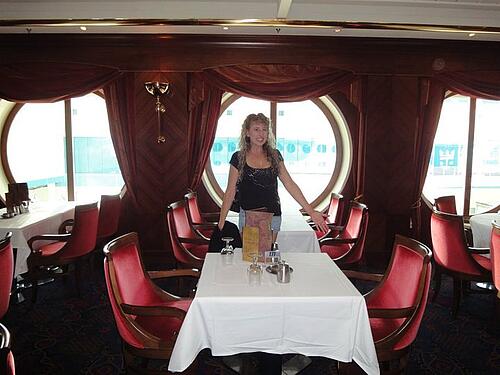 Our early days of cruising were all about the Main Dining Room for dinner. One of our goals was always to score that elusive table for two by the window (which rarely, if ever happened). Breakfast and lunch were exclusively in the Windjammer. 
Dining venues included in your cruise fare have come a long way since we first started cruising. The Oasis Class ships now offer the Solarium Bistro, Park Café and El Loco Fresh, to name a few.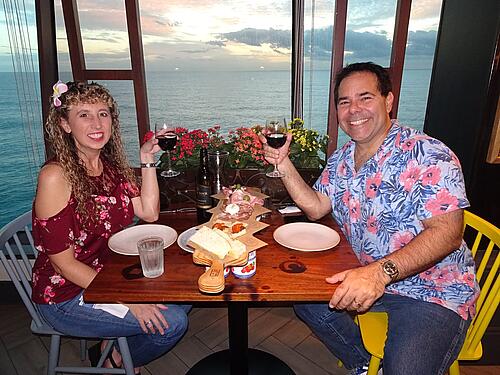 Recently, we've migrated to mostly specialty dining restaurants, especially on embarkation day.  The crowded Windjammer at lunch that first day just stresses me out! It's worth the cost for me to be able to enjoy nachos and wings at Playmakers at a leisurely pace.
We've also found ourselves ordering more room service than in the past, and I really enjoy having breakfast on the balcony.
Drinks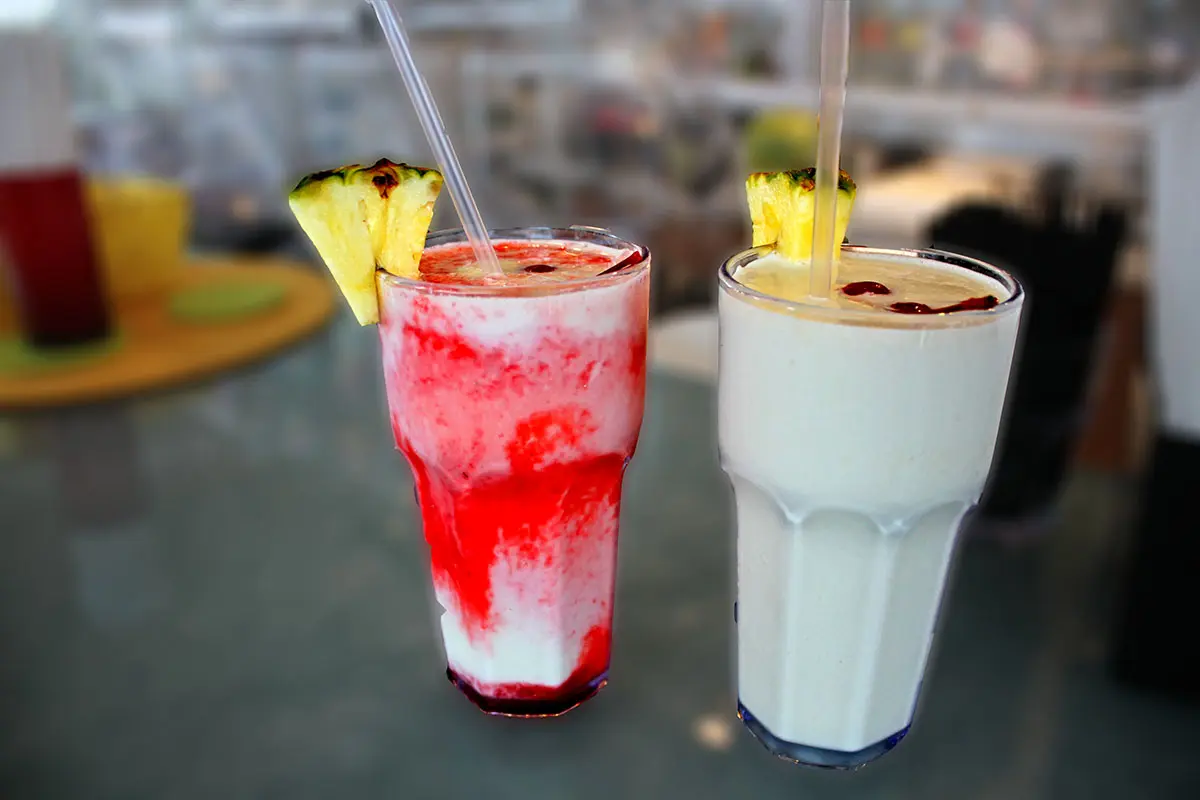 In 100 cruises, I think we bought the Deluxe Beverage Package three times. Once we became Diamond members, we just enjoyed our free drinks during happy hour in the lounge each evening. 
After the restart of the cruising industry in 2021, the Crown & Anchor Society changed the free drinks to an allotment of drink vouchers per day. These vouchers can be used anywhere onboard at any time, and they have definitely changed our approach to drinking onboard.
I get a vanilla latte most mornings at Café Promenade, then enjoy cocktails throughout the day. These drink vouchers also work at Perfect Day at CocoCay and Labadee!
These drink vouchers are the second best thing to come from the pandemic (the first being the virtual muster drill, but I digress).
Excursions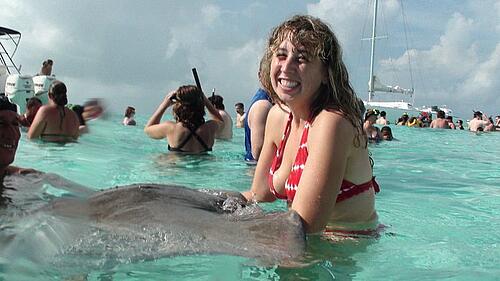 When we first started cruising, we used to do an excursion in every port. From swimming with dolphins in Cozumel, visiting Stingray City in Grand Cayman, ziplining in Labadee, and horseback riding in Montego Bay, we literally did it all!
The excursions we book now are primarily at Perfect Day at CocoCay. It's not unusual to find us at Thrill Waterpark, and we've also been known to book the Coco Beach Club or floating cabanas.
Related: Coco Beach Club: cost, tips & review
In Europe, we did ship excursions and explored on our own. Tours booked through Royal Caribbean are easier, but if you're a planner like me, you can see so much more on your own. Just make sure you're back by all aboard time!
Onboard expenses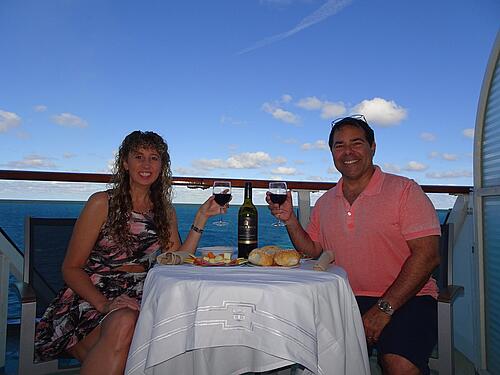 Nowadays when we cruise, we no longer purchase photo packages, massages, and gifts for everyone we know. I will, however, always buy an ornament of the ship the first time I sail on a new one. I started this with our very first ship and have kept up with the tradition all this time.
After 100 cruises, I've noticed that my spending has transitioned more from charging things on my SeaPass card to needing more cash. I use this cash for extra gratuities to the bar staff, dining servers, stateroom attendants, and concierges (and for the occasional slot machine).
Even though the way we cruise has changed over the past 19 years, our love for it has not. I look forward to the next 100!