In:
At the very least, it is going to be quite a while before any of us get to on a Royal Caribbean cruise.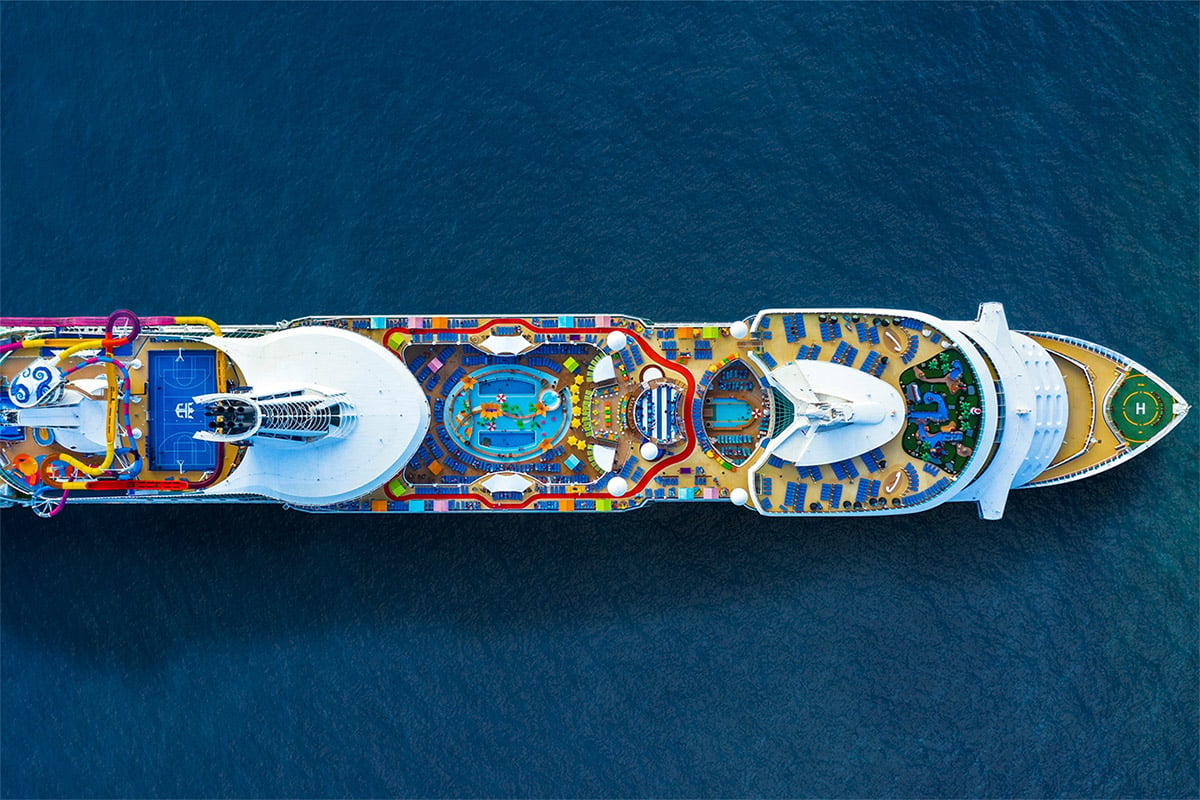 While a involuntary dry dock for us all is downright depressing, I came up with some ways to recreate the fun at home.  I know many of us are going stir-crazy sheltering-in-place, and you are definitely not alone!
Here are 20 ways you can feel kind of like you are on a Royal Caribbean cruise without getting onboard a ship.
1. Cook a Royal Caribbean meal at home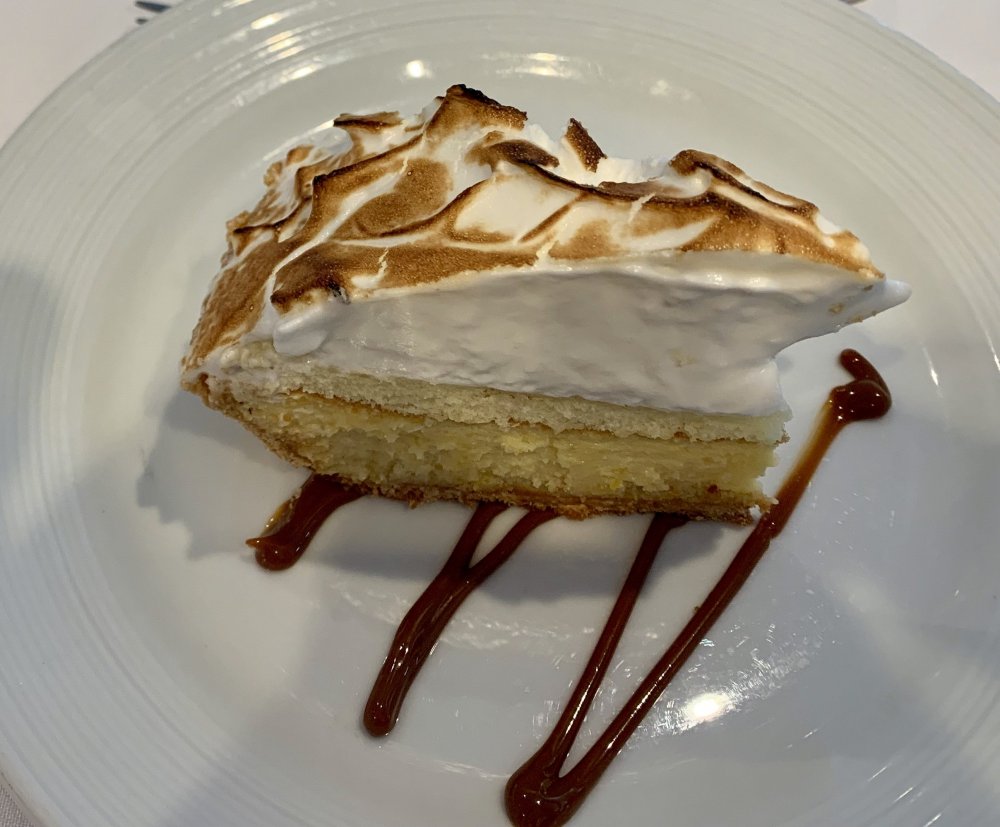 Do you miss the main dining room or Windjammer food? The fantastic food served on a Royal Caribbean ship is always a highlight of any cruise vacation, and you can recreate some classics at home.
You can download Royal Caribbean's commemorative Food & Beverage ebook, which features recipes of classic dishes, such as lobster crepe, baked alaska, baby beet salad and more.
Recreating a meal from a Royal Caribbean ship is a great way to relive some of your favorite memories, or even try something new! 
2. Watch a movie filmed on Royal Caribbean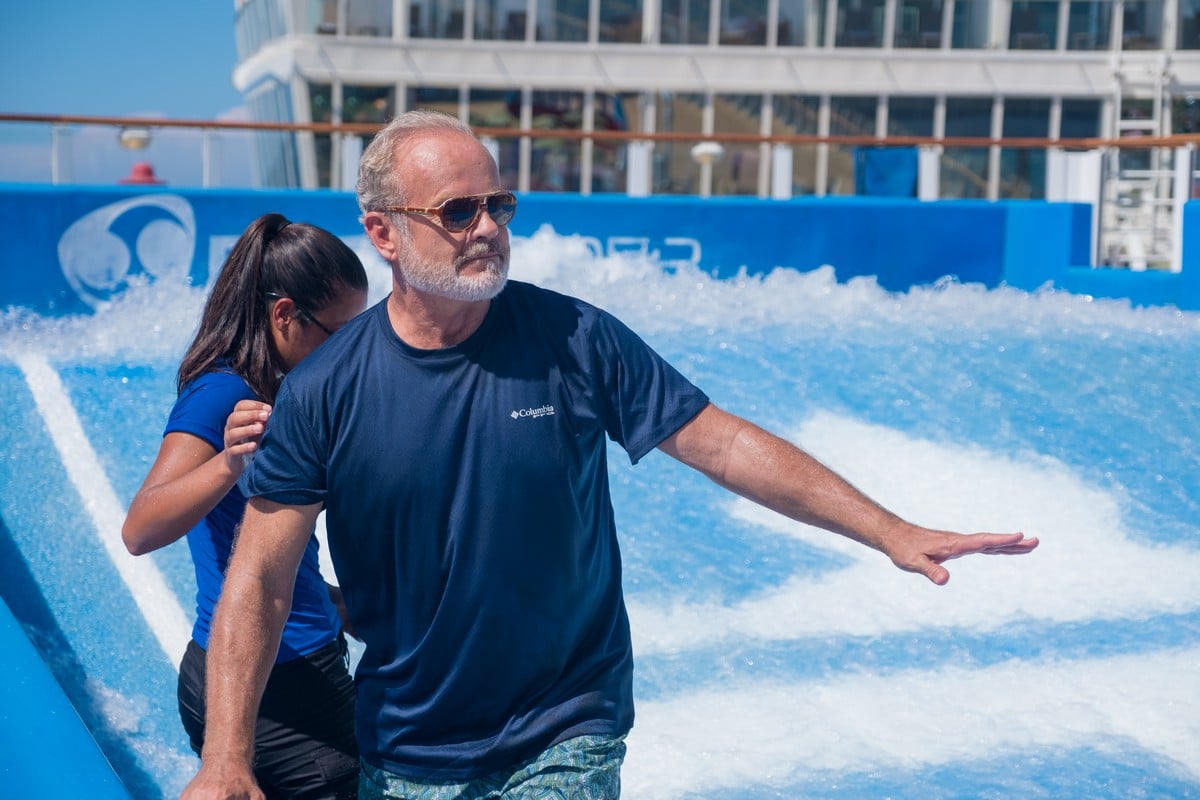 Over the years, Royal Caribbean has been the backdrop a few different feature films and short series, so this may be the perfect time to catch up on these flicks.
"Like Father" was filmed on board Harmony of the Seas and stars Kristen Bell, Kelsey Grammer and Seth Rogen in a Netflix original movie.
Then there's the Hallmark Movie that stars Royal Caribbean Godparents Carlos and Alexa PenaVega, "Love at Sea", which is set also on Harmony of the Seas.
3. Enjoy the Musical Stylings of Billy Pando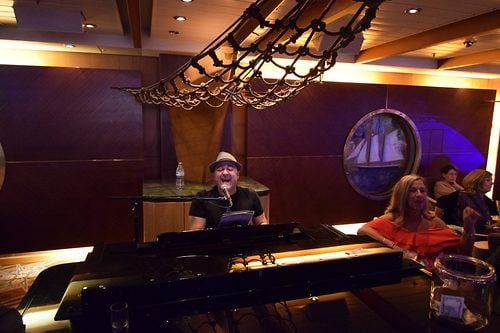 If you have ever been lucky enough to catch a performance of Billy Pando in the Schooner Bar of a ship, then you know how talented this man is at his craft.
Billy Pando is Royal Caribbean's go-to A-List performer each evening on the most important sailings, and you can watch some of Billy's live performances on his Facebook page.
Here is one live session he did on March 22 that is sure to make you feel like you are at the Schooner Bar (especially if you follow tip #8 on this list).
4. Color Royal Caribbean style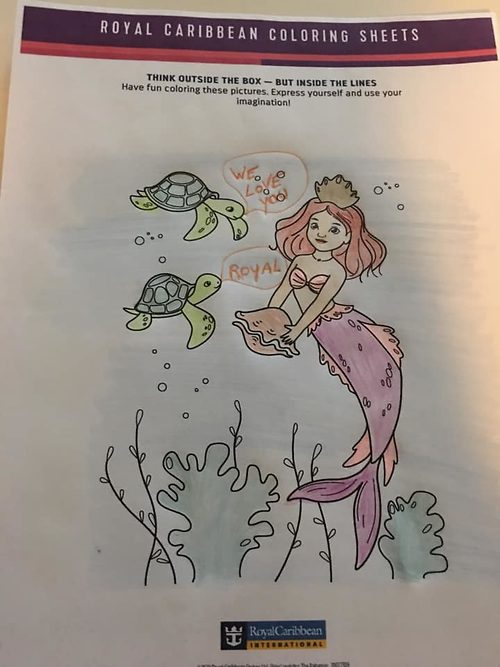 Coloring by Charlene Cancun
Coloring is a super relaxing activity, no matter what age you are! You can find Royal Caribbean coloring sheets online to print out and see how well you can stay within the lines!
5. Read a Royal Caribbean book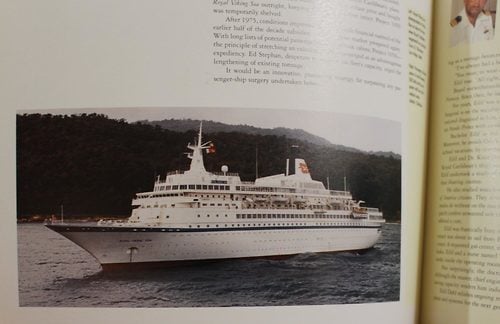 Note: links in this section contain affiliate links, which means I make money if you buy something. Don't worry, the price is the same to you.
Books are another thing you can find plenty of on Amazon! Whether you're looking for the history of Royal Caribbean, cook books, or stories from a Captain, there is enough good reads out there to keep you occupied.
My favorite book is "Under Crown and Anchor: Royal Caribbean Cruise Line, the first twenty-five years", and is difficult to find, but such intricate history and details that any super fan will enjoy.
6. Watch RoyalCaribbeanBlog videos!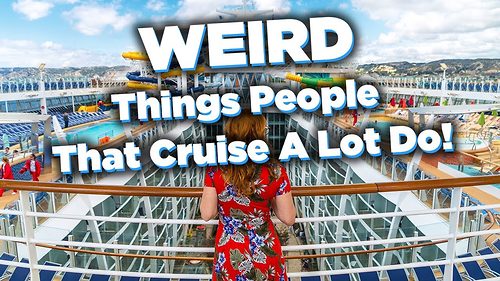 Okay, this is very self-serving, but you can watch our super helpful planning videos that are totally free on the Royal Caribbean Blog YouTube page!
There are dozens and dozens of videos on all sorts of topics from planning help, to first time cruise tricks, advice and a lot more.
Don't forget that every Monday night, I am live on YouTube answering your cruise questions too! Be sure to subscribe to our channel so YouTube will notify you when I go live.
7. Re-watch Royal Caribbean vintage commercials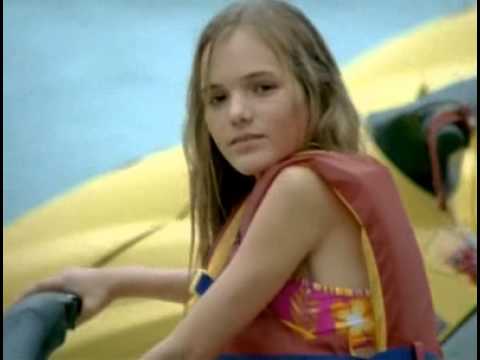 Want to really kick up the nostalgia factor? Check out these Royal Caribbean commercials from the past.
Some of these videos will make you laugh, cry, or remember a classic you have not seen in a while. It is fun way to bring back memories of when you started cruising!
8. Concoct a cruise drink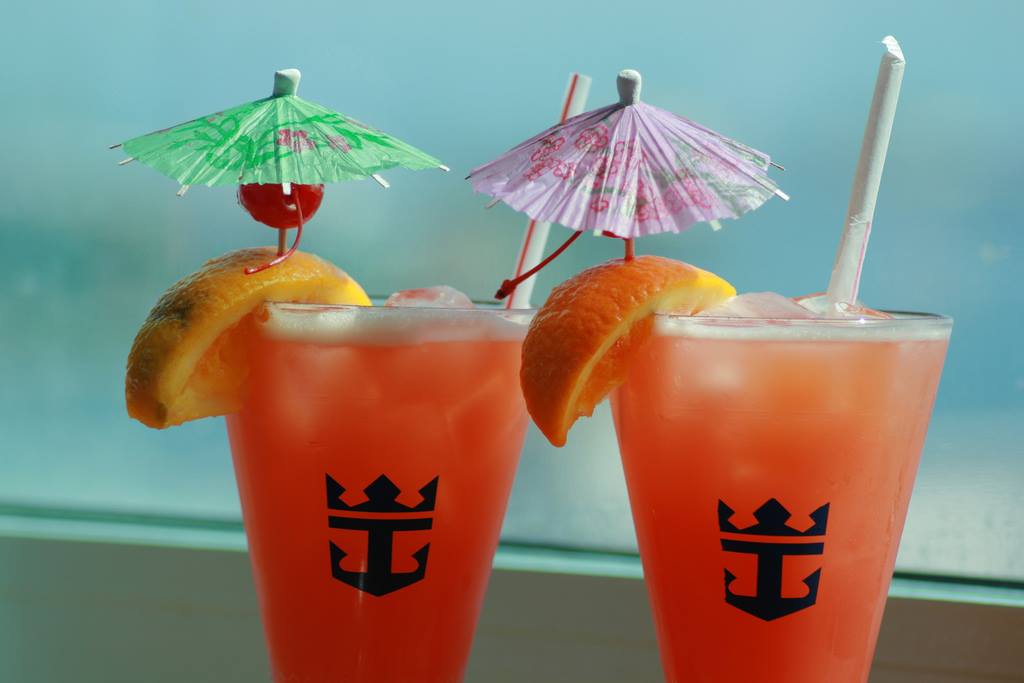 While you may not have an unlimited drink package at home, you can try making the sort of cocktails or mocktails you typically order on a cruise!
Margaritas, lava flows, daiquiris and more are super popular on a cruise, and if you have blender and the ingredients, many are easy enough to try out from the comfort of your own kitchen.
Check out this list of 38 Royal Caribbean drink recipes for instructions on how to make your favorite (or discover a new one)!
9. Start planning your dream cruise vacation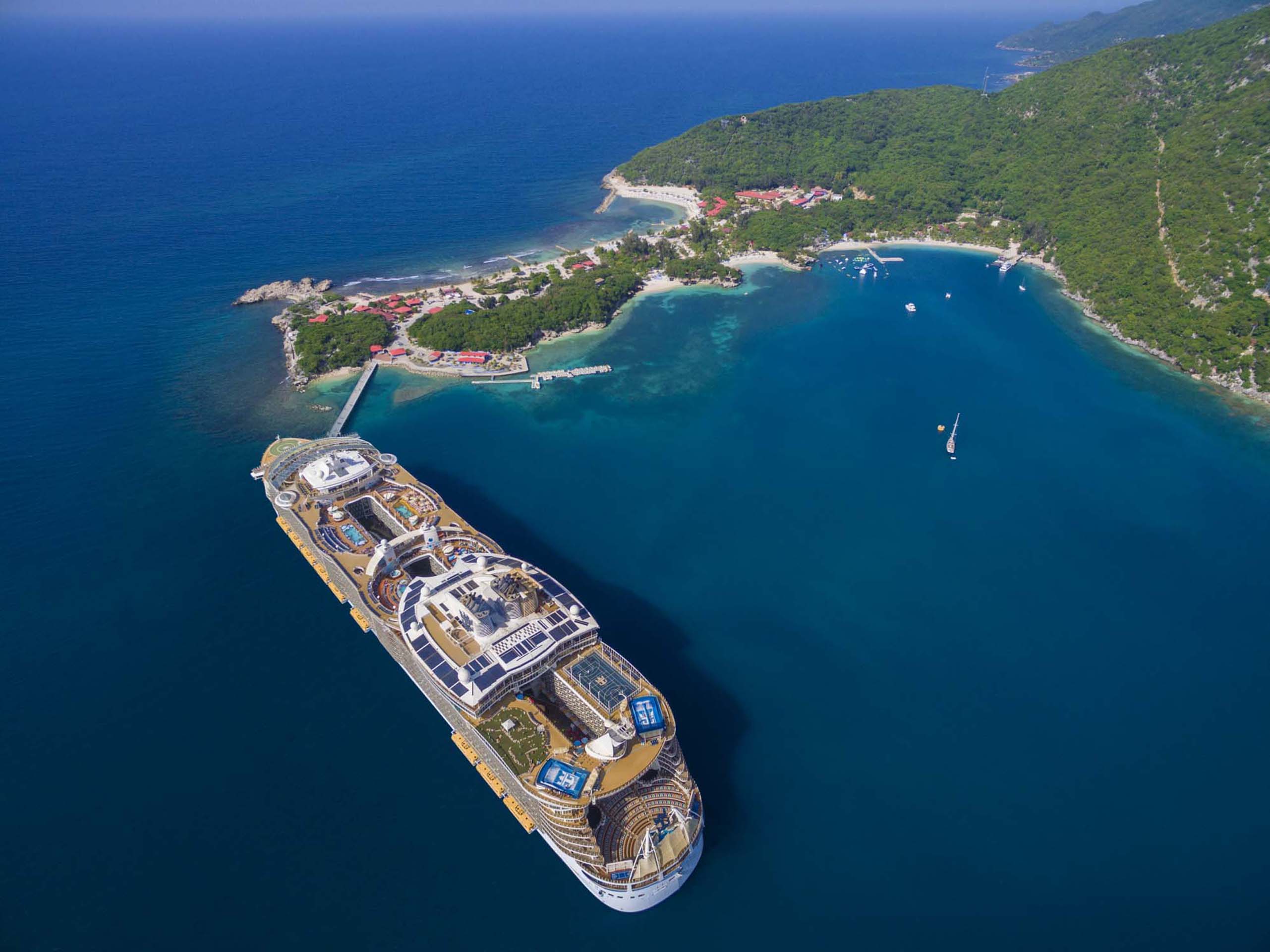 While cruising is on hold right now, it wont always be like this, so planning your next cruise is one of the best ways to help pass the time.
Now is a great time to put a deposit down for a cruise in the future, and start planning which shore excursions you want to try, read a Cruise Compass to see activities onboard, and learn everything you can about the ship.
10. Play the Royal Caribbean version of Monopoly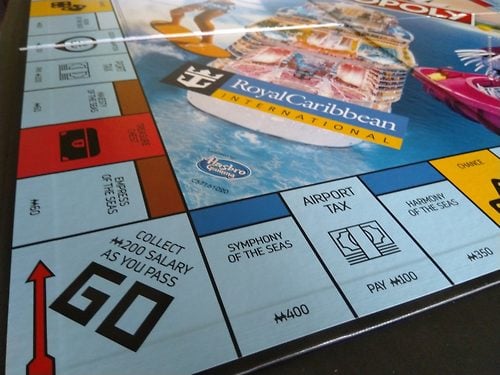 This one will be tough to find, but if you can scrounge one up on eBay, there is actually a Royal Caribbean edition of Monopoly!
This edition of the game was given away to travel agents on Independence of the Seas as a gift, but a copy or two pops up on eBay now and then to purchase.
11. Watch the Oasis of the Seas Megafood Documentary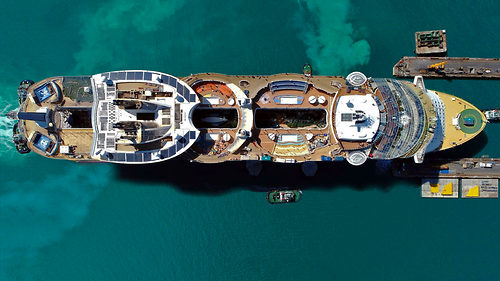 Royal Caribbean has been the subject of a number of documentaries over the years that provide an inside look at how cruise ships operate.
One of the newer ones is an episode of the Megafood series on Netflix that looks at food production on Oasis of the Seas.
12. Watch ship walk-through videos on YouTube
Is there a particular Royal Caribbean ship that you are missing the most? Chances are that there is a walk-through video of that ship on YouTube!
Try searching for videos of your favorite ships and enjoy someone else taking a stroll around the vessel. It is definitely not the same thing as being there, but it should make the time on your couch a little more exciting!
13. Play 20 Questions with Royal Caribbean ships, restaurants, venues and more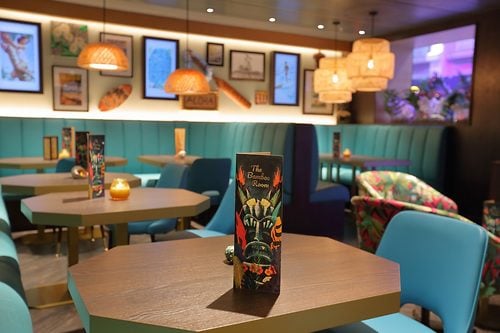 The classic "20 Questions" game is a staple for passing the time! One person thinks of a person, place, or thing, and another person asks yes or no questions to try to guess what word the first person is thinking. As the name suggests, they only get up to 20 questions until they have to guess!
14. Take a virtual cruise with Abe Hughes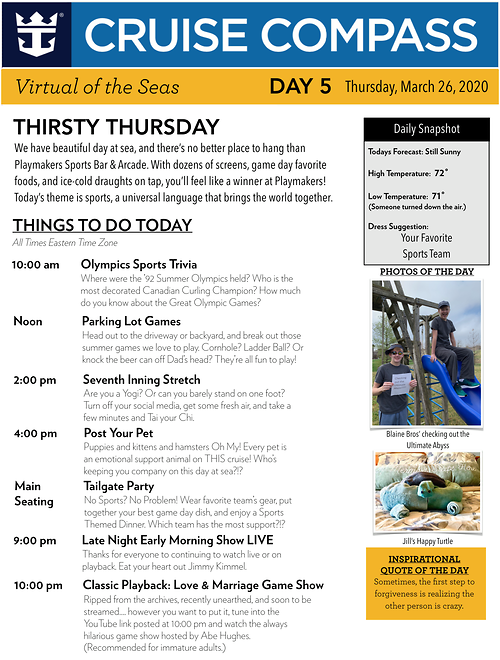 Former Royal Caribbean cruise director Abe Hughes still works for Royal Caribbean, and has taken it upon himself to offer everyone a virtual cruise.
Every day this week, he has been sharing a Cruise Compass from Virtual of the Seas, and even recorded his traditional morning show for all to enjoy. Check it out!
15. Look through photos from your last cruise
Even though we cannot go onboard a ship right now, this may be the perfect opportunity to look back on happy memories from past vacations.
If you have paper copies of your photos, now is also a great time to get them organized into an album!
16. Follow Nick Weir on Twitter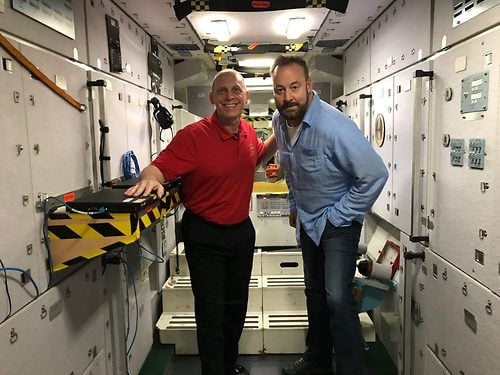 Nick Weir is the Senior Vice President of Entertainment for Royal Caribbean International, and he is a mega force of innovation and fun, and he is on Twitter!
Despite the cruise industry sitting in idle, Mr. Weir is still hard at work coming up with the next amazing theatrical production for Royal Caribbean, and he tends to share little teasers and tidbits on Twitter.
While you are on social media, be sure to follow Royal Caribbean's Chief Metorologist James Van Fleet too! Mr. Van Fleet not only covers the weather around the world, but shares a look into his life, Oklahoma Sooners football, and where he is traveling these days.
17. Share your stories with us in the comments!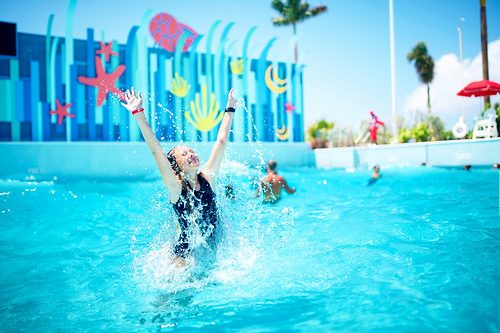 Do you have a fun story or memory from a past Royal Caribbean cruise? I want to hear about it, and I bet others do too!
I encourage you to share a fun memory in the comments of this blog post, and read everyone else's experiences to help relive better times.
18. Create a cruise playlist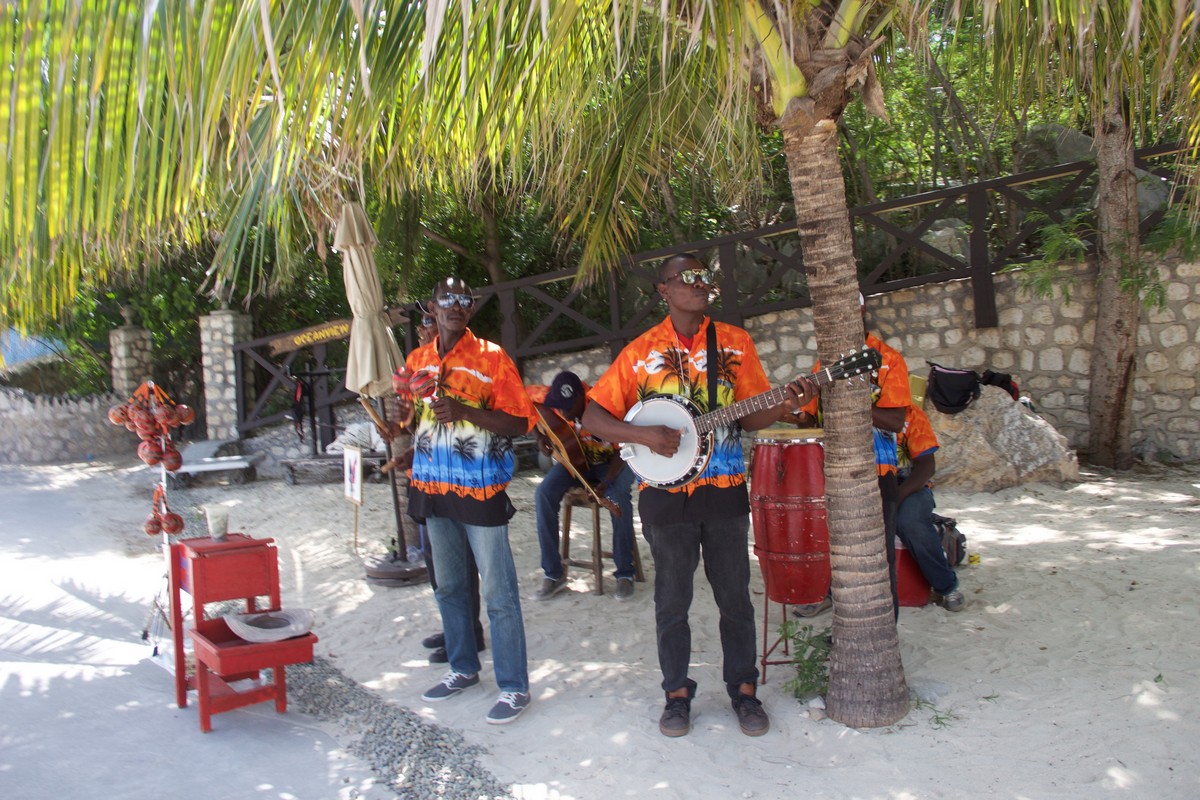 If you have Spotify or Pandora, consider finding some great music that reminds you of being on the pool deck of a Royal Caribbean ship, or at one of the amazing beaches you might visit.
Reggae, steel drum, Jimmy Buffett, and Zac Brown Band are just some of the typical tunes you can find that will instantly set the mood that you are onboard or at the beach.
Whether you delve into your own collection of music, or check out an online radio station, or even a digital music streaming service, there are some great choices out there.
Radio Margaritaville is a good place to start, along with Spotify or Pandora.
19. Join Matt to talk Royal Caribbean on Facebook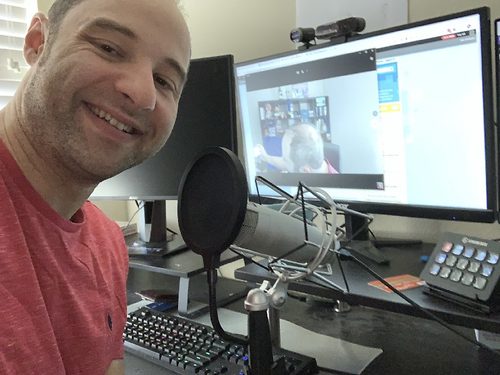 Okay, one more self-serving shameless plug, but every Tuesday and Saturday I am live on Facebook to talk Royal Caribbean...and you are totally invited!
These days, it is so comforting to be among my cruise friends, and during these live videos I will answer cruise questions, discuss the latest news, and have some fun along the way. Make plans to join us!
20. Break out those Royal Caribbean mugs and soda cups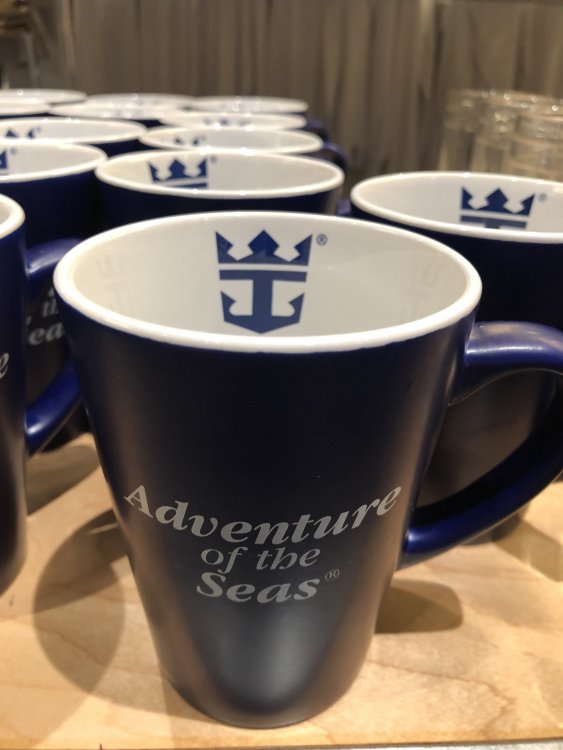 This is the perfect time to use those Royal Caribbean souvenirs at home, instead of them collecting dust in the back of the cabinet.
Use a Royal Caribbean coffee mug with your morning coffee, or fill up a souvenir soda cup with your favorite soft drink (or mixed cocktail, I'm not judging)!