In:
While Royal Caribbean has over 20 cruise ships, they vary greatly in size, amenities, and activities. Everything from ice skating to waterslides can be found on the newest ships in the fleet, but older ships offer a much more traditional cruise experience.
If you're interested in cruising on an older (~20+ year old) Royal Caribbean ship, you'll want to weigh the pros and cons of sailing on smaller, older ships before booking. If you cruise on a Vision Class ship expecting the latest and greatest features, dining choices, and decor, you'll likely end up disappointed.
Older ships don't offer nearly as much to do as ships like Wonder of the Seas and Icon of the Seas, but that doesn't mean you should avoid old cruise ships.
In fact, many cruisers find that older ships offer a more relaxed cruise experience at a lower cost than new ships. Plus, older ships visit some of the most unique destinations offered by Royal Caribbean.
Let's weigh the pros and cons of cruising on an older ship to help you decide which ship to book for your next cruise.
Pros of cruising on older ships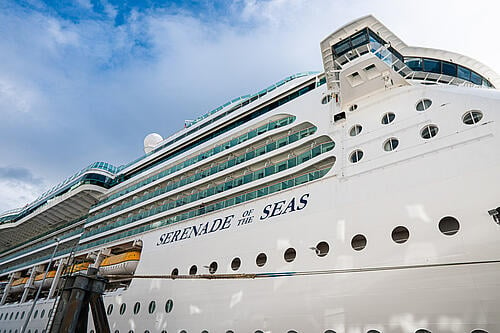 Lower cost
One of the biggest perks of sailing on an older ship are the lower cruise fares available. You can find fantastic cruise deals on older ships, especially if you're flexible with what time of the year you sail.
Related: How much can you save by sailing on an older Royal Caribbean cruise ship?
It's not uncommon to see prices of smaller ships for half the price of a new ship on the same itinerary. When saving money on cruise fare, you can more easily budget extra for add-ons like drink packages, shore excursions, dining packages, spa treatments, etc.
Suites are cheaper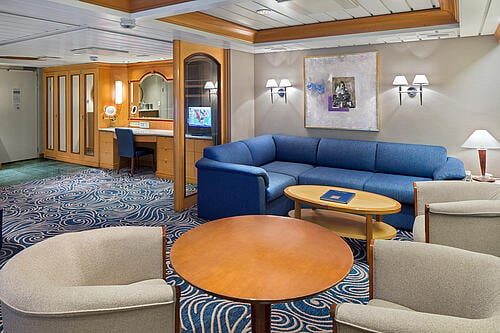 One further benefit of cheaper cruise fares on older ships is that suites also tend to be priced lower.
You can often find deals on higher-category suites on smaller ships for the same price as a balcony or Junior Suite on the newest cruise ships.
Related: Royal Caribbean suites guide & review
While suites don't come with as many upgraded perks, such as the Royal Suite Class, on older ships, they can still offer a luxury cruising experience.
Intimate atmosphere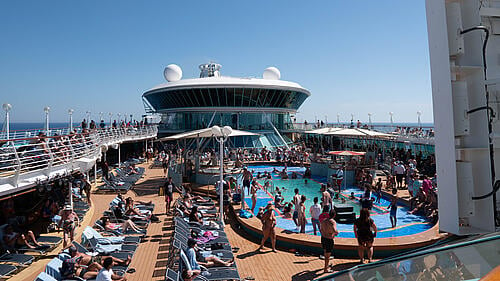 Smaller Royal Caribbean ships offer a more intimate atmosphere than the fleet's largest vessels. Having only 2-3,000 passengers onboard creates a more familiar experience throughout the ship. You'll often find that crew members and passengers connect more with each other on older ships.
With fewer passengers, you're more likely to run into your favorite crew members and passengers several times throughout the sailing. This often leads to new conversations and friendships by the end of the sailing.
While you can certainly meet new people and connect with crew members on larger ships, it tends to be easier on the smaller Royal Caribbean ships.
Exotic itineraries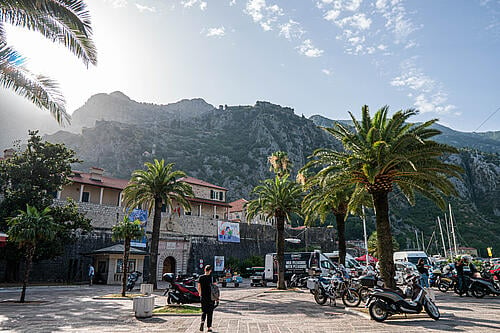 Royal Caribbean deploys its older, smaller ships to some of the most unique destinations visited by the cruise line. You'll find itineraries on older ships visiting destinations such as Iceland, the Panama Canal, Croatia, Trinidad and Tobago, and Costa Rica.
Related: 15 countries you didn't know you could cruise to on Royal Caribbean
Newer cruise ships tend to offer itineraries to the same destinations. If you only cruise on Oasis Class ships from Florida, for example, you'll visit ports like Cozumel, St. Maarten, Perfect Day at CocoCay, Labadee, and Roatan over and over again.
More relaxed feel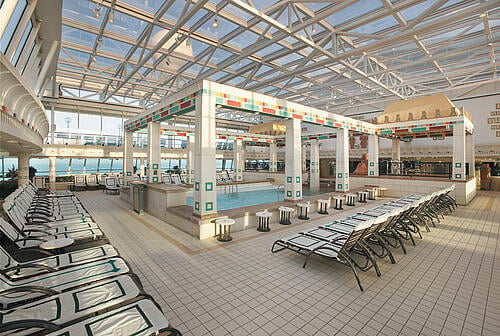 While all Royal Caribbean ships can offer a relaxing vacation experience, you'll often find the atmosphere on an older ship to be much more tranquil.
On the newest and biggest cruise ships, there's often pressure to try everything you can on the ship. Whether waterslides, surfing simulators, ice-skating, escape rooms, or bumper cars, it's easy to spend a cruise rushing from activity to activity.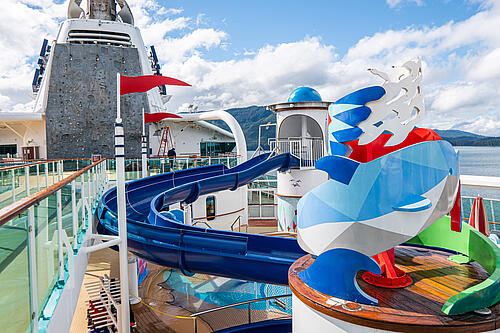 That's not to say older ships don't offer activities onboard, however. You'll find rock climbing walls on even the smallest Royal Caribbean ships and on Radiance Class ships you'll even find an indoor movie theater!
Activities like trivia, live music, game shows, pool competitions, mini golf, and other onboard programming is also available on older ships.
Ocean views
Royal Caribbean's older ships were built with many venues facing outward instead of inward, meaning you'll find sprawling ocean views from almost everywhere onboard.
From floor-to-ceiling windows in specialty restaurants to the publicly-accessible helicopter pad on Radiance, Voyager, and Freedom Class ships, there's no shortage of places to enjoy an ocean view on older ships.
Cons of cruising on older ships
Fewer balconies
While cruise ships today are built with several decks of balcony cabins, this was not the case in the past. Older cruise ships, such as Vision and Radiance Class ships, have far fewer balconies available than newer ships.
Related: Guide to balcony staterooms on Royal Caribbean
Having fewer balconies means these cabins can fill up quickly and you might pay a premium for a balcony room. While balcony rooms might be priced only slightly higher than interior and ocean view rooms on new ships, there's often a bigger gap between the price of these categories on older ships.
Fewer dining choices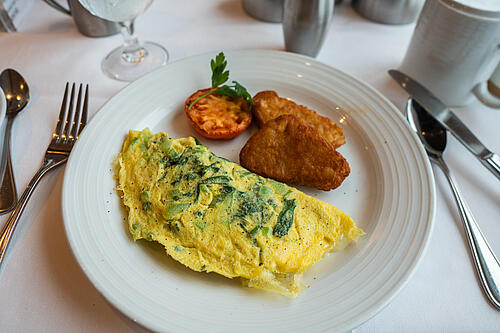 All Royal Caribbean cruise ships provide several dining options, but you'll find far fewer dining choices on older and smaller cruise ships.
You'll find the Main Dining Room, Windjammer, and a few grab and go food options on every Royal Caribbean cruise ship. Additional dining venues can vary greatly, though, and you won't find the cruise line's newest dining venues on older ships. If you're looking to try venues like Playmakers Sports Bar or The Mason Jar, for example, you'll have to cruise on a newer ship.
Because there are fewer dining options on older ships, you'll find yourself dining in the Main Dining Room or Windjammer more often than you might on a newer ship.
Might be more movement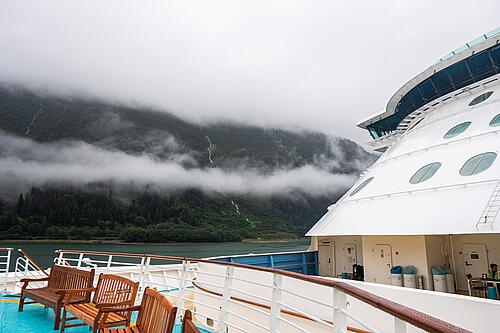 It's possible you'll feel more movement on an older ship compared to a newer, larger cruise ship. While it won't feel like you're on a small sailboat, feeling motion is not unheard of when cruising on small ships.
That being said, it's possible to feel seasick on even the largest cruise ships in the world. Therefore, it's not entirely possible to plan whether or not you'll feel movement on one ship over another.
Related: How to prevent seasickness on a cruise
Outdated cabins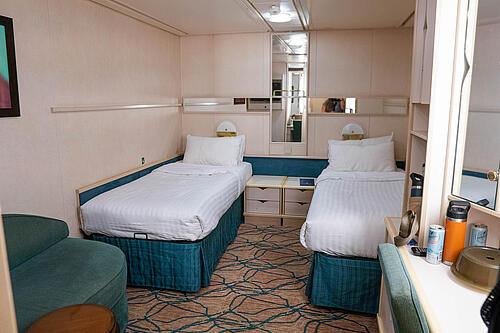 You'll find the cabins on older ships much more outdated compared to new ships. One of the major differences is stateroom technology. Older cabins were built before the age of cell phones, so you'll find very few outlets in your cabin.
Likewise, decor and furnishings will be outdated on older ships. While the wall art of your stateroom shouldn't necessarily affect choosing one cruise ship over another, you shouldn't expect the most modern amenities in a 20+ year old cruise cabin.
Fewer activities for kids
Every Royal Caribbean cruise can offer a wonderful vacation for families, but it's crucial to realize that older ships won't have as many family activities as newer ships.
Royal Caribbean's TV commercials may feature activities like zip lining, virtual reality simulations, and waterslides, but it's important to realize that not all ships offer these activities. Before wowing your kids with videos of the FlowRider and bumper cars, double check to see which activities are offered on the cruise ship you've booked.
Related: 50 best cruising with kids tips & secrets
Royal Caribbean's smallest ships will still offer Adventure Ocean, a rock climbing wall, and family-friendly programming, but other signature activities can vary greatly by ship.
Limited entertainment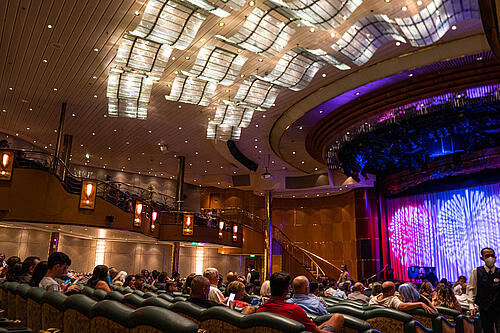 If attending record-breaking, unique entertainment productions is important to you on a cruise, you might want to reconsider cruising on an older ship.
Older ships typically only have shows in the theater whereas newer ships have far more venues, from an ice skating rink to the AquaTheater.
Most of the shows on older ships feature singing and dancing without much of a storyline, and the shows have likely not been updated for a long time. Because of this, some of the entertainment may be considered outdated.
While the performers are still talented no matter which Royal Caribbean ship they perform on, there's no doubt that newer ships offer more updated, diverse entertainment than smaller ships.
Considering a cruise on an older ship? Check out more of our tips & tricks: