In:
I think there's a lot of good reasons to sail on Royal Caribbean's older cruise ships, but there are at least a few nuances that you'll quickly notice if you're used to a newer ships.
Older cruise ships is a relative term, as all ships age. Depending on your definition, this could include ships that are 5, 10, or 20 years old.  
Regardless of a ship's age, Royal Caribbean does a good job of maintaining its fleet with regular updates and even upgrades to some vessels. 
Read more: What was added to each Royal Caribbean ship during its Royal Amplified refurbishment
Some of the best reasons to go on an older cruise ship is to take advantage of the lower prices because older ships tend to command a lower price than newer ones. Some of the best values in cruising can be found on a Radiance, Vision, or Voyager Class cruise ship. 
In addition, older ships tend to be smaller (relatively speaking), and that allows them to get to less-frequently visited ports, especially in Europe.
While the core experience is very much the same across all Royal Caribbean cruise ships, you're going to pick up on a few differences on older ships. These aren't bad things in this list, nor do they mean you shouldn't book an older ship.  This is simply a way to point some differences since new cruisers often are curious about what's different between the ships.
Before you step aboard, here are the biggest changes you'll notice about Royal Caribbean's older cruise ships.
Cabin aesthetics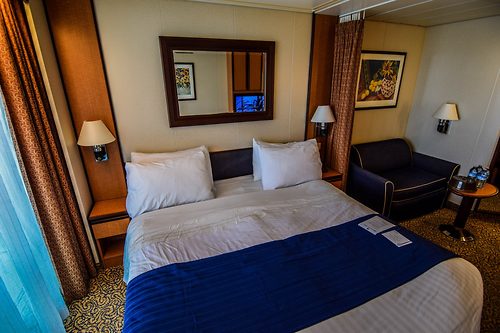 If you've been on a newer cruise ship and then go on an older ship, the cabin is one of the first places you'll become aware of a ship's age.
Just like how a house built 20 years ago probably has a different look and feel than a house built today, cruise ship cabins on older ships will not have the same modern style as a ship like Wonder of the Seas.
Certainly the wall color, art work, and bed skirts stand out on the older generation of cruise ships.
Starting with the Quantum Class ships and Harmony of the Seas within the Oasis Class, Royal Caribbean adopted a more modern look to its cabin design.
Another major difference with an older ship is the lack of outlets.
Older ships tend to have a couple of outlets at the most to use, whereas new ships have many outlets and even USB plugs you can use in your cabin.
Regardless of which ship you sail on, it's a good idea to pick up a cruise ship outlet expander to ensure you have plenty of outlets.
Old TV models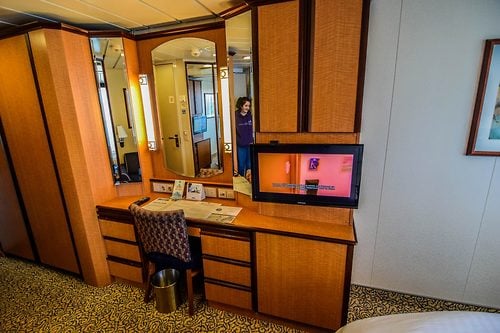 Whether in your cabin or around the ship, the televisions around the ship will reinforce a ship's age.
Just like when you visit your parents' house, televisions with a wide bezel are something you'll instantly recognize as an older look.
Don't worry, there are no cathode-ray tube (CRT) TV's left on ships, but flat panel televisions have come a long way in their feel.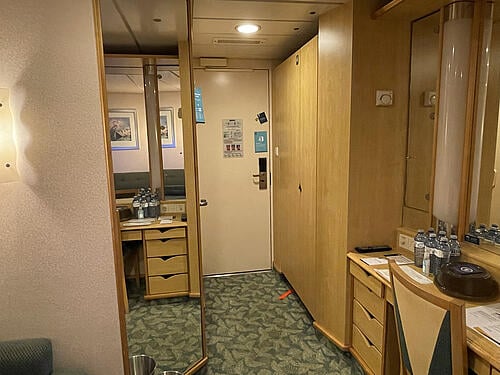 A few Royal Caribbean cruise ships still don't have pay-per-view or any kind of interactivity within their cabin televisions. This may not matter much since most passengers are not staying in their cabin to watch a movie.
Not only do the newer ships have more channels and movies to watch, but you can review onboard charges via the television and even order room service.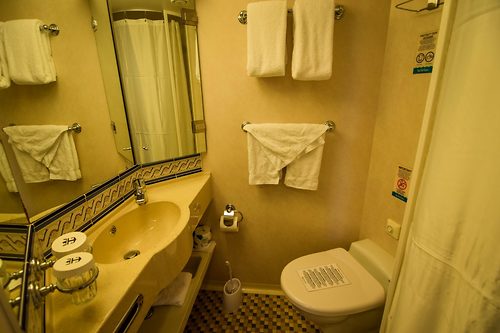 On the oldest ships, you're also going to quickly notice the shower curtains that are there instead of the hard plastic enclosure.
Fewer specialty restaurants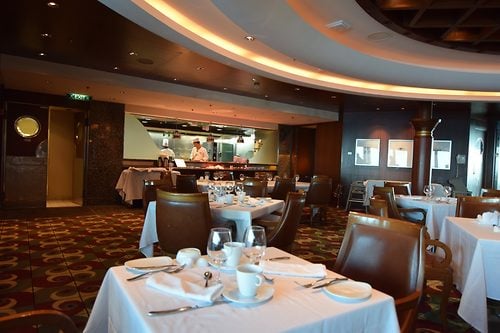 It wasn't too long ago that a cruise ship with two specialty restaurants was pretty much the norm.  Today, a ship with only two specialty restaurants can be eye-opening.
Royal Caribbean upgraded many of its older ships over the last decade to add more specialty dining. The Radiance, Voyager, and Freedom Class ships all had new specialty dining venues added during refurbishments.
Of course, the brand new Oasis and Quantum Class ships will still have many more specialty dining options.
If you sail on a Vision Class ship, you can expect the fewest specialty dining choices. Enchantment of the Seas only has Chops Grill and Chef's Table for specialty dining choices.
Fewer app features
The Royal Caribbean app is now a must-use part of the cruise experience, but you'll have less icons to click on older ships.
On the newest ships in the fleet, the app can do things like being able to open your stateroom door, augmented reality experiences, and even open your cabin curtains.
To be fair, even a few Oasis Class ships don't have all these features yet, but you'll definitely not find these options in the older ships.
The good news is the core feature set across the entire fleet encompasses exactly the sort of things you'll want, so you'll be able to do online check-in, manage your onboard spending, and view activities.
No Broadway shows
Royal Caribbean has made a name for itself by offering Broadway shows on some ships, but don't expect to find them on older vessels.
With the exception of Independence of the Seas and Liberty of the Seas, the Broadway shows are relegated to the Oasis and Quantum Class ships.
Of course, there will still be evening shows on older ships. These shows include plenty of dancing, singing, and music, but lack a coherent plot across the entire show.
Another thing you may notice in these shows is the music selection is a reflection of the time the ship launched.  Some of the newer acts play up music that was new and popular at the time, but is now considered a classic hit.
The casts in these shows are just as talented as the Broadway casts, and they are fun to see.
No Royal Promenade
If you sail on a Radiance or Vision Class cruise ship, you won't have a Royal Promenade.
Instead, there is a Centrum, which is a large, open area within the ship. A set of elevators runs up the Centrum, and shops, bars, cafe, and more.
You'll find activities throughout the day at the base of the Centrum, such as live music, demonstrations, and even game shows.
If you want to shop, you'll simply need to walk off the Centrum to the shopping district, which is a hallway of ship stores you can browse.
Larger Schooner Bar
The newer the Royal Caribbean cruise ship, the smaller the Schooner Bar footprint has gotten.
On the Vision Class, the Schooner Bar is massive with a much more pronounced nautical theme.
You'll still get a fairly good sized Schooner Bar on the Voyager and Freedom Class ships, but the size is significantly smaller.  The Oasis Class Schooner Bar feels much smaller than the rest of the fleet. 
There's also no ocean views from the Schooner Bar on Royal Caribbean's biggest cruise ships.
If you sail on an older ship, you'll want to take advantage of these larger bars for the great seating and ocean views.
Print photo wall
Souvenir photos taken by the ship's photographers have largely gone digital, but the older ships still print out copies for you to browse.
You'll find in the photo gallery area a wall of printed photos that you need to comb over in order to find your photos. The crew categorize photos by the day they were taken and the location.
On newer ships, you just scan your SeaPass card and all your photos are displayed on the screen, allowing you to print only the photos you want to purchase.
Smaller ship size
This may be the most obvious thing you'll notice, but the ship will likely be smaller on older ships.
As Royal Caribbean has built new ships over the years, they have steadily built bigger and bigger cruise ships.
The good thing about a smaller ship is your "commute time" from one end of the ship to the other is noticeably less. This means if you forget something in your cabin, getting back and forth will feel less like a trek on a small ship.
Abandoned concepts
Mexican restaurants, self-leveling pool tables, and Brazilian steakhouse are all examples of things Royal Caribbean put on its ships and then gave up on in favor of something else.
You may run across a specialty restaurant concept that is only on a handful of ships, such as Sabor or Samba Grill.
The Radiance Class have these lounges with a safari or jungle theme to them that also include bars that rarely actually open.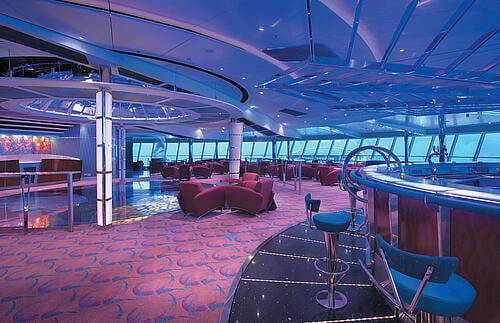 There are also bars that don't exist on newer ships, such as the Champagne Bar or R-Bar. The bar in the Viking Crown Lounge on Radiance Class ships actually spins slowly at night.