In:
Packing for your first Royal Caribbean cruise can feel like a daunting task, as there is a lot to consider. You have to take into account where your cruise is going, the shore excursions you want to book and dress codes onboard.
In a way, it is difficult to blame anyone for over packing because the longer the cruise, the harder it is to figure out just what clothing you will need. Your luggage will have vastly different clothing in it if you cruise heads to the Mediterranean versus Caribbean or Australia.
We have some tips to share for what to pack for your first cruise.
Cruise destinations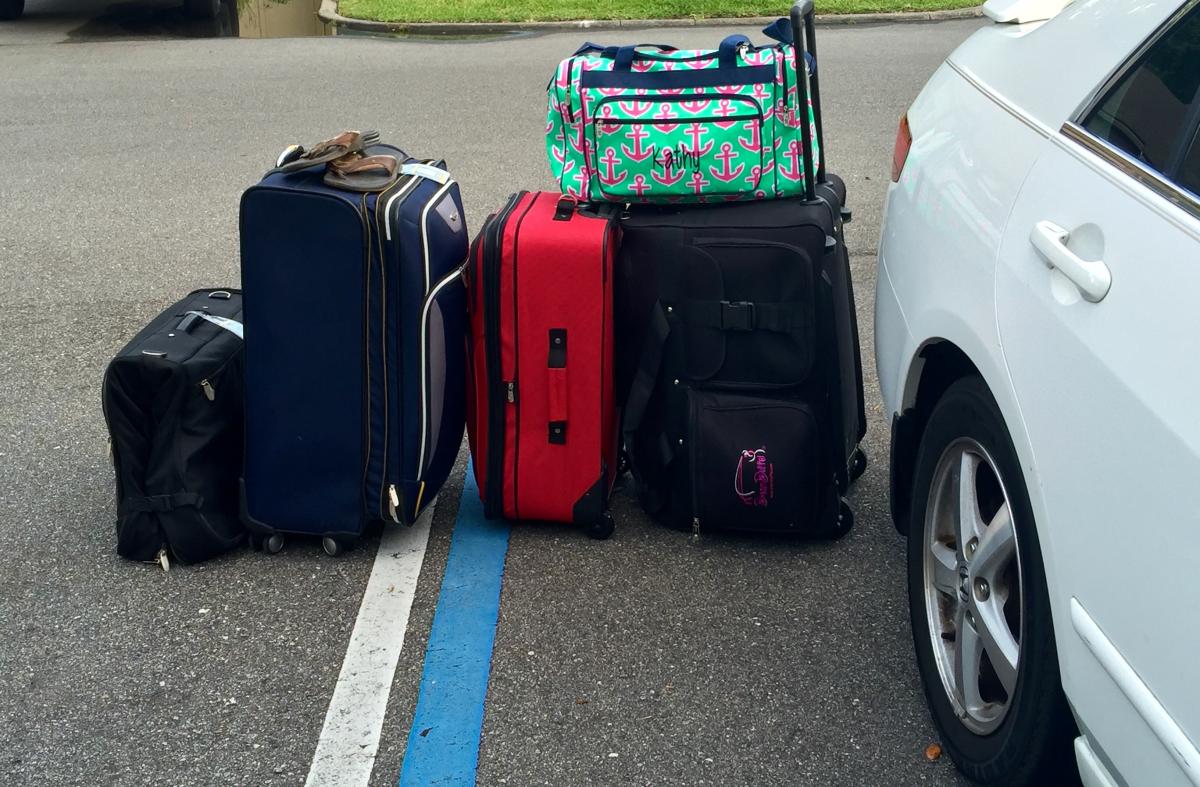 Even though Royal Caribbean has the word "Caribbean" in its name, Royal Caribbean ships serve a variety of ports around the world, so where you go can make things easier or harder on your packing.  
Caribbean and other warm water port destinations usually require a lot of t-shirts, shorts, and other light clothing.  But if your cruise is visiting cold water ports such as Alaska, New England or Northern Europe, you're going to need clothing that will feel comfortable outdoors as well as clothing that is comfortable inside the ship.
Based on where your cruise is going, you'll have a better idea of how much you will need and it's important to figure out a rough idea of what your schedule will be in terms of ports.  If you're only planning on leaving the ship at one or two ports, you may not need as much clothing than if you're planning on leaving the ship all the time.
First day packing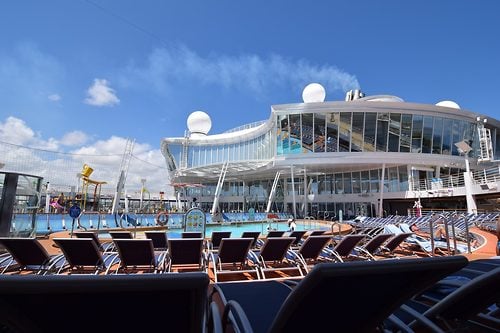 Embarkation day requires its own special packing strategy, because you will need a carry-on bag with certain items that you need to have on you until the rest of your luggage is delivered to your stateroom later in the day.
Pack your bathing suit in a carry on bag and then change in one of the public restrooms.  Towels will be provided in the pool area for your use.  By bringing bathing suits with you to change into on embarkation day, you will be able to enjoy the pools and hot tubs without the crowds that will soon arrive for the rest of the cruise.
You should also plan to pack anything you will need to have access to between when you arrive at the cruise terminal through the evening of the first day. This can include things such as medications, electronics, passport, credit card/cash, change of clothes and toiletries.
Royal Caribbean dress codes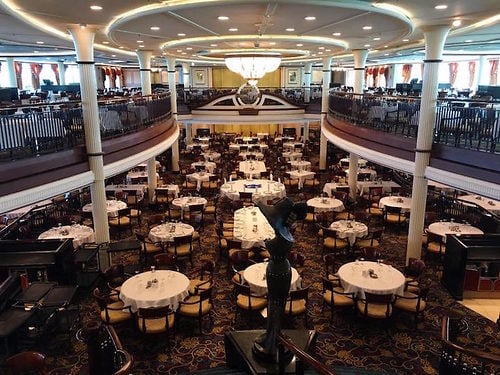 The phrase "dress code" often strikes fear into the hearts of first time cruisers out of concern that they will feel out of place or break a rule. The reality is dress codes are merely dress suggestions for the main dining room, and dress on Royal Caribbean is far more casual than you might think.
Royal Caribbean has three main dress codes onboard its ships:
Casual

Most times of the cruise, Casual is the defacto dress code.  You will find it for breakfast, lunch and some dinners. 
Some good ideas for casual nights are jeans, polos, sundresses, blouses, and generally comfortable clothing. 

Smart Casual

Think of Smart Casual as a step up from Casual dress code, so plan on something a bit nicer than you might wear on Casual.  In practice, you could easily dress for Smart Casual the same as Casual.
Smart Casual dress suggestions include collared shirts, slacks, nicer dresses or skirts.

Formal

Formal Night is when guests can enjoy their evening best.  Nothing is too fancy for formal night, but keep in mind that you do not have to recreate your Senior Prom either.
You will find men wearing suits and even tuxedos.  Ladies may opt for cocktail dresses or evening gown.
If all this sounds too fussy, a simple collared shirt and pair of slacks for men or jeans, skirt or dress for women will suffice.
Formal nights are optional (though recommended) and will only take place one to three times per cruise. As always, there are plenty of casual restaurant options available on those nights too.
Packing for fun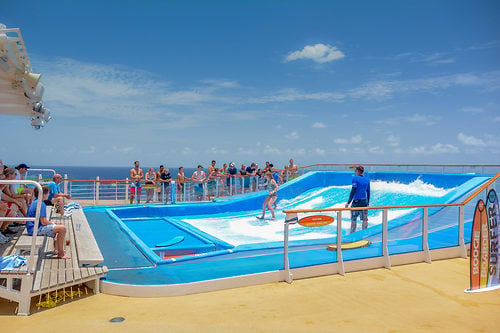 Beyond what you will wear for meals, the bulk of your packing will entail what you need to wear around the ship or in town on excursions. 
For all the activities onboard, you may need a workout outfit or two for the fitness center.  You will also need athletic wear to tackle the rock-climbing wall, sports court or zip line. If you are cruising on Voyager, Freedom or Oasis Class ships and want to visit the ice-skating rink, be sure to pack socks and long pants. Likewise, the zip line requires closed toe shoes.
If there is one aspect of cruise packing that may be the most obvious, it would be for the pool deck. You will need swimsuits for the pool, hot tubs and waterslides.
Cruise packing tips
Here are some more packing tips to consider for your first cruise!
Do a Google search for "cruise packing list".  There's a lot of packing lists out there and most contain a lot of stuff you don't need, but they are good resources for remembering those "oh yea!" things. Our friends at CruiseHabit came up with a great list.
When possible, re-use clothing.  Odds are no one is tracking if you wore the same pair of jeans or shorts on day 2 and day 6 of your cruise.  Pants are the easiest to reuse, as they really don't get "dirty" after just one use.  
For men, if you want to pack less dress shirts, try packing one shirt and tie with your suit to wear, and then on a different formal night, just wear shirt without jacket or tie.
Another tip for men, try finding reversible belts that go with a "black" or "brown" outfit.  One less thing to pack!
Have one bag, preferably something easily portable like a backpack, full of essentials you need but wont check in, such as passports, money, cruise documents, phones, etc.
I find two bathing suits are usually enough for almost any cruise.  Short of you or someone literally spending all their time in the pools, you can usually operate with one swimsuit drying somewhere in your cabin with the other ready for use.
While this article is all about trying to avoiding over packing, it's definitely better to over pack than under pack!
Self-service laundry isn't available on the ship, but dry cleaning and laundry services are offered for each stateroom at an additional fee. Nominal fees are worth it if it means packing less clothing.
More packing information
Now that we have covered packing basics, here are some additional articles to help more!