Brilliance of the Seas Live Blog – Day 6 – Tampa, Florida
In:
Today was our turnaround day in Tampa, Florida. I wanted to get up early and watch us sail into port. Too often I'm on land watching this view in Tampa, so I wanted to see the view from the ship.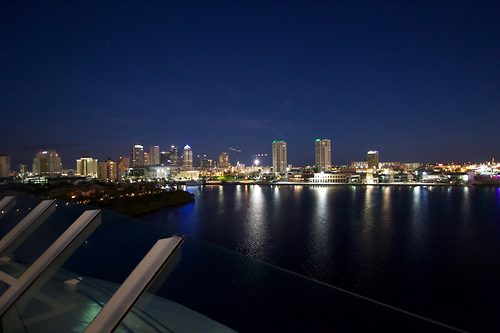 It was around 50 degrees on the top deck and the wind made it feel even colder, but I survived. We docked at a different terminal than the one we left at, since we were the only ship in port today.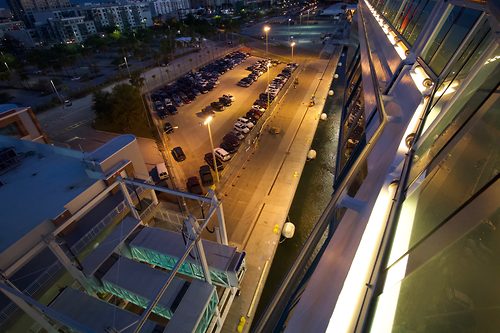 When you do a back-to-back cruise, the cabin attendant from the first cruise will carry everything to the new cabin for you. They even ask that you leave all your clothes on the hangers. While all the guests were getting off the ship, I didn't have anything to do (pools were closed for cleaning).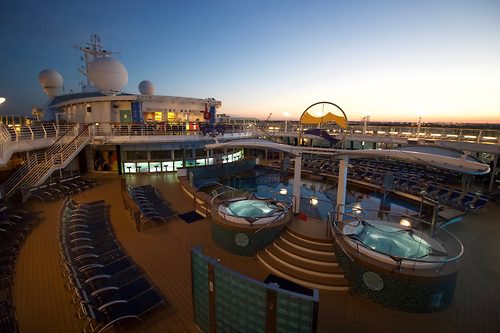 So I decided to move all my items to the new cabin myself and get settled in. I had talked to my new attendant the day before, to let him know I was coming. He was kind enough to have my cabin cleaned and ready for me by the time I arrived.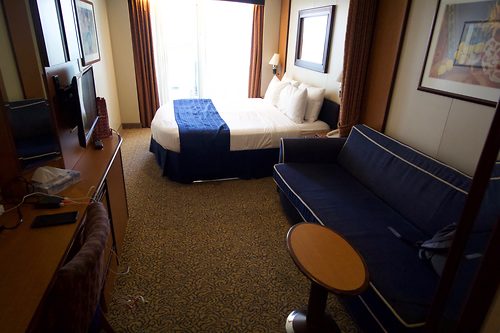 I had received a paper on day one explaining the turnaround process, I was to meet in the conference center at 9:30AM. We were delayed for 10-15 minutes because one family was still packing up and causing the whole process to be delayed – don't be that family.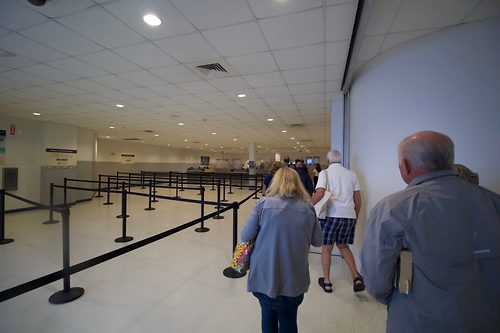 Once we walk off, we enter customs just like you would leaving any cruise, we handed over our passports, but no questions were asked. After that we went right back on board. It's a very easy process and now I had the ship all to my self, we had 9 consecutive cruisers.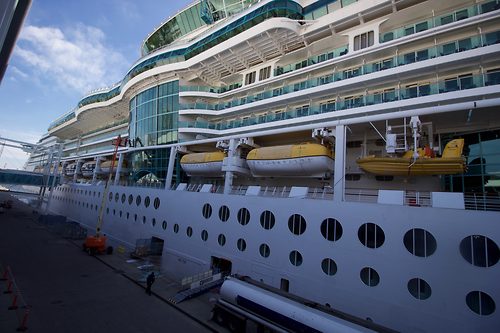 I had about an hour on board without passengers, so I took advantage and walked around taking some pictures of the empty ship.
I also stopped by a few suites to tour them. They were in the Royal Suite cleaning it, but they said I could tour it quickly. At 10:40AM I started seeing the new guest arriving on board.
On this sailing I was moving up to an aft facing ocean balcony – 9660. This cabin is simply amazing; the balcony has so much space. As soon as my girlfriend got on aboard I took her straight to the cabin. That's also another advantage of sailing again, they let you come and go from the cabin as you please day 1 and you aren't required to wait until 1PM or later.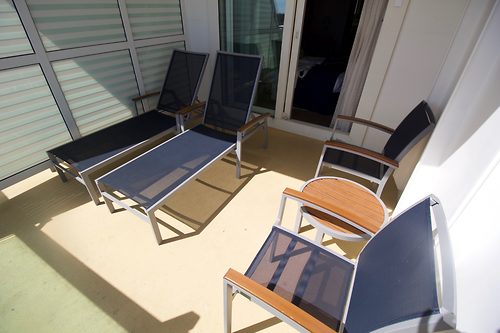 Most of the afternoon we were swimming in the Solarium since it was cold in Tampa. We were so surprised we were the only ones in the pool and hot tub. The pool water was warm since it's heated and that area is enclosed.
For sailaway we stayed on our balcony and opened a bottle of champagne. I usually spend sailaway dancing on the pool deck, so I was looking forward to something different.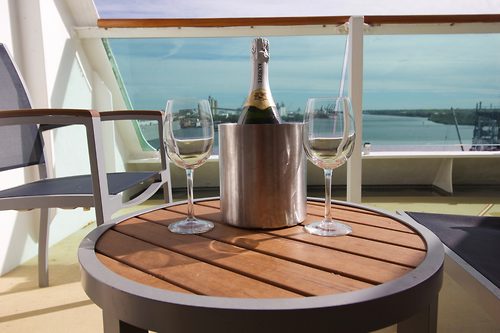 We backed into the turning basin because we pulled in this morning, so that was neat because we were looking straight at our home, maybe 100 yards away!
We started our evening in Vintages; I love this bar on Brilliance because of the ocean views. But I also love wine too, so maybe it's that! Around 6:30PM we passed under the Skyway Bridge, the sun we also setting so it was that much better.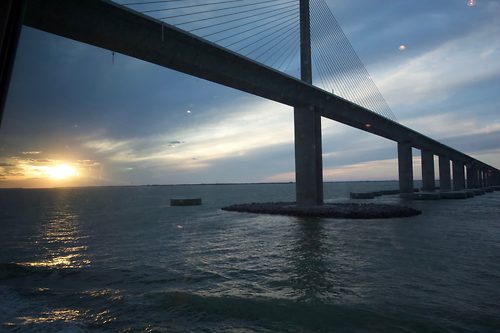 At Vintages, if I ask for a cheese plate, they will usually bring one out for you to enjoy with wine – no charge. Funny, he brought us one but it didn't have any cheese on it.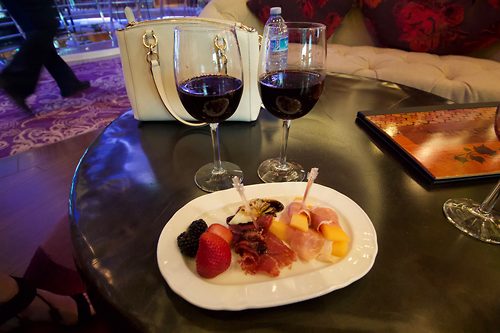 We did jump over to Schooner Bar for awhile, they were very busy this evening. I was talking to some of the crew on about that tonight it felt like the ship was much more "alive" than the last few nights. They said, on the 4-night sailings almost everyone on the cruise has the drink packages.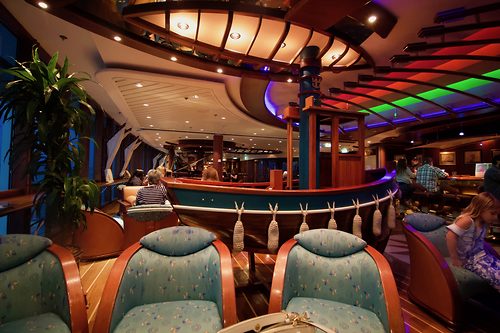 Which on this sailing, my girlfriend and I decided to pass on the packages. Today I spent $8 on my BOGO coupon and got two beers. I've just been taking advantage of the wine I carried on board and my diamond drinks.
For dinner, wait you guessed it… Giovanni's Table. They seated us about a half hour early because we were just getting hungry. We carried a bottle of wine to dinner, since it was a bottle from Crown & Anchor for being Diamond Plus they waive the cork fee.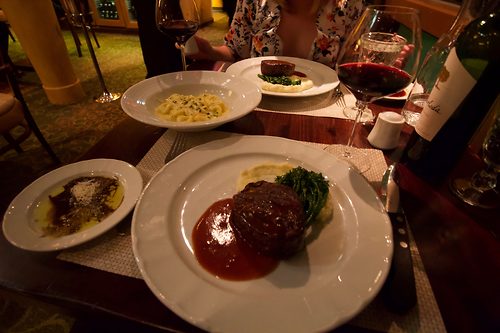 We both ordered the filet, again it has the sauce already on the steak. We also had them sit a three-cheese tortellini in the middle to taste. Let me tell you, the tortellini was amazing! I'm sure it's because of all the cheese, but I was eating that over my steak. Really outstanding meal again, the service at this restaurant couldn't be better.
After dinner we made a little donation to Royal Caribbean International in the casino. We also used our free spin to win in the slots, but no luck with that either. The casino was so busy and smoky we decided to leave and head to bed.
Thanks for following my full turnaround day on board Brilliance of the Seas. Tomorrow we have a sea day as we sail to Cozumel, Mexico. I have all new adventures planned for Mexico, so stay tuned!