In:
The second day of a cruise is my favorite day of the cruise, because it is the first full day onboard and you still have a majority of the cruise ahead of you.
We let the children be our alarm clock, and that got us a wakeup around 7am or so. Being that this was a sea day, we had no firm plans so we took things easy getting ready.
My oldest daughter wanted to go to Adventure Ocean morning session because there was an art component to the session, so I took her up to Windjammer for breakfast quickly before dropping her off at Adventure Ocean.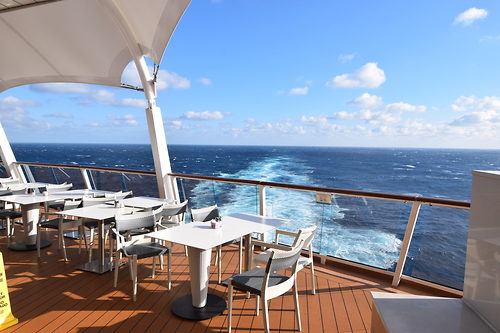 I then met my wife, other daughter and my parents for breakfast in The Grande. Unfortunately, breakfast took much longer than it probably should have. I was not sure where the issue was, but we were sure to mention the problem to the head waiter on duty. An important tip is if something is not to your liking onboard, be sure to mention it to a crew member so that it can be rectified. Too often I hear back from readers who had an unsatisfactory situation but said nothing. It is important to let the crew know so they can make things better.
After breakfast we attended the suite cocktail reception in Vintages. This was a thank you event for the suite guests, and being that I do not have a drink package for this cruise, any opportunity for complimentary alcohol is a welcome event!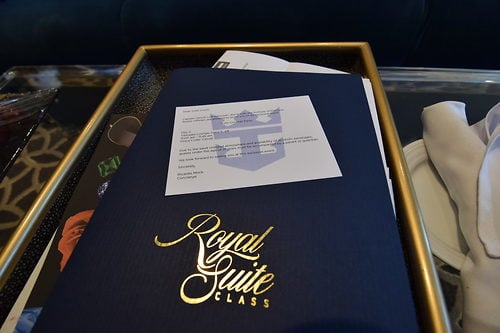 We got to meet the Captain, along with a number of other high ranking crew members, while enjoying bloody marys and cheese. Great start to my morning!
We also stopped by the Shore Excursion desk to book a tour in Port Canaveral. Unfortunately all the tours were booked up for Kennedy Space Center because another Royal Caribbean ship will be in port with us (I am guessing Grandeur of the Seas) and the cruise line has a certain allotment of tickets. They put us on a wait list for something, and within about 2 hours, we had a phone call that we could book an unguided tour of Kennedy Space Center. That worked out quite well!
At noon we headed up to the pool deck for our North Star reserved time. North Star is the observational pod that brings you 300 feet above sea level. It is complimentary for all guests, and you can make reservations online via the Cruise Planner. Be certain to make reservations early because they sell out and I saw the crew at North Star turn away a lot of guests.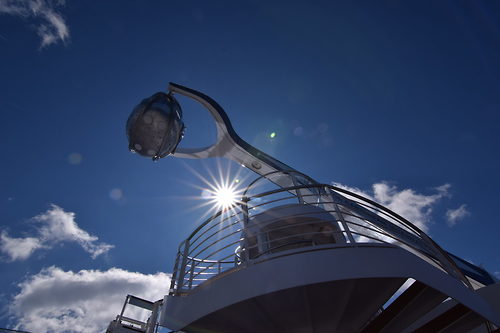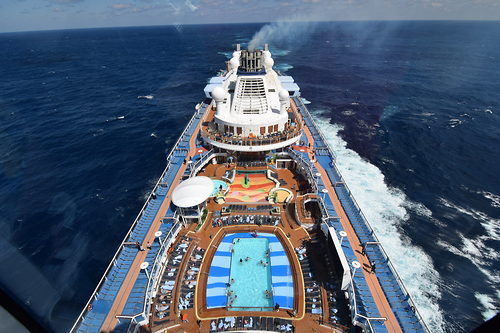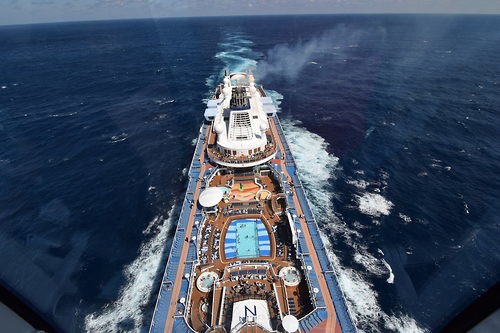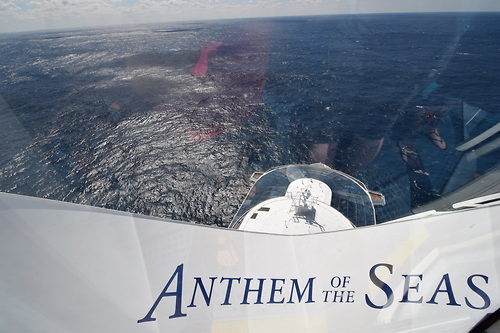 I have done North Star before, but the experience is still incredible. The views are unparalleled and it is so darn fun being that high up.
I had lunch at the Windjammer and then spent some time exploring the ship and enjoying the company of friends who also happen to be onboard. A relaxing afternoon onboard.
It was a quiet afternoon, with mostly taking this easy. Anthem of the Seas may be a large ship in size and numbers, but she has the "soul" of a smaller ship. What I mean by that is unlike the Oasis Class ships that are a bit larger, there is not the overwhelming amount of activities onboard. There is a lot to do onboard, but it just feels different than when I was on Harmony of the Seas last November.
I also have to point out how smooth the ship has felt, despite some decent waves out there. The ocean is nothing crazy, but even with 2-3 meter waves with white caps earlier in the day, the ship has been remarkably smooth.
As afternoon turned to evening, we were treated to another beautiful sunset at sea. I could also tell the temperature was starting to warm up to where it is no longer cold, just a bit brisk. Jackets optional, although my wife says it is still chilly.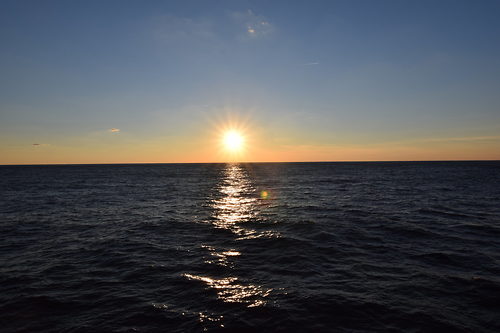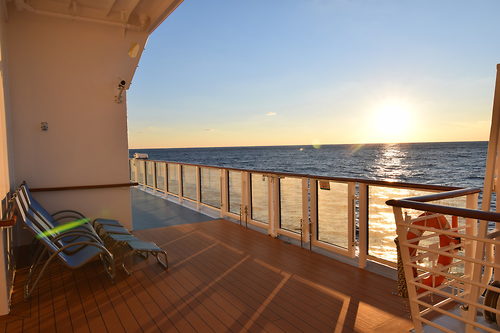 We fed the kids at the Windjammer and then dropped them off at Adventure Ocean. After that, we enjoyed some drinks in the Schooner Bar and Boleros. Since tonight was formal night, Boleros actually had brass jazz music playing and it was lovely.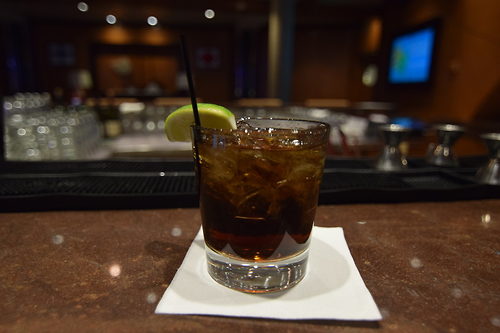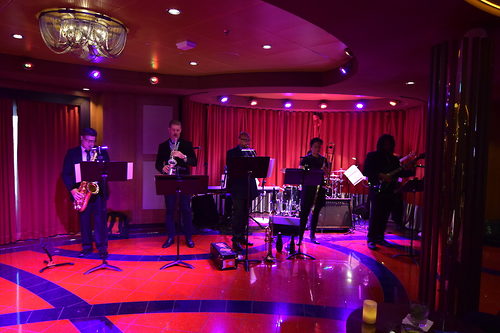 We were back in the main dining room for dinner this evening, and they really took my Indian curry request to heart. Every cruise, I ask for some curry in addition to whatever is on the menu. The short story is curry used to be a staple of the main dining room menu as the go-to vegetarian option, but in recent years it was left off the menu. Nonetheless, it can still be requested and there has never been an issue.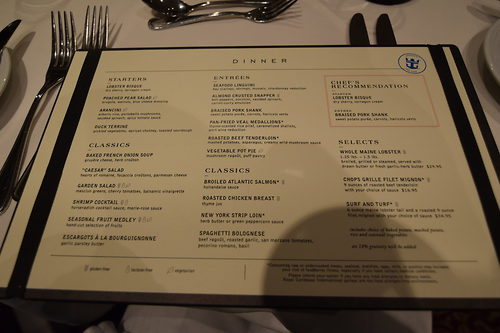 As usual, I made the request with the head waiter last night to have some curry for us to enjoy at the table. Our serving of curry tonight just blew me away with the variety, size and quality. As soon as it was served, I regretted eating anything earlier that day.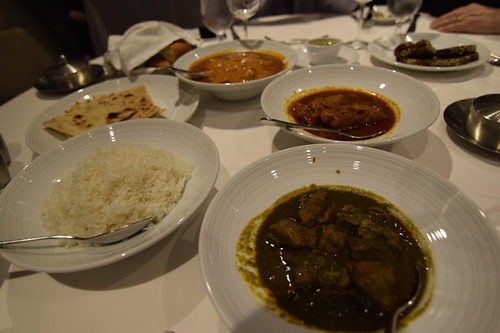 For our evening entertainment, we took in live music around the ship. Schooner Bar, Music Hall and Michael's Genuine Pub.
Tomorrow is our first port stop in beautiful and exotic, Port Canaveral, Florida.
Stray Observations
The Gift and Spectre's Cabaret were shown today (we have reservations for later this cruise), but no sign of Vistarama or Roboshows yet.
We booked a beach bungalow in CocoCay and had a call to come down to Wonderland today to pick out food to be delivered for lunch at our bungalow. You can pick as much as you want, and it is in addition to the regular buffet. I love this idea, because it means no dragging the kids to the buffet and something new to try.

I spoke with the ship's Captain about our speed yesterday after leaving New York Harbor. Evidently we were in a whale activity area, and there was a very tight speed limit.
According to a sign in Michael's Genuine Pub, the word, "genuine" is pronounced "jen-yoo-in". I read this many times, and questioned whether I normally pronounce it that way or "jen-yoo-eye-n". I might be over thinking this.