Anthem of the Seas Live Blog - Day 7 - Sea Day
In:
It is our final day on Royal Caribbean's Anthem of the Seas, and it is a sea day (are there any cruises where the last day is not a sea day?).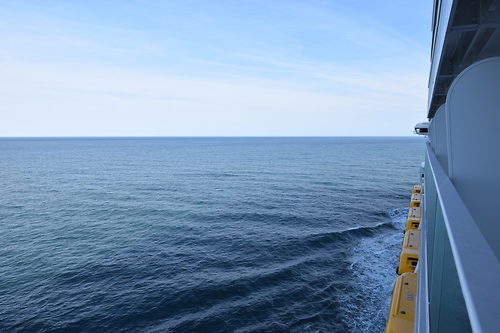 The weather today turned out to be very good, despite being in the Mid-Atlantic states for much of the day. The sun came and went, with temperatures in the 60s-70s.
We had breakfast in the Windjammer, and were treated to complimentary mimosas as a "thank you" by the crew for a great sailing.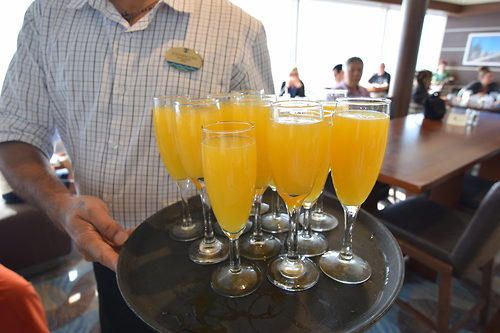 We spent the rest of our morning taking it easy, making a few stops around the ship. My oldest went for a swim with grandma, while we took our youngest to the playroom in Adventure Ocean.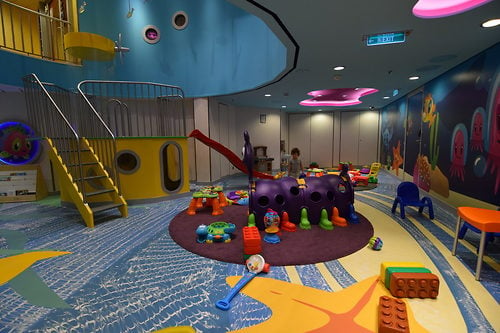 For lunch, we decided to stop by Coastal Kitchen. The food was great, but I think what endears guests to Coastal Kitchen is the great service.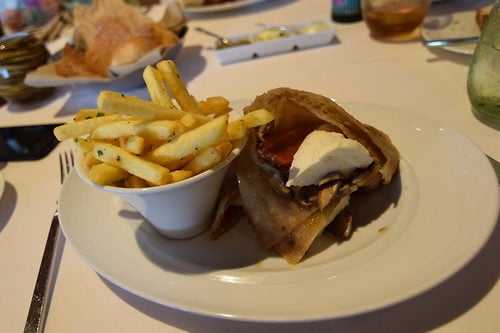 After lunch there was adult coloring in Vintages, although that just meant the coloring sheets available were a bit more complex. My wife and oldest daughter took advantage of the offering and enjoyed it.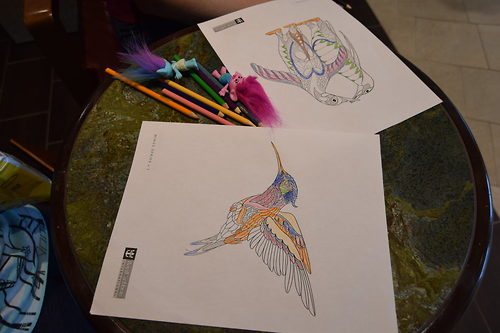 To my (pleasant) surprise, the temperatures actually got high enough in the late afternoon for it to feel hot outside. Any opportunity to not wear jackets is a welcome one!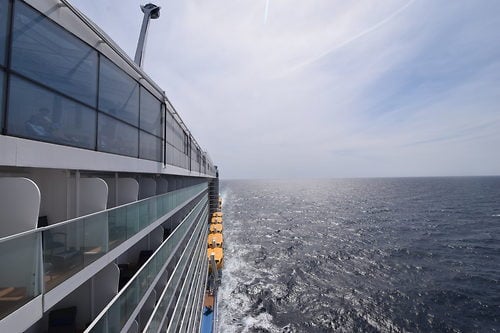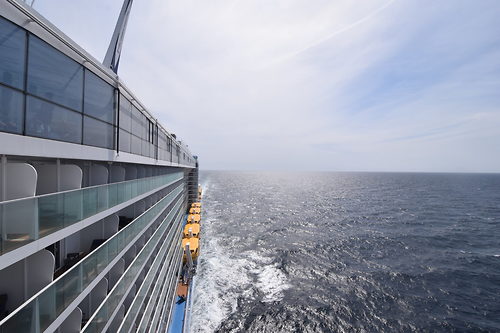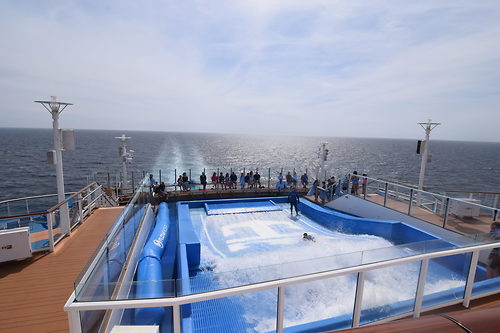 We received an invite to tour the bridge of the ship from the Suite Concierge. Bridge tours are always a lot of fun, and on a newer ship like Anthem, it is incredible to see how these ships operate.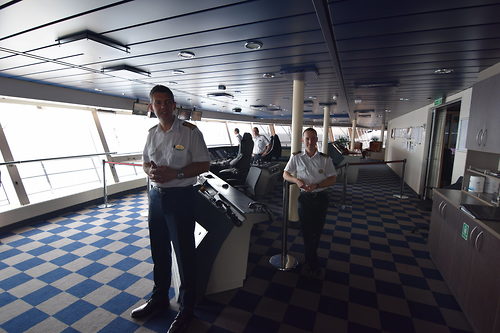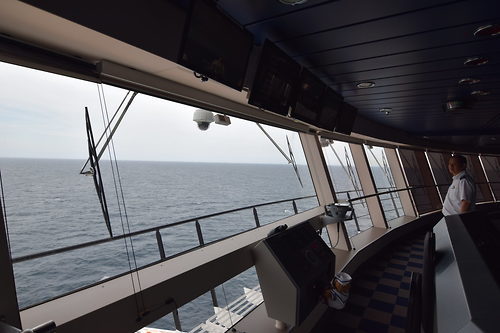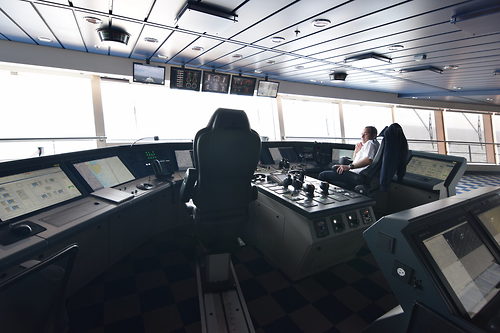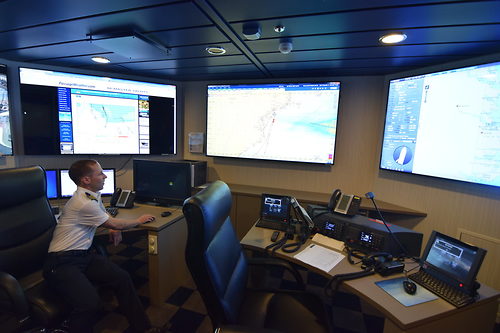 We spent the afternoon packing up our things, which lead to a late afternoon hankering for a snack. I headed down to Michael's Genuine Pub to try something that caught my eye since my first day onboard: falafel.
I love falafel and was a little leery about how good cruise ship falafel could be. I can report back it was fresh, crispy and had great flavor.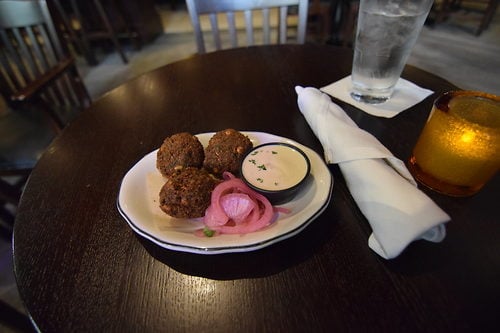 It was served with sliced beets and tahini sauce, and tasted very good. For $3, I thought it was a great deal!
For our pre-dinner drinks, we started out at the Solarium Bar and regretted we did not spend more time there. The bar staff there were great and you cannot beat that view.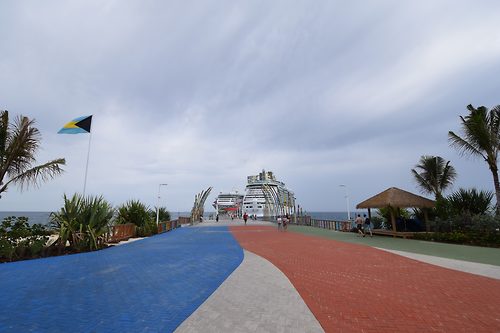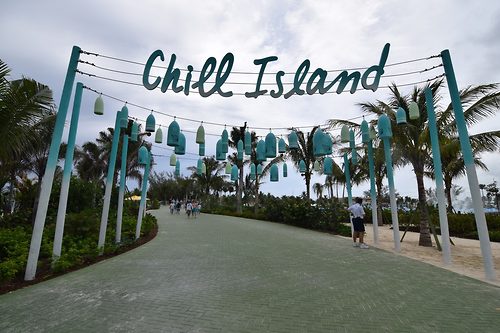 We wandered down to the Schooner Bar as just somewhere to sit for a bit before dinner, and discovered an impromptu show where the cast of We Will Rock You "took over" the piano music being played, and sang Broadway hits along with the music.
The musical director for We Will Rock You was scheduled to be the pianist in the Schooner Bar, but the fact his cast joined him was an added bonus. My wife, who is a big musical fan, absolutely loved the show.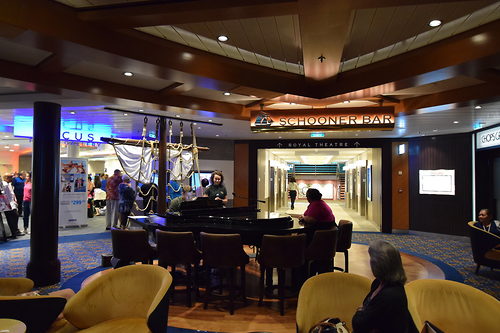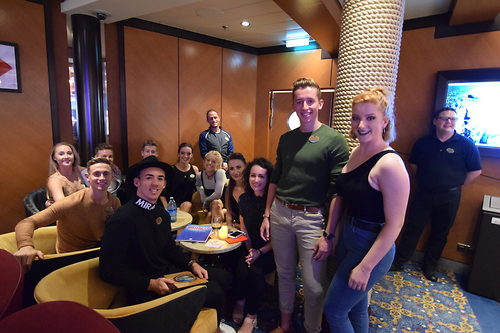 We had seem something like this on Allure of the Seas, but it had been a while since we experienced a show like this again. I hope Royal Caribbean takes advantage of the amazing vocal talents they have onboard and continue to let them entertain guests in this fashion. The guests were loving the performance, and we could tell the cast was enjoying seeing who could sing each song the best.
Dinner was in the main dining room, and we decided to call it an early evening with the impending early start to our departure looming.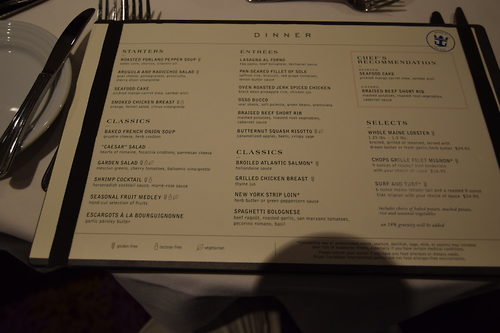 I have to say we had a great time on Anthem of the Seas, and it was due to the fantastic crew members, terrific dining onboard and the great places we visited. Having very good weather did not hurt, either.
I believe Anthem of the Seas is a great ship for a first time cruiser because I feel like Royal Caribbean designed this ship with first timers in mind. Likewise, for established cruisers, Anthem is also a very good choice because I liked how it is different from the other classes in the fleet. Those ships tend to have a lot of similarities, but Royal Caribbean built the Quantum class ships to be different, and that made this cruise a bit of a new experience.
We had really great service throughout the cruise, from our stateroom attendant who was always available to help with anything we needed, to the main dining room waiter who figured out I really like coffee ice cream and had it ready for me each evening as a surprise.
I always struggle with how to best wrap up the cruise, so I will list here some of my favorite aspects of the cruise.
Favorite port: CocoCay
Favorite specialty restaurant: Jamie's Italian
Favorite dish in main dining room: Spaghetti Bolognese (seriously)
Favorite show: We Will Rock You
Thank you to everyone for following along in our live blog! I really enjoy sharing these cruises, and I also had a great time reading everyone's comments and questions along the way.
My next live blog will be coming to you from the world's largest cruise ship, Harmony of the Seas in September 2017. In fact, you can join the fun and cruise with me and many other Royal Caribbean fans by joining us for our group cruise! Here are more details on how you can join us!